Abstract
Background
Knowledge of local isolates and strains is a prerequisite for the development of either effective mass vaccination strategy or a suitable molecular marker-based diagnostic tool.
Purpose
The pathogenesis of Bovine tropical theileriosis (BTT), caused by Theileria annulata in susceptible ruminants, is known to vary depending upon the nature of isolate and strain involved. Therefore, RFLP and sequencing-based characterization of Indian isolates of T. annulata were attempted using TAMS gene.
Method
In the present study, TAMS 1 gene of T. annulata was amplified from 25 naturally infected calves from the BTT endemic semi-arid zone of Northern India. The amplified products were then digested with three restrictions enzymes viz., Taq I, Rsa I, and Alu I to find out the variations in pattern of restriction digests, so as to have an idea about the various isolates of T. annulata present in the studied area. Around 14 samples covering all the variants (from the PCR–RFLP patterns) were sequenced and submitted in NCBI (MH277607–MH277620).
Result
Coexistence of 4 variant genotypes was detected upon in-silico analysis of RFLP and sequence variations.
Conclusion
The nucleotide variations alongside the chromatogram analysis revealed point mutations leading to presence of noticeable genetic diversity among the isolates.
Access options
Buy single article
Instant access to the full article PDF.
US$ 39.95
Tax calculation will be finalised during checkout.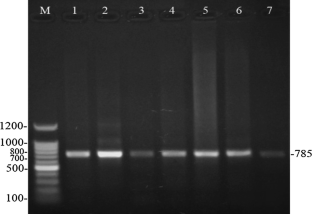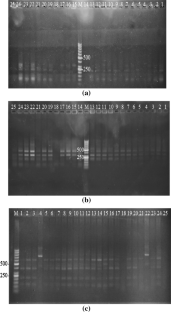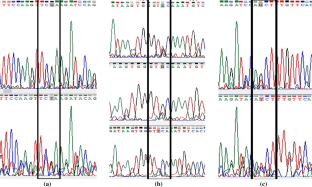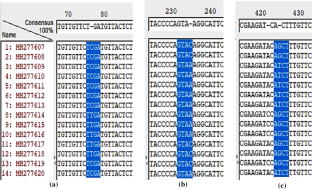 References
1.

Bose J, Kloesenor MH, Schulte RD (2016) Multiple-genotype infections and their complex effect on virulence. Zoology 119:339–349

2.

Brown CGD (1997) Dynamics and impact of tick-borne diseases of cattle. Tropical Anim Health Prod 29(4):1S–3S (10 ref.)

3.

Darghouth MA, Boulter NR, Gharbi M, Sassi L, Tait A, Hall R (2006) Vaccination of claves with an attenuated cell line of Theileria annulata and the sporozoite antigen SPAG-1 produces a synergistic effect. Vet Parasitol 142(1–2):54–62

4.

Ghashgai O, Yakhchali M, Sohrabi S (2015) PCR-RFLP for detecting of Theileria annulata infection in cattle and Hyalomma species in Kermanshah Province Iran. Arch Razi Inst 70:7–12

5.

Gill BS, Bansal GC, Bhattacharyullu Y, Kaur D, Singh A (1980) Immunological relationship between strains of Theileria annulata (Dschunkowsky and Luhs 1904). Res Vet Sci 29:93–97

6.

Gubbels MJ, Katzer F, Hide G, Jongejan F, Shiels BR (2000) Generation of a mosaic pattern of diversity in the major merozoite-piroplasm surface antigen of Theileria annulata. Mol Biochem Parasitol 110(1):23–32

7.

Gupta KK, Srivastava M, Sudan V, Singh S, Choudhury S, Shanker D (2018) Variation in cardiac markers and electrocardiographic alterations in young calves naturally infected with bovine tropical theileriosis. Trop Anim Health Prod 50(6):1227–1230. https://doi.org/10.1007/s11250-018-1548-0

8.

Manuja A, Malhotra DV, Sikka VK, Sangwan AK, Sharma R, Kumar B, Mehta BD, Gulati BR, Nichani AK (2006) Isolates of Theileria annulata collected from different parts of India show phenotypic and genetic diversity. Vet Parasitol 137:242–252

9.

Mehlhorn H, Schein E, Ahmed JS (1994) Theileria. In: Kreier JP (ed) Parasitic protozoa, vol 7. Academic Press, pp 217–304

10.

Paliwal S, Sanker D, Sudan V, Kumar S, Srivastava M, Gupta KK (2019) Comparison of different PCR protocols and respective primer sets from pool of TAMS 1 gene for diagnosis of calf theileriosis from semi arid India. Biologicals 57:50–54

11.

Paliwal S, Sanker D, Sudan V, Srivastava M (2020) Monotypic PCR-RFLP pattern of circulating Theileria annulata isolates from North India based on HSP 70 gene. Res J Parasitol. https://doi.org/10.3923/jp.2020

12.

Patel G, Shanker D, Jaiswal AK, Sudan V, Verma SK (2013) Prevalence and seasonal variation in ixodid ticks on cattle of Mathura district, Uttar Pradesh. J Parasit Dis 37(2):173–176

13.

Subramanian G, Ray D, Naithani RC (1986) In vitro culture and attenuation of macroshizonts of Theileria annulata (Dschunkowsky and Luhs 1904) and in vivo use as vaccine. Indian J Anim Sci 56:174–182

14.

Sudan V, Shanker D, Jaiswal AK, Singh A, Pandey V (2017) Standardization and validation of simple PCR, duplex PCR and RAPD in comparison to blood smear examination for diagnosing bovine tropical theileriosis. Biologicals 46:88–91

15.

Tavassoli M, Tabatabaei M, Nejad BE, Tabatabaei MH, Najafabadi A, Pourseyed SH (2011) Detection of Theileria annulata by the PCR-RFLP in ticks (Acari, Ixodidae) collected from cattle in West and North-West Iran. Acta Parasitol 56(1):8–13

16.

Taylor LH, Katzer F, Shiels BR, Welburn SC (2003) Genetic and phenotypic analysis of Tunisian Theileria annulata clones. Parasitology 26:241–252

17.

Taylor MA, Coop RL, Wall RL (2007) Veterinary parasitology, 3rd edn. Blackwell Publishing Ltd, UK, pp 109–113
Acknowledgements
The authors are highly thankful to the Director Research, Dean Biotechnology, Dean CoVSc, and Vice Chancellor, DUVASU, for the facilities provided. The authors also want to acknowledge the various funding agencies like Indian Council of Agricultural Research (ICAR) and Rashtriya Krishi Vikas Yojana (RKVY) for sanctioning various projects to the University for the Procurement of Instruments to carry out such work. The authors also acknowledge Incharge, Central Instrumentation Facility (CIF) for permitting the use of instruments required in the study.
Ethics declarations
Conflict of interest
The authors declare that they have no conflict of interest.
Ethical statement
The blood was collected from the animals in compliance with the ethical standards and guidelines of the Institutional Animal Ethics Committee (IAEC) and permission was granted via. order no IAEC/17/23.
Additional information
Publisher's Note
Springer Nature remains neutral with regard to jurisdictional claims in published maps and institutional affiliations.
About this article
Cite this article
Paliwal, S., Sudan, V., Shanker, D. et al. Coexistence of Multiple Theileria annulata Genotypes Circulating in Neonatal Calves in Semi-arid India. Acta Parasit. 65, 679–685 (2020). https://doi.org/10.2478/s11686-020-00196-0
Received:

Accepted:

Published:

Issue Date:
Keywords
Genetic variations

TAMS 1 gene
Theileria annulata

PCR–RFLP

Sequencing