Abstract
Purpose
Human cases of thelaziasis caused by Thelazia callipaeda have increased in China in recent years. Although this species is of medical importance, our knowledge about the epidemiology of thelaziasis is still fragmentary. This study first reports a case of thelaziasis in central China. Then, the epidemiology of thelaziasis in China in the past 100 years (1917–2018) is reviewed.
Methods
A 5-year-old girl experienced discomfort in her left eye. Four thread-like worms were seen in the nasal upper eyelid of the left eye. The symptoms disappeared after these parasites were removed. In addition, we reviewed studies of Chinese human thelaziasis cited in articles or book chapters in all languages from inception to 31 Dec 2019.
Results
China is the nation with the most reports of thelaziasis (653 cases) in the world. More human cases were reported in central and eastern China than in other areas, and the majority of cases were from rural areas in poor socioeconomic settings.
Conclusion
Special attention should be paid to this neglected disease in China. The use of a One Health approach is imperative for preventing eyeworm infections in humans.
Access options
Buy single article
Instant access to the full article PDF.
US$ 39.95
Tax calculation will be finalised during checkout.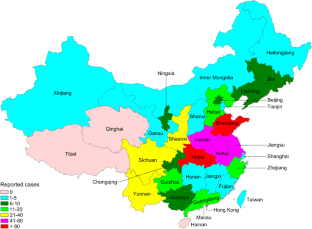 References
1.

do Vale B, Lopes AP, da Fontes Conceição M, Silvestre M, Cardoso L, Coelho AC (2019) Thelaziosis due to Thelazia callipaeda in Europe in the 21st century—a review. Vet Parasitol 275:108957

2.

Bradbury RS, Breen KV, Bonura EM, Hoyt JW, Bishop HS (2018) Case report: conjunctival infestation with Thelazia gulosa: a novel agent of human thelaziasis in the United States. Am J Trop Med Hyg 98(4):1171–1174

3.

Kosin E, Kosman ML, Depary AA (1989) First case of human thelaziasis in Indonesia. Southeast Asian J Trop Med Public Health 20(2):233–236

4.

Koyama Y, Ohira A, Kono T, Yoneyama T, Shiwaku K (2000) Five cases of thelaziasis. Br J Ophthalmol 84(4):441

5.

Hossain MI, Hossain MA, Nahar L, Hossain MM, Mondal AS, Alim MA, Mahmud MC, Islam A (2011) Human thelaziasis in Bangladesh. Mymensingh Med J 20(1):128–130

6.

Sohn WM, Na BK, Yoo JM (2011) Two cases of human thelaziasis and brief review of Korean cases. Korean J Parasitol 49(3):265–271

7.

Nguyen VD, Thanh HL, Chai JY (2012) The first human case of Thelazia callipaeda infection in Vietnam. Korean J Parasitol 50(3):221–223

8.

Viriyavejakul P, Krudsood S, Monkhonmu S, Punsawad C, Riganti M, Radomyos P (2012) Thelazia callipaeda: a human case report. Southeast Asian J Trop Med Public Health 43(4):851–856

9.

Wang S, Yu SJ, Wang XL, Zhao MY, Deng S, Shang H, An CL (2014) A pediatric case report and literature review of thelaziosis in China. Int J Infect Dis 29:249–250

10.

Das JK, Das D, Deshmukh S, Gupta K, Tomar SS, Borah E (2018) Live encysted Thelazia callipaeda presenting as a lump adjacent to the right lacrimal sac in a 42-year-old female: a rare case report. Indian J Ophthalmol 66(8):1220–1223

11.

Sah R, Khadka S, Adhikari M, Niraula R, Shah A, Khatri A, Donovan S (2018) Human thelaziasis: emerging ocular pathogen in Nepal. Open Forum Infect Dis 5(10):ofy237

12.

Otranto D, Dutto M (2008) Human thelaziasis, Europe. Emerg Infect Dis 14(4):647–649

13.

Paradžik MT, Samardžić K, Živičnjak T, Martinković F, Janjetović Ž, Miletić-Medved M (2016) Thelazia callipaeda—first human case of thelaziosis in Croatia. Wiener Klin Wochenschr 128(5–6):221–223

14.

López Medrano R, Guerra Calleja G, Díez Morrondo C, Panadero Fontán R (2015) Ocular thelaziosis, an emergent zoonosis in Spain. Med Clin 145(7):317–318

15.

Tasić-Otašević S, Gabrielli S, Trenkić-Božinović M, Petrović A, Gajić B, Colella V, Momčilović S, Cancrini G, Otranto D (2016) Eyeworm infections in dogs and in a human patient in Serbia: a one health approach is needed. Comp Immunol Microbiol Infect Dis 45:20–22

16.

Colella V, Kirkova Z, Fok É, Mihalca AD, Tasić-Otašević S, Hodžić A, Dantas-Torres F, Otranto D (2016) Increase in eyeworm infections in eastern Europe. Emerg Infect Dis 22(8):1513–1515

17.

McGarry JW, Graham-Brown J, Pasztor M (2017) Threats of vector-borne zoonotic disease in Europe: dogs, drosophilids, and oriental eye worm. Lancet Infect Dis 17(11):1115–1117

18.

Papadopoulos E, Komnenou A, Thomas A, Ioannidou E, Colella V, Otranto D (2018) Spreading of Thelazia callipaeda in Greece. Transbound Emerg Dis 65(1):248–252

19.

Shen J, Gasser RB, Chu D, Wang ZX, Yuan XS, Cantacessi C, Otranto D (2006) Human thelaziosis—a neglected parasitic disease of the eye. J Parasitol 92(4):872–875

20.

Zhang X, Shi YL, Wang ZQ, Duan JY, Jiang P, Liu RD, Cui J (2017) Morphological and mitochondrial genomic characterization of eyeworms (Thelazia callipaeda) from clinical cases in central China. Front Microbiol 8:1335

21.

Otranto D, Lia RP, Traversa D, Giannetto S (2003) Thelazia callipaeda (Spirurida, Thelaziidae) of carnivores and humans: morphological study by light and scanning electron microscopy. Parassitologia 45(3–4):125–133

22.

Zhang X, Shi YL, Han LL, Xiong C, Yi SQ, Jiang P, Wang ZX, Shen JL, Cui J, Wang ZQ (2018) Population structure analysis of the neglected parasite Thelazia callipaeda revealed high genetic diversity in eastern Asia isolates. PLoS Negl Trop Dis 12(1):e0006165
Acknowledgements
This work was supported by National Natural Science Foundation of China (U1704189 and 81971956), Henan Province Science and Technology Key Project (182102310075) and Backbone Teachers Development Program in Henan Province (2017GGJS011).
Ethics declarations
Conflict of Interest
All authors have declared that they have no conflict of interests.
Ethical Approval
Patient management in this study was strictly performed according to the rules of the Life Science Ethics Committee of Zhengzhou University, following the principles expressed in the Declaration of Helsinki. To collect the parasites from the eye of the child patient, we first obtained permission from her legal guardians. In addition, the worms were not collected for the purpose of this study but for removal from the child patient to treat thelaziasis.
Additional information
Publisher's Note
Springer Nature remains neutral with regard to jurisdictional claims in published maps and institutional affiliations.
Electronic supplementary material
Below is the link to the electronic supplementary material.
About this article
Cite this article
Liu, S.N., Xu, F.F., Chen, W.Q. et al. A Case of Human Thelaziasis and Review of Chinese Cases. Acta Parasit. 65, 783–786 (2020). https://doi.org/10.2478/s11686-020-00190-6
Received:

Accepted:

Published:

Issue Date:
Keywords
Thelaziasis

Thelazia callipaeda

Eye worm

Epidemiology

China