Abstract
Background
Under the poor hygienic conditions, tick-borne pathogens cause severe economic losses to the cattle industry.
Purpose
The current study investigated the presence of Theileria annulata, Babesia bigemina, and Anaplasma marginale, the most relevant tick-borne pathogens in cattle, in 3 provinces of Egypt utilizing species-specific PCR assays.
Methods
PCR was conducted, on bovine blood specimens, using primers targeting the T. annulata merozoite–piroplasm surface antigen (Tams1, 768 bp), A. marginale major surface protein-1b gene (msp1b, 265 bp), and B. bigemina small subunit ribosomal RNA gene (SSrRNA, 543 bp).
Results
PCR findings revealed overall prevalences of T. annulata, B. bigemina, and A. marginale as 22.0% (33/150), 19.33% (29/150), and 10.6% (16/150), respectively. The co-infection with two or three pathogens was detected in 20.0% (30/150) of examined specimens. Sequence analyses indicated that T. annulata and A. marginale varied from those of corresponding GenBank sequences revealing percent identities ranging from 90.68 to 97.75% and from 94.98 to 98.63%, respectively. On the other hand, the obtained B. bigemina sequences showed a high similarity with those previously reported in GenBank with a percent identity ranging from 98.85 to 100%.
Conclusion
T. annulata was the most prevalent tick-borne pathogen in examined bovine specimens. The genetic diversity of markers used for identification of T. annulata and A. marginale should be highly considered.
Access options
Buy single article
Instant access to the full article PDF.
US$ 39.95
Tax calculation will be finalised during checkout.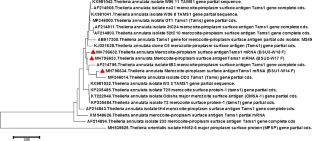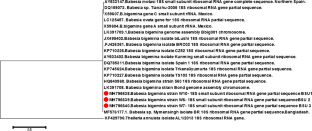 References
1.

Elsify A, Sivakumar T, Nayel M, Salama A, Elkhtam A, Rizk M, Mosaab O, Sultan K, Elsayed S, Igarashi I (2015) An epidemiological survey of bovine Babesia and Theileria parasites in cattle, buffaloes, and sheep in Egypt. Parasitol Int 64:79–85

2.

Jongejan F, Uilenberg G (1994) Ticks and control methods. Rev Sci Tech 13:1201–1242

3.

Bock R, Jackson L, de Vos A, Jorgensen W (2004) Babesiosis of cattle. Parasitology 129(Suppl):S247–S269

4.

Roushdy S (2018) Egypt. Livestock and products annual 2018. Egyptian beef prices stable, consumption and imports to rise in 2019. GAIN Report Number EG-18021. Required Report - public distribution. USDA Foreign Agricultural Service. Global Agricultural Information Network. 10 pp. https://apps.fas.usda.gov/newgainapi/api/report/downloadreportbyfilename?filename=Livestock%20and%20Products%20Annual_Cairo_Egypt_9-19-2018.pdf. Accessed 19 Sept 2018

5.

Adham F, Abd-El-Samie E, Gabre R, Hussein HE (2009) Detection of tick blood parasites in Egypt using PCR assay I—Babesia bovis and Babesia bigemina. Parasitol Res 105:721–730

6.

Fereig RM, Mohamed SG, Mahmoud HY, Aboulaila MR, Guswanto A, Nguyen TT, Mohamed AEA, Inoue N, Igarashi I, Nishikawa Y (2017) Seroprevalence of Babesia bovis, B. bigemina, Trypanosoma evansi, and Anaplasma marginale antibodies in cattle in southern Egypt. Ticks Tick Borne Dis 8:125–131

7.

Aziz KA, Khalil W, Mahmoud M, Hassan N, Mabrouk D, Suarez C (2014) Molecular characterization of babesiosis infected cattle: Improvement of diagnosis and profiling of the immune response genes expression. Glob Vet 12:197–206

8.

El Moghazy HM, Ebied MH, Abdelwahab MG, El Sayed AA (2014) Epidemiological studies on bovine babesiosis and theileriosis in Qalubia governorae, Benha. Vet Med J 27:36–48

9.

Amira AH, Ahmed L, Ahmed J, Nijhof A, Clausen PH (2018) Epidemiological study on tropical theileriosis (Theileria annulata infection) in the Egyptian Oases with special reference to the molecular characterization of Theileria spp. Ticks and tick-borne Dis 9:1489–1493

10.

Ghoneim A, El-Fayomy A (2014) Targeting tams-1 gene results in underestimation of Theileria annulata infection in diseased cattle in Egypt. Acta Parasitol 59:85–90

11.

Robinson PM (1982) Theileria annulata and its transmission—a review. Trop Anim Health Prod 14:3–12

12.

Callow LL (1984) Animal health in Australia. Volume 5. Protozoal and rickettsial diseases. Australian Government Publishing Service, Canberra, pp ix-+ 264

13.

OIE (2008) World Organisation for Animal Health. Manual of standards for diagnostic tests and vaccines for terrestrial animals, 6th edn, vol 2, pp 599–610

14.

Kocan KM, de La Fuente J, Step DL, Blouin EF, Coetzee JF, Simpson KM, Genova SG, Boileau MJ (2010) Current challenges of the management and epidemiology of bovine anaplasmosis. Bov Pract 44(2):93–102

15.

Böse R, Jorgensen W, Dalgliesh R, Friedhoff K, de Vos A (1995) Current state and future trends in the diagnosis of babesiosis. Vet Parasitol 57:61–74

16.

Salih DA, El Hussein AM, Seitzer U, Ahmed J (2007) Epidemiological studies on tick-borne diseases of cattle in Central Equatoria State, Southern Sudan. Parasitol Res 101:1035–1044

17.

Nayel M, El-Dakhly KhM, Aboulaila M, Elsify A, Hassan H, Ibrahim E, Salama A, Yanai T (2012) The use of different diagnostic tools for Babesia and Theileria parasites in cattle in Menofia. Egypt Parasitol Res 111:1019–1024

18.

Almeria S, Castella J, Ferrer D, Ortuno A, Estrada-Pena A, Gutierrez JF (2001) Bovine piroplasms in Minorca (Balearic Islands, Spain): a comparison of PCR-based and light microscopy detection. Vet Parasitol 99(3):249–259

19.

Jacobson LS (2006) The South African form of severe and complicated canine babesiosis: clinical advances 1994–2004. Vet Parasitol 138:126–139

20.

Weiland G, Reiter I (1988) Methods for measurement of the serological response to Babesia. In: Ristic M (ed) Babesiosis of domestic animals and man. CRC, Boca Raton, pp 143–162

21.

Graça T, Ku PS, Silva MG, Turse JE, Hammac GK, Brown WC, Palmer GH, Brayton KA (2019) Segmental variation in a duplicated msp2 pseudogene generates Anaplasma marginale antigenic variants. Infect Immun 87:e00727-00718

22.

Kocan KM, Blouin EF, Barbet AF (2000) Anaplasmosis control: past, present, and future. Ann NY Acad Sci 916:501–509

23.

Kocan K, de La Fuente J, Blouin E, Garcia-Garcia J (2004) Anaplasma marginale (Rickettsiales: Anaplasmataceae): recent advances in defining host–pathogen adaptations of a tick-borne rickettsia. Parasitology 129:S285–S300

24.

Mosqueda J, Olvera-Ramirez A, Aguilar-Tipacamu G, Canto GJ (2012) Current advances in detection and treatment of babesiosis. Curr Med Chem 19:1504–1518

25.

Aboelhadid S, Arafa WM, Mahrous LN, Fahmy MM, Kamel AA (2018) Molecular detection of Rhipicephalus (Boophilus) annulatus resistance against deltamethrin in middle Egypt. Vet Parasitol Reg Stud Rep 13:198–204

26.

Kirvar E, Ilhan T, Katzer F, Hooshmand-Rad P, Zweygarth E, Gerstenberg C, Phipps P, Brown C (2000) Detection of Theileria annulata in cattle and vector ticks by PCR using the Tams1 gene sequences. Parasitology 120:245–254

27.

Bilgiç HB, Karagenç T, Simuunza M, Shiels B, Tait A, Eren H, Weirb W (2013) Development of a multiplex PCR assay for simultaneous detection of Theileria annulata, Babesia bovis and Anaplasma marginale in cattle. Exp Parasitol 133(2):222–229

28.

Altschul SF, Gish W, Miller W, Myers EW, Lipman DJ (1990) Basic local alignment search tool. J Mol Biol 215:403–410

29.

Saitou N, Nei M (1987) The neighbor-joining method: a new method for reconstructing phylogenetic trees. Mol Biol Evol 4(4):406–425

30.

Kumar S, Stecher G, Tamura K (2016) MEGA7: molecular evolutionary genetics analysis version 7.0 for bigger datasets. Mol Biol Evol 33:1870–1874

31.

Felsenstein J (1985) Phylogenies and the comparative method. Am Nat 125:1–15

32.

AL-Hosary A, Ahmed L, Ahmed J, Nijhof A, Clausen P-H, (2018) Epidemiological study on tropical theileriosis (Theileria annulata infection) in the Egyptian Oases with special reference to the molecular characterization of Theileria spp. Ticks Tick Borne Dis 9:1489–1493

33.

Ali A, Radwan M (2011) Molecular detection of Theileria annulata in Egyptian buffaloes and biochemical changes associated with particular oxidative changes. Adv Life Sci 1:6–10

34.

AL-Hosary AAT (2013) Molecular typing of bovine theileriosis in Upper Egypt. https://www.lap-publishing.com. Accessed 1 Jan 2016

35.

Rania YE (2009) Some studies on diagnosis on babesiosis. M.V.Sc. thesis, Faculty of Veterinary Medicine, Benha University, Benha, Egypt

36.

El-Fayomy AO, Ghoneim AM, Abu-Samak OA, Khidr AA (2013) Con-tribution of Babesia to the illness of cows in Port Said Governorate. Egypt Glob Vet 11:118–122

37.

Mahmoud MS, Kandil OM, Nasr SM, Hendawy SH, Habeeb SM, Mabrouk DM, Silva MG, Suarez CE (2015) Serological and molecular diagnostic surveys combined with examining hematological profiles suggests increased levels of infection and hematological response of cattle to babesiosis infections compared to native buffaloes in Egypt. Parasites Vect 8:319

38.

de Vos AJ, Potgieter FT (1994) Bovine babesiosis. In: Coetzer JAW, Thomson GR, Tustin RC (eds) Infectious diseases of livestock. Oxford University Press, Cape Town, pp 278–294

39.

Costa-Junior LM, Rabelo EML, Filho OAM, Ribeiro MFB (2006) Comparison of different direct diagnostic methods to identify Babesia bovis and Babesia bigemina in animals vaccinated with live attenuated parasites. Vet Parasitol 139:231–236

40.

Adel EM (2007) Studies on some blood parasites infecting farm animals in Gharbia governorate, Egypt. PhD thesis, Faculty of Veterinary Medicine,Cairo University, Cairo, Egypt

41.

Ibrahim HM, Adjou Moumouni PF, Mohammed-Geba K, Sheir SK, Hashem ISY, Cao S, Terkawi MA, Kamyingkird K, Nishikawa Y, Suzuki H, Xuan X (2013) Molecular and serological prevalence ofBabesia bigemina and Babesia bovis in cattle and water buffalos undersmall-scale dairy farming in Beheira and Faiyum provinces, Egypt. Vet Parasitol 198:187–192

42.

El-Ashker M, Hotzel H, Gwida M, El-Beskawy M, Silaghi C, Tomaso H (2015) Molecular biological identification of Babesia, Theileria, and Anaplasma species in cattle in Egypt using PCR assays, gene sequence analysis and a novel DNA microarray. Vet Parasitol 207:329–334

43.

M'ghirbi Y, Bèji M, Oporto B, Khrouf F, Hurtado A, Bouattour A (2016) Anaplasma marginale and A. phagocytophilum in cattle in Tunisia. Parasites Vect 9:556. https://doi.org/10.1186/s13071-016-1840-7

44.

Ybanez AP, Ybanez RHD, Cruz-Flores MJ, Xuenan X, Yokoyama N, Inokuma H (2014) High genetic diversity of Anaplasma marginale detected from Philippine cattle. J Vet Med Sci 76:1009–1014

45.

Aktas M, Altay K, Dumanli N (2011) Molecular detection and identification of Anaplasma and Ehrlichia species in cattle from Turkey. Ticks Tick Borne Dis 2:62–65

46.

M'ghirbi Y, Hurtado A, Bouattour A (2010) Theileria and Babesia parasites in ticks in Tunisia. Transbound Emerg Dis 57:49–51

47.

Diuk-Wasser MA, Vannier E, Krause PJ (2016) Coinfection by Ixodes tick-borne pathogens: ecological, epidemiological, and clinical consequences. Trends Parasitol 32:30–42

48.

Dickson J, Shiels BR (1993) Antigenic diversity of a major merozoite surface molecule in Theileria annulata. Mol Biochem Parasitol 57:55–64

49.

Shiels BR, D'oliveira C, McKellar S, Ben-Miled L, Kawazue S, Hide G, (1995) Selection of diversity at putative glycosylation sites in the immunodominant merozoite/piroplasm surface antigen of Theileria parasites. Mol Biochem Parasitol 72:149–162

50.

Gubbels MJ, d'Oliveira C, Jongejan F (2000) Development of an indirect Tams1 enzyme-linked immunosorbent assay for diagnosis of Theileria annulata infection in cattle. Clin Diagn Lab Immunol 7:404–411

51.

Wang J, Yang J, Liu J, Wang X, Xu J, Liu A, Li Y, Liu Z, Ren Q, Luo J, Guan G, Yin H (2018) Molecular detection and genetic diversity of Theileria orientalis in cattle in China. Parasitol Res 117:3689–3694

52.

Santos M, Soares R, Costa P, Amaro A, Inacio J, Gomes J (2013) Revisiting the Tams1-encoding gene as a species-specific target for the molecular detection of Theileria annulata in bovine blood samples. Ticks Tick Borne Dis 4:72–77. https://doi.org/10.1016/j.ttbdis.2012.07.006

53.

de la Fuente J, Ruybal P, Mtshali MS, Naranjo V, Shuqing L, Mangold AJ, Rodríguez SD, Jiménez R, Vicente J, Moretta R (2007) Analysis of world strains of Anaplasma marginale using major surface protein 1a repeat sequences. Vet Microbiol 119:382–390
Acknowledgements
Authors acknowledge veterinarians and colleagues who helped during the blood samples collection.
Ethics declarations
Conflict of interest
The authors declare that they have no conficts of interest.
Ethical approval
This article does not contain any studies with human participants or animals performed by any of the authors.
Additional information
Publisher's Note
Springer Nature remains neutral with regard to jurisdictional claims in published maps and institutional affiliations.
About this article
Cite this article
El-Dakhly, K.M., Arafa, W.M., Soliman, S. et al. Molecular Detection, Phylogenetic Analysis, and Genetic Diversity of Theileria annulata, Babesia bigemina, and Anaplasma marginale in Cattle in Three Districts of Egypt. Acta Parasit. 65, 620–627 (2020). https://doi.org/10.2478/s11686-020-00189-z
Received:

Accepted:

Published:

Issue Date:
Keywords
Theileria annulata
Babesia bigemina
Anaplasma marginale

Tams1

SSrRNA

msp1b