Abstract
Introduction
Members of the onchoproteocephalidean genus Phoreiobothrium Linton, 1889 infect carcharhinid and sphyrnid sharks. Although the Persian Gulf harbors a rich fauna of sharks, the taxonomic diversity of Phoreiobothrium in this region has been explored little. A new species of Phoreiobothrium is herein described from Carcharhinus sorrah (Müller et Henle) off southern Iran.
Methods
Cestodes were isolated from the spiral intestine of Carcharhinus sorrah, fixed in 10% seawater-buffered formalin, and stored in 70% ethanol. For morphological examinations, worms were stained using acetic carmine; a subset was prepared for SEM.
Results
Phoreiobothrium sorrahcola n. sp. is the first record of the genus from C. sorrah and most closely resembles Phoreiobothrium rozatii Alijanpour Darvishi et Haseli, 2019 recently described from the Gulf of Oman. However, it differs from P. rozatii in its possession of the rectangular, rather than triangular, bothridia, a longer cephalic peduncle (878–1300 vs 466–841), the longer axial prongs of lateral and medial hooks (B 56–80 vs 43–52; B' 66–98 vs 46–62), and a greater maximum width of worm at level of scolex (302–415 vs 215–298).
Conclusions
With the description of this new species, three species of Phoreiobothrium have been reported so far from the southern waters of Iran. Phoreiobothrium now includes 17 valid species infecting 16 shark species.
Access options
Buy single article
Instant access to the full article PDF.
US$ 39.95
Tax calculation will be finalised during checkout.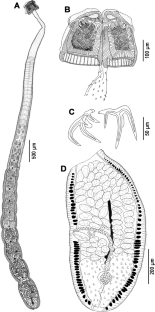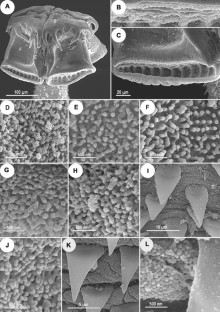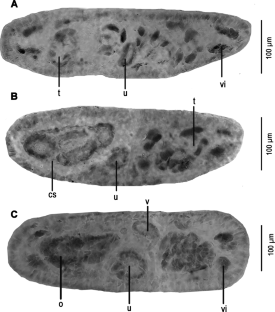 References
1.

Caira JN, Jensen K, Waeschenbach A, Olson PD, Littlewood DTJ (2014) Orders out of chaos—molecular phylogenetics reveals the complexity of shark and stingray tapeworm relationships. Int J Parasitol 44(1):55–73. https://doi.org/10.1016/j.ijpara.2013.10.004

2.

Caira J, Jensen K, Ivanov VA (2017) Onchoproteocephalidea II Caira, Jensen, Waeschenbach, Olson & Littlewood, 2014. In: Caira JN, Jensen K (eds) Planetary biodiversity inventory (2008–2017): tapeworms from vertebrate bowels of the Earth. University of Kansas, Natural History Museum. Special publication no. 25, Lawrence, pp 279–304

3.

Naylor GJ, Caira JN, Jensen K, Rosana KAM, White WT, Last PR (2012) A DNA sequence-based approach to the identification of shark and ray species and its implications for global elasmobranch diversity and parasitology. Bull Am Mus Nat History 367:1–262

4.

Jabado RW, Al Ghais SM, Hamza W, Shivji MS, Henderson AC (2015) Shark diversity in the Arabian/Persian Gulf higher than previously thought: insights based on species composition of shark landings in the United Arab Emirates. Mar Biodivers 45(4):719–731. https://doi.org/10.1007/s12526-014-0275-7

5.

Jabado RW, Ebert DA (2015) Sharks of the Arabian Seas: an identification guide. The International Fund for Animal Welfare, Dubai

6.

Henderson AC, Reeve AJ, Jabado RW, Naylor GJ (2016) Taxonomic assessment of sharks, rays and guitarfishes (Chondrichthyes: Elasmobranchii) from south-eastern Arabia, using the NADH dehydrogenase subunit 2 (NADH2) gene. Zool J Linn Soc 176(2):399–442. https://doi.org/10.1111/zoj.12309

7.

Darvishi FA, Haseli M (2019) Two new species of Phoreiobothrium Linton, 1889 (Cestoda: Onchoproteocephalidea) off southern Iran, completing the puzzle of Phoreiobothrium faunas in Rhizoprionodon acutus species complex. Parasitol Res 118(9):2557–2566. https://doi.org/10.1007/s00436-019-06402-x

8.

Chervy L (2009) Unified terminology for cestode microtriches: a proposal from the International Workshops on Cestode Systematics in 2002–2008. Folia Parasitologica 56(3):199–230. https://doi.org/10.14411/fp.2009.025

9.

Caira J (1985) An emendation of the generic diagnosis of Phoreiobothrium Linton, 1889 (Tetraphyllidea: Onchobothriidae) with a detailed description of bothridia and hooks. Can J Zool 63(5):1199–1206. https://doi.org/10.1139/z85-179

10.

Caira J, Jensen K, Jensen K (2015) Insights on the identities of sharks of the Rhizoprionodon acutus (Elasmobranchii: Carcharhiniformes) species complex based on three new species of Phoreiobothrium (Cestoda: Onchoproteocephalidea). Zootaxa 4059(2):335–350. https://doi.org/10.11646/zootaxa.4059.2.5

11.

Caira J, Jensen K, Barbeau E (2012) Global cestode database. World Wide Web electronic publication. http://www.tapewormdb.uconn.edu. Accessed 6 May 2015

12.

Caira J, Richmond C, Swanson J (2005) A revision of Phoreiobothrium (Tetraphyllidea: Onchobothriidae) with descriptions of five new species. J Parasitol 91(5):1153–1175. https://doi.org/10.1645/GE-3459.1
Acknowledgements
We thank Sharareh Shafiei, the former MSc student of the corresponding author, for her help in providing the cross-sections.
Ethics declarations
Conflict of interest
The authors declare that they have no conflict of interest.
Ethical approval
All applicable international, national, and/or institutional guidelines for the care and use of animals were followed. The specimens of Carcharhinus sorrah were caught as part of the stock assessment project conducted by the Iranian Fisheries Science Research Institute during November–December 2007 and hence, sampling was carried out based on the laws of the Islamic Republic of Iran.
Additional information
Publisher's Note
Springer Nature remains neutral with regard to jurisdictional claims in published maps and institutional affiliations.
About this article
Cite this article
Masoumi Ganjgah, N., Haseli, M. A New Onchoproteocephalidean Cestode Species from the Spot-Tail Shark, Carcharhinus sorrah (Müller et Henle), in the Persian Gulf. Acta Parasit. 65, 518–524 (2020). https://doi.org/10.2478/s11686-020-00187-1
Received:

Accepted:

Published:

Issue Date:
Keywords
Phoreiobothrium

Persian Gulf

Shark

Onchoproteocephalidea

New species