Abstract
Background
The diagnosis and treatment of canine scabies remain quite challenging as a result of the meddling of the invertebrate mite Sarcoptes scabiei var canis with the immunologic activity of its host.
Purpose
This study aims to evaluate and better understand the immunologic, histomorphometric, histopathologic changes as well as their relationship in scabies infestation.
Method
Ten healthy dogs were housed with five sarcoptes-ridden dogs. Skin biopsies were then obtained afterwards for 7 weeks into buffered formalin. Sections of obtained biopsies were processed and incubated in IL-4, IL-13, IL-17A and IL-23A antibodies, while the other sections were stained for cellular alterations, quantifications and measurement of tunnel height and diameters. Pearson's product–moment correlation was used to establish the association between the cytokines and the measured tunnel heights and diameters, while Student's t test and one-way analysis of variance were used to test for weekly significant differences in cytokine expressions.
Results
Histopathologic changes and early expression of all studied cytokines, eosinophils and mast cells were pronounced from the second week of infestation. Quite notable was the consistent amount of IL-13 and IL-23A all through the study duration. A dissimilar association was also observed between anti-inflammatory cytokines (IL-4 and IL-13) and pro-inflammatory cytokines (IL-17A and IL-23A). Also observed was the negative relationship between IL-13 and IL-23A as an increase in IL-13 was associated with a decrease in IL-23A. Tunnel height increase was also positively associated with pro-inflammation.
Conclusion
Immunodiagnosis can possibly be achieved with IL-13 and IL-23A expressions, while immunotherapy seems possible with IL-13 cytokine therapy.
Access options
Buy single article
Instant access to the full article PDF.
US$ 39.95
Tax calculation will be finalised during checkout.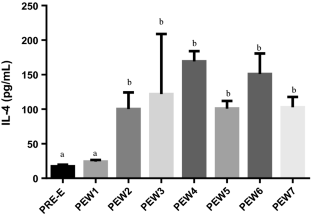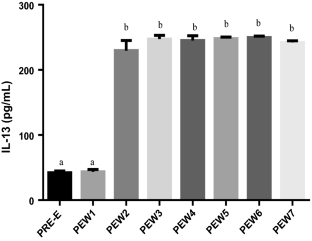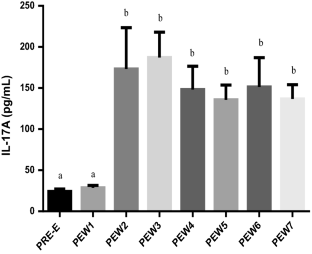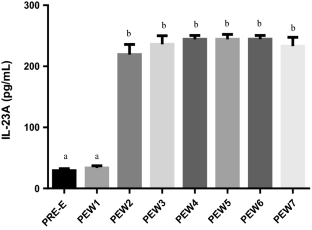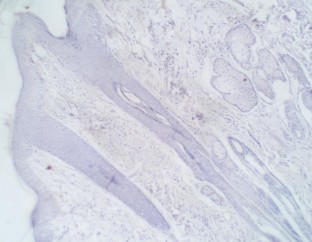 References
1.

Arend WP, Malyak M, Guthridge CJ, Gabay C (1998) Interleukin-1 receptor antagonist: role in biology. Annu Rev Immunol 16:27–55

2.

Arlian LG, Runyan RA, Achar S, Estes SA (1984) Survival and infectivity of Sarcoptes scabiei var. canis and var. hominis. J Am Acad Dermatol 11:210–215

3.

Arlian LG, Runyan RA, Vyszenski-Moher DL (1988) Water balance and nutrient procurement of Sarcoptes scabiei var. canis (Acari: Sarcoptidae). J Med Entomol 25:64–68

4.

Arlian LG, Morgan MS, Rapp CM, Vyszenski-Moher DL (1996) The development of protective immunity in canine scabies. Vet Parasitol 62:133–142

5.

Arlian L, Morgan M, Neal J (2003) Modulation of cytokine expression in human keratinocytes and fibroblasts by extracts of scabies mites. Am J Trop Med Hyg 69:652–656

6.

Arlian L, Morgan M, Neal J (2004) Extracts of scabies mites (Sarcoptidae: Sarcoptes scabiei) modulate cytokine expression by human peripheral blood mononuclear cells and dendritic cells. J Med Entomol 41:69–73

7.

Arlian L, Morgan M, Paul C (2006) Evidence that scabies mites (Acari: Sarcoptidae) influence production of interleukin-10 and the function of T-regulatory cells (Tr1) in humans. J Med Entomol 43:283–287

8.

Bhat SA, Mounsey KE, Liu X (2017) Host immune response to the itch mite Sarcoptes scabie in humans. Para Vec 10:385. https://doi.org/10.1186/s13071-017-2320-4

9.

Brombacher F (2000) The role of interleukin-13 in infectious diseases and allergy. BioEssays 22(7):646–656

10.

Cadman ET, Lawrence RA (2010) Granulocytes: effector cells or immunomodulators in the immune response to helminth infection? Parasite Immunol 32(1):1–19

11.

Daszak P, Cunningham AA, Hyatt AD (2000) Emerging infectious diseases of wildlife: global threats to biodiversity and human health. Science 287:443–449

12.

Fouser LA, Wright JF, Dunussi-Joannopoulos K, Collins M (2008) Th17 cytokines and their emerging roles in inflammation and autoimmunity. Immunol Rev 226:87–102

13.

Jacobsen EA, Taranova AG, Lee NA, Lee JJ (2007) Eosinophils: singularly destructive effector cells or purveyors of immunoregulation? J Allergy Clin Immunol 119(6):1313–1320

14.

Kote NM, Jaworski DC, Wasala NB, Morgan MS, Arlian LG (2013) Identification and expression of macrophage migration inhibitory factor in Sarcoptes scabiei. Exp Parasitol 135(1):175–181

15.

Liu X, Walton SF, Murray HC, King M, Kelly A (2014) Crusted scabies is associated with increased IL-17 secretion by skin T cells. Parasite Immunol 36:592–602

16.

McCarthy JS, Kemp DJ, Walton SF, Currie BJ (2003) Scabies: more than just an irritation. Postgrad Med J 80(945):382–387

17.

Morgan MS, Arlian LG (2010) Response of human skin equivalents to Sarcoptes scabiei. J Med Entomol 47(5):877–883

18.

Morgan MS, Arlian LG, Markey MP (2013) Sarcoptes scabiei mites modulate gene expression in human skin equivalents. PLoS ONE One 8:e71143. https://doi.org/10.1371/journal.pone.0071143

19.

Nwufoh OC, Sadiq NA, Emikpe BO (2019) Clinicopathological and mineral changes associated with dogs infested with Sarcoptes scabiei var. canis. Com Clin Path 28(4):1037–1044

20.

Olbricht (2003) Skin biopsy techniques and basic excisions. In: Bolognia JL, Rapini RP (eds) Dermatology, 1st edn. Mosby, London, p 2269

21.

Prussin C, Metcalfe DD (2006) IgE, mast cells, basophils, and eosinophils. J Allergy Clin Immunol 117(Suppl 2 Mini-Primer):S450–S456

22.

Walton SF, Currie BJ (2007) Problems in diagnosing scabies, a global disease in human and animal populations. Clin Microbiol Rev 20:268–279

23.

Walton SF, Pizzutto S, Slender A, Viberg L, Holt D (2010) Increased allergic immune response to Sarcoptes scabiei antigens in crusted versus ordinary scabies. Clin Vaccine Immunol 17:1428–1438
Funding
Study did not receive any specific grant from funding agencies in the public, commercial, or not for profit sectors.
Ethics declarations
Conflict of Interest
Authors declare no conflict of interest.
Additional information
Publisher's Note
Springer Nature remains neutral with regard to jurisdictional claims in published maps and institutional affiliations.
About this article
Cite this article
Nwufoh, O.C., Sadiq, N.A., Adediran, O.A. et al. Sequential Histopathological Changes and Cytokine Expressions in Dogs Naturally Infested with Sarcoptes scabiei Mites. Acta Parasit. 65, 452–461 (2020). https://doi.org/10.2478/s11686-020-00181-7
Received:

Accepted:

Published:

Issue Date:
Keywords
Scabies

Immunology

Inflammation

Cytokines

Tunnels