Abstract
Purpose
Babesia spp. and Theileria spp. are tick-borne pathogens of livestock globally. In this study, we investigated the presence and distribution of these pathogens in cattle from 20 locations in 4 Counties of Wuwei City. The aim of the present research was to evaluate the spread of piroplasms, so as to provide the epidemiological information for control piroplasmosis in the region.
Methods
The authors provided the molecular data for Babesia spp. and Theileria spp. and analyzed the obtained sequences of the 18S rRNA gene, Tams1 gene and MPSP gene by using the ClustalW program in MEGA version 6.06 software and BLASTn tool of NCBI GenBank database.
Results
The total infection rates were detected by nPCR with 1.8% for T. orientalis, 3% for T. sinensis, 0.6% for T. annulata, 1.8% for B. motasi and 0.6% for B. bigemina.
Conclusions
To the best of our knowledge, this is the first report investigating T. sinensis from cattle by PCR in Wuwei City. In particular, ovine B. motasi has been for the first time detected in cattle in our study and its impact is worth discussing to figure out the potential reasons.
Access options
Buy single article
Instant access to the full article PDF.
US$ 39.95
Tax calculation will be finalised during checkout.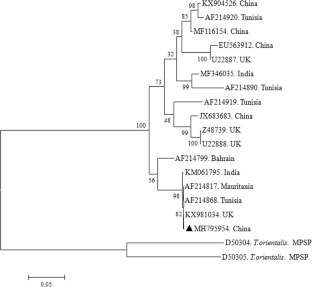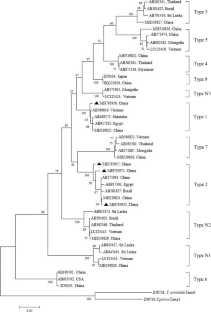 References
1.

Chauvin A, Moreau E, Bonnet S, Plantard O, Malandrin L (2009) Babesia and its hosts: adaptation to long-lasting interactions as a way to achieve efficient transmission. Vet Res 40(2):37

2.

Song R, Wang Q, Guo F, Liu X, Song S, Chen C, Tu C, Wureli H, Wang Y (2018) Detection of Babesia spp., Theileria spp. and Anaplasma ovis in border regions, Northwestern China. Transb Emerg Dis 65(6):1537–1544

3.

Luo J, Yin H, Guan G, Zhang Q, Lu W (2002) Description of a new Babesia sp. infective for cattle in China. Parasitol Res 88(13 Suppl 1):13–15

4.

Yin H, Lu W, Luo J (1997) Babesiosis in China. Trop Anim Health Prod 29:11–15

5.

Qi C, Zhou D, Liu J, Cheng Z, Zhang L, Wang L, Wang Z, Yang D, Wang S, Chai T (2011) Detection of Babesia divergens using molecular methods in anaemic patients in Shandong Province, China. Parasitol Res 109(1):241–245

6.

Liu J, Guan G, Li Y, Liu A, Luo J, Yin H (2017) A molecular survey of Babesia species and detection of a new Babesia species by DNA related to B. venatorum from White Yaks in Tianzhu, China. Front Microbiol 8:419

7.

Bai Q, Liu G, Yin H, Zhao Q, Liu D, Ren J, Li X (2002) Theileria sinensin sp. nov.: a new species of bovine Theileria—classical taxonomic studies. Chin J Anim Vet Sci 01:73–77

8.

Li Y, Guan G, Liu A, Peng Y, Luo J, Yin H (2010) Experimental transmission of Theileria ovis by Hyalomma anatolicum. Parasitol Res 106(4):991–994

9.

Li Y, Luo J, Guan G, Ma M, Liu A, Liu J, Ren Q, Niu Q, Lu B, Gao J, Liu Z, Dang Z, Tian Z, Zhang B, He Z, Bai Q, Yin H (2009) Experimental transmission of Theileria uilenbergi infective for small ruminants by Haemaphysalis longicornis and Haemaphysalis qinghaiensis. Parasitol Res 104(5):1227–1231

10.

Yang P, Liu H, Zhu Y (1965) Report on investigation of Theileriosis sergenti from cow. Chin Vet Sci 2:9–19

11.

Yin H, Schnittger L, Luo J, Seitzer U, Ahmed JS (2007) Ovine theileriosis in China: a new look at an old story. Parasitol Res 101(Suppl 2):191–195

12.

Bai Q, Liu GY, Han GF (1995) A new discovered bovine Theileria sp in China. Chin Vet Sci 15(1):16–21

13.

Robinson PM (1982) Theileriosis annulata and its transmission-a review. Trop Anim Health Prod 14(1):3–12

14.

Weir W, Karagenc T, Gharbi M, Simuunza M, Aypak S, Aysul N, Darghouth MA, Shiels B, Tait A (2011) Population diversity and multiplicity of infection in Theileria annulata. Int J Parasitol 41(2):193–203

15.

Gubbels MJ, Katzer F, Hide G, Jongejan F, Shiels BR (2000) Generation of a mosaic pattern of diversity in the major merozoite-piroplasm surface antigen of Theileria annulata. Mol Biochem Parasitol 110(1):23–32

16.

Gharbi M, Darghouth MA, Weir W, Katzer F, Boulter N, Adamson R, Gilbert SC, Jongejan F, Westbroek I, Hall R, Tait A, Shiels B (2011) Prime-boost immunisation against tropical theileriosis with two parasite surface antigens: evidence for protection and antigen synergy. Vaccine 29(38):6620–6628

17.

Santos M, Soares R, Costa P, Amaro A, Inacio J, Gomes J (2013) Revisiting the tams1-encoding gene as a species-specific target for the molecular detection of Theileria annulata in bovine blood samples. Ticks Tick Borne Dis 4(1–2):72–77

18.

Weir W, Karagenc T, Baird M, Tait A, Shiels BR (2010) Evolution and diversity of secretome genes in the apicomplexan parasite Theileria annulata. BMC Genom 11:42

19.

Wang J, Yang X, Wang Y, Jing Z, Meng K, Liu J, Guo H, Xu R, Cheng Z (2014) Genetic diversity and phylogenetic analysis of tams1 of Theileria annulata isolates from three continents between 2000 and 2012. Cent Eur J Immunol 39(4):476–484

20.

Gubbels MJ, Yin H, Weide M, Bai Q, Nijman IJ, Liu GY, Jongejan F (2000) Molecular characterisation of the Theileria buffeli/orientalis group. Int J Parasitol 30(8):943–952

21.

Stewart NP, Uilenberg G, de Vos AJ (1996) Review of australian species of theileria, with special reference to Theileria buffeli of cattle. Trop Anim Health Prod 28(1):81–90

22.

Uilenberg G, Perie NM, Spanjer AA, Franssen FF (1985) Theileria orientalis, a cosmopolitan blood parasite of cattle: demonstration of the schizont stage. Res Vet Sci 38(3):352–360

23.

Gubbels MJ, Yin H, Bai Q, Liu G, Nijman IJ, Jongejan F (2002) The phylogenetic position of the Theileria buffeli group in relation to other Theileria species. Parasitol Res 88(13 Suppl 1):28–32

24.

Ota N, Mizuno D, Kuboki N, Igarashi I, Nakamura Y, Yamashina H, Hanzaike T, Fujii K, Onoe S, Hata H, Kondo S, Matsui S, Koga M, Matsumoto K, Inokuma H, Yokoyama N (2009) Epidemiological survey of Theileria orientalis infection in grazing cattle in the Eastern part of Hokkaido, Japan. J Vet Med Sci 71(7):937–944

25.

Sivakumar T, Hayashida K, Sugimoto C, Yokoyama N (2014) Evolution and genetic diversity of Theileria. Infect Genet Evol 27:250–263

26.

Park J, Han YJ, Han DG, Chae JB, Chae JS, Yu DH, Lee YS, Park BK, Kim HC, Choi KS (2017) Genetic characterization of Theileria orientalis from cattle in the Republic of Korea. Parasitol Res 116(1):449–454

27.

Swilks E, Jenkins C, Poynting A, Collins D, Krebs GL (2017) Prevalence and effect of Theileria orientalis infection in homebred calves in the gloucester region of new South Wales, Australia. Aust Vet J 95(6):211–216

28.

Sun M (2016) First discovery of Argas persicus and Ornithodorus lahorensis in Minqin County of Gansu Province. China Anim Health Inspect 33(07):1–3

29.

Zhou M, Cao S, Sevinc F, Sevinc M, Ceylan O, Ekici S, Jirapattharasate C, Moumouni PF, Liu M, Wang G, Iguchi A, Vudriko P, Suzuki H, Xuan X (2017) Molecular detection and genetic characterization of Babesia, Theileria and Anaplasma amongst apparently healthy sheep and goats in the central region of Turkey. Ticks Tick Borne Dis 8(2):246–252

30.

Yang JF, Li YQ, Liu ZJ, Liu JL, Guan GQ, Chen Z, Luo JX, Wang XL, Yin H (2014) Molecular evidence for piroplasms in wild reeves' muntjac (Muntiacus Reevesi) in China. Parasitol Int 63:713–716

31.

Niu Q, Yang J, Liu Z, Gao S, Pan Y, Guan G, Chu Y, Liu G, Luo J, Yin H (2017) First molecular detection of piroplasm infection in pet dogs from Gansu, China. Front Microbiol 8:1029

32.

Wang J, Yang J, Liu J, Wang X, Xu J, Liu A, Li Y, Liu Z, Ren Q, Luo J, Guan G, Yin H (2018) Molecular detection and genetic diversity of Theileria orientalis in cattle in China. Parasitol Res 117(12):3689–3694

33.

Niu Q, Liu Z, Yu P, Yang J, Abdallah MO, Guan G, Liu G, Luo J, Yin H (2015) Genetic characterization and molecular survey of Babesia bovis, Babesia bigemina and Babesia ovata in cattle, dairy cattle and yaks in China. Parasit Vect 8:518

34.

Qin SY, Wang JL, Ning HR, Tan QD, Yin MY, Zhang XX, Zhou DH, Zhu XQ (2015) First report of Babesia bigemina infection in white yaks in China. Acta Trop 145:52–54

35.

Liu A, Guan G, Liu Z, Liu J, Leblanc N, Li Y, Gao J, Ma M, Niu Q, Ren Q, Bai Q, Yin H, Luo J (2010) Detecting and differentiating Theileria sergenti and Theileria sinensis in cattle and yaks by PCR based on major piroplasm surface protein (MPSP). Exp Parasitol 126(4):476–481

36.

Lu WS, Wei BY, Huang SY, Bai Q (1980) Transmission and morphological studies on Theileria annulata in Ningxia. Ningxia People's Press, Yinchuan, pp 26–33

37.

Luo JX, Yin H, Guan GQ, Ma ML, Sun CQ, Lu BY, Bai Q, Lv WS, Chen PY (2005) Experiments on transmission of Babesia sp. and Theileria annulata with Hyalomma anatolicum anatolicum. Chin J Anim Vet Sci 11:91–94

38.

Kim S, Yu DH, Chae JB, Choi KS, Kim HC, Park BK, Chae JS, Park J (2017) Pathogenic genotype of major piroplasm surface protein associated with anemia in Theileria orientalis infection in cattle. Acta Vet Scand 59(1):51

39.

Kamau J, de Vos AJ, Playford M, Salim B, Kinyanjui P, Sugimoto C (2011) Emergence of new types of Theileria orientalis in Australian cattle and possible cause of theileriosis outbreaks. Parasit Vect 4:22

40.

Liu JL, Li YQ, Liu AH, Guan GG, Xie JR, Yin H, Luo JX (2015) Development of a multiplex PCR assay for detection and discrimination of Theileria annulata and Theileria sergenti in cattle. Parasitol Res 114(7):2715–2721

41.

Liu A, Guan G, Du P, Gou H, Zhang J, Liu Z, Ma M, Ren Q, Liu J, Yang J, Li Y, Niu Q, Bai Q, Yin H, Luo J (2013) Rapid identification and differentiation of Theileria sergenti and Theileria sinensis using a loop-mediated isothermal amplification (LAMP) assay. Vet Parasitol 191(1–2):15–22

42.

Weerasooriya G, Sivakumar T, Lan DT, Long PT, Takemae H, Igarashi I, Inoue N, Yokoyama N (2016) Epidemiology of bovine hemoprotozoa parasites in cattle and water buffalo in Vietnam. J Vet Med Sci 78(8):1361–1367

43.

Yin H, Liu GY, Li YQ, Bai Q, Ma SX, Li SE (2004) Determination of the Theileria sinensis vector tick. In: Guilin, Veterinary parasitology branch of Chinese Association of Animal Science and Veterinary Medicine, p 418
Acknowledgements
This study was financially supported by the National Key Research and Development Program of China (2017YFD0501200, 2018YFD0502305); NBCIS (CARS-37); ASTIP (CAAS-ASTIP-2016-LVRI); Jiangsu Co-innovation Center programme for Prevention and Control of Important Animal Infectious Disease and Zoonose.
About this article
Cite this article
Sun, M., Guan, G., Liu, Z. et al. Molecular Survey and Genetic Diversity of Babesia spp. and Theileria spp. in Cattle in Gansu Province, China. Acta Parasit. 65, 422–429 (2020). https://doi.org/10.2478/s11686-020-00179-1
Received:

Accepted:

Published:

Issue Date:
Keywords
Molecular survey

Babesia spp.
Theileria spp.

18S rRNA

PCR