Abstract
Aim
Serodiagnosis of Fasciola gigantica natural infection in buffaloes with recombinant cathepsin L1-D and native cathepsin-L protease antigens.
Methods
The recombinant cat L1-D antigen was expressed in prokaryotic expression system and native cathepsin-L proteases were purified by alcoholic fractionation from adult F. gigantica flukes. Buffaloes (n  = 325) were screened for anti-Fasciola antibodies with the above antigens in immunoglobulin-G-enzyme linked immunosorbent assay (IgG-ELISA).
Results
The recombinant cat L1-D antigen showed positive reactivity with 101/122 necropsy positive animals but 21/122 necropsy confirmed positive animals were negative in this ELISA (sensitivity 82.8%). However, 30/203 (14.8%) necropsy negative animals for Fasciola were seropositive with specificity of 85.2%. With native cat-L protease, 104/122 necropsy confirmed positive animals were ELISA positive but 18/122 necropsy positive animals were seronegative, thereby depicting the sensitivity of 85.2%. But ELISA with this antigen showed 27/203 (13.3%) necropsy negative animals as positive (specificity 86.7%).
Conclusions
Comparative evaluation of both the antigens showed that they are suitable for serodiagnosis of F. gigantica infection in buffalo herds.
Access options
Buy single article
Instant access to the full article PDF.
US$ 39.95
Tax calculation will be finalised during checkout.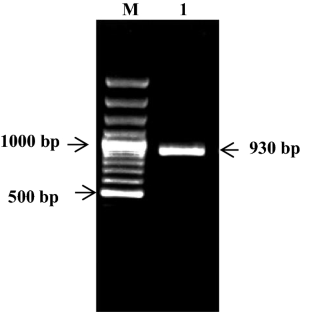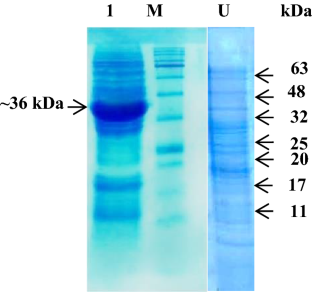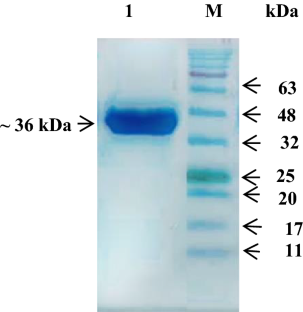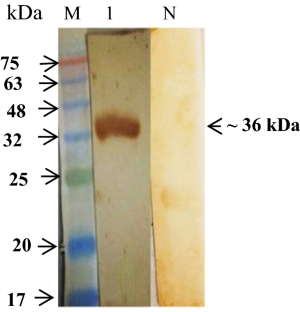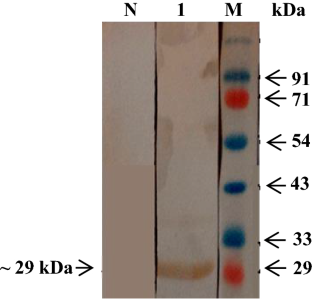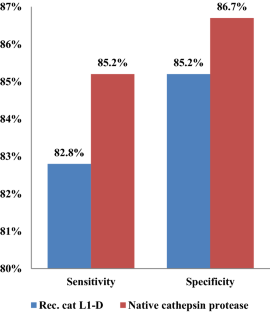 References
1.

Bardhan D, Kumar RR, Nigam S, Mishra H, Bhoj S (2014) Estimation of milk losses due to fasciolosis in Uttarakhand. Agric Ecol Res Rev 27:281–288

2.

Berasain P, Goni F, McGonigle S, Dowd AJ, Dalton JP, Frangione B, Carmona C (1997) Proteinases secreted by Fasciola hepatica degrade extra cellular matrix and basement membrane components. J Parasitol 83:1–5

3.

Charlier J, Duchateau L, Claerebout E, Williams D, Vercruysse J (2007) Associations between anti-Fasciola hepatica antibody levels in bulk-tank milk samples and production parameters in dairy herds. Prev Vet Med 78:57–66

4.

Chick BF, Loverdale OR, Jackson ARB (1980) Production effects of liver fluke infection in beef cattle. Aust Vet J 20:123–127

5.

Coles GC, Rubano D (1988) Antigenicity of proteolytic enzyme of Fasciola hepatica. J Helminthol 62:257–260

6.

Collins PR, Stack CM, O'Neill SM, Doyle S, Ryan T, Brennan GP, Mousley A, Stewart M, Maule AG, Dalton JP, Donnelly S (2004) Cathepsin L1, the major protease involved in liver fluke (Fasciola hepatica) virulence: propeptide cleavage sites and autoactivation of the zymogen secreted from gastrodermal cells. J Biol Chem 279:17038–17046

7.

Dalton JP, Heffernan M (1989) Thiol proteases released in vitro by Fasciola hepatica. Mol Biochem Parasitol 35:161–166

8.

Dalton JP, McGonigle S, Rolph TP, Andrews SJ (1996) Induction of protective immunity in cattle against infection with Fasciola hepatica by vaccination with cathepsin L protein-ases and with hemoglobin. Infect Immun 64:5066–5074

9.

Dalton JP, O'Neill SC, Collins P, Walshe A, Sekiya M, Doyle S, Mulcahy G, Hoyle D, Khaznadji E, Moire N, Brennan G, Mousley A, Kreshchenko N, Mauleh AG, Donnelly SM (2003) Fasciola hepatica cathepsin L-like proteases: biology, function, and potential in the development of first generation liver fluke vaccines. Int J Parasitol 33:1173–1181

10.

Dixit AK, Yadav SC, Sharma RL (2002) The 28 kDa Fasciola gigantica cysteine proteinase in the diagnosis of prepatent ovine fasciolosis. Vet Parasitol 109:233–247

11.

Dixit AK, Yadav SC, Sharma RL (2004) Experimental bubaline fasciolosis: kinetics of antibody response using 28 kDa Fasciola gigantica cysteine proteinase as antigen. Trop Anim Health Prod 36:49–54

12.

Dixit AK, Dixit P, Sharma RL (2008) Immunodiagnostic/ protective role of cathepsin L cysteine proteinases secreted by Fasciola species. Vet Parasitol 154:177–184

13.

Dowd AJ, Smith AM, McGonigle S, Dalton JP (1994) Purification and characterization of a second cathepsin-L proteinase secreted by the parasitic trematode Fasciola hepatica. Eur J Biochem 223:91–98

14.

EL-Ahwany E, Rabia I, Nagy F, Zoheiry M, Diab T, Suher Zada S (2012) Protective role of purified cysteine proteinases against Fasciola gigantica infection in experimental animals. Korean J Parasitol 50:45–51

15.

Elsibaei MM, Ali NM, Ibrahim AN, Mohammed BO (2013) Evaluation of the diagnostic efficacy of Fasciola adult worm vomit for serodiagnosis of human fasciolosis. Parasitol Res 112:1849–1855

16.

El- Rahimy HH, Mahgoub AM, El- Gebaly NS, Mousa WM, Antably AS (2012) Molecular, biochemical and morphometric characterization of Fasciola species potentially causing zoonotic disease in Egypt. Parasitol Res 111:1103–1111

17.

Fagbemi BO, Guobadia EE (1995) Immunodiagnosis of fasciolosis in ruminants using a 28 kDa cysteine protease of Fasciola gigantica adult flukes. Vet Parasitol 57:309–318

18.

Golden O, Flynn RJ, Read C, Sekiya M, Donnelly SM, Stack C, Dalton JP, Mulcahy G (2010) Protection of cattle against a natural infection of Fasciola hepatica by vaccination with recombinant cathepsin L1 (rFhCL1). Vaccine 28:5551–5557

19.

Guobadia EE, Fagbemi BO (1995) Time course analysis of antibody response by EITB and ELISA before and after chemotherapy in sheep infected with Fasciola gigantica. Vet parasitol 58:247–253

20.

Guobadia EE, Fagbemi BO (1996) Detection of circulating Fasciola gigantica antigen in experimental and natural infections of sheep with fasciolosis. Vet Parasitol 65:29–39

21.

Jayaraj R, Piedrafita D, Dynon K, Grams R, Spithill TW, Smooker PM (2009) Vaccination against fasciolosis by a multivalent vaccine of stage-specific antigens. Vet Parasitol 160:230–236

22.

Martinez-Pereza JM, Robles-Pereza D, Rojo-Vazqueza FA, Martinez-Valladares M (2012) Comparison of three different techniques to diagnose Fasciola hepatica infection in experimentally and naturally infected sheep. Vet Parasitol 190:80–86

23.

Mas-Coma S (2005) Epidemiology of fascioliasis in human endemic areas. J Helminthol 79:207–216

24.

Mehra UR, Verma AK, Dass RS, Sharma RL, Yadav SC (1999) Effects of Fasciola gigantica infection on growth and nutrient utilization of buffalo calves. Vet Res 145:699–702

25.

Meshgi B, Jalousian F, Fathi S, Jahani Z (2018) Design and synthesis of a new peptide derived from Fasciola gigantica cathepsin L1 with potential application in serodiagnosis of fascioliasis. Expt Parasitol 189:76–86

26.

Mezo M, Gonzalez-Warleta M, Castro-Hermida JA, Muino L, Ubeira FM (2011) Association between anti-F. hepatica antibody levels in milk and production losses in dairy cows. Vet Parasitol 180:237–242

27.

Nyirenda SS, Sakala M, Moonde L, Kayesa E, Fandamu P, Banda F, Sinkala Y (2019) Prevalence of bovine fascioliasis and economic impact associated with liver condemnation in abattoirs in Mongu district of Zambia. BMC Vet Res 15:33

28.

O'Neill SM, Parkinson M, Dowd AJ, Strauss W, Angles R, Dalton JP (1999) Short report: Immunodiagnosis of human fasciolosis using recombinant Fasciola hepatica cathepsin L1 cysteine proteinase. Am J Trop Med Hygiene 60:749–751

29.

Parkinson M, O'Neill SM, Dalton JP (2007) Endemic human fasciolosis on Bolivian Altiplano. Epidemiol Infect 135:669–674

30.

Phalee A, Wongsawad C (2014) Prevalence of infection and molecular confirmation by using ITS-2 region of Fasciola gigantica found in domestic cattle from Chiang Mai province, Thailand. Asian Pac J Trop Med 7:207–211

31.

Raina OK, Yadav SC, Sriveny D, Gupta SC (2006) Immunodiagnosis of bubaline fasciolosis with Fasciola gigantica cathepsin-L and recombinant cathepsin L 1-D proteases. Acta Trop 98:145–151

32.

Roy B, Tandon V (1992) Seasonal prevalence of some zoonotic trematode infections in cattle and pigs in the northeast mountain zone in India. Vet Parasitol 41:69–79

33.

Ruiz-Tibetan E, Hillyer GV, Knight WB, Rios IG, Woodwall JP (1979) Intensity of infection with Schistosoma mansoni: its relationship to the sensitivity and specificity to serological tests. Am J Trop Med Hygiene 28:230–236

34.

Sambrook JF, Russell DW (2001) Molecular cloning: a laboratory manual, 3rd edn, Vol. 1–3. Cold Spring Harbor Laboratory Press, Harbor

35.

Sharma RL, Dhar DN, Raina OK (1989) Studies on the prevalence and laboratory transmission of fasciolosis in animals in the Kashmir valley. Br Vet J 145:57–61

36.

Smith AM, Dowd AJ, McGoningle S, Keegan PS, Brennan G, Trudgett A, Dalton JP (1993) Purification of a cathepsin L-like proteinase secreted by adult Fasciola hepatica. Mol Biochem Parasitol 62:1–8

37.

Sriveny D, Raina OK, Yadav SC, Chandra D, Jayrawa AK, Singh M, Velusamy R, Singh BP (2006) Cathepsin L cysteine proteinase in the diagnosis of bovine Fasciola gigantica infection. Vet Parasitol 135:25–31

38.

Thrusfield M (2005) Veterinary epidemiology, 3rd edn. ELST, London, pp 305–330

39.

Towbin H, Staehelin T, Gordon J (1979) Electrophoretic transfer of proteins from acrylamide gels to nitrocellulose sheets: procedure and some applications. Pro Natl Acad Sci 76:4350–4354

40.

Varghese A, Raina OK, Nagar G, Garg R, Banerjee PS, Maharana BR, Kollannur JD (2012) Development of cathepsin-L cysteine proteinase based dot-enzyme-linked immunosorbent assay for the diagnosis of Fasciola gigantica infection in buffaloes. Vet Parasitol 183:382–385

41.

Velusamy R, Singh BP, Sharma RL, Chandra D (2004) Detection of circulating 54 kDa antigen in sera of bovine calves experimentally infected with F. gigantica. Vet Parasitol 119:187–195

42.

Martınez-Sernandez V, Muin L, Perteguer MJ, Garate T, Mezo M, Gonzalez-Warleta M, Muro A, da Costa JMC, Romarıs F, Ubeira FM (2011) Development and evaluation of a new lateral flow immunoassay for serodiagnosis of human fasciolosis. PLoS Negl Trop Dis 5(11):e1376. https://doi.org/10.1371/journal.pntd.0001376

43.

Yadav SC, Saini M, Raina OK, Nambi PA, Jadav K, Sriveny D (2005) Fasciola gigantica cathepsin-L cysteine proteinase in the detection of early experimental fasciolosis in ruminants. Parasitol Res 97:527–534
Acknowledgements
The first and second authors are thankful to the Head, Department of Biotechnology, SHUATS, Prayagraj, U.P. for providing facilities for this research work. The authors are also thankful to the Director, CARI-Indian Veterinary Research Institute, Izatnagar for allowing the first author to do the part of this research work at his institute as a trainee. We are also thankful to M/S Mary Nisha for her assistance in the preparation of the manuscript.
Additional information
Publisher's Note
Springer Nature remains neutral with regard to jurisdictional claims in published maps and institutional affiliations.
About this article
Cite this article
Aftab, A., Lall, R., Bisen, S. et al. Serodiagnosis of Fasciola gigantica Infection in Buffaloes with Native Cathepsin-L Proteases and Recombinant Cathepsin L1-D. Acta Parasit. 65, 413–421 (2020). https://doi.org/10.2478/s11686-020-00177-3
Received:

Accepted:

Published:

Issue Date:
Keywords
Fasciola gigantica

Cathepsin L

Cathepsin L1D

Serodiagnosis

Buffalo