Abstract
Background
Giardia intestinalis is a common cause of gastrointestinal illness especially in children of developing countries. Giardia assemblages A and B are the major human infective genotypes.
Objective
The present study aimed to investigate the role of water supply in the epidemiology of giardiasis via genotyping G. intestinalis detected in diarrheic children and in water samples in Egyptian rural areas.
Methods
Stool samples of 100 diarrheic children, 40 drinking water samples and 10 raw water samples of canals were examined microscopically for Giardia. DNA was extracted from microscopically positive faecal samples and from all of the collected water samples. Amplification of Giardia tpi gene was performed by a nested PCR using assemblage A- and assemblage B-specific primers. Giardia gdh gene was amplified by a heminested PCR. Giardia genotypes were determined by restriction fragment polymorphism (RFLP) analysis of the amplified products. Sequencing of the amplified products was performed in two faecal and two water samples
Results
Giardia intestinalis was detected in 24 children, in none of the drinking water samples and in all canal water samples. Giardia sub-assemblage AII was identified in all stool and raw water samples. The RFLP pattern was confirmed in sequenced samples.
Conclusion
The presence of the same Giardia sub-assemblage in diarrheic children and in raw water samples shows by molecular evidence the potential for waterborne dissemination of Giardia in Egypt. Further studies are needed to monitor cyst levels and infectivity of the genotype detected in water for risk assessment and management.
Access options
Buy single article
Instant access to the full article PDF.
US$ 39.95
Tax calculation will be finalised during checkout.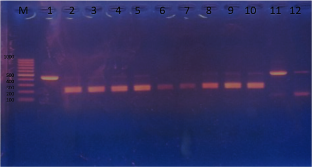 References
1.

Abdel-Satar MA, Ali MH, Goher ME (2016) Indices of water quality and metal pollution of Nile River, Egypt. Egypt J Aquat Res 43:21–29. https://doi.org/10.1016/j.ejar.2016.12.006

2.

Adam EA, Yoder JS, Gould LH, Hlavsa MC, Gargano JW (2016) Giardiasis outbreaks in the United States, 1971–2011. Epidemiol Infect 144:2790–2801

3.

Adam RD (2001) Biology of Giardia lamblia. Clin Microbiol Rev 14:447–475. https://doi.org/10.1128/CMR.14.3.447-475.2001

4.

Ali MA, Al-Herrawy AZ, El-Hawaary SE (2004) Detection of enteric viruses, Giardia and Cryptosporidium in two different types of drinking water treatment facilities. Water Res 38:3931–3939

5.

Al-Mohammed HI (2011) Genotypes of Giardia intestinalis clinical isolates of gastrointestinal symptomatic and asymptomatic Saudi children. Parasitol Res 108:1375–1381. https://doi.org/10.1007/s00436-010-2033-5

6.

Amar CF, Dear PH, McLauchlin J (2003) Detection and genotyping by real-time PCR/RFLP analyses of Giardia duodenalis from human faeces. J Med Microbiol 52(Pt 8):681–683

7.

Amar CFL, Dear PH, Pedraza-Diaz S, Looker N, Linnane E, McLauchlin J (2002) Sensitive PCR-restriction fragment length polymorphism assay for the detection and genotyping of Giardia intestinalis in human feces. J Clin Microbiol 40:446–452

8.

Bertrand I, Albertini L, Schwartzbrod J (2005) Comparison of two target genes for detection and genotyping of Giardia lamblia in human feces by PCR and PCR-restriction fragment length polymorphism. J Clin Microbiol 43:5940–5944

9.

Castro-Hermida JA, González-Warleta M, Mezo M (2015) Cryptosporidium spp. and Giardia duodenalis as pathogenic contaminants of water in Galicia, Spain: the need for safe drinking water. Int J Hyg Environ Health 218:132–138. https://doi.org/10.1016/j.ijheh.2014.09.001

10.

Colli CM, Bezagio RC, Nishi L et al (2015) Identical assemblage of Giardia duodenalis in humans, animals and vegetables in an urban area in southern Brazil indicates a relationship among them. PLoS ONE 10(3):e0118065. https://doi.org/10.1371/journal.pone.0118065

11.

Dahesh S (2018) Evaluation of a deworming campaign by albendazole during 2016 in a rural area of Giza Governorate, Egypt. United J 11:52–61

12.

DeRegnier DP, Cole L, Schupp DG, Erlandsen SL (1989) Viability of Giardia cysts suspended in lake, river, and tap water. Appl Environ Microbiol 55:1223–1229

13.

Efstratiou A, Ongerth JE, Karanis P (2017) Waterborne transmission of protozoan parasites: review of worldwide outbreaks—an update 2011–2016. Water Res 114:14–22. https://doi.org/10.1016/j.watres.2017.01.036

14.

Einarsson E, Ma'ayeh S, Svärd SG (2016) An up-date on Giardia and giardiasis. Curr Opin Microbiol 34:47–52. https://doi.org/10.1016/j.mib.2016.07.019

15.

El Basha NR, Zaki MM, Hassanin OM, Rehan MK, Omran D (2016) Giardia assemblages A and B in diarrheic patients: a comparative study in Egyptian children and adults. J Parasitol 102:69–74. https://doi.org/10.1645/14-676

16.

El-Badry A, Mohammed F, Gawad AE (2017) Predominance of Giardia intestinalis assemblage B in diarrhoeic children in Sharkia, Egypte. Parasitol United J 10:39–43. https://doi.org/10.21608/PUJ.2017.4735

17.

El-Kowrany SI, El-Zamarany EA, El-Nouby KA, El-mehy DA, Abo Ali EA, Othman AA, Salah W, El-Ebiary AA (2016) Water pollution in the Middle Nile Delta, Egypt: an environmental study. J Adv Res 7:781–794. https://doi.org/10.1016/j.jare.2015.11.005

18.

EL-Shazly AM, EL-Sheikha HM, Soltan DM, Mohamed KA, Morsy TA, (2007) Protozoal pollution of surface water sources in Dakahlia Governorate. Egypt J Egypt Soc Parasitol 37:51–64

19.

El-Tantawy NL, Taman AI (2014) The epidemiology of Giardia intestinalis assemblages A and B among Egyptian children with diarrhea: a PCR-RFLP-based approach. Parasitol United J 7:104–109. https://doi.org/10.4103/1687-7942.149557

20.

El-Zanfaly HT (2015) Water quality and health in Egyptian rural areas. J Environ Prot Sustain Dev 1:203–210

21.

Egyptian drinking water quality standards (2007) Ministry of Health, Population Decision number 458.

22.

Fahmy HM, El-Serougi AO, El Deeb HK, Hussein HM, Abou-Seri HM, Klotz C et al (2015) Giardia intestinalis assemblages in Egyptian children with diarrhea. Eur J Clin Microbiol Infect Dis 34:1573–1581

23.

Falk CC, Karanis P, Schoenen D, Seitz HM (1998) Bench scale experiments for the evaluation of a membrane filtration method for the recovery efficiency of Giardia and Cryptosporidium from water. Water Res 32:565–568

24.

Feng Y, Xiao L (2011) Zoonotic potential and molecular epidemiology of Giardia species and giardiasis. Clin Microbiol Rev 24:110–140. https://doi.org/10.1128/CMR.00033-10

25.

Fletcher SM, Stark D, Harkness J, Ellis J (2012) Enteric protozoa in the developed world: a public health perspective. Clin Microbiol Rev 25:420–449. https://doi.org/10.1128/CMR.05038-11

26.

Garcia LS (2007) Diagnostic medical parasitology, 5th edn. ASM Press, Washington, pp 581–600

27.

Gasparinho C, Ferreira FS, Mayer AC, Mirante MC, Vaz Nery S, Santos-Reis A, Portugal-Calisto D, Brito M (2017) Molecular characterization of Giardia lamblia in children less than 5 years of age with diarrhoea attending the Bengo General Hospital, Angola. Trans R Soc Trop Med Hyg 111:497–503. https://doi.org/10.1093/trstmh/try004

28.

Ghieth MA, El-Badry AA, Abu-Sarea EY et al (2016) Genotypic analysis of Giardia intestinalis in children at Egypt. Comp Clin Pathol 25:1241–1246. https://doi.org/10.1007/s00580-016-2337-7

29.

Haque R, Mondal D, Karim A, Molla IH, Rahim A, Faruque AS, Ahmad N, Kirkpatrick BD, Houpt E, Snider C, Petri WA Jr (2009) Prospective case-control study of the association between common enteric protozoal parasites and diarrhea in Bangladesh. Clin Infect Dis 48:1191–1197. https://doi.org/10.1086/597580

30.

Helmy MM, Abdel-Fattah HS, Rashed L (2009) Real-time PCR/RFLP assay to detect Giardia intestinalis genotypes in human isolates with diarrhea in Egypt. J Parasitol 95:1000–1004. https://doi.org/10.1645/GE-1670.1

31.

Hill DR (2005) Giardia lamblia. In: Mandell GL, Bennett JE, Dolin R (eds) Principles and practice of infectious diseases. 2. 6th edn. Churchill Livingstone An Imprint of Elsevier Inc, Philadelphia, 277: 3198–3203.

32.

Huey CS, Mahdy MA, Al-Mekhlafi HM, Nasr NA, Lim YA, Mahmud R, Ali SJ, MA1, Al-Herrawy AZ, El-Hawaary SE, (2013) Multilocus genotyping of Giardia duodenalis in Malaysia. Infect Genet Evol 17:269–276. https://doi.org/10.1016/j.meegid.2013.04.013

33.

Kasaei R, Carmena D, Jelowdar A, Beiromvand M (2018) Molecular genotyping of Giardia duodenalis in children from Behbahan, southwestern Iran. Parasitol Res 117:1425–1431. https://doi.org/10.1007/s00436-018-5826-6

34.

Koloren Z, Seferoğlu O, Karanis P (2016) Occurency of Giardia duodenalis assemblages in river water sources of Black Sea, Turkey. Acta Trop 164:337–344. https://doi.org/10.1016/j.actatropica.2016.09.025

35.

Lasek-Nesselquist E, Welch DM, Sogin ML (2010) The identification of a new Giardia duodenalis assemblage in marine vertebrates and a preliminary analysis of G. duodenalis population biology in marine systems. Int J Parasitol 40:1063–1074

36.

Lass A, Szostakowska B, Korzeniewski K, Karanis P (2017) Detection of Giardia intestinalis in water samples collected from natural water reservoirs and wells in northern and north-eastern Poland using LAMP, real-time PCR and nested PCR. J Water Health 15:775–787. https://doi.org/10.2166/wh.2017.039

37.

Lee MF, Auer H, Lindo JF, Walochnik J (2017) Multilocus sequence analysis of Giardia spp. isolated from patients with diarrhea in Austria. Parasitol Res 116:477–481. https://doi.org/10.1007/s00436-016-5306-9

38.

Lee MF, Cadogan P, Eytle S, Copeland S, Walochnik J, Lindo JF (2017) Molecular epidemiology and multilocus sequence analysis of potentially zoonotic Giardia spp. from humans and dogs in Jamaica. Parasitol Res 116:409–414

39.

Li J, Wang H, Wang R, Zhang L (2017) Giardia duodenalis infections in humans and other animals in China. Front Microbiol 8:2004. https://doi.org/10.3389/fmicb.2017.02004

40.

Liang CH, Tsaihong JC, Cheng YY, Peng SY (2012) Occurrence and genotype of Giardia cysts isolated from faecal samples of children and dogs and from drinking water samples in an aboriginal area of central Taiwan. Exp Parasitol 131:204–209. https://doi.org/10.1016/j.exppara.2012.04.002

41.

Lim YA, Lai MM, Mahdy MA, Mat Naim HR, Smith HV (2009) Molecular detection of Giardia contamination in water bodies in a zoo. Environ Res 109:857–859. https://doi.org/10.1016/j.envres.2009.07.007

42.

Minetti C, Lamden K, Durband C, Cheesbrough J, Platt K, Charlett A, O'Brien SJ, Fox A, Wastling JM (2015) Case-control study of risk factors for sporadic giardiasis and parasite assemblages in north west England. J Clin Microbiol 53:3133–3140. https://doi.org/10.1128/JCM.00715-15

43.

Monis PT, Andrews RH, Mayrhofer G, Ey PL (2003) Genetic diversity within the morphological species Giardia intestinalis and its relationship to host origin. Infect Genet Evol 3:29–38

44.

Naguib D, El-Gohary AH, Roellig D, Mohamed AA, Arafat N, Wang Y, Feng Y, Xiao L (2018) Molecular characterization of Cryptosporidium spp. and Giardia duodenalis in children in Egypt. Parasit Vectors 11:403. https://doi.org/10.1186/s13071-018-2981-7

45.

Oliveira-Arbex AP, David EB, Oliveira-Sequeira TC, Bittencourt GN, Guimarães S (2016) Genotyping of Giardia duodenalis isolates in asymptomatic children attending daycare centre: evidence of high risk for anthroponotic transmission. Epidemiol Infect 144:1418–1428. https://doi.org/10.1017/S0950268815002514

46.

Pavanelli MF, Colli CM, Gomes ML, Góis MB, Melo DANG MB, Almeida Araújo EJ, de Sant'Ana MGD (2018) Comparative study of effects of assemblages AII and BIV of Giardia duodenalis on mucosa and microbiota of the small intestine in mice. Biomed Pharmacother 101:563–571. https://doi.org/10.1016/j.biopha.2018.02.141

47.

Pons W, Young I, Truong J, Jones-Bitton A, McEwen S, Pintar K, Papadopoulos AA (2015) Systematic review of waterborne disease outbreaks associated with small non-community drinking water systems in Canada and the United States. PLoS ONE 210(10):e0141646. https://doi.org/10.1371/journal.pone.0141646

48.

Sadek GS, El-Settawy MA, Soha A, Nasr SA (2013) Genotypic characterization of Giardia intestinalis in children in Menoufiya and Sharkia governorates. Egypt Life Sci J 10:4006–4015

49.

Sánchez A, Munoz M, Gómez N, Tabares J, Segura L, Salazar Á, Restrepo C, Ruíz M, Reyes P, Qian Y, Xiao L, López MC, Ramírez JD (2017) Molecular Epidemiology of Giardia, Blastocystis and Cryptosporidium among indigenous children from the Colombian Amazon Basin. Front Microbiol 8:248. https://doi.org/10.3389/fmicb.2017.00248

50.

Sulaiman IM, Jiang J, Singh A, Xiao L (2004) Distribution of Giardia intestinalis genotypes and subgenotypes in raw urban wastewater in Milwaukee, Wisconsin. Appl Environ Microbiol 70:3776–3780

51.

Taha S, Abd Al Aal Z, Saleh Z, El Badry A (2018) Giardia intestinalis assemblages among Egyptian symptomatic children: Prevalence and seasonal distribution in Cairo, Egypt. J Egypt Soc Parasitol 48:661–668

52.

Torgerson PR, Devleesschauwer B, Praet N et al (2015) World health Organization estimates of the global and regional disease burden of 11 foodborne parasitic diseases, 2010: a data synthesis. PLoS Med 12(12):e1001920. https://doi.org/10.1371/journal.pmed.1001920

53.

World Health of Organization (WHO) (2017) Guidelines for drinking-water quality, incorporating the first addendum: Microbiological agents in drinking water, 4th edn. WHO, Geneva
Ethics declarations
Conflict of Interest and Source of Funding
None.
Additional information
Publisher's Note
Springer Nature remains neutral with regard to jurisdictional claims in published maps and institutional affiliations.
About this article
Cite this article
Abd El-Latif, N.F., El-Taweel, H.A., Gaballah, A. et al. Molecular Characterization of Giardia intestinalis Detected in Humans and Water Samples in Egypt. Acta Parasit. 65, 482–489 (2020). https://doi.org/10.2478/s11686-020-00176-4
Received:

Accepted:

Published:

Issue Date:
Keywords
Giardia

Assemblages

Diarrhea

Children

Water

PCR