Abstract
Purpose
Dirofilariasis caused by the filarial nematode Dirofilaria repens is mainly a disease of dogs and other carnivores. Also, humans can be accidentally infected with this parasite. The infective third-stage filariform larvae are transmitted by various species of mosquitoes. Until this day, a total of 17 human cases caused by D. repens have been diagnosed in Slovakia, 11 subcutaneous, 4 ocular, 1 pulmonary and 1 in the epididymis. The aim of this report was to describe an unusual clinical case of dirofilariasis of the scrotum.
Methods
Extirpated worm was subjected to the molecular and histological identification. PCR for the amplification of cytochrome oxidase subunit 1 (CO1) was performed using specific D. repens primer pair.
Results
Here we document the 13th case of human dirofilariasis in a 46-year-old man from southwestern Slovakia. Very rare in humans, genital involvement manifests itself as pseudotumor nodule affecting the epididymis. The patient consulted a general practitioner due to a palpable subcutaneous lump in the scrotum. Routine laboratory analysis revealed blood eosinophilia (16.6%). The ultrasound examination was indicated, and subsequently, surgical excision of the right epididymal nodule was performed. On the basis of histological microscopic examination and PCR-based detection, the helminth was identified as Dirofilaria repens. This represents the ninth case of autochthonous dirofilariasis in Slovakia.
Conclusions
The majority of D. repens infections were recorded in southwestern regions of Slovak Republic, which are considered to be endemic areas for canine dirofilariasis. Our described patient also comes from southwestern part of Slovakia (Topoľníky, Dunajská Streda region).
Access options
Buy single article
Instant access to the full article PDF.
US$ 39.95
Tax calculation will be finalised during checkout.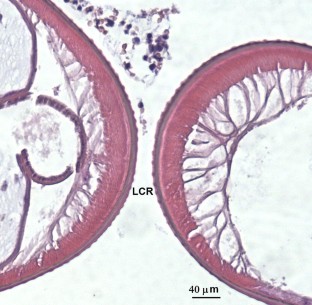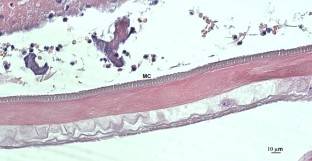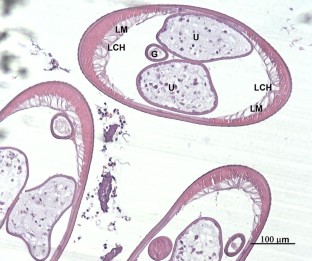 References
1.

Annam A, Munden MM, Mehollin-Ray AR, Schady D, Browne LP (2015) Extratesticular masses in children taking ultrasound beyond paratesticular rhabdomyosarcoma. Pediatr Radiol 45:1382–1391

2.

Antolová D, Miterpáková M, Paraličová Z (2018) Case of human Dirofilaria repens infection manifested by cutaneous larva migrans syndrome. Parasitol Res 114:2969–2973

3.

Araujo AM (1996) Canine and human Dirofilaria immitis infections in Portugal. A review. Parassitologia 38:366

4.

Aydin A, Aksoy HZ, Reis A, Özdemir F (2011) Undifferentiated carcinoma of the epididymis. Acta Clin Croat 50:415–418

5.

Bertozzi M, Rinaldi VE, Perstipino M, Giovenali P, Appignani A (2015) Dirofilariasis mimicking an acute scrotum. Pediatr Emerg Care 31:715–716

6.

Borkowski PK, Rymkiewicz G, Golebiewska J, Nestoros N, Romejko-Jarosinska J, Zarnowska-Prymek H, Masny A, Palucki J, Cielecka D (2015) The first case of human autochtonous subconjunctival dirofilariosis in Poland and MALT lymphoma as possible consequence of this parasitosis. Infect Agents Cancer 10:1–5

7.

Čabanová V, Miterpáková M, Valentová D, Blažejová H, Rudolf I, Stloukal E, Hurníková Z, Dzidová M (2018) Urbanization impact on mosquito community and the transmission potential of filarial infection in Central Europe. Parasite Vectors 11:261

8.

Day MJ (2011) One Health: the importance of companion animal vector-borne diseases. Parasit Vectors 4:49

9.

Dóczi I, Bereczki L, Gyetvai T, Fejes I (2015) Description of five dirofilariasis cases in South Hungary and review epidemiology of this disease for the country. Wien Klin Wochenschr 127:696–702

10.

Ermakova LA, Nagorny SA, Krivorotova EY, Pshenichnaya NY, Matina ON (2014) Dirofilaria repens in the Russian Federation: current epidemiology, diagnosis, and treatment from a federal reference center perspective. Int J Infect Dis 23:47–52

11.

Faburay B (2015) The case for a 'one health' approach to combating vector-borne diseases. Infect Ecol Epidemiol 5:28132

12.

Fleck R, Kurz W, Quade B, Geginat G, Hof H (2009) Human dirofilariasis due to Dirofilaria repens mimicking a scrotal tumor. Urology 73:209

13.

Fontanelli SL, Gabrielli S, De Angelis M, Milardi GL, Magnani C, Di Marco B, Taliani G, Cancrini G (2016) Dirofilaria repens microfilariae from a human node fine-needle aspirate: a case report. BMC Infect Dis 16:248

14.

Fuehrer HP, Auer H, Leschnik M, Silbermayr K, Duscher G, Joachim A (2016) Dirofilaria in humans, dogs, and vectors in Austria (1978–2014) from imported pathogens to the endemicity of Dirofilaria repens. Plos Negl Trop Dis 10:1–13

15.

Gopinath TN, Lakshmi KP, Shaji PC, Rajalakshmi PC (2013) Periorbital dirofilariosis clinical and imaging findings: live worm on ultrasound. Indian J Ophtalmol 61:298–300

16.

Guttierrez Y (2000) Diagnostic pathology of parasitic infections with clinical correlations, 2nd edn. Oxford University Press, London, pp 480–507

17.

Klintebjerg K, Petersen E, Pshenichnaya NY, Ermakova LA, Nagorny SA, Larsen CS (2015) Periorbital Dirofilaria repens imported to Denmark: a human case report. IDCases 2:25–26

18.

Kravchenko V, Itin G, Kartashev V, Ermakov A, Kartashov S, Diosdado A, González-Miguel J, Simón F (2016) Dirofilaria immitis and D. repens in sylvatic reservoirs of Krasnodar Krai (Russian Federation). Vet Parasitol Reg Stud Rep 6:35–38

19.

Leccia N, Patouraux S, Carpentier X, Boissy C, Del Giudice P, Parks S, Michiels JF, Ambrosetti D (2012) Pseudo-tumor of the scrotum, a rare clinical presentation of dirofilariasis: a report of two autochtonous cases due to Dirofilaria repens. Pathog Glob Health 106:370–372

20.

Manfredi MT, Di Cerbo A, Genchi M (2007) Biology of filarial worms parasitizing dogs and cats. In: Genchi C, Rinaldi L, Cringoli G (eds) Dirofilaria immitis and D. repens in dog and cat and human infections. Mappe parassitologiche. Universita` degli Studi di Napoli Federico II, Naples, Italy, pp 39–47

21.

McCall JW, Genchi C, Kramer LH, Guerrero J, Venco L (2008) Heartworm disease in animals and humans. Adv Parasit 66:193–285

22.

Miterpáková M, Antolová D, Ondriska F, Gál V (2017) Human Dirofilaria repens infections diagnosed in Slovakia in the last 10 years (2007–2017). Wien Klin Wochenschr 129:634–641

23.

Miterpáková M, Iglódyová A, Čabanová V, Stloukal E, Miklisová D (2016) Canine dirofilariosis endemic in Central Europe 10 years of epidemiological study in Slovakia. Parasitol Res 115:2389–2395

24.

Miterpáková M, Valentová D, Čabanová V, Berešíková Ľ (2018) Heartworm on the rise new insights into Dirofilaria immitis epidemiology. Parasitol Res 117:2347–2350

25.

Pampiglione S, Canestri-Trotti G, Rivasi F (1995) Human dirofilariasis due to Dirofilaria repens. Review of the world literature. Parassitologia 37:149–194

26.

Pampiglione S, Rivasi F, Gustinelli A (2009) Dirofilarial human cases in the Old World, attributed to Dirofilaria immitis: a critical analysis. Histopathology 54:192–204

27.

Patel SN, Brahmbhatt MN, Nayak JB, Desai ND, Kaje VS (2015) Human dirofilariasis: "An emerging zoonosis. J Foodborne Zoonotic Dis 3:39–41

28.

Raccurt CP (2008) La dirofilariose, zone émergente et méconnue en France. Med Trop 59:389–400 (In French)

29.

Rishniw M, Barr SC, Simpson KW, Frongillo M, Franz M, Dominquez Alpizar JL (2006) Discrimination between six species of canine microfilariae by a single polymerase chain reaction. Vet Parasitol 135:303–314

30.

Sałamatin RV, Pavlikovska TM, Sagach OS, Nikolayenko SM (2013) Human dirofilariasis due to Dirofilaria repens in Ukraine, an emergent zoonosis: epidemiological report of 1465 cases. Acta Parasitol 58:592–598

31.

Simón F, Siles-Lucas M, Morchón R, González-Miguel J, Mellado I, Carretón E, Montoya-Alonso JA (2012) Human and animal dirofilariasis: the emergence of a zoonotic mosaic. Clin Microbiol Rev 25:507–544

32.

Smitha M, Rajendran VR, Devarajan E, Anitha PM (2008) Case report: orbital dirofilariasis. Indian J Radiol Imaging 18:60–62

33.

Tappe D, Plauth M, Bauer T, Muntau B, Dießel L, Tannich E, Herrmann-Trost P (2014) A case of autochthonous human dirofilaria infection, Germany, March 2014. Euro Surveill 19:2–4

34.

Tripi F, Scarlata F, Verde V, Voti GL, Chiaramonte C (2016) Human dirofilariasis presenting as scrotal mass. J Urol Nephrol 3:1–4
Acknowledgements
This study was supported by the KEGA 013TTU-4/2019.
Additional information
Publisher's Note
Springer Nature remains neutral with regard to jurisdictional claims in published maps and institutional affiliations.
About this article
Cite this article
Boldiš, V., Ondriska, F., Bošák, V. et al. Pseudo-Tumor of the Epididymis, a Rare Clinical Presentation of Human Dirofilaria repens Infection: a Report of Autochthonous Case of Dirofilariasis in Southwestern Slovakia. Acta Parasit. 65, 550–553 (2020). https://doi.org/10.2478/s11686-020-00170-w
Received:

Accepted:

Published:

Issue Date:
Keywords
Dirofilaria repens

Human dirofilariasis

Genital involvement