Abstract
Purpose
To describe a new species of a parasitic copepod, Rhinergasilus digitus n. sp. (Cyclopoida, Ergasilidae), collected from the gills of the red-tailed lambari Astyanax fasciatus (Characiformes, Characidae) in two tributaries of the Jurumirim Reservoir (Upper Paranapanema River), São Paulo State, Brazil: Ribeirão dos Veados and Paranapanema River.
Methods
Fish were collected using multi-panel gills nets. The gill of each fish was washed and examined in a stereo microscope for copepods. The copepods found were stored in 70% ethanol, cleared in lactic acid, and mounted in Hoyer's medium. Drawings were made with the aid of a Leica microscope DMLS equipped with a drawing tube.
Results
The new species differs from its congeneric species, Rhinergasilus piranhus (type-species), in having comparatively biggest body size (body length: 535–598 µm in the new species vs. 237–282 µm in R. piranhus); second antennary segment armed with a minute sensillum near middle of inner margin and a row of spinules on outer margin; third exopodal segment of leg 1 with digitiform process; interpodal plates two and three both ornamented with spinules along posterior margin; leg 5 reduced and represented by two unequal setae.
Conclusions
Based on the morphological differences described above, we erected a new species of Rhinergasilus. Rhinergasilus digitus n. sp. is the second ergasilid described from A. fasciatus, as well as it represents the first report of this genus in a characid fish.
Access options
Buy single article
Instant access to the full article PDF.
US$ 39.95
Tax calculation will be finalised during checkout.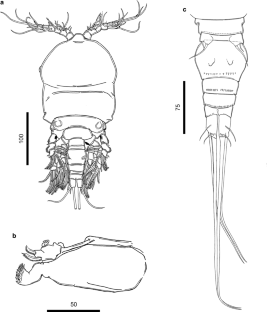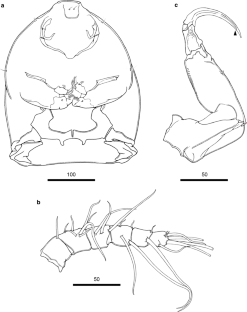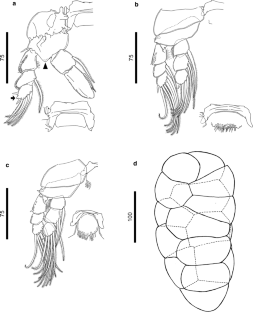 References
1.

Boxshall GA (2016) A new species of Ergasilus von Nordmann, 1832 (Copepoda: Cyclopoida) from the gills of a dasyatid ray, Himantura oxyrhyncha (Sauvage, 1878) from West Kalimantan, Indonesia. Zootaxa 4174:93–103. https://doi.org/10.11646/zootaxa.4174.1.6

2.

Taborda NL, Paschoal F, Luque JL (2016) altifrons and G. argyrostictus (Perciformes: Cichlidae) in the Brazilian Amazon. Acta Parasitol 61:549–555. https://doi.org/10.1515/ap-2016-0073

3.

Varella AMB, Morey GAM, Malta JCO (2019) tipurus n. sp. (Copepoda: Ergasilidae), a parasite of Brazilian Amazon fish species. Acta Parasitol 64:187–194. https://doi.org/10.2478/s11686-018-00020-w

4.

Boxshall GA, Defaye D (2008) Global diversity of copepods (Crustacea: Copepoda) in freshwater. Hydrobiol 595:195–207. https://doi.org/10.1007/s10750-007-9014-4

5.

Luque JL, Pavanelli G, Vieira F, Takemoto R, Eiras J (2013) Checklist of Crustacea parasitizing fishes from Brazil. Check List 9:1449–1470. https://doi.org/10.15560/9.6.1449

6.

Rosim DF, Boxshall GA, Ceccarelli PS (2013) A novel microhabitat for parasitic copepods: a new genus of Ergasilidae (Copepoda: Cyclopoida) from the urinary bladder of a freshwater fish. Parasitol Int 62:347–354. https://doi.org/10.1016/j.parint.2013.03.003

7.

Morey GAM, Moreira AC, Morais AM, Atroch FMPB, Santana HP, Brandão NR, Dumbo IJC, Vital JF, Malta JCO (2016) Copepods (Crustacea: Ergasilidae) fish parasites of floodplain lakes of central Amazon, Brazil. Neotropic Helminthol 10:281–294

8.

Boeger WA, Thatcher VE (1988) Rhinergasilus piranhus gen. et sp n (Copepoda, Poecilostomatoida, Ergasilidae) from the nasal cavities of Piranha Caju, Serrasalmus nattereri, in the Central Amazon. Proc Helminthol Soc Wash 55:5587–5590

9.

Boxshall GA, Montú MA (1997) Copepods parasitic on Brazilian coastal fishes: a handbook. Nauplius 5:1–225

10.

Rashidy H, Boxshall GA (1999) Ergasilid copepods (Poecilostomatoida) from the gills of primitive Mugilidae (grey mullets). Syst Parasitol 42:161–168. https://doi.org/10.1023/A:1006075223683

11.

Bush AO, Lafferty KD, Lotz JM, Shostak AW (1997) Parasitology meets ecology on its own terms: Margolis et al. revisited. J Parasitol 83:575–583. https://doi.org/10.1645/13-394.1

12.

Narciso RB, Brandão H, Perbiche-Neves G, Silva RJ (2019) fasciatus (Cuvier, 1819) (Actinopterygii: Characidae). Acta Parasitol. https://doi.org/10.2478/s11686-019-00108-x

13.

Lacerda ACF, Takemoto RM, Lizama MAP, Pavanelli GC (2007) Parasitic copepods in the nasal fossae of five fish species (Characiformes) from the upper Paraná river floodplain, Paraná, Brazil. Acta Sci Biol Sci 29:429–435

14.

Takemoto RM, Pavanelli GC, Lizama MAP, Lacerda ACF, Yamada FH, Moreira LHA, Ceschini TL, Bellay S (2009) Diversity of parasites of fish from the Upper Paraná River floodplain, Brazil. Braz J Biol 69:691–705. https://doi.org/10.1590/S1519-69842009000300023

15.

Eiras JC, Takemoto RM, Pavanelli GC (2010) Diversidade dos parasites de peixes de água doce do Brasil. Cliche Tec, Maringá

16.

Pavanelli GC, Takemoto RM, Eiras JC (2013) Parasitologia: Peixes de água doce do Brasil. Eduem, Maringá

17.

Varella AMB (1992) Copépodos (Crustacea) parasitas das fossas nasais de peixes, coletados na região de Rondônia, Brasil. Dissertation, Universidade Estadual Paulista "Júlio de Mesquita Filho"

18.

Morey GAM, Malta JCO (2016) Metazoary parasites of the nasal fossae of the Tambaqui, Colossoma macropomum (Cuvier, 1818) (Characiformes: Characidae) collected in floodplain lakes of the central Amazon, Brazil. Folia Amazónica 25:71–76. https://doi.org/10.24841/fa.v25i1.386

19.

Thatcher VE (2006) Amazon fish parasites. Pensoft, Moscow

20.

Luque JL, Tavares LER (2007) Checklist of Copepoda associated with fishes from Brazil. Zootaxa 1479:1–39

21.

Morey GAM, Malta JCO (2016) The species of copepoda (Crustacea: Ergasilidae) parasites of gill filaments and nostrils of Serrasalmus altispinis (Merckx, Jégu and Santos, 2000) (Characiformes: Serrasalmidae) of central Amazon floodplain lakes, Brazil. Folia Amazónica 25:55–60. https://doi.org/10.24841/fa.v25i1.384

22.

Arévalo EG, Morey GAM, Malta JCO (2018) Parasitic fauna of Prochilodus nigricans (Prochilodontidae) from Brazilian Amazon floodplain lakes. Biota Amazônia 8:19–21. https://doi.org/10.18561/2179-5746/biotaamazonia.v8n1p19-21

23.

Godinho HP, Godinho AL (2003) Águas, peixes e pescadores do São Francisco das Minas Gerais. PUC Minas, Belo Horizonte
Acknowledgements
This study was supported by Fundação de Amparo à Pesquisa do Estado de São Paulo (FAPESP) (Proc. N°: 11/24159-3). R.B.N thanks the Conselho Nacional de Desenvolvimento Científico e Tecnológico (CNPq) for the financial support given to the study (132844/2018-4). R.J.S. is supported by FAPESP #2016/50377-1; CNPq #309125/2017–0; CNPq-PROTAX #440496/2015-2.
Ethics declarations
Conflict of interest
The authors declare that they have no conflicts of interest.
Ethical standards
All applicable international, national, and/or institutional guidelines for the use and care of animals were followed.
Additional information
Publisher's Note
Springer Nature remains neutral with regard to jurisdictional claims in published maps and institutional affiliations.
About this article
Cite this article
Narciso, R.B., Brandão, H., Perbiche-Neves, G. et al. A New Species of Rhinergasilus Boeger et Thatcher, 1988 (Copepoda: Ergasilidae) from Gills of Astyanax fasciatus (Cuvier, 1819) (Actinopterygii: Characidae). Acta Parasit. 65, 327–334 (2020). https://doi.org/10.2478/s11686-020-00168-4
Received:

Accepted:

Published:

Issue Date:
Keywords
Cyclopoida

Crustacea

Ectoparasite

Jurumirim

Paranapanema

Ribeirão dos veados