Abstract
Introduction
North American woodrats or packrats (genus Neotoma) are excellent hosts of coccidians and several species remain to be reported as hosts. Eleven species of Eimeria have been previously described from Neotoma spp. However, it has been nearly 35 years, since the last eimerian (E. ladronensis Reduker and Duszynski, 1985) was described from any woodrat species.
Methods
Six adult eastern woodrats, Neotoma floridana (Ord, 1818) were collected with Sherman live traps from Blue Haze Vista, Polk County, Arkansas, USA. Fecal specimens or rectal contents were examined for coccidia. Measurements were taken on 30 sporulated oöcysts and photographs were taken using brightfield optics.
Results
One (17%) eastern woodrat was found to be passing oocysts of Eimeria machardyi n. sp. as well as three (50%) with Eimeria albigulae Levine, Ivens, and Kruidenier, 1957, and two (33%) with Eimeria glauceae Wheat and Ernst, 1974. We provide a description of a new species of Eimeria from eastern woodrats, Neotoma floridana, the first photomicrograph of E. glauceae, and additional information on E. albigulae. A summation of the eimerians of North American woodrats is also provided.
Conclusions
Nine of 13 (69%) species of packrats north of México have now been reported to harbor 12 species of eimerians. Additional surveys of Neotoma spp. which have not yet been reported as hosts, particularly those from México and Central America, should yield more eimerians and distributional records as well as the possibility of discovery of new species.
Access options
Buy single article
Instant access to the full article PDF.
US$ 39.95
Tax calculation will be finalised during checkout.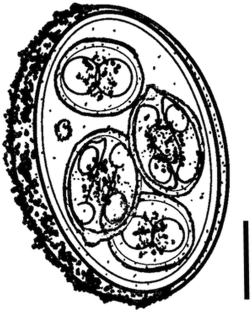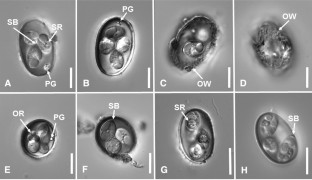 References
1.

Bradley RD, Ammerman LK, Baker RJ, Bradley LC, Cook JA, Dowler RC, Jones C, Schmidly DJ, Stangl FB Jr, Van Den Bussche RA, Würsig B (2014) Revised checklist of North American mammals north of Mexico, 2014. Mus Texas Tech Univ 229:1–23

2.

Edwards CW, Bradley RD (2001) Molecular phylogenetics of the Neotomafloridana species group. J Mammal 82:791–798. https://doi.org/10.1644/1545-1542(2001)082%3c0791

3.

Henry DP (1932) Observations on coccidia of small mammals in California, with descriptions of seven new species. Univ Calif Publ Zool 37:279–290

4.

ICZN (2012) International Commission on Zoological Nomenclature: Amendment of articles 8, 9, 10, 21 and 78 of the International Code of Zoological Nomenclature to expand and refine methods of publication. Zootaxa 3450:1–7

5.

Ivens V, Kruidenier FJ, Levine ND (1959) Further studies of Eimeria (Protozoa: Eimeriidae) from Mexican rodents. Trans Ill Acad Sci 51:53–57

6.

Levine ND, Ivens V, Kruidenier FJ (1957) New species of Eimeria from Arizona rodents. J Protozool 4:80–88. https://doi.org/10.1111/j.1550-7408.1957.tb02491.x

7.

Marchiondo AA, Upton SJ (1987) Eimeria albigulae and Eimeria ladronensis: new host records from the bushy-tailed woodrat, Neotoma cinerea, from Utah. J Parasitol 73:421–422. https://doi.org/10.2307/3282103

8.

McAllister CT, Upton SJ, Planz JV, DeWalt TS (1991) New host and locality records of coccidia (Apicomplexa: Eimeriidae) from rodents in the southwestern and western United States. J Parasitol 77:1016–1019. https://doi.org/10.2307/3282760

9.

Reduker DW, Duszynski DW (1985) Eimeria ladronensis n. sp. and E. albigulae (Apicomplexa: Eimeriidae) from the woodrat, Neotoma albigulae (Rodentia: Cricetidae). J Protozool 32:548–550. https://doi.org/10.1111/j.1550-7408.1985.tb04059.x

10.

Reduker DW, Duszynski DW, Yates TL (1987) Evolutionary relationships among Eimeria spp. (Apicomplexa) infecting cricetid rodents. Can J Zool 65:722–735. https://doi.org/10.1139/z87-110

11.

Reduker DW, Hertel L, Duszynski DW (1985) Eimeria species (Apicomplexa: Eimeriidae) infecting Peromyscus rodents in the southwestern United States and northern Mexico with description of a new species. J Parasitol 71:604–613. https://doi.org/10.2307/3281432

12.

Reid FA (2006) Mammals of North America. Houghton Mifflin Company, Boston, p 579

13.

Sealander JA, Heidt GA (1988) Arkansas mammals: their natural history, classification, and distribution. University of Arkansas Press, Fayetteville, p 308. https://doi.org/10.2307/j.ctt1w6tdrj

14.

Straneva JE, Gallati WW (1980) Eimeria strangfordensis sp. n., Eimeria barleyi sp. n., and Eimeria antonellii sp. n., from the eastern woodrat (Neotoma floridana) from Pennsylvania. J Parasitol 66:329–332. https://doi.org/10.2307/3280827

15.

Upton SE, McAllister CT, Brillhart DB, Duszynski DW, Wash CD (1992) Cross-transmission studies with Eimeria arizonensis-like oocysts (Apicomplexa) in New World rodents of the genera Baiomys, Neotoma, Onychomys, Peromyscus, and Reithrodontomys (Cricetidae). J Parasitol 78:406–413. https://doi.org/10.2307/3283636

16.

Wheat BE, Ernst JV (1974) Eimeria glauceae sp. n. and Eimeria dusii sp. n. (Protozoa: Eimeriidae) from the eastern woodrat, Neotoma floridana, from Alabama. J Parasitol 60:403–405. https://doi.org/10.2307/3278352

17.

Wilber PG, Duszynski DW, Upton SJ, Seville RS, Corliss JO (1998) A revision of the taxonomy and nomenclature of the Eimeria spp. (Apicomplexa: Eimeriidae) from rodents in the Tribe Marmotini (Sciuridae). Syst Parasitol 39:113–135. https://doi.org/10.1023/a:1005914010087

18.

Wilson DE, Reeder DM (2005). Mammal species of the world: a taxonomic and geographic reference, 3rd edn. Johns Hopkins University Press, Baltimore, p 2142. https://doi.org/10.1108/09504120610673024
Acknowledgements
The Arkansas Game and Fish Commission provided a scientific collecting permit to CTM. Dr. Thomas J. Fayton (Cornell University, Ithaca, NY) and Nikolas H. McAllister (Lukfata Elementary, Broken Bow, OK) assisted in collecting. Drs. Scott L. Gardner and Gabor Racz (HWML) provided expert curatorial assistance. Drs. Laurence M. Hardy and Jeff Pittman (Ouachita Mountains Biological Station, Big Fork, AR) provided gratis housing for CTM during this study.
Ethics declarations
Conflict of Interest
On behalf of the coauthor, the corresponding author states that there is no conflict of interest.
Ethical Approval
All applicable international, national and/or institutional guidelines for the care and use of animals were followed. All animals in this study were wild-caught species euthanised in accordance with the guidelines set out in the 2016 Guidelines of the American Society of Mammalogists for the use of wild mammals in research and education.
Additional information
Publisher's Note
Springer Nature remains neutral with regard to jurisdictional claims in published maps and institutional affiliations.
About this article
Cite this article
McAllister, C.T., Hnida, J.A. A New Species of Eimeria (Apicomplexa: Eimeriidae) from Eastern Woodrat, Neotoma floridana (Rodentia: Cricetidae), from Arkansas, USA, and a Summation of Eimerians from North American Woodrats. Acta Parasit. 65, 335–340 (2020). https://doi.org/10.2478/s11686-020-00167-5
Received:

Accepted:

Published:

Issue Date:
Keywords
Eimeria machardyi
Eimeria albigulae
Eimeria glauceae
Neotoma floridana

Coccidia

Apicomplexa

Eimeriidae

Eastern woodrat

Arkansas