Abstract
Introduction
Little is known about the genetic and morphological characters of Paramphistomum epiclitum. For the first time in Pakistan, adult flukes were morphologically characterized and the sequence variation in the nuclear ribosomal DNA (rDNA) region, including the first internal transcribed spacers (ITS1) and the 5.8S gene of the Paramphistomum epiclitum were studied.
Methods
Adult amphistomes were examined by light microscopy and sequences of ITS1 and 5.88S rDNA genes were obtained.
Results
Twenty adult flukes were measured, 13.17 ± 1.19 mm in length and 5.28 ± 1.34 mm in width. Seventeen adult flukes were sequenced and high sequence variability was observed in 5′ end of ITS1 region. The 5.8S and 3′ end of ITS1 sequences had 100% identity among the samples. A comparative analysis revealed that different types and numbers of repeats were found within each ITS1 region. The 3′ end of ITS1 region from P. epiclitum showed 98% homology with P. cervi from China and formed a subclade with genetic distance of 0.1663. The 5.8S gene showed 100% identity within Paramphistomidae family and formed a sub-clade with P. epiclitum, P. leydeni, P. cervi and Cotylophoron cotylophorum species isolated from China, India and Uruguay.
Conclusion
This work provides new information on morphological identity and genetics of P. epiclitum from Pakistan.
Access options
Buy single article
Instant access to the full article PDF.
US$ 39.95
Tax calculation will be finalised during checkout.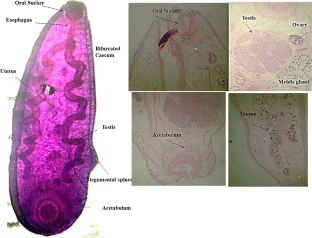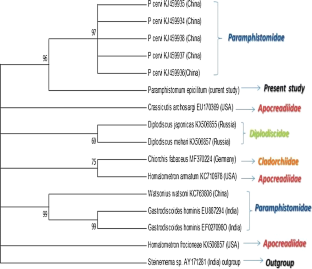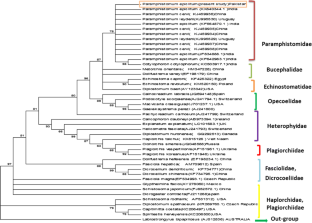 References
1.

Al-Shaibani IRM, Phulan MS, Arijo A, Qureshi TA (2008) Epidemiology of ovine gastrointestinal nematodes in Hyderabad district. Pakistan. Pak Vet J 28(3):125–130

2.

Arbabi M, Dalimi-Asl A, Ghaffarifar F, Foorozandeh-Moghadam M (2012) Morphological and molecular characterization of Dicrocoelium isolated from sheep in the north and center of Iran. Feyz J Kashan Univ Med Sci 16(2):135–145

3.

Blair D, Agatsuma T, Watanobe T, Okamoto M, Ito A (1997) Geographical genetic structure within the human lung fluke, Paragonimus westermani, detected from DNA sequences. Parasitology 115(4):411–417

4.

Blair D, Campos A, Cummings MP, Laclette JP (1996) Evolutionary biology of parasitic platyhelminths: the role of molecular phylogenetics. Parasitol Today 12(2):66–71

5.

Chandrasekharan K, Radhakrishnan K, Jacob VC (1982) Efficacy of distodin in the treatment of amphistomiasis in Indian elephants. Kerala J Vet Sci 13:55–58

6.

Chilton NB, Newton LA, Beveridge I, Gasser RB (2001) Evolutionary relationships of trichostrongyloid nematodes (Strongylida) inferred from ribosomal DNA sequence data. Mol Phylogenet Evol 19(3):367–386

7.

DeSalle R, Egan MG, Siddall M (2005) The unholy trinity: taxonomy, species delimitation and DNA barcoding. Philos Trans R Soc Biol Sci 360(1462):1905–1916

8.

Despres L, Kruger FJ, Imbert-Establet D, Adamson ML (1995) ITS2 ribosomal RNA indicates Schistosoma hippopotami is a distinct species. Int J Parasitol 25(12):1509–1514

9.

Do Nascimento CG, Do Nascimento AA, Mapeli EB, Tebaldi JH, Duarte JM, Hoppe EGL (2006) Natural infection by Paramphistomoidea Stiles and Goldberger, 1910 trematodes in wild Marsh Deer (Blastocerus dichotomus Illiger, 1815) from Sérgio Mottas's hydroelectric power station flooding area. Rev Bras de Parasitol Vet 15(4):133–137

10.

Dreyfuss G, Vignoles P, Rondelaud D (2005) Fasciola hepatica: epidemiological surveillance of natural watercress beds in central France. Parasitol Res 95(4):278–282

11.

Eduardo SL (1937) The taxonomy of the family Paramphistomidae with special reference to the morphology of species occurring in ruminants. Syst Parasitol 5:25–79

12.

Gasser RB, Chilton NB (1995) Characterisation of taeniid cestode species by PCR-RFLP of ITS2 ribosomal DNA. Acta Trop 59(1):31–40

13.

Hillis WD (1990) Co-evolving parasites improve simulated evolution as an optimization procedure. Phys D 42(1–3):228–234

14.

Hoste H, Chilton NB, Beveridge I, Gasser RB (1998) A Comparison of the first internal transcribed spacer of ribosomal DNA in seven species of Trichostrongylus (Nematoda: Trichostrongylidae). Int J Parasitol 28(8):1251–1260

15.

Itagaki T, Tsumagari N, Tsutsumi KI, Chinone S (2003) Discrimination of three amphistome species by PCR-RFLP based on rDNA ITS2 markers. J Vet Med Sci 65(8):931–933

16.

Jadav MM, Kumar N, Das B, Solanki JB (2018) Morphological and molecular characterization of Paramphistomum epiclitum of small ruminants. Acta Parasitol 63(3):586–594

17.

Jones A, Bray RA, Gibson DI (2002) Keys to the Trematoda, vol 2. CABI Publishing and The Natural History Museum, Wallingford, pp 1–768

18.

Kanyari PWN, Kagira JM, Mhoma RJ (2009) Prevalence and intensity of endoparasites in small ruminants kept by farmers in Kisumu Municipality. Livest Res Rural Dev 21(11)

19.

Köhsler M, Leitner B, Blaschitz M, Michel R, Aspöck H, Walochnik J (2006) ITS1 sequence variabilities correlate with 18S rDNA sequence types in the genus Acanthamoeba (Protozoa: Amoebozoa). Parasitol Res 98(2):86–93

20.

Laidemitt MR, Zawadzki ET, Brant SV, Mutuku MW, Mkoji GM, Loker ES (2017) Loads of trematodes: discovering hidden diversity of paramphistomoids in Kenyan ruminants. Parasitology 144(2):131–147

21.

Luna LG (1968) Manual of histologic staining method of the armed forces institute of pathology, 3rd edn. McGraw Hill Book Co., New York

22.

Matebesi-Ranthimo PA, Cloete SW, Van Wyk JB, Olivier JJ (2014) Genetic parameters and relationships of faecal worm egg count with objectively measured wool traits in the Tygerhoek Merino flock. S Afr J Anim Sci 44(2):178–188

23.

Miyazaki I (1974) Lung flukes in the world-morphology and life history. In: A symposium on epidemiology of parasitic diseases. International Medical Foundation of Japan, pp 101–135

24.

Mohapatra S, Chakraborty T, Kumar V, DeBoeck Mohanta KN (2013) Aquaculture and stress management: a review of probiotic intervention. J Anim Physiol Anim Nutr 97(3):405–430

25.

Morgan JAT, Blair D (1998) Relative merits of nuclear ribosomal internal transcribed spacers and mitochondrial CO1 and ND1 genes for distinguishing among Echinostoma species (Trematoda). Parasitology 116(3):289–297

26.

Newton LA, Chilton NB, Beveridge I, Gasser RB (1998) Differences in the second internal transcribed spacer of four species of Nematodirus (Nematoda: Molineidae). Int J Parasitol 28(2):337–341

27.

Nolan MJ, Cribb TH (2005) The use and implications of ribosomal DNA sequencing for the discrimination of digenean species. Adv Parasitol 60:101–163

28.

Parshad VR, Guraya SS, Gupta BC (1987) Histochemical studies on eggshell formation in Paramphistomum cervi (digenea: Paramphistomatidae). J Helminthol 61(1):59–64

29.

Ploeger HW, Ankum L, Moll L, Van Doorn DC, Mitchell G, Skuce PJ, Zadoks RN, Holzhauer M (2017) Presence and species identity of rumen flukes in cattle and sheep in the Netherlands. Vet Parasitol 30(243):42–46

30.

Rollinson D, Walker TK, Simpson AJG (1986) The application of recombinant DNA technology to problems of helminth identification. Parasitology 92(S1):S53–S71

31.

Saifullah M (1999) Developmental and biochemical studies on some amphistome parasites with special reference to Gastrothylax crumenifer. Dissertation, Aligarh Muslim University

32.

Sambrook J, Fritschi EF, Maniatis T (1989) Molecular cloning: a laboratory manual. Cold Spring Harbor Laboratory Press, New York

33.

Sanabria R, Romero J (2008) Review and update of paramphistomosis. Helminthologia 45(2):64–66

34.

Sey O, Prasitirat P, Province S (1994) Amphistomes (Trematoda, Amphistomida) of cattle and buffalo in Thailand. Miscellane Zoologica Hungarica 9:11–17

35.

Shinohara ML, LoBuglio KF, Rogers SO (1999) Comparison of ribosomal DNA ITS regions among geographic isolates of Cenococcum geophilum. Curr Genet 35(5):527–535

36.

Tatonova YV, Chelomina GN, Besprosvannykh VV (2012) Genetic diversity of nuclear ITS1–5.8 S-ITS2 rDNA sequence in Clonorchis sinensis Cobbold, 1875(Trematoda: Opisthorchidae) from the Russian Far East. Parasitol Int 61(4):664–674

37.

Thompson RCA, Zarlenga DS, La Rosa G, Pozio E, Rosenthal B, Bandi C, Hu M (2004) Advances in the diagnosis and systematics of parasites of veterinary importance: new and exciting prospects. Mol Syst Diag Vet Parasitol 125:69–92

38.

Van Herwerden L, Blair D, Agatsuma T (1998) Intra-and inter-specific variation in nuclear ribosomal internal transcribed spacer 1 of the Schistosoma japonicum species complex. Parasitology 116(4):311–317

39.

Yamaguti S (1952) Parasitic worms mainly from Celebes. Part 5. Trematodes of mammals. Acta Medica Okayama 8(4):341–352
Acknowledgements
The research work presented in this article was conducted with internal funds of Quaid-i-Azam University, Islamabad. We are grateful to the Emeritus Professor Dr James E Miller Department of Pathobiological Sciences, School of Veterinary Medicine, Louisiana State University, USA for proofreading and English editing of the manuscript.
Ethics declarations
Conflict of interests
The author(s) declare no potential conflicts of interest with respect to the research, authorship, and/or publication of this article.
Ethical approval
The study was conducted by following the guideline approved by the Ethical Committee of Quaid-i-Azam University Islamabad, Pakistan and has therefore been performed in accordance with the ethical standards laid down in the 1964 Declaration of Helsinki and its later amendments. All animals used in the study were slaughtered for other purposes to fulfill the protein demand of the local population.
Additional information
Publisher's Note
Springer Nature remains neutral with regard to jurisdictional claims in published maps and institutional affiliations.
About this article
Cite this article
Khan, I., Afshan, K., Shah, S. et al. Morphological and Molecular Identification of Paramphistomum epiclitum from Buffaloes in Pakistan. Acta Parasit. 65, 225–236 (2020). https://doi.org/10.2478/s11686-019-00155-4
Received:

Accepted:

Published:

Issue Date:
Keywords
Paramphistomatidae

ITS1

5.8S

Morphological characterization

Molecular characterization

Pakistan