Abstract
Background
Cutaneous leishmaniasis (CL) is considered one of the main health problems in Iran. Therefore, it is required for control and therapeutic purposes, an accurate and fast tool for the diagnosis and identification of Leishmania species.
Methods
In the present study, three techniques, including microscopic examination, conventional PCR, and high-resolution melting (HRM)–PCR, have been evaluated, to find the most accurate and rapid test. In total, 105 skin scraping smears were taken from suspected dermal lesions of patients belonging to two known endemic CL areas, Gonbad and Bam districts, in Iran. Subsequently, the specimens were analyzed with microscopic, conventional PCR, and HRM–PCR techniques.
Results
Most positive samples (89.5%) were observed using HRM–PCR, and among the three techniques, HRM–PCR was the most sensitive (89%, 95% CI 81–94) technique. Microscopic examination test had the lowest sensitivity (57%, 95% CI 47–66%). The highest agreement among positive samples was observed between HRM–PCR and conventional PCR tests.
Discussion
Our results showed that the HRM–PCR technique is the most accurate and sensitive test for recognizing CL, and also a valuable alternative test for conventional PCR to detect various species.
Access options
Buy single article
Instant access to the full article PDF.
US$ 39.95
Tax calculation will be finalised during checkout.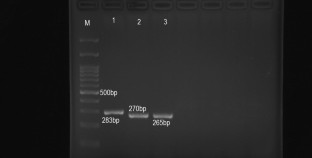 References
1.

Abd El-Salam NM, Ayaz S, Ullah R (2014) PCR and microscopic identification of isolated Leishmania tropica from clinical samples of cutaneous leishmaniasis in human population of Kohat region in Khyber Pakhtunkhwa. BioMed Res Int 2014:861831

2.

Aghaei AA, Rassi Y, Sharifi I, Vatandoost H, Mollaie HR, Oshaghi MA, Abai MR, Rafizadeh S (2014) First report on natural Leishmania infection of Phlebotomus sergenti due Leishmania tropica by high resolution melting curve method in South-eastern Iran. Asian Pac J Trop Med 7:93–96

3.

Akhoundi M, Downing T, Votýpka J, Kuhls K, Lukeš J, Cannet A, Ravel C, Marty P, Delaunay P, Kasbari M, Granouillac B, Gradoni L, Sereno D (2017) Leishmania infections: molecular targets and diagnosis. Mol Asp Med 57:1–29

4.

Altman DG (2001) Practical statistics for medical research. Chapman & Hall, London

5.

Aransay AM, Scoulica E, Tselentis Y (2000) Detection and identification of Leishmania DNA within naturally infected sand flies by seminested PCR on minicircle kinetoplastic DNA. Appl Environ Microbiol 66:1933–1938

6.

Boggild AK, Ramos AP, Espinosa D, Valencia BM, Veland N, Miranda-Verastegui C, Arevalo J, Low DE, Llanos-Cuentas A (2010) Clinical and demographic stratification of test performance: a pooled analysis of five laboratory diagnostic methods for American cutaneous leishmaniasis. Am Soc Trop Med Hyg 83:345–350

7.

Bousslimi N, Ben-Ayed S, Ben-Abda I, Aoun K, Bouratbine A (2012) Natural infection of North African Gundi (Ctenodactylus gundi) by Leishmania tropica in the focus of cutaneous leishmaniasis, Southeast Tunisia. Am Soc Trop Med and Hyg 86:962–965

8.

Doroodgar M, Doroodgar M, Doroodgar A (2017) Unusual presentation of cutaneous leishmaniasis: ocular leishmaniasis. Case Rep Infect Dis 2017:3198547

9.

Fakhar M, Motazedian MH, Daly D, Lowe CD, Kemp SJ, Noyes HA (2008) An integrated pipeline for the development of novel panels of mapped microsatellite markers for Leishmania donovani complex, Leishmania braziliensis and Leishmania major. Parasitology 135(5):567–574

10.

Fakhar M, Mikaeili F, Hatam GR, Habibi P, Karamian M, Motazedian M, Banimostafavi E (2010) A molecular epidemiology survey of cutaneous leishmaniasis in patients referring to Parasitology Lab at Shiraz School of Medicine and the importance of PCR assay. J Jahrom Univ Med Sci 8:2–6

11.

Hernández C, Alvarez C, González C, Ayala MS, León CM, Ramírez JD (2014) Identification of Six New World Leishmania species through the implementation of a High-Resolution Melting (HRM) genotyping assay. Parasites Vectors 7:501

12.

Kuang Z, Zhang C, Pang H, Ma Y (2018) A rapid high-resolution melting method for differentiation of Leishmania species targeting lack gene. Acta Trop 178:103–106

13.

Lachaud L, Marchergui-Hammami S, Chabbert E, Dereure J, Dedet JP, Bastien P (2002) Comparison of six PCR methods using peripheral blood for detection of canine visceral leishmaniasis. J Clin Microbiol 40:210–215

14.

Lam EPT, Chan CML, Tsui NBY, Au TCC, Wong KF, Wong HT, Chiu KY, Chan LWC, Yung BYM, Wong SCC (2013) Clinical applications of molecular technologies in hematology. J Med Diagn Methods 2:130

15.

Lochlainn SÓ, Amoah S, Graham NS, Alamer K, Rios JJ, Kurup S, Stoute A, Hammond JP, Østergaard L, King GJ, White PJ (2011) High Resolution Melt (HRM) analysis is an efficient tool to genotype EMS mutants in complex crop genomes. Plant Methods 7:43

16.

Loría-Cervera EN, Andrade-Narváez FJ (2014) Animal models for the study of leishmaniasis immunology. Revista do Instituto de Medicina Tropical de São Paulo 56:1–11

17.

Nasereddin A, Jaffe CL (2010) Rapid diagnosis of Old World leishmaniasis by high-resolution melting analysis of the 7SL RNA gene. J Clin Microbiol 48:2240–2242

18.

Norouzinezhad F, Ghaffari F, Norouzinejad A, Kaveh F, Gouya MM (2016) Cutaneous leishmaniasis in Iran: results from an epidemiological study in urban and rural provinces. Asian Pac J Trop Biomed 6:614–619

19.

Pagheh AS, Fakhar M, Mesgarian F, Gholami S, Badiee F (2012) Detection and identification of causative agent of cutaneous leishmaniasis using specific PCR. J Mazandaran Univ Med Sci 21:85–92

20.

Pagheh A, Fakhar M, Mesgarian F, Gholami S, Ahmadpour E (2014) An improved microculture method for diagnosis of cutaneous leishmaniasis. J Parasit Dis 38:347–351

21.

Pazoki-ghohe H, Haghparast-kenari B, Fakhar M (2016) Current and novel laboratory diagnostic methods and identification of causative agents for cutaneous leishmaniasis. J Mazandaran Uni Med Sci 25:350–366

22.

Pita-Pereira D, Lins R, Oliveira MP, Lima RB, Pereira BA, Moreira OC, Brazil RP, Britto C (2012) SYBR Green-based real-time PCR targeting kinetoplast DNA can be used to discriminate between the main etiologic agents of Brazilian cutaneous and visceral leishmaniases. Parasites Vectors 5:15

23.

Pourmohammadi B, Motazedian MH, Hatam GR, Kalantari M, Habibi P, Sarkari B (2010) Comparison of three methods for diagnosis of cutaneous leishmaniasis. Iran J Parasitol 5:1

24.

Ranawaka RR, Weerakoon HS, de Silva SH (2014) The quality of life of Sri Lankan patients with cutaneous leishmaniasis. Mymensingh Med J 23:345–351

25.

Saitsu H, Kato M, Okada I, Orii KE, Higuchi T, Hoshino H, Kubota M, Arai H, Tagawa T, Kimura S, Sudo A (2010) STXBP1 mutations in early infantile epileptic encephalopathy with suppression-burst pattern. Epilepsia 51:2397–2405

26.

Salam N, Al-Shaqha WM, Azzi A (2014) Leishmaniasis in the Middle East: incidence and epidemiology. PLoS Negl Trop Dis 8:e3208

27.

Schönian G, Schweynoch C, Zlateva K, Oskam L, Kroon N, Gräser Y, Presber W (1996) Identification and determination of the relationships of species and strains within the genus Leishmania using single primers in the polymerase chain reaction. Mol Biochem Parasitol 77:19–29

28.

Schönian G, Nasereddin A, Dinse N, Schweynoch C, Schallig HD, Presber W, Jaffe CL (2003) PCR diagnosis and characterization of Leishmania in local and imported clinical samples. Diagn Microbiol Infect Dis 47:349–358

29.

Spotin A, Rouhani S, Parvizi P (2014) The associations of Leishmania major and Leishmania tropica aspects by focusing their morphological and molecular features on clinical appearances in Khuzestan province. BioMed research international, Iran, p 2014

30.

Sudarshan M, Weirather JL, Wilson ME, Sundar S (2011) Study of parasite kinetics with antileishmanial drugs using real-time quantitative PCR in Indian visceral leishmaniasis. J Antimicrob Chemother 66:1751–1755

31.

Sundar S, Rai M (2002) Laboratory diagnosis of visceral leishmaniasis. Clin Diagn Lab Immunol 9:951–958

32.

Talmi-Frank D, Nasereddin A, Schnur LF, Schönian G, Töz SÖ, Jaffe CL, Baneth G (2010) Detection and identification of old world Leishmania by high resolution melt analysis. PLoS Negl Trop Dis 4:e581

33.

Toz SO, Culha G, Zeyrek FY, Ertabaklar H, Alkan MZ, Vardarlı AT, Gunduz C, Ozbel Y (2013) A real-time ITS1-PCR based method in the diagnosis and species identification of Leishmania parasite from human and dog clinical samples in Turkey. PLoS Negl Trop Dis 7:e2205

34.

Weigle KA, Labrada LA, Lozano C, Santrich C, Barker DC (2002) PCR-based diagnosis of acute and chronic cutaneous leishmaniasis caused by Leishmania (Viannia). J Clin Microbiol 40:601–606

35.

Xue W, Rao X, Meng D (2012) Universal PCR coupled with high-resolution melting analysis for rapid detection and identification of microorganism: strategies and perspective. Rev Med Microbiol 23:5–8

36.

Zampieri RA, Laranjeira-Silva MF, Muxel SM, de Lima ACS, Shaw JJ, Floeter-Winter LM (2016) high resolution melting analysis targeting hsp70 as a fast and efficient method for the discrimination of leishmania species. PLoS Negl Trop Dis 10:e0004485
Acknowledgements
The authors would like to thank all participants who contributed to our study.
Ethics declarations
Conflict of interests
No competing interests were disclosed.
Ethics approval and consent to participate
This study was approved by the ethical committee at Mazandaran University of Medical Sciences (IR.MAZUMS.REC.1395.1102). Participants gave their informed written consent for skin scrapings of their sores to be taken for research purposes.
Additional information
Publisher's Note
Springer Nature remains neutral with regard to jurisdictional claims in published maps and institutional affiliations.
About this article
Cite this article
Asfaram, S., Fakhar, M., Mirani, N. et al. HRM–PCR is an accurate and sensitive technique for the diagnosis of cutaneous leishmaniasis as compared with conventional PCR. Acta Parasit. 65, 310–316 (2020). https://doi.org/10.2478/s11686-019-00154-5
Received:

Accepted:

Published:

Issue Date:
Keywords
Cutaneous leishmaniasis

Leishmania spp.

Conventional PCR

HRM–PCR