Abstract
Purpose
The main goal of this study was genotyping of free-living parasites and sub-grouping of pathogenic or non-pathogenic amebae obtained from Turkey's thermal springs. In so doing, distribution and abundance of possible pathogenic or causative strain for humans, which are caused by Acanthamoeba and Naegleria strains, would be elaborated. The number of extensive studies on the general occurrence and distribution of parasitic strains is very high worldwide, but there has been a paucity of information with regard to Turkey.
Methods
From a total of 434 obtained thermal pool samples, free-living amebas were isolated from 148 water samples using the non-nutrient agar (NNA) culture method. Subsequently, the cultivated samples were used for DNA isolation; then 102 obtained DNA samples were subjected to PCR amplification using various primers for samples of genera Acanthamoeba and Naegleria. Ultimately, estimation of genotype or subtype was evaluated by sequencing.
Results
About 29 samples that belong to Acanthamoeba and Naegleria were estimated from a total of 102 amplified PCR samples. These eukaryotic PCR products which have Acanthamoeba genus appearance, generated 26 subtypes and 3 Naegleria samples. Among the 26 Acanthamoeba genotypes, 22 aligned sequences were matched with various GenBank reference samples, while the 4 divergent genotypes were not elaborated and marked as ND. Most of the Acanthamoeba genera were determined as likely dominating groups and clustered as T form within totally eight groups. Eight, seven and three subtypes were found as T4A, T15 and T11 genotypes, respectively while the remainings were ultimately found in four groups. Results confirming the predominance of T4A, which is known the most causative form, the presence in the pools. Despite being uncommon, N. fowleri, lovaniensis and australiensis were also observed among the surveyed pools.
Conclusion
The present study is descriptive and is not unique. However, this is the most comprehensive study of the molecular distribution sampling of thermophilic Acanthamoeba and Naegleria that confirmed and demonstrated their ubiquitous presence throughout Turkey. By this estimation, in some spas, the most and likely causative form Acanthamoeba including T4 and Naegleria fowleri has also been confirmed.
Access options
Buy single article
Instant access to the full article PDF.
US$ 39.95
Tax calculation will be finalised during checkout.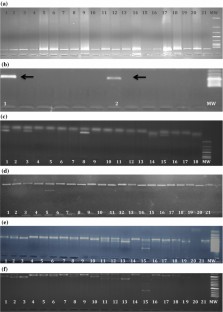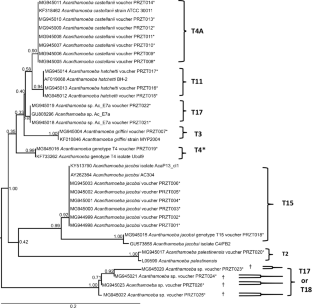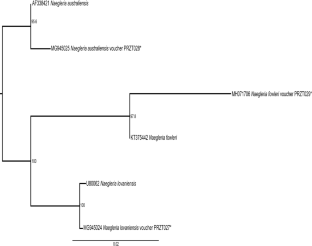 References
1.

De Jonckheere JF (1979) Occurrence of Naegleria and Acanthamoeba in aquaria. Appl Environ Microbiol 38(4):590–593 (PMCID: PMC243544 PMID: 539818)

2.

Dyokova I, Lom J, Schroeder-Diedrich JM, Booton GC, Byers TJ (1999) Acanthamoeba strains isolated from organs of freshwater fishes. J Parasitol 85:1106–1113. https://doi.org/10.2307/3285675

3.

Palendakis M, Pernin P (2002) Use of Multiplex PCR and PCR restriction enzyme analysis for detection and exploration of the variability in the free-living Amoeba, Naegleria in the environment. Appl Environ Microbiol. https://doi.org/10.1128/AEM.68.4.2061-2065.2002

4.

Tsvetkova N, Schild M, Panaiotov S et al (2004) The identification of free-living environmental isolates of amoebae from Bulgaria. Parasitol Res 92:405–413. https://doi.org/10.1007/s00436-003-1052-x

5.

Liang SY, Ji DR, Hsia KT et al (2010) Isolation and identification of Acanthamoeba species related to amoebic encephalitis and nonpathogenic free-living amoeba species from the rice field. J Appl Microbiol. 109:1422–1429. https://doi.org/10.1111/j.1365-2672.2010.04779.x(epub 2010 Jun 10)

6.

Alves DSMM, Moraes AS, Nitz N et al (2012) Occurrence and characterization of Acanthamoeba similar to genotypes T4, T5 and T2/T5 isolated from environmental sources in Brasilia Federal District, Brazil. Exp Parasitol 131:239–244. https://doi.org/10.1016/j.exppara.2012.04.011

7.

Trabelsi H, Dendana F, Sellami A et al (2012) Pathogenic free-living amoebae: epidemiology and clinical review. Pathol Biol 60:399–405. https://doi.org/10.1016/j.patbio.2012.03.002Epub 2012 Apr 18

8.

Duarte JL, Furst C, Klisiowicz DR, Klassen G, Costa AO (2013) Morphological, genotypic and physiological characterization of Acanthamoeba isolates from keratitis patients and the domestic environment in Vitoria, Espirito Santo, Brazil. Exp Parasitol 135:9–14. https://doi.org/10.1016/j.exppara.2013.05.013

9.

Yousuf FA, Siddiqui R, Subhani F, Khan NA (2013) Status of free-living amoeba (Acanthamoeba spp., Naegleria fowleri, Balamuthia mandrillaris in drinking water supplies in Karachi, Pakistan. J Water Health 11:371–375. https://doi.org/10.2166/wh.2013.112

10.

Lass A, Szostakowska B, Idzinski A, Chomicz L (2014) The first genotype determination of Acanthamoeba potential threat to human health, isolated from natural water reservoirs in Poland. Parasitol Res 113:2693–2699. https://doi.org/10.1007/s00436-014-3925-6

11.

Kiss C, Barna Z, Vargha M, Török KJ (2014) Incidence and molecular diversity of Acanthamoeba species isolated from public baths in Hungary. Parasitol Res 133:2551–2557

12.

Todd CD, Reyes-Baatle M, Piñero JE et al (2015) Isolation and molecular characterization of Acanthamoeba genotypes in recreational and domestic water sources from Jamaica, West Indies. J Water Health 13:909–919. https://doi.org/10.2166/wh.2015.232

13.

Tyndall RL, Ironside KS, Metter PL et al (1989) Effect of thermal additions on the density and distribution of thermophilic Amoebae and pathogenic Naegleria fowleri in newly created cooling lake. Appl Environ Microbiol. 55:722–732 (online article PMID:2930172 PMCID:PMC184187)

14.

Todd DC, Reyes-Baatle M, Martin-Navara CM et al (2015) Isolation and genotypes of Acanthamoeba strains from soil sources from Jamaica, West Indies. J Eukaryot Microbiol 62:416–442. https://doi.org/10.1111/jeu.12197

15.

Schroeder JM, Booton GC, Hay J et al (2001) Use of subgenic 18S ribosomal DNA PCR and sequencing for genes and genotype identification of Acanthamoeba from human with keratitis and from sewage sludge. J Clin Microbiol 39:1903–1911. https://doi.org/10.1128/JCM.39.5.1903-1911.2001

16.

Muldrow LL, Tyndall RL, Fliermans CB (1982) Application of flow cytometry to studies of pathogenic Free-Living Amoebae. Appl Environ Microbiol. 44:1258–1269 (PMCID: PMC242183 PMID: 6186196)

17.

Chapell CL, Wright JA, Coletta M, Newsome AL (2001) Standardized method of measuring Acanthamoeba antibodies in sera from healthy human subjects. Clin Diagn Lab Immunol 8:724–730. https://doi.org/10.1128/CDLI.8.4.724-730.2001

18.

Visvesvara GS, Moura H, Schuster FL (2007) Pathogenic and opportunistic free-living amoebae: Acanthamoeba spp., Balamuthia mandrillaris, Naegleria fowleri, and Sappinia diploidea. FEMS Immunol Med Microbiol 50:1–26. https://doi.org/10.1111/j.1574-695X.2007.00232.x

19.

Brindly N, Matin A, Khan NA (2009) Acanthamoeba castellanii: high antibody prevalence in racially and ethnically diverse populations. Exp Parasitol 121:254–256. https://doi.org/10.1016/j.exppara.2008.11.009

20.

Chomichz L, Padzik M, Graczyk Z, Starosciak B et al (2010) Acanthamoeba castellani: in vitro effects of selected biological, physical and chemical factors. Exp Parasitol 126:103–105. https://doi.org/10.1016/j.exppara.2010.01.025

21.

Siddiqui R, Khan AA (2012) Biology and pathogenesis of Acanthamoeba. Parasit Vectors 5:1–13. https://doi.org/10.1186/1756-3305-5-6

22.

Khan NA (2006) Acanthamoeba: biology and increasing importance in human health. FEMS Microbial Rev 30:364–595. https://doi.org/10.1111/j.1574-6976.2006.00023.x

23.

Landell MF, Salton J, Caumo K, Broetto L, Rott MB (2013) Isolation and genotyping of free-living environmental isolates of Acanthamoeba spp. from bromeliads in Southern Brazil. Exp Parasitol 134:290–294. https://doi.org/10.1016/j.exppara.2013.03.028

24.

Kao PM, Hsu BM, Chen CT, Huang SW et al (2014) Identification and quantification of the Acanthamoeba species and genotypes from reservoirs in Taiwan by molecular techniques. Acta Trop 132:45–50. https://doi.org/10.1016/j.actatropica.2013.12.020

25.

Edagawa A, Kimura A, Kawabuchi-Kurata T, Kusuhara Y, Karanis P (2009) Isolation and genotyping of potentially pathogenic Acanthamoeba and Naegleria from tap-water sources in Osaka, Japan. Parasitol Res 105:1109–1117. https://doi.org/10.1007/s00436-009-1528-4

26.

Hooshyar H, Hosseinbigi B, Saraei M, Alizadeh S, Eftakhar M, Rasti S, Khosro-Shahi N (2013) Genotyping of Acanthamoeba isolated from surface and stagnant waters of Qazvin, Central Iran. Iranian Red Crescent Med J 15:536–538. https://doi.org/10.5812/ircmj.4121

27.

Teixeira LH, Rocha S, Pinto RMF, Rocha S, Caseiro MM, da Costa PSO (2009) Prevalence of potentially pathogenic free-living amoebae from Acanthamoeba and Naegleria genera in non-hospital, public, internal environments from the city of Santos, Brazil. Braz J Infect Dis 13:395–397. https://doi.org/10.1590/S1413-86702009000600001

28.

Solgi R, Niyyati M, Haghighi A, Mojarad EN (2012) Occurrence of thermotolerant Hartmannella vermiformis and Naegleria spp. in hot spring of Ardebil province, northwest Iran. Iran J Parasitol 7:47–52 (PMCID: PMC3469187PMID: 23109945)

29.

Sheehan KB, Fagg JA, Henson JM, Ferris JM (2003) PCR detection and analysis of the free-living amoeba, Naegleria in hot spring in Yellowstone and Grand Teton National Parks. Appl Environ Microbiol 69:5914–5918. https://doi.org/10.1128/AEM.69.10.5914-5918.2003

30.

Risler A, Coupat-Goutaland B, Pelandakis M (2013) Genotyping and phylogenetic analysis of Acanthamoeba isolates associated with keratitis. Parasitol Res 112:3807–3816. https://doi.org/10.1007/s00436-013-3572-3

31.

van BelkumA, De Jonckheere J, Quint WGV (1992) Genotyping Naegleria spp. and Naegleria fowleri isolates by interrepeat polymerase chain reaction. J Clin Microbiol 30:2595–2598. Online document http://jcm.asm.org/0095-1137/92/102595-04102.00/0

32.

Niyyati M, Lorenzo-Morales J, Rahimi F et al (2009) Isolation and genotyping of potentially pathogenic Acanthamoeba strains from dust sources in Iran. Trans R Soc Trop Med Hyg 103:425–427. https://doi.org/10.1016/j.trstmh.2008.12.007Epub 2009 Jan 30

33.

Caumo K, Rott MB (2011) Acanthamoeba T3, T4 and T5 in swimming-pool waters from Sothern Brazil. Acta Trop 117:233–235. https://doi.org/10.1016/j.actatropica.2010.12.008

34.

Rahdar M, Niyyati M, Salehi M, Feghhi M, Makvandi M, Pourmehdi M, Farnia S (2012) Isolation and genotyping of Acanthamoeba strains from environmental sources in Ahvaz City, Khuzestan Province, and Southern Iran. Iran J Parasitol 7:22–26 (PMCID: PMC3537466PMID: 23323088)

35.

Bolivar I, Fahrni JF, Smirnov A, Pawlowski J (2001) SSU-rRNA-based phylogenetic position of the genera Amoeba and Chaos (Lobosea, Gynamoebia): the origin of gymnamoebae Revisited. Mol Biol Evol 18:2306–2314. https://doi.org/10.1093/oxfordjournals.molbev.a003777

36.

Crary MJ (2012) Genetic variability and its relationship to Acanthamoeba pathogenesis. Dissertation, University of Ohio State

37.

Casero R, Mongi F, Laconte L, Rivero F, Sastre D, Teheran A, Herrera G, Ramirez JD (2017) Molecular and morphological characterization of Acanthamoeba isolated from corneal scrapes and contact lens wearers in Argentina. Infect Genet Evol 54:170–175. https://doi.org/10.1016/j.meegid.2017.06.031

38.

Zeybek Z, Üstüntürk M, Binay AR (2010) Morphological characteristics and growth abilities of free-living-amoeba isolated from domestic tap water samples in İstanbul. IUFS J Biol 69:17–23. online document https://dergipark.org.tr/iufsjb/issue/9054/112921

39.

Özçelik S, Çoşkun KA, Yünlü Ö, Alim A, Malatyalı E (2012) The prevalence, Isolation, and morphotyping of potentially pathogenic free-living Amoebae from tap water and environmental water sources in Sivas. T Parasitol Der 36:198–203. https://doi.org/10.7197/cmj.v39i1.5000194070

40.

Coşkun KA, Özçelik S, Tutar L, Elaldı N, Tutar Y (2013) Isolation and identification of free-living amoebae from tap water in Sivas, Turkey. Biomed Res Int. https://doi.org/10.1155/2013/675145

41.

Evyapan G, Koltas I, Eroglu F (2014) Genotyping of Acanthamoeba T15: the environmental strain in Turkey. Trans R Soc Trop Med Hyg 179:1–4. https://doi.org/10.1093/trstmh/tru179

42.

Khan NA (2001) Pathogenicity, morphology, and differentiation of Acanthamoeba. Curr Microbiol 43:391–395. https://doi.org/10.1007/s002840010325

43.

Schild M, Gianinazzi C, Gottstein B, Müller N (2007) PCR-based diagnosis of Naegleria sp. infection in formalin-fixed and paraffin-embedded brain sections. J Clin Microbiol 45:564–567. https://doi.org/10.1128/JCM.01357-06

44.

Kearse M, Moir R, Wilson A et al (2012) Geneious basic: an integrated and extendable desktop software platform for the organization and analysis of sequence data. Bioinformatics 28:1647–1649. https://doi.org/10.1093/bioinformatics/bts199

45.

Katoh K, Standley DM (2013) MAFFT multiple sequence alignment software versions 7: improvements in performance and usability. Mol Biol Evol 30:772–780. https://doi.org/10.1093/molbev/mst010

46.

Tamura K, Stecher G, Peterson D, Filipski A, Kumar S (2013) MEGA6: molecular evolutionary genetics analysis version 6.0. Mol Biol Evol 30:2725–2729. https://doi.org/10.1093/molbev/mst197

47.

Kimura M (1980) A simple model for estimating evolutionary rates of base substitutions through comparative studies of nucleotide sequences. J Mol Evol 16:111–120

48.

Rambaut A (2014) FigTree v1.4.2. URL http://tree.bio.ed.ac.uk/software/figtree/

49.

Scelecz I, Fournier B, Seppey C, Mitchell E (2014) Can soil testate amoebae be used for estimating the time since the death? A field experiment in a deciduous forest. Forensic Sci Int 236:90–98. https://doi.org/10.1016/j.forsciint.2013.12.030

50.

Booton CG, Joslin CE, Shoff M, Tu YE, Kelly DJ, Fuerst GC (2009) Genotypic identification of Acanthamoeba sp. isolates associated with an outbreak of Acanthamoeba keratitis (AK). Cornea 28:673–676. https://doi.org/10.1097/ICO.0b013e31819342a7

51.

Martinez AJ (1982) Acanthamoebiasis and immunosuppression. J Neuropathol Exp Neurol 41:548–557. https://doi.org/10.1097/00005072-198209000-00007

52.

Naginton J, Watson PG, Playfair TJ, McGill J, Jones BR, Steele AD (1974) Amoebic infections of the eye. Lancet 2:2541–2544. https://doi.org/10.1016/s0140-6736(74)90285-2

53.

Corsaro D, Wolochnik J, Martina K, Rott MB (2015) Acanthamoeba misidentification and multiple labels: redefining genotypes T16, T19, and T20 and proposal for Acanthamoeba micheli sp. nov. (genotype T19). Parasitol Res 114:2481–2490. https://doi.org/10.1007/S00436-015-4445-8
Acknowledgements
In doing this work, we have had substantial and kindly help from some friends. We are, first and especially, grateful to Dr. Mahir Korkmaz and Dr. Mahir Budak, who have provided some chemical and instrumentation support from their ongoing financial projects. We additionally thank M. Korkmaz for designing some primers. We are also grateful to MSc Student Berşan Seçil Durel for the kind laboratory experiment support. This project was partially supported by CUBAP T-614, Cumhuriyet University, 58140 Sivas, Turkey.
Additional information
Publisher's Note
Springer Nature remains neutral with regard to jurisdictional claims in published maps and institutional affiliations.
About this article
Cite this article
Değerli, S., Değerli, N., Çamur, D. et al. Genotyping by Sequencing of Acanthamoeba and Naegleria Isolates from the Thermal Pool Distributed Throughout Turkey. Acta Parasit. 65, 174–186 (2020). https://doi.org/10.2478/s11686-019-00148-3
Received:

Accepted:

Published:

Issue Date:
Keywords
Acanthamoeba
Naegleria

PCR

Genotyping

18SrRNA

Phylogenetic three