Abstract
Background
Gastrointestinal parasites may determine diarrhea, dysentery or even death in captive mammals. These animals tend to be more susceptible to parasitic infections due to confinement and stress. Purpose To increase the information about these etiological agents in captive animals in Brazil, the gastrointestinal parasites of the captive mammals of the Rio de Janeiro Zoo were investigated.
Methods
From 2016 to 2018, 180 fecal samples were collected from animals housed in the Rio de Janeiro Zoo: 63 from animals of the order Primates, 26 of Carnivora, 78 of Artiodactyla, 9 of Perissodactyla and 4 of the order Rheiformes. The feces were processed by direct examination and by the techniques of Faust et al., Sheather, Ritchie, Lutz, and smears were stained with safranin. Immunoenzymatic assays were also performed to investigate antigens of Giardia duodenalis, Cryptosporidium spp., Entamoeba histolytica/Entamoeba dispar.
Results
Parasite positivity was identified in 68.3% of the fecal samples, with a parasite positivity rate of 68.2% among primates, 65.3% among carnivores, 69.2% among artiodactyls, 33.3% among perissodactyls, and 100% among rheiformes. The most frequently detected parasite was Entamoeba histolytica/E. dispar antigens, which showed a statistically significant positivity rate (33.3%; p = 0.000), particularly in the feces of carnivores (30.7%) and artiodactyls (53.8%). A statistically significant positivity rate of Balantioides coli (11.1%; p = 0.001) was also detected in feces from nonhuman primates, tapirs, collared peccaries and rheas. The positivity of Cryptosporidium sp. antigens in feces of the orders Carnivora, Artiodactyla and Primates was also statistically significant (7.2%, p = 0.010). Oocysts compatible with Cryptosporidium spp. were detected in 6.3% from primates. The helminths most frequently detected were thin-shelled eggs of nematodes (17.7%, p = 0.000), nematode larvae (15.5%, p = 0.000) and Trichuris trichiura eggs (6.1%, p = 0.018).
Conclusion
The positivity rate for gastrointestinal parasites demonstrates the need for a sanitation management program to be implemented in the zoo, including routine diagnostic parasitology tests followed by specific treatment for each parasitosis.
Access options
Buy single article
Instant access to the full article PDF.
US$ 39.95
Tax calculation will be finalised during checkout.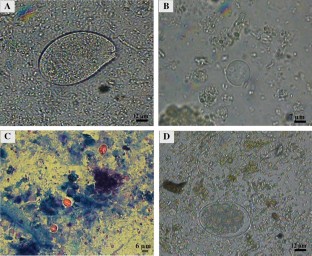 References
1.

Iared VG, Tullio A, Oliveira HT (2012) Impressões de educadoras/es ambientais em relação à visitas guiadas em um zoológico. Revista Eletrônica Mestrado Educação Ambiental 28:258–273 (Portuguese)

2.

Aragão OMG, Kazama R (2013) A função dos zoológicos nos dias atuais condiz com a percepção dos visitantes? Revista Educação Ambiental Ação 43:1–4 (Portuguese)

3.

Muoria PK, Muruthi P, Rubenstein D, Oguge NO, Munene E (2005) Cross-sectional survey of gatrointestinal parasites of Grevey's zebras in sourthen Samburu, Kenya. Afr J Ecol 43:392–395

4.

Lim LAY, Ngui R, Shukri J, Rohela M, Naim MRH (2008) Intestinal parasites in various animals at a zoo in Malaysia. Vet Parasitol 157:154–159

5.

Geraghty V, Mooney J, Pike K (1982) A study of parasitic infections in mammals and birds at the Dublin Zoological Garden. Vet Res Commun 5:343–348

6.

Khatun M, Begum N, Mamun A, Hussain M, Azam S (2014) Coprological study of gastrointestinal parasites of captive animals at Rangpur recreational garden and zoo in Bangladesh. J Threatened Taxa 6:6142–6147

7.

Levecke B, Dorny P, Geurden T, Vercammen F, Vercruysse J (2007) Gastrointestinal protozoa in non-human primates of four zoological gardens in Belgium. Vet Parasitol 148:236–246

8.

Johnson-Delaney CA (2009) Parasites of captive nonhuman primates. Vet Clin N Am 12:563–581

9.

Cordón PG, Prados HA, Romero D, Moreno SM, Pontes A, Osuna A, Rosales JM (2008) Intestinal parasitism in the animals of the zoological garden "Peña Escrita" (Almuñecar, Spain). Vet Parasitol 156:302–309

10.

RioZoo. Zoológico do Rio de Janeiro (2016) Conheça, Histórico. http://www.riozoo.com.br/conheca-o-riozoo/. Acessed on Jan 26, 2018 (Portuguese)

11.

Ritchie LS (1948) An ether sedimentation technique for routine stool examinations. Bull US Army Med Dep 8:8–326

12.

Young KH, Bullock SL, Melvin DM, Spruill CL (1979) Ethyl acetate as a substitute for diethyl ether in the formalin-ether sedimentation technique. J Clin Microbiol 10:853

13.

Faust EC, D'antoni JS, Odon V, Miller MJ, Perez C, Sawitz W, Thomen LF, Tobie JE, Walker JH (1938) A critical study of clinical laboratory technics for the diagnosis of protozoan cysts and helminth eggs in feces. I. Preliminary communication. Am J Tropical Med Hygiene 18:169–183

14.

Sheather AL (1923) The detection of intestinal protozoa and mange parasites by a flotation technic. J Comp Pathol Ther 36:266–275

15.

Huber F, Bonfim TC, Gomes RS (2003) Comparação da eficiência da técnica de sedimentação pelo formaldeído-éter e da técnica de centrífugo-flutuação modificada na detecção de cistos de Giardia sp. e oocistos de Cryptosporidium sp. em amostras fecais de bezerros. Rev Bras Parasitol Vet 12:135–137 (Portuguese)

16.

Baxby D, Blundell N, Hart CA (1984) The development and performance of a simple, sensitive method for the detection of Cryptosporidium oocysts in faeces. J Hygiene 93:317–323

17.

Lutz AO (1919) Schistosomum mansoni e a shistosomatose segundo observações feitas no Brasil. Mem Inst Oswaldo Cruz 11:121–155 (Portuguese)

18.

Snak A, Agostini MK, Lenzi FP, Montanucci RC, Delgado EL, Zabott VM (2017) Perfil parasitológico de mamíferos silvestres cativos. Vet Zootecnia 24:193–200 (Portuguese)

19.

Thawait KV, Maiti KS, Dixit AA (2014) Prevalence of gastro-intestinal parasites in captive wild animals of Nandan Van Zoo, Raipur, Chhattisgarh. Vet World 7:448–451

20.

Varadharanjan A, Kandasamy A (2000) A survey of gastro-intestinal parasites of wild animals in captivity in the V.O.C Park and Mini Zoo, Coimbatore. Zoo's Print J 15:257–258

21.

Fagiolini M, Lia PR, Laricchiuta P, Cavicchio P, Manella R, Cafarchia C, Otranto D, Finotello R, Perrucci S (2010) Gastrointestinal parasites in mammals of two Italian zoological gardens. J Zoo Wildl Med 41:662–670

22.

Freitas LFM, Oliveira BJ, Cavalcanti BDM, Oliveira AR, Sobrinho EA (2001) Perfil coproparasitológico de mamíferos silvestres em cautiverio em el estado de Pernambuco, Brasil. Parasitol al Día 25:1–6 (Spanish)  

23.

Delgado E, Fonseca PI, Fazendeiro I, Matos O, Antunes F, Cunha BM (2003) Cryptosporidium spp. in ruminants at the Lisbon Zoo. J Zoo Wildlife Med 34:352–356

24.

Beck R, Sprong H, Bata I, Lucinger S, Pozio E, Caccio MS (2011) Prevalence and molecular typing of Giardia spp. In captive mammals at the zoo of Zagreb, Croatia. Vet Parasitol 175:40–46

25.

Aranda RC, Serrano-Martínez E, Tantaleán VM, Quispe HM, Casas VG (2013) Identificación y frecuencia de parasitos gastrointestinales em félidos silvestres em cautiverion em el Perú. Rev Investig Vet Perú 24:360–368 (Spanish)

26.

Barbosa SA, Pissinatti A, Dib VL, Siqueira PM, Cardozo LM, Fonseca MBA, Oliveira BA, Silva AF, Uchôa CMA, Bastos PMO, Amendoeira RRM (2015) Balantidium coli and other gastrointestinal parasites in captives non-human primates of the Rio de Janeiro, Brazil. J Med Primatolol 44:18–26

27.

Munene E, Otsyula M, Mbaabu DAN, Mutahi WT, Muriuki SMK, Muchemi GM (1998) Helminth and protozoan gastrointestinal tract parasites in captive and wild-trapped African non-human primates. Vet Parasitol 78:195–201

28.

Mir QA, Dua K, Singla DL, Sharma S, Singh PM (2016) Prevalence of parasitic infection in captive wild animals in Bir Moti Bagh mini zoo (Deer Park), Patiala, Punjab. Vet World 9:540–543

29.

Adeniyi IC, Morenikeji OA, Emikpe BO (2015) The prevalence of gastro-intestinal parasites of carnivores in university zoological gardens in South West Nigeria. J Vet Med Anim Health 7:135–139

30.

Verweij JJ, Vermeer J, Brienen EAT, Blotkamp C, Laeijendecker D, Lieshout L, Polderman AM (2003) Entamoeba histolytica infections in captive primates. Parasitol Res 90:100–103

31.

Schuster FL, Ramirez-Ávila L (2008) Current world status of Balantidium coli. Clin Microbiol Rev. 21:626–638

32.

Kim JCS, Abee CR, Wolf RH (1978) Balantidiosis in a chimpanzee (Pan troglodytes). Lab Animal 12:231–233

33.

Lankester F, Mätz-Tensing K, Jensen SA, Weiss S, Leendertz FH (2008) Fatal ulcerative colitis in a western lowland gorilla (Gorilla gorilla gorilla). J Med Primatol 37:297–302

34.

Tayib OA, Abdoum KA (2013) Balantidium coli infections in Hamadryas baboon in Saudi Arabia: a case report. J Anim Plant Sci 23:940–943

35.

Gilioli R, Silva AF (2000) Frequency of parasites and Salmonella infection in captive maned-wolf, Chrysocyon brachyurus, kept in Zoos at the State of São Paulo, Brazil. Arqu Bras Med Vet Zootecnia 52:1–5

36.

Müller-Graf CDM, Woolhouse MEJ, Packer C (1999) Epidemiology of an intestinal parasite (Spirometra spp.) in two populations of African lions (Panthera leo). Parasitology. 118:407–415

37.

Peisert W, Taborski A, Pawlowski Z, Karlewiczowa R, Zdun M (1983) Giardia infection in animals in Porznan Zoo. Vet Parasitol 13:183–186

38.

Barriga OO (1995) Veterinary Parasitology. Editora Greyden Press, Columbus

39.

Hendrix CM, Blagburn BL, Lindsay DS (1987) Whipworms and intestinal Threadworms. Vet Clin N Am 17:1355–1375

40.

Santos SMP, Silva NGS, Fonseca FC, Oliveira BJ (2015) Parasitos de aves e mamíferos silvestres em cativeiros no estado de Pernambuco. Pesq Vet Bras. 35:788–794

41.

Echarte GV, Fernández YES, Augusto AM, Santos ALC, Dantas MML, Iraola RC, Amendoeira MRR (2019) Assessment professional competence and risk factors perception of Toxoplasma gondii at the Cuba National Zoo Park and Zoo Garden of Rio de Janeiro, Brazil. Rev Ciência Vet e Saúde Públ 6:235–240
Acknowledgements
We gratefully acknowledge the Rio de Janeiro Zoo for providing scientific material and technical support for this study. We are also grateful for the support provided by the Oswaldo Cruz Institute (IOC) and the postgraduate course in Tropical Medicine (IOC/Fiocruz), Office of the Vice-Chancellor for Research and Innovation of Fluminense Federal University (PROPPI-UFF).
Additional information
Publisher's Note
Springer Nature remains neutral with regard to jurisdictional claims in published maps and institutional affiliations.
Electronic supplementary material
Below is the link to the electronic supplementary material.
About this article
Cite this article
Barbosa, A.S., Pinheiro, J.L., dos Santos, C.R. et al. Gastrointestinal Parasites in Captive Animals at the Rio de Janeiro Zoo. Acta Parasit. 65, 237–249 (2020). https://doi.org/10.2478/s11686-019-00145-6
Received:

Accepted:

Published:

Issue Date:
Keywords
Protozoa

Helminths

Diagnostics

Coproantigens