Abstract
Purpose
Co-invasion of naïve ecosystems by non-native parasites is a serious threat to global biodiversity, though such events are difficult to detect early in the invasion process. Green iguanas (Iguana iguana) are an emerging invasive species and have colonised several countries in the Asia–Pacific. A survey was undertaken to determine whether parasites of the green iguana had co-invaded naïve ecosystems with their introduced host.
Methods
Over a 10-month period, wild green iguanas were trapped and euthanised in Singapore. All animals were necropsied and sampled for parasites. Parasites were then identified morphologically and subsequently characterised molecularly at the cytochrome c oxidase I (COI) locus.
Results
The reptile nematode Ozolaimus megatyphlon was found in 38% of the sampled green iguanas, with burdens of 100 + worms in all infected animals. This represents the first recorded co-invasion of this species with wild green iguanas in the Asia–Pacific. Based on the molecular characterisation of the cytochrome c oxidase I (COI) locus, the first DNA barcode is provided for O. megatyphlon.
Conclusion
For the first time, the reptile nematode Ozolaimus megatyphlon is shown to be invasive and to have colonised the Asia–Pacific region with its introduced host, the green iguana. The DNA barcode provided here will facilitate future monitoring programmes as O. megatyphlon invades new habitats and countries.
Access options
Buy single article
Instant access to the full article PDF.
US$ 39.95
Tax calculation will be finalised during checkout.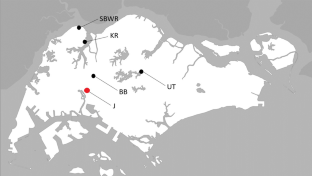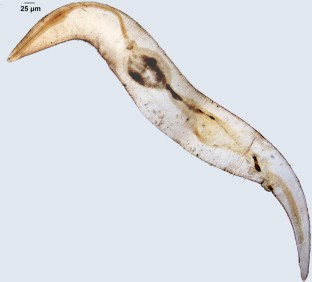 References
1.

Adamson ML (1990) Haplodiploidy in the Oxyurida: decoupling the evolutionary processes of adaptation and speciation. Ann Parasitol Hum Comp 65:31–35

2.

Anderson RC, Chabaud AG, Willmott S (2009) Keys to the nematode parasites of vertebrates: archival volume. CABI Publishing, Oxfordshire

3.

Armstrong KF, Ball SL (2005) DNA barcodes for biosecurity: invasive species identification. Proc R Soc Lond B Biol Sci 360(1462):1813–1823

4.

Arneberg P (2001) An ecological law and its macroecological consequences as revealed by studies of relationships between host densities and parasite prevalence. Ecograph 24(3):352–358

5.

Barnett LK, Phillips BL, Heath AC, Coates A, Hoskin CJ (2018) The impact of parasites during range expansion of an invasive gecko. Parasitol 145(11):1–10

6.

Chew I, Low M-R (2017) Roadkill green iguana at Upper Thomson. Singapore Biodiversity Records. 2017:5

7.

Chua EK (2007) Feral iguana attacks Varanus salvator at Sungei Buloh Wetland Reserve. Biawak 1(1):35–36

8.

Clavero M, García-Berthou E (2005) Invasive species are a leading cause of animal extinctions. Trends Ecol Evol 20(3):110

9.

Corn JL, Mertins JW, Hanson B, Snow S (2011) First reports of ectoparasites collected from wild-caught exotic reptiles in Florida. J Med Entomol 48(1):94–100

10.

Early R, Bradley BA, Dukes JS, Lawler JJ, Olden JD, Blumenthal DM, Gonzalez P, Grosholz ED, Ibañez I, Miller LP, Sorte CJ (2016) Global threats from invasive alien species in the twenty-first century and national response capacities. Nat Commun 7:12485

11.

Engeman R, Jacobson E, Avery ML, Meshaka WE Jr (2011) The aggressive invasion of exotic reptiles in Florida with a focus on prominent species: a review. Curr Zool 57(5):599–612

12.

Falcón W, Ackerman JD, Recart W, Daehler CC (2013) Biology and impacts of Pacific island invasive species. 10. Iguana iguana, the Green Iguana (Squamata: Iguanidae) 1. Pacific Science 67(2):157–187

13.

Fessl B, Tebbich S (2002) Philornis downsi–a recently discovered parasite on the Galápagos archipelago–a threat for Darwin's finches? Ibis 144(3):445–451

14.

Garnick E (1992) Parasite virulence and parasite-host coevolution: a reappraisal. J Parasitol 78(2):381–386

15.

Geller J, Meyer C, Parker M, Hawk H (2013) Redesign of PCR primers for mitochondrial cytochrome c oxidase subunit I for marine invertebrates and application in all-taxa biotic surveys. Mol Ecol Res 13(5):851–861

16.

Gibbons JW, Scott DE, Ryan TJ, Buhlmann KA, Tuberville TD, Metts BS, Greene JL, Mills T, Leiden Y, Poppy S, Winne CT (2000) The global decline of reptiles, Déjà Vu Amphibians: reptile species are declining on a global scale. Six significant threats to reptile populations are habitat loss and degradation, introduced invasive species, environmental pollution, disease, unsustainable use, and global climate change. AIBS Bull 50(8):653–666

17.

Goka K, Okabe K, Takano A (2013) Recent cases of invasive alien mites and ticks in Japan: why is a regulatory framework needed? Exp Appl Acarol 59(2):245–261

18.

Gurevitch J, Padilla DK (2004) Are invasive species a major cause of extinctions? Trends Ecol Evol 19(9):470–474

19.

Hulme PE (2009) Trade, transport and trouble: managing invasive species pathways in an era of globalization. J Appl Ecol 46(1):10–18

20.

Invasive Species Specialist Group (ISSG), IUCN (2015). The Global Invasive Species Database. Version 2015.1. www.iucngisd.org/gisd/speciesname/Iguana+iguana. Accessed 22nd Apr 2019

21.

Kane KK, Corwin RM, Boever WJ (1976) Impaction due to oxyurid infection in a Fiji Island iguana (a case report). Vet Med Small Anim Clin 71(1):183–184

22.

Keirans JE, Durden LA (2001) Invasion: exotic ticks (Acari: Argasidae, Ixodidae) imported into the United States. A review and new records. J Med Entomol 38(6):850-861

23.

Khoo MDY (2016) Green iguanas at Kranji Reservoir. Singapore Biodiversity Records 2016:185

24.

Kik MJ, van Asten AJ, Lenstra JA, Kirpensteijn J (2011) Cloaca prolapse and cystitis in green iguana (Iguana iguana) caused by a novel Cryptosporidium species. Vet Parasitol 175(1):165–167

25.

Krysko KL, Enge KM, Donlan EM, Seitz JC, Golden EA (2007) Distribution, natural history, and impacts of the introduced green iguana (Iguana iguana) in Florida. Iguana 3(1):2–17

26.

Kumar S, Stecher G, Li M, Knyaz C, Tamura K (2018) MEGA X: molecular evolutionary genetics analysis across computing platforms. Mol Biol Evo 35(6):1547–1549

27.

Kwak ML, Reed J (2017) A survey of ticks (Acari: Ixodidae) from an over-abundant koala (Phascolarctos cinereus) population in south eastern Australia, with an overview of the ticks and mites of koalas. Exp Appl Acarol 73(1):109–114

28.

Kwak ML (2017) The first record of the introduced flea Spilopsyllus cuniculi (Dale, 1878) (Siphonaptera: Pulicidae) from the invasive red fox in Australia, with a review of the fleas associated with the red fox in Australia. Aust Entomol 44(4):289–292

29.

Kwak ML (2017) Keys for the morphological identification of the Australian paralysis ticks (Acari: Ixodidae), with scanning electron micrographs. Exp Appl Acarol 72(1):93–101

30.

Kwak ML (2018) Australia's vanishing fleas (Insecta: Siphonaptera): a case study in methods for the assessment and conservation of threatened flea species. J Insect Conserv 22(4):545–550

31.

Kwak ML (2018) The introduction and subsequent extinction of the camel tick Hyalomma (Euhyalomma) dromedarii (Acari, Ixodidae) in Australia, with a review of the introduction of foreign ticks to Australia. Exp Appl Acarol 74(3):329–333

32.

Kwak ML (2018) Ticks in the Lion City: a preliminary review of the tick fauna of Singapore. Exp Appl Acarol 76(2):263–267

33.

Kwak ML, Hsu CD, Douay G, Ahmad AA (2018) The first authenticated record of the pangolin tick Amblyomma javanense (Acari: Ixodidae) in Singapore, with notes on its biology and conservation. Exp Appl Acarol 76(4):551–557

34.

Leussink JA (1958) Nematodes of the genus Ozolaimus in West Indian iguanas. Stud Fauna Curacaoand Other Caribbean Islands 8(1):127–145

35.

Lee KH, Chen TH, Shang G, Clulow S, Yang YJ, Lin SM (2019) A check list and population trends of invasive amphibians and reptiles in Taiwan. ZooKeys 829:85–130

36.

Lee VN, Mendenhall IH, Lee BPH, Posa MRC (2018) Parasitism by bat flies on an urban population of Cynopterus brachyotis in Singapore. Acta Chiropterol 20(1):177–185

37.

Leray M, Yang JY, Meyer CP, Mills SC, Agudelo N, Ranwez V, Boehm JT, Machida RJ (2013) A new versatile primer set targeting a short fragment of the mitochondrial COI region for metabarcoding metazoan diversity: application for characterizing coral reef fish gut contents. Front Zool 10(1):34

38.

Lim KS, Gardener D (1997) Birds: an illustrated field guide to the birds of Singapore. Sun Tree Publishing Ltd, Singapore

39.

Lim KKP, Lim FLK (2002) guide to the amphibians and reptiles of Singapore. Singapore Science Centre, Singapore

40.

Loukopoulos P, Komnenou A, Papadopoulos E, Psychas V (2007) Lethal Ozolaimus megatyphlon infection in a green iguana (Iguana iguana rhinolopa). J Zoo Wildl Med 38(1):131–135

41.

Low MR, Bickford DP, Tan M, Neves LC (2016) Malayopython (Python) reticulatus diet. Herpetol Rev 17(1):148

42.

Lymbery AJ, Morine M, Kanani HG, Beatty SJ, Morgan DL (2014) Co-invaders: the effects of alien parasites on native hosts. Int J Parasitol: Parasites Wildl 3(2):171–177

43.

Malysheva SV (2016) Morphometrics and molecular analysis of Ozolaimus linstowi n. sp. (Oxyuroidea: Pharyngodonidae) from the green lizard Iguana iguana. J Helminthol 90(2):186–198

44.

Mendenhall IH, Ch'ng L, Neves ES, Borthwick SA, Smith GJD (2018) High diversity of medically important gastrointestinal rodent-borne helminths in Singapore. Zoonoses Public Health 65(3):361–366

45.

Mockett S, Bell T, Poulin R, Jorge F (2017) The diversity and evolution of nematodes (Pharyngodonidae) infecting New Zealand lizards. Parasitol 144(5):680–691

46.

Munakata Y, Inoue I, Shirai A (1999) Ozolaimus megatyphlon (Nematoda: Pharyngodonidae) isolated from a green iguana (Iguana iguana rhinolopa). J Jpn Vet Med Assoc 52:784–787

47.

Ng BC, Lim KKP (2015) Green iguana at Sungei Tengah. Singapore Biodiversity Records 2015:51

48.

Ng HH, Tan HH (2010) An annotated checklist of the non-native freshwater fish species in the reservoirs of Singapore. Cosmos 6(1):95–116

49.

Ng TH, Yeo DC (2012) Non-indigenous frogs in Singapore. Nat Singapore 5:95–102

50.

Ortlepp RJ (1933) Ozolaimus megatyphlon (Rud., 1819) a little known helminth from Iguana tuberculata. Onderstepoort J Vet Res 1(1):93–96

51.

Ratnasingham S, Hebert PD (2007) BOLD: the barcode of life data system (http://www.barcodinglife.org). Mol Ecol Notes 7(3):355–364

52.

Tay JB (2015) Green iguana at Burgundy Crescent. Singapore Biodiversity Records 2015:188

53.

Tompkins DM, Greenman JV, Robertson PA, Hudson PJ (2000) The role of shared parasites in the exclusion of wildlife hosts: Heterakis gallinarum in the ring-necked pheasant and the grey partridge. J Anim Ecol 69(5):829–840

54.

Thompson PE, Huff CG (1944) Saurian malarial parasites of the United States and Mexico. J Infect Dis 74(1):68–79

55.

Wells K, O'Hara RB, Morand S, Lessard JP, Ribas A (2015) The importance of parasite geography and spillover effects for global patterns of host–parasite associations in two invasive species. Divers Distrib 21(4):477–486

56.

Wyatt KB, Campos PF, Gilbert MTP, Kolokotronis SO, Hynes WH, DeSalle R, Daszak P, MacPhee RD, Greenwood AD (2008) Historical mammal extinction on Christmas Island (Indian Ocean) correlates with introduced infectious disease. PLoS One 3(11):e3602

57.

Yeo JWL (2014) Green iguana at Kovan. Singapore Biodivers Rec 2014:119

58.

Yeo DC, Chia CS (2010) Introduced species in Singapore: an overview. Cosmos 6(1):23–37

59.

Zhang J, Kobert K, Flouri T, Stamatakis A (2013) PEAR: a fast and accurate Illumina Paired-End reAd mergeR. Bioinformatic 30(5):614–620
Acknowledgements
The authors also thank the two anonymous reviewers for valuable comments which greatly enhanced this manuscript.
Ethics declarations
Conflict of Interest
On behalf of all the authors, the corresponding author states that there is no conflict of interest.
Ethical Approval
All applicable international, national and/or institutional guidelines for the care and use of animals were followed. All animals in this study were wild-caught invasive pest species euthanised in accordance with the guidelines set out in the animal welfare and ethics policy of Wildlife Reserves Singapore.
Additional information
Publisher's Note
Springer Nature remains neutral with regard to jurisdictional claims in published maps and institutional affiliations.
About this article
Cite this article
Kwak, M.L., Lee, L., Okumura, C. et al. First Report of Co-invasion by the Reptile Nematode Ozolaimus megatyphlon (Nematoda: Pharyngodonidae) with Invasive Green Iguanas (Iguana iguana) in the Asia–Pacific. Acta Parasit. 65, 264–270 (2020). https://doi.org/10.2478/s11686-019-00144-7
Received:

Accepted:

Published:

Issue Date:
Keywords
Invasive parasite

Invasive species

Pet trade

Exotic pets

Pinworm

Singapore