Abstract
Introduction
Among Argentinean rodents, only one species of Muridae and seven of Cricetidae were reported as digenean hosts. Despite the available data, the taxonomic diversity of the Digenea from rodents has been little explored. An update on digeneans of Sigmodontinae rodents (Cricetidae-Muroidea) in Cuenca del Plata is provided. New host and geographical data are recorded and taxonomic and ecological data are summarized.
Methods
Rodents were collected from 11 localities in the region Cuenca del Plata, Argentina. Moreover, other unidentified specimens from four localities, deposited in the Colección de Helmintología del Museo de La Plata, were studied. Prevalence, mean intensity, and mean abundance are provided.
Results
Eight species of digeneans belonging to four families were identified. Twelve new geographical records for five provinces of Argentina are presented. In addition, six new host–parasite associations are reported. The information is presented in a taxonomic list for each digenean species: site of infection, host records, locality records, and comments.
Conclusions
It becomes interesting to explore the diets and habits of each rodent species to understand the dispersal and transmission ability of each group of digeneans. This survey constitutes an update on digeneans of Sigmodontinae rodents in Cuenca del Plata, Argentina.
Access options
Buy single article
Instant access to the full article PDF.
US$ 39.95
Tax calculation will be finalised during checkout.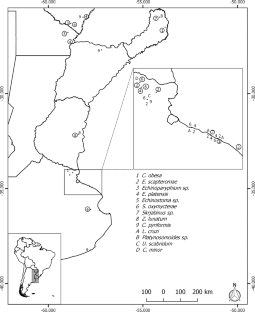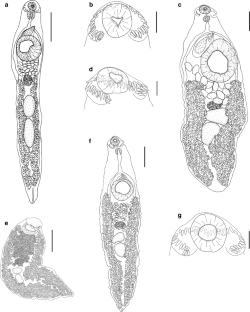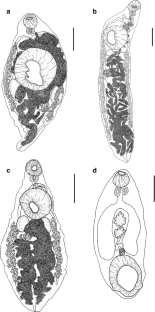 References
1.

Feliú C, Torres J, Casanova JC, Miquel J (1992) Consideraciones sobre el binomio helmintofauna—modo de vida en los Roedores ibéricos. In: Hernández Rodríguez S (ed) In memoriam al Profesor Doctor D. Francisco de Paula Martínez Gmez, Universidad de Córdoba, Servicio de Publicaciones, Córdoba, pp 351–366

2.

Feliú C, Renaud F, Catzeflis F, Durand P, Hugot JP, Morand S (1997) A comparative analysis of parasite species richness of Iberian rodents. Parasitology 115:453–466. https://doi.org/10.1017/S0031182097001479

3.

Galliari C, Pardiñas UFJ, Goin F (1996) Lista comentada de los mamíferos argentinos. Mastozool Neotrop 3:39–61

4.

Pardiñas UFJ, D'Elía G, Teta P, Ortiz PE, Jayat PJ, Cirignoli S (2006) Subfamilia Sigmodontini, Tribu Akodontini. In: Barquez RM, Díaz MM, Ojeda RA (eds) Mamíferos de Argentina, Sistemática y Distribución. Sociedad Argentina para el Estudio de los Mamíferos, Tucumán, pp 146–202

5.

Teta P, Abba AM, Cassini GH, Flores DA, Galliari CA, Lucero SO, Ramírez M (2018) Lista revisada de los mamíferos de Argentina. Mastozool Neotrop 25:163–198. https://doi.org/10.31687/saremMN.18.25.1.0.15

6.

Reig OA (1986) Diversity patterns and differentiation of high Andean rodents. In: Vuilleumier F, Monasterio M (eds) High altitude tropical biogeography. Oxford University Press, New York, pp 404–439

7.

Hershkovitz P (1962) Evolution of Neotropical cricetine rodents (Muridae) with special reference to the phyllotine group. Fieldiana Zool 46:1–524. https://doi.org/10.5962/bhl.title.2781

8.

Patton JL, Pardiñas UFJ, D'Elía G (2015) Mammals of South America, vol 2. Rodents, vol 2. The University of Chicago Press, Chicago, p 1336

9.

Landry SO (1970) The Rodentia as omnivores. Q Rev Biol 45:351–372

10.

Samuels JX (2009) Cranial morphology and dietary habits of rodents. Zool J Linnean Soc 156:864–888. https://doi.org/10.1111/j.1096-3642.2009.00502.x

11.

Lunaschi LI, Drago FB (2007) Checklist of digenean parasites of wild mammals from Argentina. Zootaxa 1580:35–50. https://doi.org/10.11646/zootaxa.1580.1.3

12.

Navone GT, Notarnicola J, Nava S, Robles MdR, Galliari C, Lareschi M (2009) Arthropods and helminths assemblage in sigmodontine rodents from wetlands of the Río de la Plata, Argentina. Mastozool Neotrop 16:121–133

13.

Guerreiro Martins NB, Rosario Robles Md, Diaz JI, Kinsella JM, Navone GT (2019) Cladorchis pyriformis (Diesing, 1838) (Digenea, Cladorchiidae): new rodent host and geographic records in Argentina. Check List 15:645–650. https://doi.org/10.15560/15.4.645

14.

Bray RA, Gibson DI, Jones A (2008) Keys to the Trematoda, vol 3. CAB International and Natural History Museum, London, p 848

15.

Gibson DI, Jones A, Bray RA (2002) Keys to the Trematoda, vol 1. CAB International & Natural History Museum, London, p 544

16.

Jones A, Bray RA, Gibson DI (2005) Keys to the trematoda, vol 2. CAB International & Natural History Museum, London, p 768

17.

Yamaguti S (1971) Synopsis of digenetic trematodes of vertebrates. Keigaku Publishing Co, Tokyo, p 1074

18.

Bush AO, Lafferty KD, Lotz JM, Shostak AW et al (1997) Parasitology meets ecology on its own terms: Margolis et al. revisited. J Parasitol 83:575–583

19.

Wilson DE, Lacher TE, Mittermeier RA (2017) Handbook of the mammals of the world, vol 7. Lynx Edicions, Barcelona, Rodents II, p 1008

20.

Fernandes BMM, Justo MCN, Cardenas MQ, Cohen SC (2015) South American trematodes parasites of birds and mammals. Oficina de Livros, Rio de Janeiro, p 516

21.

Sutton CA, Lunaschi LI (1994) Estudio sobre digeneos parásitos de roedores Cricetidae y Muridae, de la provincia de Buenos Aires, Argentina. Neotropica 40:61–72

22.

Sutton CA (1983) Contribución al conocimiento de la fauna parasitológica argentina XI. Digeneos en roedores bonaerenses. Neotropica 29:19–26

23.

Maldonado A Jr, Pinheiro J, Simões R, Lanfredi RM (2010) Canaania obesa (Platyhelminthes: Dicrocoeliidae): redescription and new hosts records. Zoologia 27:789–794. https://doi.org/10.1590/S1984-46702010000500015

24.

Travassos L (1944) Revisão da família Dicrocoellidae Odhner, 1910. Monografias do Instituto Oswaldo Cruz, Imprensa Nacional, Rio de Janeiro, p 500

25.

Pojmanska T (2008) Family Dicrocoeliidae Looss, 1899. In: Bray RA, Gibson DI, Jones A (eds) Keys to the trematoda, vol 3. CABI Publishing and the Natural History Museum, Wallingford, pp 233–260

26.

Sutton CA, Damborenea MC (1996) Colección Helmintológica del Museo de La Plata: I. Catálogo de preparaciones microscópicas, material tipo y no tipo. Seria Técnica y Didáctica Museo de La Plata 35:1–20

27.

Stunkard HW (1917) Studies on the North American Polystomidae, Aspidogastridae and Paramphistomidae. Ill biol monogr 3:287–395

28.

Diesing CM (1836) Monographie der gattungen Amphistoma und Diplodiscus. Ann Nat Hist Mus Wien 1:235–260

29.

Price EW (1928) The host relationships of the trematode genus Zygocotyle lunata. J Agric Res 36:911–914

30.

Willey CH (1941) The life history and bionomics of the trematode, Zygocotyle lunata (Paramphistomidae). Zoologica 26:65–88

31.

Huffman JE, Sabol C, Fried B (1991) Infectivity, growth, survival, and pathogenicity of Zygocotyle lunata (Trematoda) in experimental rodent hosts. J Parasitol 77:280–284

32.

Etges FJ (1992) Zygocotyle lunata, laboratory maintenance in snails and mice. Proc Helminthol Soc Wash 59:22–24

33.

Ostrowski de Nuñez M, Spatz L, Gonzalez Cappa SM (2003) New intermediate hosts in the life cycle of Zygocotyle lunata in South America. J Parasitol 89:193–194. https://doi.org/10.1645/0022-3395(2003)089%5b0193:NIHITL%5d2.0.CO;2

34.

Fried B, Huffman J, Keeler S, Peoples RC (2009) The biology of the caecal trematode Zygocotyle lunata. Adv Parasitol 69:1–40. https://doi.org/10.1016/S0065-308X(09)69001-1

35.

Sutton CA, Lunaschi LI (1990) Contribución al conocimiento de la fauna parasitológica argentina XVI. Digeneos en Holochilus brasiliensis vulpinus (Brants) y Oryzomys flavescens (Waterhouse) de Argentina y Uruguay. Neotropica 36:13–22

36.

Sutton CA (1998) First record and redescription of Conspicuum minor Mañé-Garzon & Holcman-Spector, 1975/Digenea, Dicrocoeliidae) in Argentina. Gayana Zool 62:221–224

37.

Redford KH, Eisenberg JF (1992) Mammals of the Neotropics the Southern Cone. University of Chicago Press, Chicago, p 430

38.

Barbara RF, Fernandez FAS, Freitas D, Figueiredo MSL (2002) Population dynamics of small rodents in a grassland between fragments of Atlantic Forest in southeastern Brazil. Mamm Biol 67:304–314

39.

Keeler S, Huffman J (2009) Echinostomes in the second intermediate host. In: Fried B, Toledo R (eds) The biology of Echinostomes: from the molecule to the community. Springer, New York, pp 61–87

40.

Cardoso TS, Simões RO, Luque JLF, JrA Maldonado, Gentile R (2015) The influence of habitat fragmentation on helminth communities in rodent populations from a Brazilian Mountain Atlantic Forest. J Helminthol 90:460–468. https://doi.org/10.1017/S0022149X15000589

41.

Ostrowski de Núñez M, Davies D, Spatz L (2011) The life cycle of Zygocotyle lunata (Trematoda, Paramphistomoidea) in the subtropical region of South America. Rev Mex Biodivers 82:581–588

42.

Sutton CA, Lunaschi LI (1987) Sobre algunos digeneos hallados en vertebrados silvestres argentinos. Neotropica 33:89–95

43.

Digiani MC (1997) El cisne de cuello negro Cygnus melancorypha: nuevo hospedador de Zygocotyle lunata (Diesing) (Trematoda: Paramphistomatidae). Neotropica 43:84
Acknowledgements
We thank Ulyses Pardiñas, Carlos Galliari, Marcela Lareschi, Juliana Notarnicola, Mariano Merino, Juliana Sanchez, Erika Cuellar, Ekaterina Savchenko, Mara Urdapilleta, and Ezequiel Palumbo for their cooperation in host collections; to Ulyses Pardiñas and Carlos Galliari for the identification of the hosts to Micaela Rojas for collaborating with the parasitological examination; to Lucas Garbin for the revision of the English version.
Funding
Agencia Nacional de Promoción Científica y Tecnológica (PICT 2015-1348), Universidad Nacional de La Plata (No. 861), Consejo Nacional de Investigaciones Científicas y Técnicas (CONICET, PUE CEPAVE 2016 and fellowship NGM).
Ethics declarations
Conflict of interest
The authors declare that they have no conflict of interest.
Additional information
Publisher's Note
Springer Nature remains neutral with regard to jurisdictional claims in published maps and institutional affiliations.
About this article
Cite this article
Guerreiro Martins, N.B., Robles, M., Diaz, J.I. et al. Digenean parasites of Sigmodontinae rodents from Argentina: a list of species, new host, and geographical records. Acta Parasit. 65, 97–107 (2020). https://doi.org/10.2478/s11686-019-00136-7
Received:

Accepted:

Published:

Issue Date:
Keywords
Argentina

Cricetidae

Digeneans

Platyhelminthes

Rodentia