Abstract
Background
Rhadinorhynchus trachuri Harada, 1935 is probably one of the most widely distributed acanthocephalans in the world, but the least known taxonomically. This report fills the large gap of knowledge about its taxonomy, host relationships, and worldwide distribution in marine fishes of both sides of the Pacific Ocean and the connecting Indian Ocean.
Purpose
To revisit the taxonomy of this species, provide a more complete morphological description and expand our knowledge about its morphological identity and variations and elaborate on its worldwide zoogeography; accounting for its worldwide distribution based on new collections, museum specimens, and on published reports.
Methods
Specimens from Vietnam were processed, identified, and documented using standard techniques. Specimens of R. trachuri were studied from three species of fish in three families, Auxis thazard (Lacépède) (Scombridae), Megalaspis cordyla (Linn.) (Carangidae), and Tylosurus sp. (Belonidae) in Nha Trang and Binh Thuan in the south Pacific coast of Vietnam and additional museum specimens mostly from salmonids from the Pacific coast of California were also studied. Extensive research was conducted on published records of R. trachuri and its marine fish hosts worldwide.
Results
Specimens of R. trachuri are characterized by cylindrical trunk with anterior rings of spines and posterior ventral and lateral spines, a proboscis usually with 12 hook rows each with 19–24 hooks, variable position of testes, and a long uterus, uterine bell attached to the dorsal trunk wall, rounded vagina, and unusually dorsal gonopore. The hosts and geographical distribution of R. trachuri suggest a northern linkage of infections between the Asian and American Pacific populations across the Bering Sea involving salmonid fishes and a southern linkage through the Indian Ocean involving Carangid fishes. Other hosts involved in the cycling and distribution of infections are also discussed with some definitive hosts also serving as paratenic hosts.
Conclusions
This is the first complete description about R. trachuri and the first comprehensive accounting of its worldwide distribution in 19 species of marine fish in seven families. Considerable intraspecific variability related to geographical restrictions, intermediate and definitive host specificity and distribution, and host feeding behavior was documented.
Access options
Buy single article
Instant access to the full article PDF.
US$ 39.95
Tax calculation will be finalised during checkout.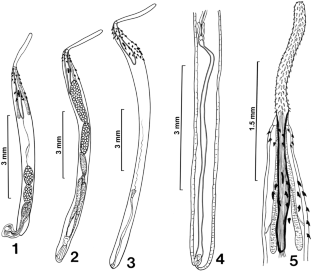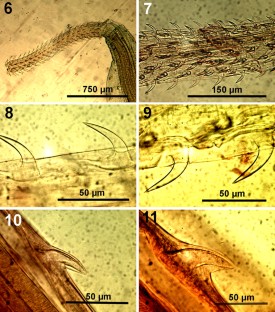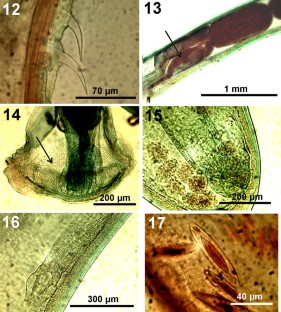 References
1.

Amin OM, Christison KW (2005) Neoechinorhynchus (Neoechinorhynchus) dorsovaginatus n. sp. (Acanthocephala: Neoechinorhynchidae) from the dusky kob Argyrosomus japonicus (Sciaenidae) on the southern coast of South Africa. Syst Parasitol 61:173–179

2.

Amin OM, Bullock WL (1998) Neoechinorhynchus rostratum sp. n. (Acanthocephala: Neoechinorhynchidae) from the eel, Anguilla rostrata, from estuarine waters of northeastern North America. J Helminthol Soc Wash 65:169–173

3.

Amin OM, Dailey MD (1998) Description of Mediorhynchus papillosus (Acanthocephala: Gigantorhynchidae) from a Colorado, USA, population, with a discussion of morphology and geographical variability. J Helminthol Soc Wash 65:189–200

4.

Amin OM, Heckmann RA (1992) Description of Neoechinorhynchus idahoensis n. sp. (Acanthocephala: Neoechinorhynchidae) in Catostomus columbianus from Idaho. J Parasitol 78:34–39

5.

Amin OM, Rubtsova NY, Ha NV (2019) Description of three new species of Rhadinorhynchus Lühe, 1911 (Acanthocephala: Rhadinorhynchidae) from Marine fish off the Pacific coast of Vietnam. Acta Parasitol. https://doi.org/10.2478/s11686-019-00092-2

6.

Ari HP (1989) Acanthocephala. In: Margolis L, Kabata Z (eds) Guide to the parasites of fishes of Canada. Part III. Can Spec Publ Fish Aqua Sci 107:95

7.

Arthur JR, Arai HP (1980) Studies on the parasites of Pacific herring (Clupea harengus pallasi Valenciennes): survey results. Can J Zool 58:64–70

8.

Châari M, Boudaya L, Neifar L (2016) Preliminary observations on the feeding habits of the Mediterranean needlefish Tylosurus acus imperialis (Teleostei: Belonidae). J Coast Life Med. https://doi.org/10.12980/jclm.4.2016j6-32

9.

Chen C-J, Yang R-T (1973) Parasites of yellowfin tuna in the waters southwest off Taiwan. Acta Oceanograph Taiwa 3:181–198

10.

Collette BB (1999) Belonidae. Needlefishes. In: Carpenter KE, Niem VH (eds) FAO species identification guide for fishery purposes. The living marine resources of the Western Central Pacific. Volume 4. Bony fishes, part 2 (Mugilidae to Carangidae). FAO, Rome, pp 2151–2161

11.

Collette BB, Aadland CR (1996) Revision of the frigate tunas (Scombridae, Auxis), with descriptions of two new subspecies from the eastern Pacific. Fish Bull 94:423–441

12.

Collette BB, Nauen CE (1983) FAO species catalogue. Vol. 2. Scombrids of the world An annotated and illustrated catalogue of Tunas, Mackerels, Bonitos and related species known to date. FAO Fish Synop 2(125):137

13.

Collette B (2011) Thunnus albacares. IUCN red list of threatened species. Version 2006

14.

Eschmeyer WN, Herald ES, Hammann H (1983) A field guide to Pacific coast fishes of North America. Boston (MA, USA): Houghton Mifflin Co xii + p 336

15.

FAO (1994) World review of highly migratory species and straddling stocks. FAO Fish Tech Pap No. 337. Rome, FAO. P 70

16.

FAO (2012) Trachurus murphyi (Nichols, 1920). Species Fact Sheet. Retrieved 2 March 2012

17.

Froese R, Pauly D (eds) (2009a) Megalaspis cordyla in FishBase. October 2009

18.

Froese R, Pauly D (eds) (2009b) "Rastrelliger Kanagurta" in FishBase. September 2009 version

19.

Froese R, Pauly D (eds) (2012a) Species of Tylosurus in FishBase. June 2012 version

20.

Froese R, Pauly D (eds) (2012b) Trachurus japonicus in FishBase. March 2012 version

21.

Froese R, Pauly D (eds) (2012c) Trachurus murphyi in FishBase. March 2012 version

22.

Froese R, Pauly D (eds) (2014) Pentaceros richardsoni in FishBase. February 2014 version

23.

Froese R, Pauly D (eds) (2018a) FishBase. Tylosurus acus melanotus (Bleeker, 1850). Accessed through: World Regist Mar Spec at: http://www.marinespecies.org/aphia.php?p=taxdetails&id=293756 on 2018-12-22

24.

Froese R, Pauly D (eds) (2018b) Thunnus albacares in FishBase. February 2018 version

25.

George-Nascimento M (2000) Geographical variations in the Jack mackerel, Trachurus symmetricus murphyi populations in the southeastern Pacific Ocean as evidenced from the associated parasite communities. J Parasitol 86:929–932

26.

George-Nascimento F, Arancibia FH (1992) Stocks ecológicos del jurel (Trachurus symmetricus murphyi Nichols) en tres zonas de pesca frente a Chile, detectados mediante compración de su fauna parasitaria y morfometria. Rev Chil Histor Nat 65:453–470

27.

George PV (1976) Studies on the Acanthocephalid worms in Kerala. Unpublished Thesis, Univ Kerala, India

28.

Golvan YJ (1969) Systematique des Acanthocephales (Acanthocephala Rudolphi, 1801), L'ordre des Palaeacanthocephala Meyer, 1931, La superfamille des Echinorhynchidea (Cobbold, 1876) Golvan et Houin 1963. Mém Mus Natl d'Hist Natur nouv série, ser. A, Zool 57:1–373

29.

González RG, Fuentes SF, Aguirre CC, Moreno MO, Yánez MTG, Troncoso JFC, Nievas JCS, Espionosa JCQ, Ashford J, Behrens RS, Pino JL, Mardones LS, Elias SN, Marchant SS, Galeb FG (2014) Population structure of horse mackerel. Inst Form Pesquero, Aniver 1964–2014:1–288

30.

Harada I (1935) The Acanthocephala of Japan. Mem Fac Sci Agric, Taihoku Imp Univ 14:7–23

31.

Hart JL (1973) Pacific fishes of Canada. Bull Fisher Res Bd Can. 180:1–740

32.

Heemstra PC (1986) Pentacerotidae. In: Smith MM, Heemstra PC (eds) Smiths' sea fishes. Springer, Berlin, pp 622–623

33.

Hourston AS, Haegele CW (1980) Herring on Canada's pacific coast. Depart Fisher Oceans, Can Sp Publ Fisher Aqua Sci, Ottawa

34.

Jennings MR, Hendrickson GL (1982) Parasites of chinook salmon (Onchorhynchus tshawytscha) and coho salmon (O. kisutch) from the Mad River and vicinity, Humboldt County, California. Pro Helminthol Soc Wash 49:279–284

35.

Lin P-L, Kwang-Tsao S (1999) A review of the carangid fishes (Family Carangidae) from taiwan with descriptions of four new records. Zool Stud 38:33–68

36.

Losee JP (2012) Trophically transmitted parasites as ecosystem indicators: relationships among parasite community structure, juvenile salmon diet composition and ocean conditions. http://agris.fao.org/agris-search/search.do?recordID=AV2012089996

37.

Losee JP, Miller JA, Peterson WT, Teel DJ, Jacobson KC (2014) Influence of ocean ecosystem variation on trophic interactions and survival of juvenile coho and chinook salmon. Can J Fisher Aqua Sci 71:1747–1757

38.

Love MS, Moser M (1976) Parasites of California marine and estuarine fish. Facul publ Harold W Manter Lab Parasitol Univ Nebraska Lincoln 749:1–517

39.

Love MS, Moser M (1983) A check list of parasites of California, Oregon, and Washington marine and estuarine fishes. NOAA Tech Rep, NMFS SSRF 77:1–576

40.

McDonald TE, Margolis L (1995) Synopsis of the parasites of fishes of Canada: supplement (1978–1993). Can Sp Publ Fisher Aqua Sci, Ottawa 122:1–265

41.

Margolis L (1956) Report on parasite studies of sockeye and pink salmon collected in 1955, with special reference to the utilization of parasites as a means of distinguishing between Asiatic and American stocks of salmon on the high seas—a progress report or work being carried out as part of FRB's commitment to INPFC. Bull Fisher Res Bd Can, MS Reports (Biol) 624:36

42.

Margolis L (1957) A study of the parasites of sockeye and pink salmon with particular attention to their application in distinguishing between Asiatic and North American stocks of these fish on the high seas—report of results of examinations of 1956 samples. Bull Fisher Res Bd Can, MS Reports (Biology) 641:24

43.

Margolis L (1963) Parasites as indicators of the geographical origin of sockeye salmon, Onchorhynchus nerka (Walbaum), occurring in the North Pacific Ocean and adjacent waters. North Pac Fish Comm Bull 11:101–156

44.

Margolis L (1982) Parasitology of Pacific salmon-an overview. In E. Meerovitch (ed.). Aspects of parasitology. A festschrift dedicated to the 50th anniversary of the Institute of Parasitology of McGill University, 1932–1982. McGill Univ., Montreal, Québec, p 135–226

45.

Margolis L, Arthur JR (1979) Synopsis of the parasites of fishes of Canada. Bull Fisher Res Bd Can 199:269

46.

Masuda H, Amaoka K, Araga C, Uyeno T, Yoshino T (1984) The fishes of the Japanese Archipelago, vol 1. Tokai Univ Press, Tokyo, p 437

47.

Moles A (2007) Parasites of the fishes of Alaska and surrounding waters. Alaska Fisher Res Bull 12:197–226

48.

Morrow JE (1980) The freshwater fishes of Alaska. University of, B.C. Anim Res Ecol Libr, p 248

49.

Nagasawa K, Urawa S, Awakura T (1987) A checklist and bibliography of parasites of salmonids of Japan. Sci Rep Hokkaido Salmon Hatch 41:1–75

50.

Oliva ME (1999) Metazoan parasites of the jack mackerel Trachurus murphyi (Teleostei, Carangidae) in the latitudinal gradient from South America (Chile and Peru). Parasite 6:223–230

51.

Olson RE (1978) Parasites of silver (coho) salmon and king (chinook) salmon from the Pacific Ocean off Oregon. California Fish Game 64:117–120

52.

Pearson RE (1964) Use of discriminant function analysis to classify North American and Asian pink salmon, Onchorhynchus gorbuscha (Walbaum) collected in 1959. Intern N Pac Fisher Comm Bull 14:67–90

53.

Pequeňo G, Valdebenito V, Muňoz G (2011) Pseudopentaceros richardsoni (Osteichthyes: Pentacerotidae) en el Océano Pacifico suroriental: morfometria parásitos y comentario sobre la familia en el área. Rev Biol Mar Oceanograf 46:275–280

54.

Petrochenko VI (1956) Acanthocephala of domestic and wild animals. Vol. 1. Moscow: Izdatel'stvo Akad Nauk SSSR (translated by Israel Program of Scientific Translations, Jerusalem, 1971, 465 pp.)

55.

Poulin E, Cárdenas L, Hernández CE, Kornfield I, Ojeda FP (2004) Resolution of the taxonomic status of Chilean and Californian jack mackerels using mitochondrial DNA sequence. J Fish Biol 65:1160–1164

56.

Rajanna KB, Benakappa S, Anajanayappa HN (2006) Food and feeding habits of the horse mackerel, Megalaspis cordyla(Linnaeus) from Mangalore region. Environ Ecol 24S (Special 3): 676–679. ISSN 0970-0420

57.

Robertson DR, Allen GR (2015) Shore fishes of the tropical eastern Pacific: an information system. Version 2. Smiths Trop Res Inst, Balboa, Panama. URL: http://www.stri.org/sftep

58.

Sivakami S (1995) Fishery and biology of the carangid fish Megalaspis cordyla (Linnaeus) off Cochin. J Mar Biol Assoc India 37:237–248

59.

Smith-Vaniz W (1999) Carangidae. In: Carpenter KE, Niem VH The living marine resources of the Western Central Pacific Vol 4. Bony fishes, part 2 (Mugilidae to Carangidae) (PDF). FAO species ident guide fisher purp. Rome: FAO p 2659–2757. ISBN 92-5-104301-9

60.

Sommer C (1995) Scomberesocidae. Papardas. p. 1519-1520. In: Fischer W, Krupp F, Schneider W, Sommer C, Carpenter KE, Niem V (eds) Guia FAO Identif Esp Fines Pesca. Pacifico Centro-Oriental. 3 Vols. FAO, Rome

61.

Sullivan P, Deghi G, and Michael Hogan C (1989) Harbor seal study for strawberry spit, Marin County, California, Earth Metrics file reference 10323, BCDC and County of Marin, January 23

62.

Yamaguti S (1963) Systema helminthum. Acanthocephala, v. 5. John Wiley Intersci Publ. NY, NY, p
Acknowledgements
The Vietnamese specimens were gratefully provided by Dr. Ngyuen Van Ha (Institute of Ecology and Biological Resources) under the Vietnam National Program No. 47 Grant code VAST.DA47.12/16-19 of the Vietnam Academy of Science and Technology, Hanoi. The California specimens were provided by Dr. Anna Phillips and Amanda Robinson (Smithsonian Institution, Suitland, Maryland), and Dr. Gabor R. Racz (Harold W. Manter Laboratory, University of Nebraska State Museum, Lincoln) under their respective funded loan programs. I am grateful for these colleagues' comparable assistance toward making research material available for this study and gratefully acknowledge their contributions in this section equally. This project was supported by an Institutional Grant from the Parasitology Center, Inc. (PCI), Scottsdale, Arizona.
Ethics declarations
Conflict of Interest
The author declares no conflict of interest.
Ethical Standards
The author declares compliance with all relevant ethical standards.
Additional information
Publisher's Note
Springer Nature remains neutral with regard to jurisdictional claims in published maps and institutional affiliations.
About this article
Cite this article
Amin, O.M. Redescription of Rhadinorhynchus trachuri Harada, 1935 (Acanthocephala: Rhadinorhynchidae) from Marine Fish in Vietnam and California with a Discussion of its Zoogeography. Acta Parasit. 65, 77–89 (2020). https://doi.org/10.2478/s11686-019-00130-z
Received:

Accepted:

Published:

Issue Date:
Keywords
Acanthocephala

Rhadinorhynchus trachuri

Vietnam

Redescription

Zoogeography