Abstract
Purpose
The Manx shearwater flea Ceratophyllus (Emmareus) fionnus Usher, 1968 is a host-specific parasitic insect apparently restricted to the Isle of Rùm, off the west coast of Scotland. Although C. (E.) fionnus is one of only a small number of insect species endemic to the British Isles, its conservation status has never been evaluated. To enable effective management, the conservation status of the species was assessed.
Methods
The conservation status of C. (E.) fionnus was evaluated using host and distribution records in conjunction with two assessment rubrics; the IUCN Red List Categories and Criteria: Version 3.1, and a flea-specific assessment rubric developed previously.
Results
Ceratophyllus (Emmareus) fionnus was found to be threatened with extinction due to its hyperendemicity on the Isle of Rùm and was classified as vulnerable.
Conclusion
Based on the findings of the assessment, immediate conservation action to protect C. (E.) fionnus is encouraged and a recovery plan is outlined. This includes surveys and studies of the bionomics of the species in conjunction with in-situ management of the known population. The creation of insurance populations through conservation translocations is also encouraged.
Access options
Buy single article
Instant access to the full article PDF.
US$ 39.95
Tax calculation will be finalised during checkout.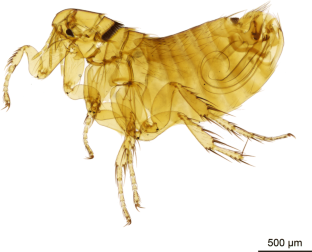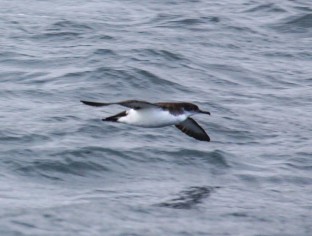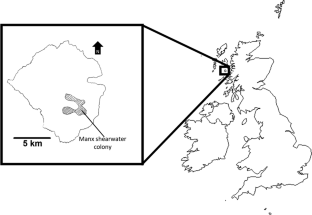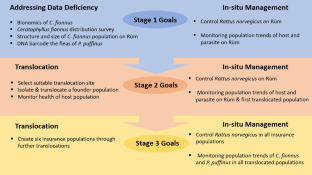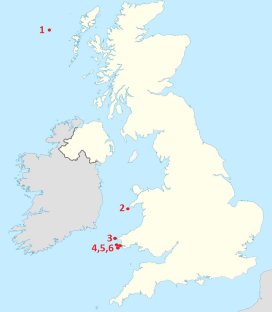 References
1.

Aubrook EW (1966) Ischnopsyllus octactenus (Kolenati) (Siphonaptera) from the Isle of Rhum. Entomol Mon Mag 101(1217–1219):286

2.

Brooke M (2013) The Manx shearwater. A & C Black, London

3.

Bush SE, Clayton DH (2018) Anti-parasite behaviour of birds. Philos Trans R Soc B 373(1751):20170196

4.

Cardoso P, Erwin TL, Borges PA, New TR (2011) The seven impediments in invertebrate conservation and how to overcome them. Biol Conserv 144(11):2647–2655

5.

Checklist Committee (OSNZ) (2010) Checklist of the Birds of New Zealand, Norfolk and Macquarie Islands, and the Ross Dependency, Antarctica, 4th edn. Te Papa Press, Wellington

6.

Dougherty ER, Carlson CJ, Bueno VM, Burgio KR, Cizauskas CA, Clements CF, Seidel DP, Harris NC (2016) Paradigms for parasite conservation. Conserv Biol 30(4):724–733

7.

Fowler JA, Furness RW (1987) A genus of feather louse new to the Manx shearwater Puffinus p. puffinus. Seabird 10:50

8.

Fowler JA, Shaw GJ (1990) The Mallophaga of Manx shearwaters Puffinus p. puffinus from Ynys Enlli, Wales. Seabird 12:14–19

9.

Garnick E (1992) Parasite virulence and parasite-host coevolution: a reappraisal. J Parasitol 78(2):381–386

10.

Good TC, Zjhra ML, Kremen C (2006) Addressing data deficiency in classifying extinction risk: a case study of a radiation of Bignoniaceae from Madagascar. Conserv Biol 20(4):1099–1110

11.

Heidrich P, Amengual J, Wink M (1998) Phylogenetic relationships in Mediterranean and North Atlantic shearwaters (Aves: Procellariidae) based on nucleotide sequences of mtDNA. Biochem Syst Ecol 26(1):145–170

12.

IUCN—International Union for Conservation of Nature and Natural Resources (2001) Species Survival Commission. IUCN Red List Categories and Criteria. Version 3.1. IUCN, Gland

13.

Kwak ML, Mintram K (2017) The tick (Acari: Ixodidae) fauna of Herald's Beacon Islet, Australia. Exp Appl Acarol 71(1):97–102

14.

Kwak ML, Reed J (2017) A survey of ticks (Acari: Ixodidae) from an over-abundant koala (Phascolarctos cinereus) population in south eastern Australia, with an overview of the ticks and mites of koalas. Exp Appl Acarol 73(1):109–114

15.

Kwak ML (2018) Australia's vanishing fleas (Insecta: Siphonaptera): a case study in methods for the assessment and conservation of threatened flea species. J Insect Conserv 22(3):545–550

16.

Kwak ML, Heath ACG (2018) Redescription of the kiwi tick Ixodes anatis (Acari: Ixodidae) from New Zealand, with notes on its biology. Exp Appl Acarol 74(2):207–223

17.

Kwak ML, Griffiths J, Barry D, Begent M, Hoang T, Taafua L, Chiovittic A (2018) The first DNA barcodes for the Australian platypus tick Ixodes ornithorhynchi Lucas, 1846 (Acari: Ixodidae) to facilitate conservation efforts for a declining parasite and its host. Acarologia 58(4):845–849

18.

Lockley RM (1930) On the breeding-habits of the Manx shearwater, with special reference to its incubation- and fledging-periods. Br Birds 23(8):202–218

19.

Mitchell PI, Newton SF, Ratcliffe N, Dunn TE (2004) Seabird populations of Britain and Ireland. T. & AD Poyser, London

20.

Murray S, Shewry MC, Mudge GP, Spray S (2003) A survey of Manx shearwaters Puffinus puffinus on Rum, Inner Hebrides in 2001. Atl Seab 5(3):89–100

21.

Ǿigarden T, Mehl RA, Jerstad K (2013) Fleas in the nests of the white-throated dipper, Cinclus cinclus in Norway. Ornis Norv 36(1):61–67

22.

Palma RL (2017) Phthiraptera (Insecta): a catalogue of parasitic lice from New Zealand. Fauna N Zeal 76:1–400

23.

Palma RL, Pilgrim RLC, Aguilar JS (1997) Ectoparasites from the Balearic shearwater Puffinus yelkouan mauretanicus. Seabird 19(1):51–53

24.

Ratcliffe N, Mitchell I, Varnham K, Verboven N, Higson P (2009) How to prioritize rat management for the benefit of petrels: a case study of the UK, Channel Islands and Isle of Man. Ibis 151(4):699–708

25.

Rózsa L, Vas Z (2015) Co-extinct and critically co-endangered species of parasitic lice, and conservation-induced extinction: should lice be reintroduced to their hosts? Oryx 49(1):107–110

26.

Russel HM (1959) Ornithopsylla laetitiae in the Isle of Rhum. Entomol Mon Mag 95:190

27.

Sangster G, Knox AG, Helbig AJ, Parkin DT (2002) Taxonomic recommendations for European birds. Ibis 144(1):153–159

28.

Seery DB, Biggins DE, Montenieri JA, Enscore RE, Tanda DT, Gage KL (2003) Treatment of black-tailed prairie dog burrows with deltamethrin to control fleas (Insecta: Siphonaptera) and plague. J Med Entomol 40(1):718–722

29.

Srivathsan A, Ang A, Vogler AP, Meier R (2016) Fecal metagenomics for the simultaneous assessment of diet, parasites, and population genetics of an understudied primate. Front Zool 13(1):17

30.

Stansfield G (1957) The fleas of Skokholm Island. Entomol Mon Mag 93:196–201

31.

Thompson KR (1987) The ecology of the Manx shearwater, Puffinus puffinus on Rhum, West Scotland. Unpublished PhD thesis, University of Glasgow, p 162

32.

Trolle L, Jensen J-K (2001) The fleas (Siphonaptera) of the Faroes Islands. Frodskaparrit 48(1):135–144

33.

Turk FA (1946) The Siphonaptera of Cornwall and the Isles of Scilly with the description of a new subspecies. Entomol Mon Mag 82:97–100

34.

Usher MB (1968) A new species of bird flea from the Manx Shearwater in Scotland. Entomol Gaz 19(3):173–180

35.

van der Mescht L, le Roux PC, Matthee CA, Raath MJ, Matthee S (2016) The influence of life history characteristics on flea (Siphonaptera) species distribution models. Parasites Vectors 9:178–188

36.

Whitaker AP (2007) Handbook for the identification of British insects: Fleas (Siphonaptera), 2nd edn. Royal Entomological Society, London

37.

Worinell P (1976) The Manx shearwaters of Rhum. Scott Birds 9(2):103–108

38.

Wormell E (1982) The entomology of the Isle of Rhum National Nature Reserve. Biol J Linn Soc Lond 18(1):291–401
Acknowledgements
We kindly thank Erica McAlister and the Natural History Museum (London) for allowing us to use their copyright image of the Manx shearwater flea. We also thank Dominic Funnell for putting us in contact with Tim Marshall who allowed the use of his photograph of the host bird. We are also thankful to the two reviewers who provided constructive criticism and comments that greatly improved this manuscript.
Additional information
Publisher's Note
Springer Nature remains neutral with regard to jurisdictional claims in published maps and institutional affiliations.
The original version of this article was revised: Due to a processing error, the presentation of Table 1 was incorrect. The original article has been corrected.
About this article
Cite this article
Kwak, M.L., Heath, A.C.G. & Palma, R.L. Saving the Manx Shearwater Flea Ceratophyllus (Emmareus) fionnus (Insecta: Siphonaptera): The Road to Developing a Recovery Plan for a Threatened Ectoparasite. Acta Parasit. 64, 903–910 (2019). https://doi.org/10.2478/s11686-019-00119-8
Received:

Accepted:

Published:

Issue Date:
Keywords
Parasite conservation

Flea

Lice

Manx shearwater

Isle of Rùm

Co-threatened