Abstract
Introduction
Species of the genus Anacanthorus Mizelle & Price, 1965 represent commonly known parasites of Neotropical Characiformes. Anacanthorus is one of the most specious Neotropical monogenean genus, currently comprising 73 nominal species.
Materials and methods
Fish were obtained from the Miranda River, Mato Grosso do Sul, from the Xingu River, Pará, from the Mogi Guaçu River, São Paulo and from the Upper Parana River, Paraná, Brazil. The monogeneans found were examined in a light microscope and partial sequences of the mitochondrial cytochrome c oxidase 1 gene were obtained for most species.
Results
Two new species of Anacanthorus were retrieved from Brazilian serrasalmids and are described herein. Anacanthorus paraxaniophallus n. sp. from Serrasalmus maculatus Kner has great similarity to A. xaniophallus Kritsky et al. (J Helminthol Soc Wash 59:25–51, 1992) by the general morphology of the copulatory complex, but it can be easily differentiated by a larger accessory piece with a slightly curved point, by having a basal flap in the male copulatory organ and by the morphology of hooks, with flattened thumb. Anacanthorus myleusi n. sp. from Myloplus schomburgkii (Jardine) is mainly distinguished by its unique copulatory complex, possessing an inverted J-shaped MCO with terminal flare and a hook-shaped accessory piece. Additionally, new host records are provided to A. lepyrophallus, geographical records are provided to four species of Anacanthorus (A. lepyrophallus, A. maltai, A. sciponophallus and A. thatcheri), which are being recorded in the Paraná River basin for the first time, and we also provide molecular data for six species of Anacanthorus.
This is a preview of subscription content, log in to check access.
Access options
Buy single article
Instant access to the full article PDF.
US$ 39.95
Tax calculation will be finalised during checkout.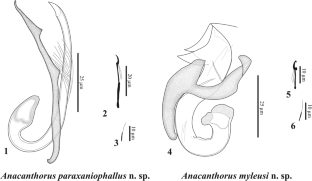 References
1.

Boeger WA, Kritsky DC (1988) Neotropical Monogenea. 12. Dactylogyridae from Serrasalmus nattereri (Cypriniformes, Serrasalmidae) and aspects of their morphologic variation and distribution in the Brazilian Amazon. Proc Helminthol Soc Wash 55:188–213

2.

Boeger WA, Husak WS, Martins ML (1995) Neotropical Monogenoidea. 25. Anacanthorus penilabiatus n. sp. (Dactylogyridae, Anacanthorinae) from Piaractus mesopotamicus (Osteichthyes, Serrasalmidae), cultivated in the State of São Paulo, Brazil. Mem Inst Oswaldo Cruz 90:699–701. https://doi.org/10.1590/S0074-02761995000600008

3.

Bonett MR, Steffen MAA, Trujano-Alvarez L, Martin SD, Bursey CR, McAllister CT (2011) Distribution, abundance, and genetic diversity of Clinostomum spp. metacercariae (Trematoda: Digenea) in a modified Ozark stream system. J Parasitol 97:177–184. https://doi.org/10.1645/GE-2572.1

4.

Castagnoli N (2000) Brazil fish culture. In: Stickney RR (ed) Encyclopedia of aquaculture. Wiley, New York, pp 123–128

5.

Cohen SC, Kohn A (2009) On Dactylogyridae (Monogenea) of four species of characid fishes from Brazil. Check List 5:351–356. https://doi.org/10.15560/5.2.351

6.

Cohen SC, Justo MC, Kohn A (2013) South American Monogenoidea parasites of fishes, amphibians and reptiles. Oficina de Livros, Rio de Janeiro

7.

Córdova L, Pariselle A (2007) Monogenoidea en Serrasalmus rhombeus (Linnaeus, 1766) de la Cuenca Amazónica Boliviana. Rev Peru Biol 14:11–16. https://doi.org/10.15381/rpb.v14i1.1748

8.

Ergens R (1969) The suitability of ammonium picrate-glycerin in preparing slides of lower Monogenoidea. Folia Parasitol 16:320

9.

Froese R, Pauly D (2018) FishBase. World Wide Web electronic publication. https://www.fishbase.org, version 06/2018. Accessed 27 July 2018

10.

Graça RJ, Ueda BH, Oda FH, Takemoto RM (2013) Monogenea (Platyhelminthes) parasites from the gills of Hoplias aff. malabaricus (Bloch, 1794)(Pisces: Erythrinidae) in the upper Paraná River floodplain, States of Paraná and Mato Grosso do Sul. Brazil. Check List 9:1484–1487. https://doi.org/10.15560/9.6.1484

11.

Graça RJ, Fabrin TMC, Gasques LS, Prioli SMAP, Balbuena JA, Prioli AJ, Takemoto RM (2018) Topological congruence between phylogenies of Anacanthorus spp. (Monogenea: Dactylogyridae) and their Characiformes (Actinopterygii) hosts: A case of host-parasite cospeciation. PLoS ONE 13:e0193408. https://doi.org/10.1371/journal.pone.0193408

12.

Hebert PD, Cywinska A, Ball SL, De Waard JL (2003) Biological identifications through DNA barcodes. Proc R Soc Lond Ser B 270:313–321. https://doi.org/10.1098/rspb.2002.2218

13.

Ianacone J, Luque JL (1993) New records of helminth parasitic on Peruvian Amazonian fishes (Osteichthyes). Rev Biol Trop 41:303–305. https://doi.org/10.15517/rbt.v41i2.31809

14.

Kritsky DC, Boeger WA, Van Every LR (1992) Neotropical Monogenoidea. 17. Anacanthorus Mizelle and Price, 1965 (Dactylogyridae, Anacanthorinae) from characoid fishes of the central Amazon. J Helminthol Soc Wash 59:25–51

15.

Lasso CA, Gutiérrez FP, Morales-Betancourt MA, Cordoba EA, Ramírez-Gil H, Ajiaco-Martínez RE (2011) Serie Editorial Recursos Hidrobiológicos y Pesqueros Continentales de Colombia II. Pesquerías Continentales de Colombia: Cuencas del Magdalena-Cauca, Sinú, Canalete, Atrato, Orinoco, Amazonas y Vertiente del Pacífico. Instituto Alexander von Humboldt, Bogotá

16.

Morey GAM, Malta JCO (2018) Metazoan parasites of Serrasalmus altispinis (Serrasalmidae) from floodplain lakes of the Brazilian Amazon. Neotrop Helminthol 12:141–146

17.

Leão MSL, Clemente SCS, Cohen SC (2015) Anacanthorus toledoensis n. sp. and Mymarothecium ianwhittingtoni n. sp. (Dactylogyridae: Monogenoidea) parasitizing cage-reared Piaractus mesopotamicus (Characiformes, Characidae) in the State of Paraná, Brazil. Comp Parasitol 82:269–274. https://doi.org/10.1654/4759.1

18.

Leão MSL, Justo MCN, Bueno GW, Cohen SC, São Clemente SC (2017) Parasitism by Monogenoidea in Piaractus mesopotamicus (Characiformes, Characidae) cultivated in Paraná River (Brazil). Braz J Biol 77:787–793. https://doi.org/10.1590/1519-6984.00916

19.

Li M, Shi S-F, Brown CL, Yang T-B (2011) Phylogeographical pattern of Mazocraeoides gonialosae (Monogenea, Mazocraeidae) on the dotted gizzard shad, Konosirus punctatus, along the coast of China. Int J Parasitol 41:1263–1272. https://doi.org/10.1016/j.ijpara.2011.07.012

20.

Lizama MAP, Takemoto RM, Ranzani-Paiva MJT, Ayroza LMS, Pavanelli GC (2007) Relação parasito-hospedeiro em peixes de pisciculturas da região de Assi, Estado de São Paulo, Brasil. 2. Piaractus mesopotamicus (Holmberg, 1887). Acta Sci Biol Sci 29:437–445. https://doi.org/10.4025/actascibiolsci.v29i4.888

21.

Martins ML, Romero NG (1996) Efectos del parasitismo sobre el tejido branquial en peces cultivados: estudio parasitológico e histopatológico. Rev Bras Zool 13:489–500. https://doi.org/10.1590/S0101-81751996000200017

22.

Martins ML, Onaka EM, Moraes FR, Bozzo FR, Paiva AMFC, Gonçalves A (2002) Recent studies on parasitic infections of freshwater cultivated fish in the state of São Paulo, Brazil. Acta Sci Biol Sci 24:981–985

23.

Mizelle JD (1936) New species of trematodes from the gills of Illinois fishes. Am Midl Nat 17:785–806. https://doi.org/10.2307/2420687

24.

Mizelle JD, Price CE (1963) Additional haptoral hooks in the genus Dactylogyrus. J Parasitol 49:1028–1029. https://doi.org/10.2307/3275746

25.

Monteiro CM, Cohen SC, Brasil-Sato MC (2015) New species and reports of dactylogyrids (Monogenoidea) from Salminus franciscanus (Actinopterygii: Bryconidae) from the upper São Francisco River, Brazil. Zootaxa 3941:137–143. https://doi.org/10.11646/zootaxa.3941.1.9

26.

Müller MI, Ceccarelli PS, Ueta MT (2016) Supplementary studies on Anacanthorus penilabiatus and Mymarothecium viatorum (Monogenea: Dactylogyridae) from Piaractus mesopotamicus (Characiformes: Serrasalmidae) in Brazil. Acta Parasitol 61:508–515. https://doi.org/10.1515/ap-2016-0067

27.

Ortí G, Sivasundar A, Dietz K, Jégu M (2008) Phylogeny of the Serrasalmidae (Characiformes) based on mitochondrial DNA sequences. Genet Mol Biol 31:343–351. https://doi.org/10.1590/S1415-47572008000200030

28.

Pamplona-Basilio MC, Kohn A, Feitosa VA (2001) New host records and description of the egg of Anacanthorus penilabiatus (Monogenea, Dactylogyridae). Mem Inst Oswaldo Cruz 96:667–668. https://doi.org/10.1590/S0074-02762001000500014

29.

Pettersen RA, Mo TA, Hansen H, Vøllestad LA (2015) Genetic population structure of Gyrodactylus thymalli (Monogenea) in a large Norwegian river system. Parasitology 142:1693–1702. https://doi.org/10.1017/S003118201500133X

30.

Pleijel F, Jondelius U, Norlinder U, Nygren A, Oxelman B, Schander C, Sundberg P, Thollesson M (2008) Phylogenies without roots? A plea for the use of vouchers in molecular phylogenetic studies. Mol Phylogenet Evol 48:369–371. https://doi.org/10.1016/j.ympev.2008.03.024

31.

Santos MCF, Hrbek T, Farias IP (2009) Microsatellite markers for the tambaqui (Colossoma macropomum, Serrasalmidae, Characiformes), an economically important keystone species of the Amazon River floodplain. Mol Ecol Resour 9:874–876. https://doi.org/10.1111/j.1755-0998.2008.02331.x

32.

Sepúlveda FA, González MT, Oliva ME (2014) Two new species of Encotyllabe (Monogenea: Capsalidae) based on morphometric and molecular evidence: parasites of two inshore fish species of northern Chile. J Parasitol 100:344–349. https://doi.org/10.1645/13-230.1

33.

Sepúlveda FA, González MT (2014) Molecular and morphological analyses reveal that the pathogen Benedenia seriolae (Monogenea: Capsalidae) is a complex species: Implications for yellowtail Seriola spp. aquaculture. Aquaculture 418–419:94–100. https://doi.org/10.1016/j.aquaculture.2013.10.012

34.

Tavares-Dias M, Moraes FRD, Martins ML, Kronka SN (2001) Fauna parasitária de peixes oriundos de pesque-pagues do município de Franca, São Paulo, Brasil. II. Metazoários. Rev Bras Zool 18:81–95

35.

Thompson JD, Higgins DG, Gibson TJ (1994) CLUSTAL W: improving the sensitivity of progressive multiple sequence alignment through sequence weighting, position-specific gap penalties and weight matrix choice. Nucleic Acids Res 22:4673–4680

36.

Van Every LR, Kritsky DC (1992) Neotropical Monogenoida. 18. Anacanthorus Mizelle and Price, 1965 (Dactylogyridae, Anacanthorinae) of piranha (Characoidea, Serrasalmidae) from the central Amazon, their phylogeny, and aspects of host-parasite coevolution. J Helminthol Soc Wash 59:52–75

37.

Whittington ID, Cribb BW, Hamwood TE, Halliday JA (2000) Host-specificity of monogenean (platyhelminth) parasites: a role for anterior adhesive areas? Int J Parasitol 30:305–320. https://doi.org/10.1016/s0020-7519(00)00006-0
Acknowledgements
We wish to thank Camila Pantoja, Maria Catarina Moraes and Philippe Alves from the Universidade Federal Rural do Rio de Janeiro, Rio de Janeiro (Brazil) and Tomáš Scholz from the Institute of Parasitology, České Budějovice (Czech Republic) for their help with material collection and parasitological examination. Thanks are also due to Luiz Eduardo Roland Tavares from the Universidade Federal do Mato Grosso do Sul, Campo Grande (Brazil) for providing the facilities during the field trip. We would like also to thank Dr. Douglas McIntosh from the Department of Animal Parasitology, UFRRJ for technical support on sample sequencing. JM was funded by a Doctoral fellowship from CAPES (Coordenação de Aperfeiçoamento de Pessoal de Nível Superior, Brazil), and Conselho Nacional de Desenvolvimento Cientifico e Tecnológico (CNPq) grants to JLL (Nos. 474077/2011-0, 304254/2011-8, 402665/2012-0).
Additional information
Publisher's Note
Springer Nature remains neutral with regard to jurisdictional claims in published maps and institutional affiliations.
About this article
Cite this article
Moreira, J., da Silva Carneiro, J., Ruz, E.J.H. et al. New Species and Records of Anacanthorus (Monogenea: Dactylogyridae) Parasitizing Serrasalmid Fish (Characiformes) from Brazil, Including Molecular Data. Acta Parasit. 64, 449–455 (2019). https://doi.org/10.2478/s11686-019-00055-7
Received:

Accepted:

Published:

Issue Date:
Keywords
Monogeneans

Anacanthorinae

Serrasalmidae

Mitochondrial DNA

Brazil