Abstract
Background
We describe a new dicrocoeliid collected from the Eurasian water shrew Neomys fodiens in Bulgaria based on the combination of morphological characteristics and molecular data.
Results
Pojmanskatrema balcanica n. sp., n. gen. is distinguished from all other species of family Dicrocoeliidae Looss, 1900 in having a postovarian vitellarium situated in the posterior half of the body, postacetabular, nearly tandem, lobed testes, and relatively short body.
Conclusions
Molecular phylogenetic analysis based on 28S rDNA sequences of the new species and previously sequenced dicrocoeliid taxa has demonstrated close relationship of Pojmanskatrema n. gen. with the genus Eurytrema. Considering the non-monophyletic nature of previously recognized dicrocoeliid sub-families we support the recently proposed dissolution of the sub-families within this family.
This is a preview of subscription content, log in to check access.
Access options
Buy single article
Instant access to the full article PDF.
US$ 39.95
Tax calculation will be finalised during checkout.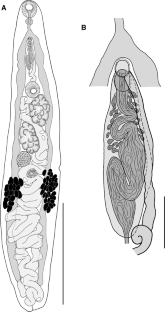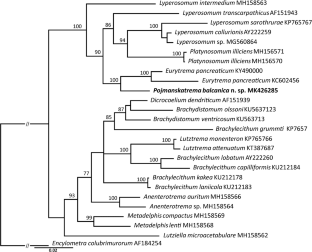 References
1.

Tkach VV, Achatz TJ, Hildebrand J, Greiman SE (2018) Convoluted history and confusing morphology: Molecular phylogenetic analysis of dicrocoeliids reveals true systematic position of the Anenterotrematidae Yamaguti, 1958 (Platyhelminthes, Digenea). Parasitol Int 67:501–508. https://doi.org/10.1016/j.parint.2018.04.009

2.

Panin V (1984) Dicrocoeliid trematodes of world fauna. Nauka Kazakhskoi SSR, Alma Ata (In Russian)

3.

Pojmańska T (2008) Family Dicrocoeliidae Looss, 1899. In: Bray RA, Gibson DI, Jones A (eds) Keys to the Trematoda, vol. 3. Wallingford, U.K., CABI Publishing, pp 233–260

4.

Pojmańska T (1957) Pasozyty wewnetrzne (Cestoda, Trematoda) drobnych ssakow polnych z okolic Turwi koło Poznania. Acta Parasitol Pol 5:117–161

5.

Bychovskaja-Pavlovskaja IE, Vysotskaja SO, Kulakova AP (1978) [Lyperosomum transcarpathicus—a new name instead of Lyperosomum soricis Bychovskaja-Pavlovskaja, Vysotskaja et Kulakova, 1970.] Parazitologiya 12:188 (In Russian)

6.

Iskova NI, Sharpilo VP, Sharpilo LD, Tkach VV (1995) Catalogue of Helminths of the Ukraine: Trematodes of Terrestrial Vertebrates. Kiev, Russia (In Russian)

7.

Tkach VV, Bray RA (1995) Prosolecithus danubica n. sp. (Digenea: Dicrocoeliidae), a new digenean from shrews on islands of the Danube delta. Parasite 2:133–140

8.

Lutz HL, Tkach VV, Weckstein JD (2017) Methods for specimen-based studies of avian symbionts. In: Webster M (ed) The role of collections in ornithology: The extended specimen. Studies in avian biology. CRC Press, Boca Raton, FL, pp 127–183

9.

Tkach VV, Pawlowski J (1999) A new method of DNA extraction from the ethanol-fixed parasitic worms. Acta Parasitol 44:147–148

10.

Tkach VV, Littlewood DTJ, Olson PD, Kinsella JM, Swiderski Z (2003) Molecular phylogenetic analysis of the Microphalloidea Ward, 1901 (Trematoda: Digenea). Syst Parasitol 56:1–15

11.

Tkach VV, Pawlowski J, Mariaux J, Swiderski Z (2001) Molecular phylogeny of the suborder Plagiorchiata and its position in the system of Digenea. In: Littlewood DTJ, Bray RA (eds) Interrelationships of Platyhelminthes. Taylor & Francis, London, pp 186–193

12.

Kumar S, Stecher G, Tamura K (2016) MEGA7: molecular evolutionary genetics analysis version 7.0 for bigger datasets. Mol Biol Evol 33:1870–1874. https://doi.org/10.1093/molbev/msw054

13.

Ronquist F, Huelsenbeck JP (2003) MRBAYES 3: Bayesian phylogenetic inference under mixed models. Bioinformatics 19:1572–1574

14.

Darriba D, Taboada GL, Doallo R, Posada D (2012) jModelTest 2: more models, new heuristics and parallel computing. Nat Methods 9:772. https://doi.org/10.1038/nmeth.2109

15.

Rambaut A (2016) Figtree. Version 1.4.3. http://tree.bio.ed.ac.uk/software/figtree/

16.

Kinsella JM, Tkach VV (2009) Molecular identification of an avian dicrocoeliid, Brachylecithum mosquensis, from a vagrant shrew, Sorex vagrans, in Montana, U.S.A. Comp Parasitol 76:287–289

17.

Hildebrand J, Pulis EE., Tkach VV (2015) Redescription and phylogenetic relationships of the rare Lyperosomum sarothrurae Baer, 1959 (Digenea: Dicrocoeliidae). Acta Parasitol 60:371–377. https://doi.org/10.1515/ap-2015-0052

18.

Hildebrand J, Sitko J, Zaleśny G, Jeżewski W, Laskowski Z (2016) Molecular characteristics of representatives of the genus Brachylecithum Shtrom, 1940 (Digenea, Dicrocoeliidae) with comments on life cycle and host specificity. Parasitol Res 115:1147–1425. https://doi.org/10.1007/s00436-015-4875-3

19.

Aldhoun J, Elmahy R, Littlewood DTJ (2018) Phylogenetic relationships within Dicrocoeliidae (Platyhelminthes: Digenea) from birds from the Czech Republic using partial 28S rDNA sequences. Parasitol Res 117:619–3624. https://doi.org/10.1007/s00436-018-6062-9
Acknowledgements
The authors are deeply grateful to the late Prof. Todor Genov (Central Laboratory of General Ecology, Bulgarian Academy of Sciences, Sofia) who helped VVT with logistics and personally participated in the collection of specimens reported in this work.
Additional information
Publisher's Note
Springer Nature remains neutral with regard to jurisdictional claims in published maps and institutional affiliations.
About this article
Cite this article
Hildebrand, J., Tkach, V.V. Description and Phylogenetic Relationships of Pojmanskatrema balcanica n. gen., n. sp. (Digenea: Dicrocoeliidae) from the Eurasian Water Shrew Neomys fodiens (Mammalia: Soricidae) in Bulgaria. Acta Parasit. 64, 282–287 (2019). https://doi.org/10.2478/s11686-019-00038-8
Received:

Accepted:

Published:

Issue Date:
Keywords
Dicrocoeliidae

Pojmanskatrema balcanica, n. gen., n. sp.

Molecular phylogeny

Neomys