Abstract
Background
Chamomile (Matricaria recutita L.) is a plant which has been reported to be effective in treating several parasitic and digestive diseases. The present study was conducted to evaluate the anthelmintic activity of chamomile methanolic extract (CME).
Methods
In vitro, the anthelmintic activities of CME were investigated on the L3 larvae of Heligmosomoides polygyrus in comparison to albendazole. In vivo, Swiss albino mice were infected with infective third (L3) larval stage of H. polygyrus by intragastric administration. Moreover, the effect of CME and albendazole on worm eggs, adult worms, serum cytokine production, and oxidative stress was studied.
Results
All used doses of CME showed a potent anthelmintic activity both in vitro and in vivo and the effect being similar to treatment with albendazole. Moreover, H. polygyrus infestation was accompanied by an intestinal oxidative stress status characterized by an increased lipoperoxidation, a depletion of antioxidant enzyme activity, as well as an overload of hydrogen peroxide. We have also recorded an increase of pro-inflammatory mediator (TNF-α, IL-6, and IL-1β) levels after treatment with CME (14 ± 0.8; 41 ± 2; 58 ± 4 pg/mg protein, respectively, with the concentration 800 mg/kg, body weight) when compared with infected control mice (20 ± 1; 59 ± 2, and 83 ± 4 pg/mg protein, respectively). However, extract treatment alleviated all the deleterious effects associated with H. polygyrus infection.
Conclusion
These findings suggest that CME can be used in the control of gastrointestinal helminthiasis and associated oxidative stress.
This is a preview of subscription content, log in to check access.
Access options
Buy single article
Instant access to the full article PDF.
US$ 39.95
Price includes VAT for USA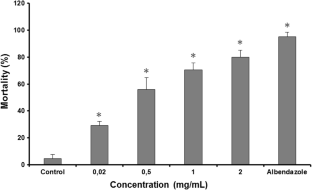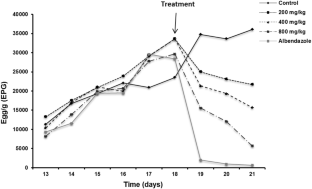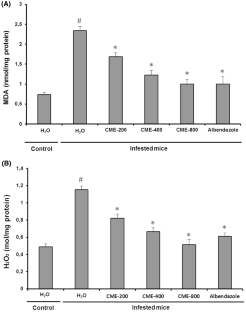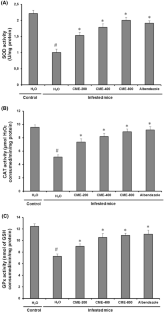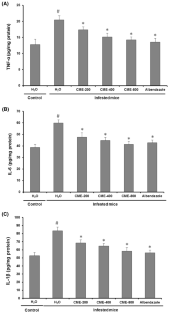 References
1.

Adiele R.C., Fakae B.B., Isuzu I.U. 2013. Anthelmintic activity of Securidaca longepedunculata (Family: Polygalaceae) root extract in mice, in vitro and in vivo. Asian Pacific Journal of Tropical Medicine 6, 841-846.

2.

Aebi, H. 1984. Catalase in vitro, Isolation, purification, characterization, and assay of antioxygenic enzymes. Methods in Enzymology 105, 121-126.

3.

Ajali, U., Chukwurah, B.K. 2004. Antimicrobial activity of Securidaca longepedunculata. Phytomedicine 11, 701-703.

4.

Akkari H., Hajaji S., B'chir F., Rekik M., Gharbi, M. 2016. Correlation of polyphenolic content with radical-scavenging capacity and anthelmintic effects of Rubus ulmifolius (Rosaceae) against Haemonchus contortus. Veterinary Parasitology 221, 46–53.

5.

Behnke JM., Lowe A., Menge D., Iraqi F.A., Wakelin D. 2000. Mapping genes for resistance to gastrointestinal nematodes. Acta Parasitologica 45 (1), 1-13.

6.

Beigh S.A., Soodan J.S., Singh R., Khan A.M., Dar M.A. 2014. Evaluation of trace elements, oxidant/antioxidant status, vitamin C and b-carotene in dogs with dermatophytosis, Mycoses 57, 358-365.

7.

Bulgari M., Sangiovanni E., Colombo E., Maschi O., Caruso D., Bosisio E., Dell'Agli M. 2012. Inhibition of neutrophil elastase and metalloprotease-9 of human adenocarcinoma gastric cells by chamomile (Matricaria recutita L.) infusion. Phytotherapy Research 26, 1817-22.

8.

Castro V.S., Da Silva A.S., Thomé G.R., Wolkmer P., Castro J.L., Costa M.M., Graça D.L., Oliveira D.C., Alves S.H., Schetinger M.R., Lopes S.T., Stefani L.M., Azevedo M.I., Baldissera M.D., Andrade C.M. 2017. Oxidative stress in rats experimentally infected by Sporothrix schenckii. Microbial Pathogenesis 7, 107:1-5.

9.

Cirak V.Y., Güleğen E., Bauer, C. 2004. Benzimidazole resistance in cyathostomin populations on horse farms in western Anatolia, Turkey. Parasitology Research 93, 392-395.

10.

Cowan N., Meier C., Neodo A., Keiser, J. 2017. Exposure of Heligmosomoides polygyrus and Trichuris muris to albendazole, albendazole sulfoxide, mebendazole and oxantel pamoate in vitro and in vivo to elucidate the pathway of drug entry into these gastrointestinal nematodes. International Journal for Parasitology: Drugs and Drug Resistance 7, 159-173.

11.

Deventer S.J.H. 1997. Tumor necrosis factor and Crohn's disease. Gut 40, 443–448.

12.

Dingeon B., Ferry J.P., Roullet A. 1975. Automatic assay of blood sugar by Trinder's method.. Annales de Biologie Clinique 33, 3–13.

13.

Draper H.H., Hadley, M. 1990. Malondialdehyde determination as index of lipid peroxidation, Methods in Enzymology 186, 421-431.

14.

Fakae B.B., Harrison L.J.S., Ross C.A., Sewell M.M.H. 1994. Heligmosomoides polygyrus and Trypanosoma congolense infection in mice. A laboratory model for concurrent gastrointestinal nematode and Trypanosoma infections. Parasitology 108, 61-68.

15.

Filbey K.J., Grainger J.R., Smith K.A., Boon L., Van Rooijen N., Harcus Y., Jenkins S., Hewitson J.P., Maizels, R.M. 2014. Innate and adaptive type 2 immune cell responses in genetically controlled resistance to intestinal helminth infection. Immunology and Cell Biology 92, 436-448.

16.

Flohé L., Günzler W.A. (1984) Assays of glutathione peroxidase, Methods in Enzymology 105, 114-121.

17.

Formisano C., Delfine S., Oliviero F., Tenore G.C., Rigano D., Senatore, F. 2015. Correlation among environmental factors, chemical composition and antioxidative properties of essential oil and extracts of chamomile (Matricaria chamomilla L.) collected in Molise (south-central Italy). Industrial Crops and Products 63, 256–263.

18.

Gardiner P. 2007. Complementary, holistic, and integrative medicine: chamomile. Pediatrics in review 28, 16–24.

19.

Githiori J.B. 2004. Evaluation of anthelmintic properties of ethnoveterinary plants preparations used as livestock dewormers by pastoralist and small holder farmer in Kenya. Doctoral dissertation, Department of Biomedical Sciences and Veterinary Public Health, SLU. Acta Universitatis Agriculturae Sueciae. Veterinaria 173, PDF.

20.

Guimarães R., Barros L., Dueñas M., Calhelha R.C., Carvalho A.M., Santos-Buelga C., Queiroz M.J., Ferreira I.C. 2013. Infusion and decoction of wild German chamomile: bioactivity and characterization of organic acids and phenolic compounds. Food Chemistry 136, 947–954.

21.

Gupta V., Mittal P., Bansal P., Khokra S.L., Kaushik, D. 2010. Pharmacological potential of Matricaria recutita-A review. International Journal of Pharmaceutical Sciences and Drug Research 2, 12–16.

22.

Hajaji S., Alimi D., Jabri M.A., Abuseir S., Gharbi M., Akkari, H. 2017a. Anthelmintic activity of Tunisian chamomile (Matricaria recutita L.) against Haemonchus contortus. Journal of Helminthology 8, 1-10.

23.

Hajaji S., Sifaoui I., López-Arencibia A., Reyes-Batlle M., Valladares B., Pinero J.E., Lorenzo-Morales J., Akkari, H. 2017b. Amoebicidal activity of α-bisabolol, the main sesquiterpene in chamomile (Matricaria recutita L.) essential oil against the trophozoite stage of Acanthamoeba castellani Neff. Acta Parasitologica 62, 290-295.

24.

Harris N.L., Pleass R., Behnke, J.M. 2014. Understanding the role of antibodies in murine infections with Heligmosomoides (polygyrus) bakeri: 35 years ago, now and 35 years ahead. Parasite Immunology 36, 115–124.

25.

Hartree E.F. 1972. Determination of protein: a modification of the Lowry method that gives a linear photometric response. Analytical Biochemistry 48, 422-427.

26.

Hoste H., Martínez-Ortiz-De-Montellano C., Manolaraki F., Brunet S., Ojeda-Robertos N., Fourquaux I., Torres-Acosta J.F.J., Sandoval-Castro, C.A. 2012. Direct and indirect effects of bioactive tannin-rich tropical and temperate legumes against nematode infections. Veterinary Parasitology 186, 18–27.

27.

Jabri M.A., Sakly M., Marzouki L., Sebai H. 2017. Chamomile (Matricaria recutita L.) decoction extract inhibits in vitro intestinal glucose absorption and attenuates high fat diet-induced lipotoxicity and oxidative stress. Biomedicine & Pharmacotherapy 87, 153–159.

28.

Javadi I., Emami, S. 2015. The antioxidative effect of chamomile, anthocyanoside and their combination on bleomycin-induced pulmonary fibrosis in rat. Medical Archives 69, 229-231.

29.

Leathwick D.M. 2012. Modelling the benefits of a new class of anthelmintic in combination. Veterinary Parasitology 186, 93–100.

30.

Mann C., Staba E.J. 1986. The chemistry, pharmacology, and commercial formulations of chamomile. Herbs, spices and medicinal plants 1, 235-280.

31.

Martínez-Ortíz-de-Montellano C., Arroyo-López C., Fourquaux I., Torres-Acosta J.F.J., Sandoval-Castro C.A., Hoste, H. 2013. Scanning electron microscopy of Haemonchus contortus exposed to tannin-rich plants under in vivo and in vitro conditions. Experimental Parasitology 133, 281–286.

32.

McKay D.L., Blumberg J.B. 2006. A review of the bioactivity and potential health benefits of chamomile tea (Matricaria recutita L.). Phytotherapy Research 20, 519–530.

33.

Miguel F.G., Cavalheiro A.H., Spinola N.F., Ribeiro D.L., Barcelos G.R., Antunes L.M., Hori J.I. Marquele-Oliveira F., Rocha B.A., Berretta A.A. 2015. Validation of a RP-HPLC-DAD method for chamomile (Matricaria recutita) preparations and assessment of the marker, apigenin-7-glucoside, safety and anti-inflammatory effect. Evidence-Based Complementary and Alternative Medicine 2015, 828437.

34.

Misra H.P., Fridovich, I. 1972. The role of superoxide anion in autoxidation of epinephrine and a simple assay for superoxide dismutase. The Journal Of Biological Chemistry 247, 3170-3175.

35.

Moricz A.M., Ott P.G., Alberti A., Boszormenyi A., Lemberkovics E., Szoke E., Kéry A., Mincsovics, E. 2013. Applicability of preparative overpressured layer chromatography and direct bioautography in search of antibacterial chamomile compounds. Journal of AOAC International 96, 1214–1221.

36.

National Research Council. (1985). Guide for the care and the use of laboratory animals. Bethesda: National Institute of Health. 85.

37.

Njoku C.J., Okeyode O.E., Asuzu I.U., Fakae B.B. (1996). The anthelmintic activities of Pleiocarpa bicarpellata leaf aqueous extract. Fitoterapia 67, 339-343.

38.

Petronilho S., Maraschin M., Delgadillo I., Coimbra M.A., Rocha S.M. 2011. Sesquiterpenic composition of the inflorescences of Brazilian chamomile (Matricaria recutita L.): Impact of the agricultural practices. Industrial Crops and Products 34, 1482– 1490.

39.

Pone J.W., Mbida M., Bilong C.F.B. 2009. In vivo evaluation of potential nematicidal properties of ethanol extract of Canthium mannii (Rubiaceae) on Heligmosomoides polygyrus parasite of rodents. Veterinary Parasitology 166, 103–107.

40.

Prichard R.K., von Samson-Himmelstjerna G., Blackhall W.J., Geary T.G. 2007. Foreword: towards markers for anthelmintic resistance in helminths of importance in animal and human health. Parasitology 134, 1073-1076.

41.

Rafraf M., Zemestani M., Asghari-Jafarabadi M. 2015. Effectiveness of chamomile tea on glycemic control and serum lipid profile in patients with type 2 diabetes. Journal of endocrinological investigation 38, 163–170.

42.

Reynolds L.A., Filbey K.J., Maizels R.M. 2012. Immunity to the model intestinal helminth parasite Heligmosomoides polygyrus. Seminars in immunopathology 34, 829-46.

43.

Satrija F., Nansen P., Murtini S., He S. 1995. Anthelmintic activity of papaya latex against patent Heligmosomoides polygyrus infections in mice. Journal of Ethnopharmacology 48, 161-164.

44.

Sebai H., Jabri M.A., Souli A., Hosni K. Rtibi K., Tebourbi O., El-Benna J., Sakly M. 2015. Chemical composition, antioxidant properties and hepatoprotective effects of chamomile (Matricaria recutita L.) decoction extract against alcohol-induced oxidative stress in rat. General physiology and biophysics 34, 263–275.

45.

Sebai H., Jabri M.A., Souli A., Hosni K., Selmi S., Tounsi H., Tebourbi O., Boubaker S., El-Benna J., Sakly, M. 2014. Protective effect of Artemisia campestris extract against aspirin-induced gastric lesions and oxidative stress in rat. RSC Advances 4, 49831–49841.

46.

Stepek G., Lowe A.E., Buttle D.J., Duce I.R., Behnke J.M. 2007. In vitro anthelmintic effects of cysteine proteinases from plants against intestinal helminths of rodents. Journal of Helminthology 81, 353-360.

47.

Taylor M.A., Hunt K.R., Goodyear K.L. 2002. Anthelmintic resistance detection methods. Veterinary Parasitology 103, 183-194.

48.

Van den Brom R., Moll L., Kappert C., Vellema, P. 2015. Haemonchus contortus resistance to monepantel in sheep. Veterinary Parasitology 209, 278–280.

49.

Vissiennon C., Goos K.H., Arnhold J., Nieber K. 2017. Mechanisms on spasmolytic and anti-inflammatory effects of a herbal medicinal product consisting of myrrh, chamomile flower, and coffee charcoal. Wiener medizinische Wochenschrift 167, 169-176.

50.

Wolstenholme A.J., Fairweather I., Prichard R., von Samson-Himmelstjerna G., Sangster N.C. 2004. Drug resistance in veterinary helminths. Trends in parasitology 20, 469–476.
Acknowledgements
The authors would like to thank all members of "Laboratoire d'Epidémiologie d'Infections Enzootiques des Herbivores en Tunisie" (Ministère de l'enseignement supérieur, Tunisia) and all members of Laboratory of Functional Physiology and Valorization of Bioresources, "Higher Institute of Biotechnology of Beja" Beja-Tunisia for assistance and helpful discussion. Financial support of the Tunisian Ministry of Higher Education and Scientific Research is gratefully acknowledged.
Ethics declarations
Conflict of Interest
The authors declare that they have no competing interests.
Ethical Consideration
All procedures on animals in this study compiled with the NIH recommendations for the use and care of animals.
Additional information
Publisher's Note
Springer Nature remains neutral with regard to jurisdictional claims in published maps and institutional affiliations.
About this article
Cite this article
Hajaji, S., Jabri, M., Alimi, D. et al. Chamomile Methanolic Extract Mitigates Small Bowel Inflammation and ROS Overload Related to the Intestinal Nematodes Infection in Mice. Acta Parasit. 64, 152–161 (2019). https://doi.org/10.2478/s11686-019-00027-x
Received:

Accepted:

Published:

Issue Date:
Keywords
Chamomile

Heligmosomoides polygyrus

Helminthiasis

Oxidative stress

Pro-inflammatory mediators