Abstract
Background
The identification of Glossiphoniidae species is often confusing due to the lack of both morphological and molecular data worldwide.
Purpose
The study aimed to identify the collected leech specimens from two endangered freshwater turtles, Chitra indica and Pangshura sylhetensis from northeast India.
Methods
We generated DNA barcode sequences and estimated the genetic distances and phylogenetic relationship of the studied taxa with another 14 Glossiphoniidae genera (114 barcode sequences).
Results
The high genetic distinctiveness (17.9 to 26.3%) and distinct clustering in Neighbor-Joining (NJ) phylogeny, we identified the studied specimens as Glossiphoniidae sp. We assumed that the studied specimens might be a new member of Glossiphoniidae or an extant species without DNA information.
Conclusion
Hence, the study recommends further sampling of leeches from the similar host as well as from same and various localities and also generates the molecular data to perceive the exact diversity. The aimed study is also helpful to encourage the awareness and conservation management of freshwater turtles and other threatened animals.
This is a preview of subscription content, log in to check access.
Access options
Buy single article
Instant access to the full article PDF.
US$ 39.95
Price includes VAT for USA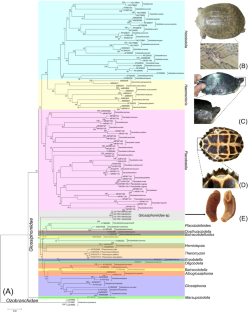 References
1.

Bandyopadhyay P.K., Mandal C.K. 2004. On the occurrence of five leeches, Barbronia weberi, Glossiphonia annandalei, Glossiphonia heteroclite, Glossiphonia reticulate and Placobdella undulata in West Bengal. Records of the Zoological Survey of India, 105, 93-101.

2.

Bhatia M.L. 1930. On the anatomical details of Placobdella emydae Harding. A leech parasitic on Indian turtles. Zoologischer Anzeiger, 91, 225-243.

3.

Chandra M. 1983. A check-list of leeches of India. Records of the Zoological Survey of India, 80, 265-290.

4.

Das I. 1991. Colour guide to the turtles and tortoises of the Indian Subcontinent, R and A Publishing Limited, Portishead, U. K. pp.133.

5.

Davy C.M., Shim K.C., Coombes S.M., 2009. Leech (Annelida: Hirudinea) Infestations on Canadian Turtles, including the First Canadian Record of Helobdella modesta from freshwater Turtles. The Canadian Field-Naturalist, 123, 44-47.

6.

Folmer O., Black M., Hoeh W., Lutz R., Vrijenhoek R. 1994. DNA primers for amplification of mitochondrial cytochrome c oxidase subunit I from diverse metazoan invertebrates. Molecular Marine Biology and Biotechnology, 3, 294-299.

7.

Garcés-Restrepo M.F., Giraldo A., Carr J.L., Brown L.D. 2013. Turtle ectoparasites from the Pacific coastal region of Colombia. Biota Neotropica, 13, 74-79.

8.

Harding W.A., Moore J.P. 1927. Fauna British India including Ceylon and Burma: Hirudinea, I-XXXVI 11 (Tailor & Francis, London), pp. 302.

9.

Kundu S., Kumar V., Laskar B.A., Chandra K., Tyagi K. 2016. Mitochondrial DNA effectively detects non-native Testudines: Invisible wildlife trade in northeast India. Gene Reports, 4, 10-15.

10.

Kundu S., Kumar V., Laskar B.A., Tyagi K., Chandra K. 2018a. Morphology and genetic variation in the endangered tortoise Manouria emys: distinct lineages or plastron anomalies? Mitochondrial DNA Part B. Resources, 3, 166-170.

11.

Kundu S., Kumar V., Laskar B.A., Tyagi K., Chandra K. 2018b. Pet and turtle: DNA barcoding identified twelve Geoemydid species in northeast India. Mitochondrial DNA Part B. Resources, 3, 513-518, https://doi.org/10.1080/23802359.2018.1467215.

12.

Kundu S., Laskar B.A., Venkataraman K., Banerjee D., Kumar V. 2015. DNA barcoding of Nilssonia congeners corroborates existence of wild N. nigricans in northeast India. Mitochondrial DNA. Part A, DNA Mapping, Sequencing, and Analysis, 27, 2753-2756. http://dx.doi.org/10.3109/19401736.2015.1046176.

13.

Mandal C.K., Paul P., Hasan M.D., Bandyopadhyay P.K. 2018. One new aquatic Leech Placobdella bundiensis from Rajasthan, India. International Journal of Advanced Research in Basic Engineering Sciences and Technology, 4, 18-23.

14.

Mandal C.K. 2004. Checklist of the Hirudinea (Leeches) of India. Records of the Zoological Survey of India, 102, 41-46.

15.

Mandal C.K. 2015. Placobdella godavariensis sp. nov. (Hirudinea: Glossiphinidae) A new leech from Maharashtra, India. Records of the Zoological Survey of India, 115, 269-272.

16.

Mandal C.K. 2004. Placobdella harasundarai (Hirudinea: Glossiphoniidae) a new species of Leech from West Bengal, India. Records of the Zoological Survey of India, 103, 99-102.

17.

Mandal C.K. 2013. Placobdella gauripurensis sp. nov. (Hirudinea: Glossiphoniidae). A new leech from West Bengal. Records of the Zoological Survey of India, 113, 211-213.

18.

Reyes-Prieto M., Oceguera-Figueroa A., Snell S., Negredo A., Barba E., Ferna´ndez L. et al. 2013. DNA barcodes reveal the presence of the introduced freshwater leech Helobdella europaea in Spain. Mitochondrial DNA, 25, 387-393.

19.

Ryan T.J., Lambert A. 2005. Prevalence and Colonization of Placobdella on Two Species of Freshwater Turtles (Graptemys geographica and Sternotherus odoratus). Journal of Herpetology, 39, 284-287.

20.

Siddall M.E., Budinoff R.B. 2005. DNA barcoding evidence for widespread introductions of a leech from the South American Helobdella triserialis complex. Conservation Genetics, 6, 467-472.

21.

Soos A. 1965. Identification key to the leech (Hirudinoidea) genera of the World, with a Catalogue of the species. 111-1V. Acta Zoologica Academiae Scientiarum Hungaricae, 11, 415-464.

22.

Swofford, D.L. 2002. PAUP*. Phylogenetic Analysis Using Parsimony (*and Other Methods).Version 4. Sinauer Associates, Sunderland, Massachusetts.

23.

Tamura K., Stecher G., Peterson D., Filipski A., Kumar S. 2013. MEGA6: Molecular Evolutionary Genetics Analysis version 6.0. Molecular Biology and Evolution, 30, 2725-2729.

24.

Thompson J.D., Gibson T.J., Plewniak F., Jeanmougin F., Higgins D.G. 1997. The CLUSTAL_X windows interface: flexible strategies for multiple sequence alignment aided by quality analysis tools. Nucleic Acids Research, 25, 4876-4882.
Acknowledgements
We thank the Director, Zoological Survey of India, MoEF&CC for providing necessary research facilities and support. Authors acknowledge the research funding for this work from DST-SERB National Post-Doctoral Fellowship (F. no. PDF/2015/000302) to the first author S. K. The funders had no role in study design, data collection, and analysis or preparation of the manuscript.
Ethics declarations
Conflict of interest
The authors declare that they have no competing interests.
Additional information
Publisher's Note
Springer Nature remains neutral with regard to jurisdictional claims in published maps and institutional affiliations.
About this article
Cite this article
Kundu, S., Kumar, V., Tyagi, K. et al. DNA Barcoding Reveals Association of Glossiphoniidae Species on Endangered Freshwater Turtles in Northeast India. Acta Parasit. 64, 213–217 (2019). https://doi.org/10.2478/s11686-018-00023-7
Received:

Accepted:

Published:

Issue Date:
Keywords
Freshwater leech

Testudines

Endangered

Molecular data

Phylogeny