Abstract
Background
A large number of recombinant proteins are tested over a period of time for diagnosis of toxoplasmosis throughout the world. However, such literature is very much limited from an Indian perspective.
Purpose
The aim of the study was to assess the sero prevalence of Toxoplasma gondii in adult cattle from Kerala, India, using recombinant surface antigen 2 (recSAG2) protein.
Methods
An antibody detection recombinant ELISA specific for T gondii was laboratory-standardized using recSAG2 protein. The optimum antigen concentration, serum concentration, and conjugate dilutions were determined by the initial checkerboard titrations. Subsequently, the diagnostic potential of the recombinant protein was assessed with 258 field sera samples cattle and compared with indirect fluorescent antibody test (IFAT).
Results
Among the cattle sera tested, 61.5% showed sero positivity of T. gondii-speciic IgG. When compared to IFAT, the sensitivity of the recSAG2 ELISA was found to be 80.00% with 88.57% specificity at 95% confidence interval with substantial agreement between the tests.
Conclusion
The results of present study have revealed the presence of high seroprevalence of the parasite and, hence, immense public health significance.
This is a preview of subscription content, log in to check access.
Access options
Buy single article
Instant access to the full article PDF.
US$ 39.95
Price includes VAT for USA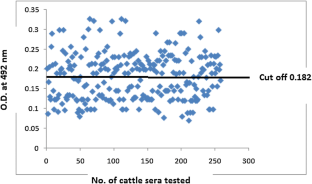 References
1.

Aubert, D., Maine, G.T., Villena, I., Hunt, J.C., Howard, L., Sheu, M., Brojanac, S., Chovan, L.E., Nowlan, S.F. and Pinon, J.M., 2000. Recombinant antigens to detect Toxoplasma gondii specific immunoglobulin G and immunoglobulin M in human sera by enzyme immunoassay. Journal of Clinical Microbiology, 38, 1144–1150.

2.

Bachan, M., Deb, A.R., Maharana, B.R., Sudakhar, N.R., Sudan, V., Sarvanan, B.C., Tewari, A.K., 2018. High seroprevalence of Toxoplasma gondii in goats in Jharkhand state of India. Veterinary Parasitology: Regional Studies Reports, 12, 61–68.

3.

Balasundaram, M.B., Andavar, R., Palaniswamy, M. and Venkatapathy, N., 2010. Outbreak of acquired ocular toxoplasmosis involving 248 patients. Archives of Ophthalmology 128(1), 28–32.

4.

Crawford, J., Lamb, E., Wasmuth, J., Grujic, O., Grigg, M.E. and Boulanger, M.J., 2010. Structural and functional characterization of SporoSAG: A SAG2 related surface antigen from Toxoplasma gondii. Journal of Biological Chemistry, 285, 12063–12070.

5.

Dubey, J.P., 1987. Toxoplasmosis in domestic animals in India: present and future. Journal of Veterinary Parasitology, 1, 13–18.

6.

Dubey, J.P. and Beattie, C.P., 1988. Toxoplasmosis of Animals and Man. CRC Press, Boca Raton, Florida, 220 pp. 160.

7.

Dubey, J.P., Emond, J.P., Desmonts, G. and Anderson, W.R., 1987. Serodiagnosis of postnatally and prenatally induced toxoplasmosis in sheep. American Journal of Veterinary Research, 48, 1239–1243.

8.

Dubey, J.P., Somvanshi, R., Jithendran, K.P. and Rao, J.R., 1993. High prevalence of Toxoplasma gondii in goats from Kumaon region of India. Journal of Veterinary Parasitology, 7, 17–21.

9.

Fong, M.Y., Lau, Y.L. and Zulqarnain, M., 2008. Characterization of secreted recombinant Toxoplasma gondii surface antigen 2 (SAG2) heterologously expressed by the yeast Pichia pastoris. Biotechnology Letters, 30, 611–618.

10.

Jung, C., Lee Cleo, Y-F. and Grigg,M.E., 2004. The SRS superfamily of Toxoplasma surface proteins. International Journal for Parasitology, 34, 285–296.

11.

Landis, J.R. and Koch, G.G., 1977. The measurement of observer agreement for categorical data. Biometrics, 33, 159–174.

12.

Lau, Y.L. and Fong, M.Y., 2008. Toxoplasma gondii: Serological characterization and immunogenicity of recombinant surface antigen 2 (SAG2) expressed in the yeast Pichia pastoris. Experimental Parasitology, 119, 373–378.

13.

Li, S., Galvan, G., Araujo, F.G., Suzuki, Y., Remington, J.S. and Parmley, S., 2000. Serodiagnosis of recently acquired Toxoplasma gondii infection using an enzyme-linked immunosorbent assay with a combination of recombinant antigens. Clinical and Diagnostic Laboratory Immunology,7, 781–787.

14.

Palanisamy, M., Madhavan, B., Balasundaram, M.B., Andavar, R. and Venkatapathy, N., 2006. Outbreak of ocular toxoplasmosis in Coimbatore, India. Indian Journal of Ophthalmology, 54(2), 129–131.

15.

Parmley, S.F., Sgarlato, G.D., Mark, J., Prince, J.B. and Remington, J.S., 1992. Expression, characterization, and serological reactivity of recombinant surface antigen P22 of Toxoplasma gondii. Journal of Clinical Microbiology, 30, 1127–1133.

16.

Prince, J.B., Auer, K.L., Huskinson, J., Parmley, S.F., Araujo, F.G. and Remington, J.S., 1990. Cloning, expression, and cDNA sequence of surface antigen P22 from Toxoplasma gondii. Molecular and Biochemical Parasitology, 43, 97–106.

17.

Saeij, J.P.J., Arrizabalaga, G. and Boothroyd, J.C., 2008. A cluster of four surface antigen genes specifically expressed in bradyzoites, SAG2CDXY, plays an important role in Toxoplasma gondii persistence. Infection and Immunity, 76, 2402–2410.

18.

Savva, D., Morris, J.C., Johnson, J.D. and Holliman, R.E., 1990. Polymerase chain reaction for detection of Toxoplasma gondii. Journal of Medical Microbiology, 32, 25–31.

19.

Sawicka, E.H., Kur, J., Pietkiewicz, H., Holec, L., Gasior, A. and Myjak, P., 2005. Efficient production of the Toxoplasma gondii GRA6, p35 and SAG2 recombinant antigens and their applications in the serodiagnosis of toxoplasmosis. Acta Parasitologica, 50, 249–254.

20.

Singh, H., Tewari, A.K., Mishra, A.K., Maharana, B.R., Sudan, V., Raina, O.K. and Rao, J.R., 2014. Detection of antibodies to Toxoplasma gondii in domesticated ruminants by recombinant truncated SAG2 enzyme-linked immunosorbent assay. Tropical Animal Health and Production, https://doi.org/10.1007/s11250-014-0703-5.

21.

Sudan, V., Tewari, A.K., Singh, H., 2015. Serodiagnosis of Toxoplasma gondii infection in bovines from Kerala, India using a recombinant surface antigen 1 ELISA. Biologicals, 43(4), 250–255.

22.

USDHEW (U.S. Department of Health, Education and Welfare) Manual, 1976. A procedural guide for the performance of the serology of toxoplasmosis. Centre for Disease Control, Atlanta.

23.

Vastava, P.B., Pradhan, S., Jha, S., Prasad, K.N., Kumar, S. and Gupta, R.K., 2002. MRI features of toxoplasma encephalitis in the immunocompetent host: a report of two cases. Neuroradiology, 44,834–838.

24.

Velmurugan, G.V., Tewari, A.K., Rao, J.R., Baidya, S., Kumar,M.U. and Mishra, A.K., 2008. High-level expression of SAG1 and GRA7 gene of Toxoplasma gondii (Izatnagar isolate) and their application in serodiagnosis of goat toxoplasmosis. Veterinary Parasitology, 154, 185–192.

25.

Voller, A. and O'Neill, P., 1971. Immunofluorescence methods suitable for large scale application to malaria. Bulletin of World Health Organization, 45, 524–529.
Acknowledgements
The authors acknowledge Dr J P Dubey, USDA, Beltsville, USA, for providing the reference sera. The authors are also thankful to the Director, Indian Veterinary Research Institute for providing the facilities as well as to the ICAR for the fellowship awarded to the first author during the perusal of his master's programme.
Ethics declarations
Conflict of Interest
The authors declare that they have no conflict of interest.
Additional information
Publisher's Note
Springer Nature remains neutral with regard to jurisdictional claims in published maps and institutional affiliations.
About this article
Cite this article
Sudan, V., Tewari, A.K. & Singh, H. Detection of Antibodies Against Toxoplasma gondii in Indian Cattle by Recombinant SAG2 Enzyme-Linked Immunosorbent Assay. Acta Parasit. 64, 148–151 (2019). https://doi.org/10.2478/s11686-018-00016-6
Received:

Accepted:

Published:

Issue Date:
Keywords
Cattle

IFAT

India

rec-SAG2-ELISA

Toxoplasma gondii