Abstract
Aims
Canine demodicosis is a parasitic condition affecting the skin of dogs. The present study was designed to characterize chitin synthase gene of Demodex canis. The molecular technique was used for better understanding of this gene.
Methods
A total of 75 dogs which are reared as pets with or without showing any skin lesions were examined during the study period. Skin scrapings were examined by indirect method using 10% potassium hydroxide solution under 10 × microscope. DNA samples were extracted from positive skin samples and were subjected to PCR for molecular identification.
Results
A total of 25 dogs irrespective of age, sex, breed or coat showed positive result for D. canis. The PCR revealed a single amplified product of 339 bp length which exactly matched with D. canis. The chitin synthase gene was amplified by PCR, subsequently cloned, sequenced, and compared with available data in GenBank for the particular gene of D. canis. Only one single nucleotide polymorphism (SNP) was noticed at 231 position of the chitin synthase gene sequence when compared to other isolates.
Conclusion
The molecular technique confirms with the morphological identity of D. canis. This report signifies the value of peculiar tool to identify 'follicular mite' even from apparently healthy skin.
This is a preview of subscription content, log in to check access.
Access options
Buy single article
Instant access to the full article PDF.
US$ 39.95
Price includes VAT for USA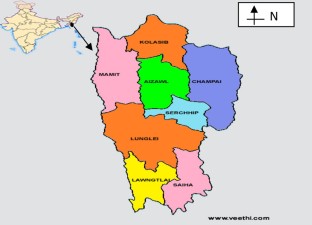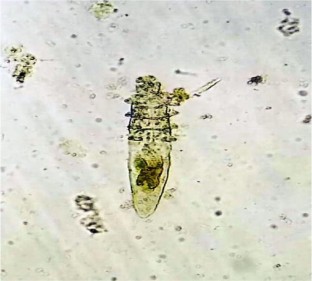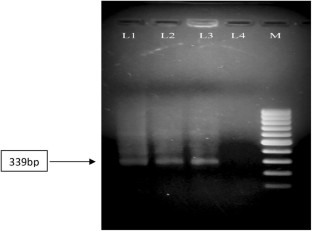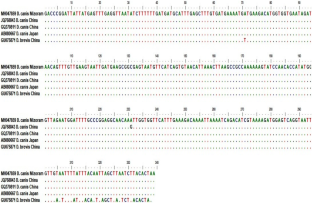 References
1.

Day M.J. 1997. An immune-histochemical study of the lesions of demodecosis in the dog. Journal of Comparative Pathology, 116, 203–216.

2.

Esch K.J., Juelsgaard R., Martinez P. A. et al. 2013. Programmed death 1-mediated T cell exhaustion during visceral leishmaniasis impairs phagocyte function. Journal of Immunology, 191, 5542–5550.

3.

Forton F.M. 2012. Papulopustular rosacea, skin immunity and Demodex: pityriasis folliculorum as a missing link. Journal of European Academy of Dermatology and Venereology, 26, 19–28.

4.

Gortel K. 2006. Update on canine demodecosis. Veterinary Clinics of North America: Small Animal Practice, 36 (1), 229–241.

5.

Izdebska J.N. 2010. Demodex sp. (Acari:Demodicidae) and Demodicosis in dogs: characteristics, symptoms, occurrence. Bulletin of the Veterinary Institute Pulawy, 54(3), 335–338.

6.

Jarmuda S., O'Reilly N., Żaba R., Jakubowicz O., Szkaradkiewicz A., Kavanagh K. 2012. Potential role of Demodex mites and bacteria in the induction of rosacea. Journal of Medical Microbiology, 61, 1504–1510.

7.

Kuznetsova E., Bettenay S., Nikolaeva L. et al. 2012. Influence of systemic antibiotics on the treatment of dogs with generalized demodicosis. Veterinary Parasitology, 188, 148–155.

8.

Mederle N., Darabu G., Oprescu I., Morariu S., Ilie M., Indre D., et al. 2010. Diagnosis of canine demodicosis. Scientia Parasitologica, 11(1), 20–23.

9.

Merzendorfer H., Zimoch L. 2003. Chitin metabolism in insects: structure, function and regulation of chitin synthases and chitinases. Journal of Experimental Biology, 206(24), 4393–4412. https://doi.org/10.1242/jeb.00709.

10.

Miller W.H., Griffin C.E., Campbell K.L. 2013. Parasitic diseases. In: Muller and Kirk's small animal dermatology, 7th edition. Philadelphia, PA: W.B. Saunders Co. 284–342.

11.

Muller G., Kirk R. 2013. Parasitic skin disease. In: Miller, W.H., Griffin, C.E., Campbell, K.L. (Eds.), Small Animal Dermatology., 7th ed. Saunders Elsevier, St. Louis, pp. 304–313.

12.

Mumprecht S., Sch€ urch C., Schwaller J.,et al. 2009. Programmed death 1 signaling on chronic myeloid leukemia-specific T cells results in T-cell exhaustion and disease progression. Blood, 114, 1528–1536.

13.

Ravera I., Altet L., Francino O., Bardagí M., Sánchez A., Ferrer L. 2011. Development of a real-time PCR to detect Demodex canis DNA in different tissue samples. Parasitology Research, 108(2), 305–308. https://doi.org/10.1007/s00436-010-2062-0.

14.

Ravera I., Altet L., Francino O., Sanchez A., Roldan W., Villanueva S., et al. 2013. Small Demodex populations colonize most parts of the skin of healthy dogs. Advances in Veterinary Dermatology. https://doi.org/10.1111/j.1365-3164.2012.01099.x.

15.

Rojas M.D., Riazzo C., Callejón R., Guevara D., Cutillas C. 2012. Morphobiometrical and molecular study of two populations of Demodex folliculorum from humans. Parasitology Research, 110(1), 227–233. https://doi.org/10.1007/s00436-011-2476-3.

16.

Tater K. C., Patterson A.C. 2008. Canine and Feline demodicosis. Veterinary Medicine. 444–461.

17.

Toops E, Blagburn B, Lenaghan S, Kennis R, MacDonald J, Dykstra C. 2010. Extraction and characterization of DNA from Demodex canis. International Journal of Applied Research in Veterinary Medicine, 8(1), 31–43.

18.

Xu H.Z., Xiao F.P., Qin Z.Y., Ye X.F., Ai Y.P. 2009. Early diagnosis, prevention and cure of goat Demodicidosis. Guizhou Agricultural Sciences, 37(11), 125–126.

19.

Zhao Y.E., Ma J.X., Hu L., Wa L.P., de Rojas M. 2013. Discrimination between Demodex folliculoru m (Acari: Demodicidae)isolates from China and Spain based on mitochondrial cox1 sequences. Journal of Zhejiang University Science B (Biomed and Biotechnol), 14(9), 829–836.

20.

Zhao Y.E., Wu L.P. 2012. Phylogenetic relationships in Demodex mites (Acari: Demodicidae) based on mitochondrial 16S rDNA partial sequences. Parasitology Research, https://doi.org/10.1007/s00436-012-2941-7.

21.

Zhao Y.E., Wu L.P., Hu L., Xu J.R. 2012a. Association of blepharitis with Demodex: a meta-analysis. OphthalmicEpidemiology, 19(2), 95–102. https://doi.org/10.3109/09286586.2011.642052.

22.

Zhao Y.E., Xu J.R., Hu L., Wu L.P., Wang Z.H. 2012b. Complete sequence analysis of 18S rDNA based on genomic DNA extraction from individual Demodex mites (Acari: Demodicidae). Experimental Parasitology, 131(1), 45-51. https://doi.org/10.1016/j.exppara.2012.02.025.
Acknowledgements
The authors are also grateful to the Veterinary Officers posted in different hospitals throughout the state for collection of samples. The authors are also grateful to the Dean, College of Veterinary Sciences and A.H., CAU, Selesih, Aizawl, India for his necessary support to conduct the experiment.
Funding
The study was funded by Central Agricultural University, Imphal, Manipur, India under laboratory research to the first author.
Ethics declarations
Conflict of interest
No competing interests have been declared.
Additional information
Publisher's Note
Springer Nature remains neutral with regard to jurisdictional claims in published maps and institutional affiliations.
About this article
Cite this article
Patra, G., Behera, P., Ghosh, S. et al. Molecular Characterization of Chitin Synthase Gene of Demodex canis from Mizoram, India. Acta Parasit. 64, 57–62 (2019). https://doi.org/10.2478/s11686-018-00008-6
Received:

Accepted:

Published:

Issue Date:
Keywords
Demodex canis

Chitin synthase gene

Cloning and sequencing

Phylogenetic analysis