Abstract
Two new species of oribatid mites (Oribatida) of the genera Arcoppia Hammer, 1977 (Oppiidae) and Oxyamerus Aoki, 1965 (Oxyameridae) are described from Malaysia. Arcoppia malaysiaensis sp. n. differs from Arcoppia kaindicola by smaller body size and by the presence of long, blunt-ended interlamellar setae, well-developed notogastral setae c and long notogastral setae lm. Oxyamerus niedbalai sp. n. differs from all species of Oxyamerus by the presence of long and thick notogastral setae c. Twenty three oribatid species are recorded in Malaysia for the first time.
This is a preview of subscription content, log in to check access.
Access options
Buy single article
Instant unlimited access to the full article PDF.
US$ 39.95
Price includes VAT for USA
Subscribe to journal
Immediate online access to all issues from 2019. Subscription will auto renew annually.
US$ 199
This is the net price. Taxes to be calculated in checkout.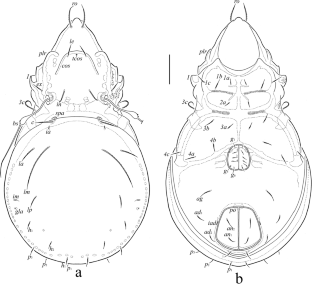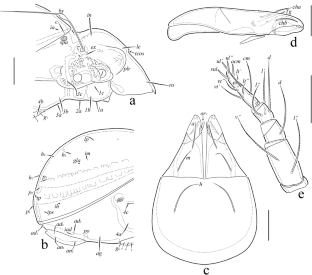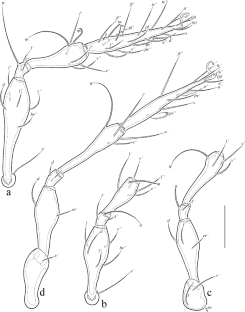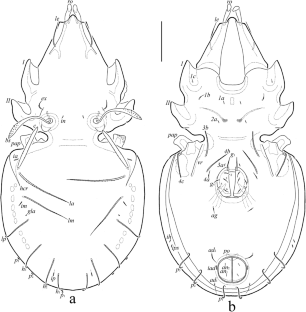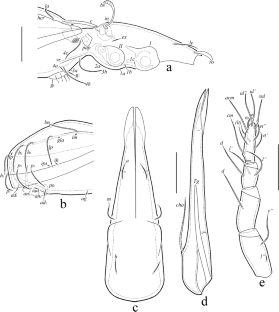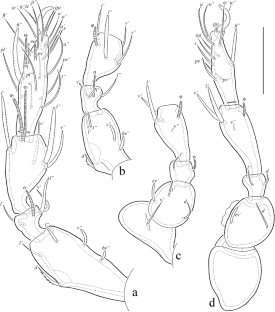 References
Aoki J (1965) Oribatiden (Acarina) Thailands. I. Nature and Life in Southeast Asia 4:129–193

Aoki J (1976) Oribatid mites from the IBP study area, Pasoh Forest reserve, West Malaysia. Nature and Life in Southeast Asia 7:39–59

Balogh J, Balogh P (1986) New oribatids (Acari) from New Guinea. III. Acta Zool Hung 32(1–2):35–60

Ermilov SG (2016) Additions to the oribatid mite fauna of Malaysia, with description of a new species of the genus Lohmannia (Acari, Oribatida, Lohmanniidae). Acarina 24(2):159–165. https://doi.org/10.21684/0132-8077-2016-24-2-159-165

Ermilov SG, Corpuz-Raros L (2017) New aeeroid mites (Acari, Oribatida) from the Philippines. Syst Appl Acarol 22(7):1069–1086. https://doi.org/10.11158/saa.22.7.14

Hammer M (1977) Investigations on the oribatid fauna of north-West Pakistan. Det Kong Dansk Vidensk Selsk Biol Skr 21(4):1–71

Mahunka S (1987) Neue und interessante Milben aus dem Genfer museum LX. Oribatids from Sabah (East Malaysia) II. (Acari: Oribatida). Rev Suisse Zool 94(4):765–817

Mahunka S (1995) Oribatids from Sabah, East Malaysia (Acari: Oribatida, Parakalummoidea, n. stat. and Galumnoidea). Trop Zool 8:269–308

Mahunka S (2000) Oribatids from Sabah (East Malaysia) VIII (Acari: Oribatida: Dampfiellidae and Otocepheidae). (Acarologica Genavensia LXXXVI). Rev Suisse Zool 107(4):675–720

Norton RA (1977) A review of F. Grandjean's system of leg chaetotaxy in the Oribatei (Acari) and its application to the family Damaeidae. In: Dindal DL (ed) Biology of oribatid mites. SUNY College of Environmental Science and Forestry, Syracuse, pp 33–61

Norton RA, Behan-Pelletier VM (2009) Suborder Oribatida. Chapter 15. In: Krantz GW, Walter DE (eds) A manual of acarology. Texas Tech University Press, Lubbock, pp 430–564

Rodríguez P, Subías LS (1984) El género Arcoppia Hammer, 1977 (Acari, Oribatida, Oppiidae). Rev Esp Entomol 60:281–321

Subías LS (2004) Listado sistemático, sinonímico y biogeográfico de los Ácaros Oribátidos (Acariformes, Oribatida) del mundo (1758–2002). Graellsia 60(número extraordinario):3–305 (Actualizado en junio de 2006, en abril de 2007, en mayo de 2008, en abril de 2009, en julio de 2010, en febrero de 2011, en abril de 2012, en mayo de 2013, en febrero de 2014, en marzo de 2015, en febrero 2016, en febrero de 2017, en enero de 2018 y en marzo de 2019. Internet). Available from: http://bba.bioucm.es/cont/docs/RO_1.pdf (accessed March 2019)

Travé J, Vachon M (1975) François Grandjean. 1882–1975 (Notice biographique et bibliographique). Acarologia 17(1):1–19
Acknowledgments
We cordially thank Dr. Elizabeth A. Hugo-Coetzee (National Museum, Bloemfontein, South Africa) and one anonymous reviewer for the valuable comments; Drs E. Jendek and O. Šauša who collected the oribatid mites; and the Institute of Zoology, Slovak Academy of Sciences, Bratislava, Slovakia, which kindly provided material for our study. This paper was partially supported by the project VEGA 2/0139/17.
Ethics declarations
Conflict of interests
No potential conflict of interest was reported by the authors.
Additional information
Publisher's note
Springer Nature remains neutral with regard to jurisdictional claims in published maps and institutional affiliations.
About this article
Cite this article
Ermilov, S.G., Kalúz, S. New faunistic and taxonomic data on oribatid mites (Acari: Oribatida) of Malaysia. Biologia (2020). https://doi.org/10.2478/s11756-019-00411-y
Received:

Accepted:

Published:
Keywords
Mites

Fauna

Morphology

Systematics

Arcoppia
Oxyamerus

Oriental region