Abstract
We sequenced the complete mitogenome of Atractomorpha sagittaris (Orthoptera: Pyrgomorphidae) and compared with other Acrididea species. The circular genome was 15,763 bp in size and contained the entire set of 37 genes usually present in orthopteran mitogenomes. The AT-skew of this mitogenome was slightly positive (0.17) and the nucleotide composition biased toward A + T nucleotides (73.38%). All of the 13 PCGs initiated with canonical start codon (ATN), except for COI initiating with ACT. In addition, analyses of pairwise genetic distances between individual PCGs in Acrididea species showed that ND1 was the least conserved gene, while COI the most conserved. Furthermore, we reconstructed phylogenetic trees among species from six superfamiles in Acrididea using Bayesian Interference and Maximum Likelihood methods. Our phylogenetic analyses offered support of monophyly of the superfamilies, and reconfirmed some of species groups including A. sagittaris in Pyrgomorphidae.
This is a preview of subscription content, log in to check access.
Access options
Buy single article
Instant unlimited access to the full article PDF.
US$ 39.95
Price includes VAT for USA
Subscribe to journal
Immediate online access to all issues from 2019. Subscription will auto renew annually.
US$ 199
This is the net price. Taxes to be calculated in checkout.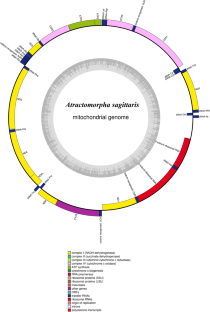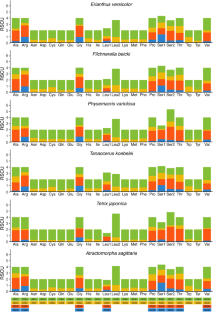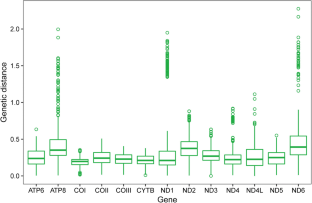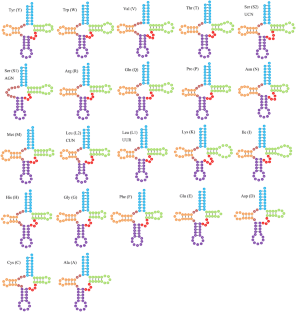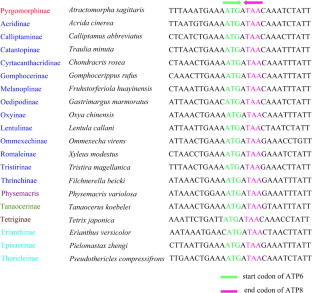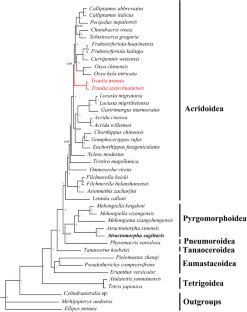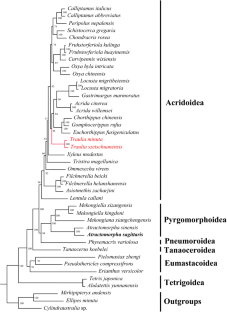 References
Avise JC (2009) Phylogeography: retrospect and prospect. J Biogeogr 36:3–15. https://doi.org/10.1111/j.1365-2699.2008.02032.x

Bernt M, Donath A, Jühling F, Externbrink F, Florentz C, Fritzsch G, Pütz J, Middendorf M, Stadler PF (2013) MITOS: improved de novo metazoan mitochondrial genome annotation. Mol Phylogenet Evol 69:313–319. https://doi.org/10.1016/j.ympev.2012.08.023

Boore JL (1999) Animal mitochondrial genomes. Nucleic Acids Res 27:1767–1780. https://doi.org/10.1093/nar/27.8.1767

Burland TG (2000) DNASTAR's Lasergene sequence analysis software. Humana Press, Totowa, Bioinformatics methods and protocols, pp 71–91

Cameron SL (2014) Insect mitochondrial genomics: implications for evolution and phylogeny. Annu Rev Entomol 59:95–117. https://doi.org/10.1146/annurev-ento-011613-162007

Caterino MS, Cho S, Sperling FA (2000) The current state of insect molecular systematics: a thriving tower of babel. Annu Rev Entomol 45:1–54. https://doi.org/10.1146/annurev.ento.45.1.1

Cigliano H, Braun MM, Eades DC, Otte D (2018) Orthoptera species file. Version 5.0/5.0. Available from: http://Orthoptera.SpeciesFile.org. Accessed 20 February 2018

Clary DO, Wolstenholme DR (1985) The ribosomal RNA genes of Drosophila mitochondrial DNA. Nucleic Acids Res 13:4029–4045. https://doi.org/10.1093/nar/13.11.4029

Clayton DA (1991) Replication and transcription of vertebrate mitochondrial DNA. Annu Rev Cell Biol 7:453–478. https://doi.org/10.1146/annurev.cb.07.110191.002321

Dai LS, Zhou XD, Kausar S, Abbas MN, Wu L, Zhou HL (2018) Mitochondrial genome of Diaphania indica (Saunders) (Lepidoptera: Pyraloidea) and implications for its phylogeny. Int J Biol Macromol 108:981–989. https://doi.org/10.1016/j.ijbiomac.2017.11.011

Ding FM, Shi HW, Huang Y (2007) Complete mitochondrial genome and secondary structures of lrRNA and srRNA of Atractomorpha sinensis (Orthoptera, Pyrgomorphidae). Zool Res 28:580–588

Fernández-Silva P, Enriquez JA, Montoya J (2003) Replication and transcription of mammalian mitochondrial DNA. Exp Physiol 88:41–56. https://doi.org/10.1113/eph8802514

Flook PK, Rowell CH (1997) The phylogeny of the Caelifera (Insecta, Orthoptera) as deduced from mtrRNA gene sequences. Mol Phylogenet Evol 8:89–103. https://doi.org/10.1006/mpev.1997.0412

Galtier N, Nabholz B, Glémin S, Hurst GDD (2009) Mitochondrial DNA as a marker of molecular diversity: a reappraisal. Mol Ecol 18:4541–4550. https://doi.org/10.1111/j.1365-294X.2009.04380.x

Katoh K, Misawa K, Kuma KI, Miyata T (2002) MAFFT: a novel method for rapid multiple sequence alignment based on fast Fourier transform. Nucleic Acids Res 30:3059–3066. https://doi.org/10.1093/nar/gkf436

Lanfear R, Calcott B, Ho SY, Guindon S (2012) PartitionFinder: combined selection of partitioning schemes and substitution models for phylogenetic analyses. Mol Biol Ecol 29:1695–1701. https://doi.org/10.1093/molbev/mss020

Laslett D, Canbäck B (2007) ARWEN: a program to detect tRNA genes in metazoan mitochondrial nucleotide sequences. Bioinformatics 24:172–175. https://doi.org/10.1093/bioinformatics/btm573

Li R, Shu XH, Li XD, Meng L, Li BP (2018) Comparative mitogenome analysis of three species and monophyletic inference of Catantopinae (Orthoptera: Acridoidea). Genomics 111:1728–1735. https://doi.org/10.1016/j.ygeno.2018.11.027

Lin FJ, Liu Y, Sha Z, Tsang LM, Chu KH, Chan TY, Liu R, Cui Z (2012) Evolution and phylogeny of the mud shrimps (Crustacea: Decapoda) revealed from complete mitochondrial genomes. BMC Genomics 13:631. https://doi.org/10.1186/1471-2164-13-631

Liu QN, Xin ZZ, Bian DD, Chai XY, Zhou CL, Tang BP (2016) The first complete mitochondrial genome for the subfamily Limacodidae and implications for the higher phylogeny of Lepidoptera. Sci Rep 6:35878. https://doi.org/10.1038/srep35878

Lowe TM, Chan PP (2016) tRNAscan-SE on-line: integrating search and context for analysis of transfer RNA genes. Nucleic Acids Res 44:W54–W57. https://doi.org/10.1093/nar/gkw413

Lv C, Li Q, Kong L (2018) Comparative analyses of the complete mitochondrial genomes of Dosinia clams and their phylogenetic position within Veneridae. PLoS One 13:0196466. https://doi.org/10.1371/journal.pone.0196466

McDonagh LM, West H, Harrison JW, Stevens JR (2016) Which mitochondrial gene (if any) is best for insect phylogenetics? Insect Syst Evol 47:245–266. https://doi.org/10.1163/1876312X-47032142

Miller MA, Pfeiffer W, Schwartz T (2010) Creating the CIPRES science gateway for inference of large phylogenetic trees. Gateway Computing Environments Workshop (GCE) Ieee, New Orleans, pp 1–8. https://doi.org/10.1109/GCE.2010.5676129

Ojala D, Montoya J, Attardi G (1981) tRNA punctuation model of RNA processing in human mitochondria. Nature 290:470–474. https://doi.org/10.1038/290470a0

Perna NT, Kocher TD (1995) Patterns of nucleotide composition at fourfold degenerate sites of animal mitochondrial genomes. J Mol Evol 41:353–358. https://doi.org/10.1007/bf00186547

Rentz DC, Lewis RC, Su YN, Upton MS (2003) A guide to Australian grasshoppers and locusts. Natural History Publications, Borneo

Ronquist F, Teslenko M, Van Der Mark P, Ayres DL, Darling A, Höhna S, Larget B, Liu L, Suchard MA, Huelsenbeck JP (2012) MrBayes 3.2: efficient Bayesian phylogenetic inference and model choice across a large model space. Syst Biol 61:539–542. https://doi.org/10.1093/sysbio/sys029

Rozas J, Ferrer-Mata A, Sánchez-DelBarrio JC, Guirao-Rico S, Librado P, Ramos-Onsins SE, Sánchez-Gracia A (2017) DnaSP 6: DNA sequence polymorphism analysis of large data sets. Mol Biol Ecol 34:3299–3302. https://doi.org/10.1093/molbev/msx248

Simon C, Frati F, Beckenbach A, Crespi B, Liu H, Flook P (1994) Evolution, weighting, and phylogenetic utility of mitochondrial gene sequences and a compilation of conserved polymerase chain reaction primers. Ann Entomol Soc Am 87:651–701. https://doi.org/10.1093/aesa/87.6.651

Simon C, Buckley TR, Frati F, Stewart JB, Beckenbach AT (2006) Incorporating molecular evolution into phylogenetic analysis, and a new compilation of conserved polymerase chain reaction primers for animal mitochondrial DNA. Annu Rev Ecol Evol Syst 37:545–579. https://doi.org/10.1146/annurev.ecolsys.37.091305.110018

Singh VK, Mangalam AK, Dwivedi S, Naik S (1998) Primer premier: program for design of degenerate primers from a protein sequence. Biotechniques 24:318–319. https://doi.org/10.2144/98242pf02

Song H, Amédégnato C, Cigliano MM, Desutter-Grandcolas L, Heads SW, Huang Y, Otte D, Whiting MF (2015) 300 million years of diversification: elucidating the patterns of orthopteran evolution based on comprehensive taxon and gene sampling. Cladistics 31:621–651. https://doi.org/10.1111/cla.12116

Stamatakis A (2014) RAxML version 8: a tool for phylogenetic analysis and post-analysis of large phylogenies. Bioinformatics 30:1312–1313. https://doi.org/10.1093/bioinformatics/btu033

Tamura K, Stecher G, Peterson D, Filipski A, Kumar S (2013) MEGA 6: molecular evolutionary genetics analysis version 6.0. Mol Biol Ecol 30:2725–2729. https://doi.org/10.1093/molbev/mst197

Varani G, McClain WH (2000) The G-U wobble base pair: a fundamental building block of RNA structure crucial to RNA function in diverse biological systems. EMBO Rep 1:18–23. https://doi.org/10.1093/embo-reports/kvd001

Wang Z, Wang Z, Shi X, Wu Q, Tao Y, Guo H, Ji C, Bai Y (2018) Complete mitochondrial genome of Parasesarma affine (Brachyura: Sesarmidae): gene rearrangements in Sesarmidae and phylogenetic analysis of the Brachyura. Int J Biol Macromol 13:31–40. https://doi.org/10.1016/j.ijbiomac.2018.06.056

Wolstenholme DR (1992) Animal mitochondrial DNA: structure and evolution. Int Rev Cytol 141:173–216. https://doi.org/10.1016/s0074-7696(08)62066-5

Xia X, Xie Z (2001) DAMBE: software package for data analysis in molecular biology and evolution. J Hered 92:371–373. https://doi.org/10.1093/jhered/92.4.371

Yang X, Cameron SL, Lees DC, Xue D, Han H (2015) A mitochondrial genome phylogeny of owlet moths (Lepidoptera: Noctuoidea), and examination of the utility of mitochondrial genomes for lepidopteran phylogenetics. Mol Phylogenet Evol 85:230–237. https://doi.org/10.1016/j.ympev.2015.02.005

Yang QQ, Liu SW, Song F, Liu GF, Yu XP (2018) Comparative mitogenome analysis on species of four apple snails (Ampullariidae: Pomacea). Int J Biol Macromol 118:525–533. https://doi.org/10.1016/j.ijbiomac.2018.06.092

Yuan ML, Zhang QL, Zhang L, Guo ZL, Liu YJ, Shen YY, Shao R (2016) High-level phylogeny of the Coleoptera inferred with mitochondrial genome sequences. Mol Phylogenet Evol 104:99–111. https://doi.org/10.1016/j.ympev.2016.08.002

Zhang DX, Hewitt GM (1997) Insect mitochondrial control region: a review of its structure, evolution and usefulness in evolutionary studies. Biochem Syst Ecol 25:99–120. https://doi.org/10.1016/S0305-1978(96)00042-7

Zhang HL, Zeng HH, Huang Y, Zheng ZM (2013) The complete mitochondrial genomes of three grasshoppers, Asiotmethis zacharjini, Filchnerella helanshanensis and Pseudotmethis rubimarginis (Orthoptera: Pamphagidae). Gene 517:89–98. https://doi.org/10.1016/j.gene.2012.12.080

Zhao L, Zheng ZM, Huang Y, Sun HM (2010) A comparative analysis of mitochondrial genomes in Orthoptera (Arthropoda: lnsecta) and genome descriptions of three grasshopper species. Zool Sci 27:662–672. https://doi.org/10.2108/zsj.27.662

Zhu BJ, Liu QN, Dai LS, Wang L, Sun Y, Lin KZ, Wei GQ, Liu CL (2013) Characterization of the complete mitochondrial genome of Diaphania pyloalis (Lepidoptera: Pyralididae). Gene 527:283–291. https://doi.org/10.1016/j.gene.2013.06.035

Zhu XY, Xin ZZ, Wang Y, Zhang HB, Zhang DZ, Wang ZF, Zhou CL, Tang BP, Liu QN (2017) The complete mitochondrial genome of Clostera anachoreta (Lepidoptera: Notodontidae) and phylogenetic implications for Noctuoidea species. Genomics 109:221–226. https://doi.org/10.1016/j.ygeno.2017.04.002
Acknowledgments
The authors would like to thank Xiaodong Li (Hechi University) for his help in grasshopper species identification and suggestions for manuscript writing.
Ethics declarations
Conflict of interest
The authors declare no conflict of interests.
Ethical approval
This article does not contain any studies with human participants or animals performed by any of the authors.
Additional information
Publisher's note
Springer Nature remains neutral with regard to jurisdictional claims in published maps and institutional affiliations.
About this article
Cite this article
Li, R., Shu, X., Deng, W. et al. Complete mitochondrial genome of Atractomorpha sagittaris (Orthoptera: Pyrgomorphidae) and its phylogenetic analysis for Acrididea. Biologia (2020) doi:10.2478/s11756-019-00402-z
Received:

Accepted:

Published:
Keywords
Atractomorpha sagittaris

Pyrgomorphidae

Orthoptera

Mitogenome

Phylogeny