Abstract
Red kite (Milvus milvus) is a European raptor. Kites of the nominal subspecies Milvus migrans migrans (hereafter called black kites) breed in the Western Palearctic and in Central Asia. Due to the extremely short period since their divergence, black and red kites can successfully hybridize. A mixed pair of black kite female and red kite male was observed during breeding seasons 2017 and 2018 in Poltva, Ukraine (i.e., in the easternmost part of red kites' breeding territory). This pair produced three and three young in 2017 and 2018, respectively. DNA of the three young from 2018 was analyzed regarding their mitochondrial CytB haplotype and nuclear Myc gene alleles. All three young had a common black kite CytB haplotype. Myc alleles combinations suggest that the male parent could be not a pure red kite and could have a black kite among its ancestors. All three young from 2018 were presumed predated on or close to the nest by goshawk (Accipiter gentilis).
This is a preview of subscription content, log in to check access.
Access options
Buy single article
Instant access to the full article PDF.
US$ 39.95
Price includes VAT for USA
Subscribe to journal
Immediate online access to all issues from 2019. Subscription will auto renew annually.
US$ 199
This is the net price. Taxes to be calculated in checkout.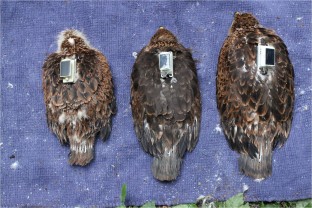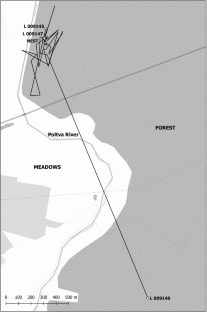 References
Bank L, Váczi M, Tamás Á, Mórocz A, Balázs I (2011) Vörös kánya állományadatok – 2011. Heliaca 9:36

Berndt RK, Koop B, Struwe-Juhl B (2002) Vogelvelt Schleswig-Holsteins, Bd. 5: Brutvogeatlas. Wachholtz, Germany, Neumünster

BirdLife International (2004) Birds in Europe: Population Estimates, Trends and Conservation Status. BirdLife conservation series no. 12. BirdLife International, Cambridge

BirdLife International (2015) European red list of birds. The IUCN red list of threatened species. Office for Official Publications of the European Communities, Luxembourg. https://www.iucn.org/downloads/redlist___birdlife_publication_web.pdf. Accessed 15 July 2018

Corso A, Palumbo G (2001) Prima osservazione italiana di ibrido tra Nibio reale Milvus milvus e Nibio bruno Milvus migrans. Picus 27:31–33

Dittberner H, Dittberner W (2002) Der Rotmilan – ein Greifvogel der Insel Rügen. Rugia-Journal 10:81–85

Dörrie HH (2001) Avifaunischer Jahresbericht 2000 für den Raum Göttingen und Nordheim. Naturkundliche Berichte zur Fauna und Flora in Süd-Niedersachsen 6:5–121

Dudás M (2014) A vörös kanya (Milvus milvus) európai elterjedési (fészkelési) viszonyai és a magyarországi állományának fenntartási lehetösége. Heliaca 12:55–65

Ferguson-Lees J, Christie DA (2001) Raptors of the world. Helm identification guides. Christopher Helm, United Kingdom, London

Forsman D, Nye D (2007) A hybrid red kite × black kite in Cyprus. Birding World 20:480–481

Génsbøl B, Thiede W (2008) Collins birds of prey. Harper Collins publishers, United Kingdom, London

Heneberg P, Dolinay M, Matušík H, Pfeiffer T, Nachtigall W, Bizos J, Šimčíková D, Literák I (2016) Conservation of the red kite Milvus milvus (Aves: Accipitriformes) is not affected by the establishment of a broad hybrid zone with the black kite Milvus migrans migrans in Central Europe. PLoS One 11(7):e0159202. https://doi.org/10.1371/journal.pone.0159202

Kirwan GM, Boyla KA, Castell P, Demirci B, Özen M, Welch H, Marlow T (2008) The birds of Turkey. The distribution, taxonomy and breeding of Turkish birds. Christopher Helm, United Kingdom, London

Literák I, Matušík H, Rác P (2014) Luňáci, jejich variabilita a hybridizace (Kites, their intra- and interspecies variability and interspecies hybridization, in Czech with a summary in English). Živa 62:35–39

Looft V, Busche G (1981) Vogelwelt Schleswig-Holsteins, Greifvögel. Wachholtz, Germany, Neumünster

Mindlin G (2015) Krasnoe i chernoe [Red and black]. Ptushki i My 26:9. [In Russian]

Monsén B (1987) Häcking av Brunglada x Hybridglada i Värmland 1981. Värmlandsornithologen 15:13–15

Mórocz A, Bank L, Kováts L, Orbán A, Váczi M, Haraszthy L (2015) A vörös kánya (Milvus milvus) magyarországi helyzete 2015-ben. Heliaca 13:39

Nachtigal W, Gleichner W (2005) Mischbruten zwischen Rot- Milvus milvus und Schwarzmilan M. migrans – ein weiterer Fall aus Sachsen. Limicola 19:180–194

Ortlieb R (1998) Der Schwarzmilan Milvus migrans. Die Neue Brehm-Bücherei Bd. 100. Westarp Wiessenschaften, Germany, Hohenwarsleben

Ortlieb R (2014) Der Rotmilan Milvus milvus. Die Neue Brehm-Bücherei Bd. 532. VerlagsKG Wolf, Germany, Magdeburg 

Paal U, Forsman D (2018) Presumed hybrid red x black kites in Estonia: analysis of 3 cases. www.estbirding.ee. Accessed 20 June 2018

Roques S, Negro JJ (2005) MtDNA genetic diversity and population history of a dwindling raptorial bird, the red kite (Milvus milvus). Biol Conserv 126:41–50. https://doi.org/10.1016/j.biocon.2005.04.020

Schmidt M, Schmidt R (2006) Langjährig erfolgreiches Mischbrutpaar von Schwarz- (Milvus migrans) and Rotmilan (Milvus milvus) in Schleswig-Holstein. Corax 20:165–178

Schreiber A, Stubbe M, Stubbe A (2000) Red kite (Milvus milvus) and black kite (M. migrans): minute genetic interspecies distance of two raptors breeding in a mixed community (Falconiformes: Accipitridae). Biol J Lin Soc 69:351–365

Stübing S, Fichtler M (2006) Hybriden zwischen Rot- Milvus milvus und Schwarzmilan M. migrans: Vorkommen, Verwechslungsgefahren und eine neue Beobachtung aus Hessen. Limicola 20:169–186

Suh A, Kriegs JO, Brosius J, Schmitz J (2011) Retroposon insertions and the chronology of avian sex chromosome evolution. Mol Biol Evol 28:2993–2997. https://doi.org/10.1093/molbev/msr147

Swensson S (1979) European news, black kite Milvus migrans. Brit Birds 72:590

Sylvén M (1977) Hybridisering mellan glada Milvus milvus och brun glada M. migrans i Sverige 1976 (hybridization between red kite Milvus milvus and black kite M. migrans in Sweden in 1976, in Swedish with English summary). Vår Fågelvärld 36:38–44

Wasmund N (2013) Der Rotmilan (Milvus milvus) im Unteren Eichsfeld. Brutbestand, Nahrungsökologie und Gefährdungsursachen. Dissertation, Georg-August-Universität Göttingen, Georg-August-University School of Science (GAUSS), Templin, Germany, Göttingen 

Wobus U, Creutz G (1970) Eine erfolgreiche Mischbrut von Rot- und Schwarzmilan (Milvus milvus × Milvus migrans). Zoologische Abhandlungen, Museum für Tierkunde Dresden 31:305–313

Zubarovskiy VM (1977) Khishi ptakhi, ptakhi (Iss 2), Fauna Ukraini (Vol 5). Naukova Dumka, Ukraine, Kiiv. [In Ukrainian]
Acknowledgements
We thank Roman Danylevich, Hynek Matušík, and Petr Podzemný for their cooperation in the field.
Ethics declarations
Ethical approval
No ethical approval was needed for using black kite female and red kite male in the study.
Conflict of interest
The authors declare that they have no conflict of interest.
Additional information
Publisher's note
Springer Nature remains neutral with regard to jurisdictional claims in published maps and institutional affiliations.
About this article
Cite this article
Literák, I., Skyrpan, M. & Andreyenkova, N.G. A mixed pair of black and red kites in Ukraine, including DNA analysis of hybrid offspring. Biologia 75, 115–120 (2020). https://doi.org/10.2478/s11756-019-00268-1
Received:

Accepted:

Published:

Issue Date:
Keywords
Red kite

Milvus milvus

Black kite

Milvus migrans

Hybridization