Supercritical fluid extraction as a tool for isolation of monoterpenes from coniferous needles and walnut-tree leaves
Abstract
Several monoterpenes,
i.e.
, (+)-α-pinene, (−)-camphene, sabinene, (−)-β-pinene, myrcene, R-(+)-limonene, (−)-bornylacetate, (−)-
trans
-caryophyllene and a-humulene were identified and determined by gas chromatography-mass spectrometry (GC-MS) in needles of Pinaceae (
Picea abies, P. omorika, P. pungens, P. Breweriana, Pinus nigra, P. mungo turra, P. black, P. sylvestris, Abies pinsapo, A. holophylla, A. Bronmuelleris, A. alba, Larix Kaempferi L. decidua
) and tree-leaves of Juglandaceae (
Juglans regia, J. nigra, J. sieboldiana var. Cordiformis
) families. Supercritical fluid extraction (SFE) was found to be very useful for their isolation at optimised conditions (needles/leaves: pressure 20/30 MPa, temperature 80/130°C, time of extraction 60/60 min, modifier chloroform/chloroform). Their seasonal distribution, evaluation of differences in concentrations and relative amounts in different trees and their varieties grown in different localities were evaluated.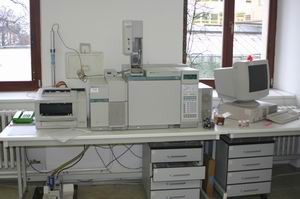 Keywords
Supercritical fluid extraction (SFE) 
Gas chromatographic-mass spectrometric detection (GC-MS) 
Terpenes 
Juglandaceae 
Pinaceae 
Copyright information
© © Versita Warsaw and Springer-Verlag Wien 2010