Abstract
The potential effects of inadequate or excessive calcium supply on cardiovascular disease (CVD) are receiving growing attention. We review experimental, epidemiologic, and clinical evidence regarding the role of calcium intake in the development of CVD in adults. In vitro and in vivo laboratory studies have shown that calcium may affect the risk of developing CVD through multiple mechanisms including blood cholesterol, insulin secretion and sensitivity, vasodilation, inflammatory profile, thrombosis, obesity, and vascular calcification. A number of prospective epidemiologic studies have examined the relationship between dietary calcium intake and CVD incidence or mortality in middle-aged and older adults. The results were inconsistent, and the pooled data do not strongly support a significant effect of greater dietary calcium intake on the risk of coronary artery disease (CAD) or stroke. Only a few prospective studies have examined calcium supplement use in association with risk of CVD. The pooled data show no significant benefits of calcium supplement use in reducing the risk of CAD or stroke. No randomized clinical trial has specifically tested the effect of calcium supplementation on CVD as its primary endpoint. Secondary analyses in existing trials to date suggest a neutral effect of calcium (with or without vitamin D) supplements on CVD events, but do not allow for a definitive conclusion. A large percentage of Americans, particularly older adults, fail to meet the US recommendations for optimal calcium intake and are encouraged to increase daily calcium consumption. More prospective cohort studies and large-scale randomized trials are needed to further evaluate the risks or benefits of calcium supplementation on CVD endpoints as the primary pre-specified outcome.
Access options
Buy single article
Instant access to the full article PDF.
USD 49.95
Price excludes VAT (USA)
Tax calculation will be finalised during checkout.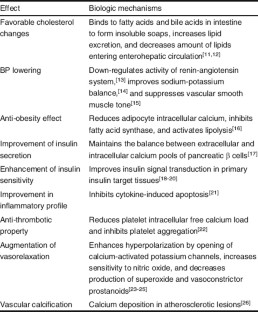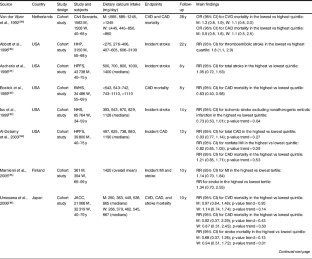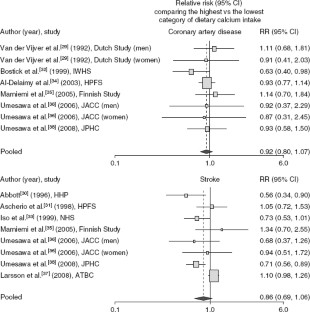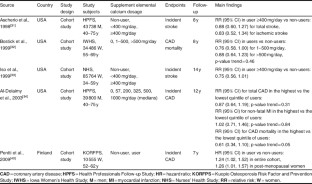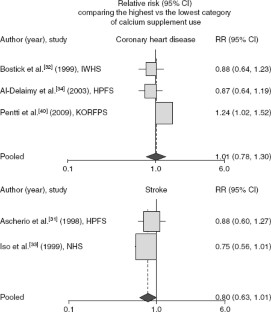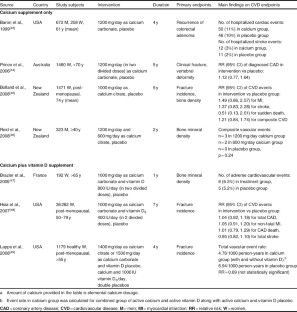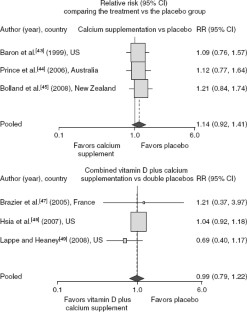 References
Peterlik M, Cross HS. Vitamin D and calcium deficits predispose for multiple chronic diseases. Eur J Clin Invest 2005 May; 35 (5): 290–304.

Subar AF, Block G. Use of vitamin and mineral supplements: demographics and amounts of nutrients consumed. The 1987 Health Interview Survey. Am J Epidemiol 1990 Dec; 132 (6): 1091–101.

Riffenburgh RH (editor). Statistics in medicine. 2nd ed. Waltham (MA): Academic Press, 2005.

DerSimonian R, Laird N. Meta-analysis in clinical trials. Control Clin Trials 1986; 7 (3): 177–88.

Vaskonen T. Dietary minerals and modification of cardiovascular risk factors. J Nutr Biochem 2003 Sep; 14 (9): 492–506.

Heaney RP. Calcium intake and disease prevention. Arq Bras Endocrinol Metabol 2006; 50 (4): 685–93.

Mundy GR, Guise TA. Hormonal control of calcium homeostasis. Clin Chem 1999; 45 (8 Pt2): 1347–52.

Committee to Review Dietary Reference Intakes for Vitamin D and Calcium, Institute of Medicine. Dietary reference intakes for calcium and vitamin D. Washington, DC: National Academy Press; 2011.

NIH Consensus conference. Optimal calcium intake. NIH Consensus Development Panel on Optimal Calcium Intake. JAMA 1994 Dec 28; 272 (24): 1942–8.

Bennett T, Desmond A, Harrington M, et al. The effect of high intakes of casein and casein phosphopeptide on calcium absorption in the rat. Br J Nutr 2000 Jun; 83 (6): 673–80.

Fleischman AI, Yacowitz H, Hayton T, et al. Effects of dietary calcium upon lipid metabolism in mature male rats fed beef tallow. J Nutr 1966 Mar; 88 (3): 255–60.

Yacowitz H, Fleischman AI, Bierenbaum ML, et al. Calcium and lipid metabolism: effects of increased dietary calcium on atherosclerosis in rabbits. Trans N Y Acad Sci 1971 Mar; 33 (3): 344–50.

Resnick LM, Laragh JH, Sealey JE, et al. Divalent cations in essential hypertension: relations between serum ionized calcium, magnesium, and plasma renin activity. N Engl J Med 1983 Oct 13; 309 (15): 888–91.

Resnick LM. The role of dietary calcium in hypertension: a hierarchical overview. Am J Hypertens 1999 Jan; 12 (1 Pt 1): 99–112.

Bohr DF. Vascular smooth muscle: dual effect of calcium. Science 1963 Feb 15; 139 (3555): 597–9.

Zemel MB. Calcium modulation of hypertension and obesity: mechanisms and implications. J Am Coll Nutr 2001 Oct; 20 (5 Suppl.): 428S–35S; discussion 40S-42S.

Draznin B. Intracellular calcium, insulin secretion, and action. Am J Med 1988 Nov 28; 85 (5A): 44–58.

Williams PF, Caterson ID, Cooney GJ, et al. High affinity insulin binding and insulin receptor-effector coupling: modulation by Ca2+. Cell Calcium 1990 Sep; 11 (8): 547–56.

Draznin B, Sussman K, Kao M, et al. The existence of an optimal range of cytosolic free calcium for insulin-stimulated glucose transport in rat adipocytes. J Biol Chem 1987 Oct 25; 262 (30): 14385–8.

Zemel MB. Nutritional and endocrine modulation of intracellular calcium: implications in obesity, insulin resistance and hypertension. Mol Cell Biochem 1998 Nov; 188 (1–2): 129–36.

Pittas AG, Lau J, Hu FB, et al. The role of vitamin D and calcium in type 2 diabetes: a systematic review and meta-analysis. J Clin Endocrinol Metab 2007 Jun; 92 (6): 2017–29.

Renaud S, Ciavatti M, Thevenon C, et al. Protective effects of dietary calcium and magnesium on platelet function and atherosclerosis in rabbits fed saturated fat. Atherosclerosis 1983 May; 47 (2): 187–98.

Makynen H, Kahonen M, Wu X, et al. Endothelial function in deoxycorticosterone-NaCl hypertension: effect of calcium supplementation. Circulation 1996 Mar 1; 93 (5): 1000–8.

Tolvanen JP, Makynen H, Wu X, et al. Effects of calcium and potassium supplements on arterial tone in vitro in spontaneously hypertensive rats. Br J Pharmacol 1998 May; 124 (1): 119–28.

Jolma P, Kalliovalkama J, Tolvanen JP, et al. High-calcium diet enhances vasorelaxation in nitric oxide-deficient hypertension. Am J Physiol Heart Circ Physiol 2000 Sep; 279 (3): H 1036–43.

Seely S. Is calcium excess in western diet a major cause of arterial disease. Int J Cardiol 1991 Nov; 33 (2): 191–8.

Ojuka EO. Role of calcium and AMP kinase in the regulation of mitochondrial biogenesis and GLUT4 levels in muscle. Proc Nutr Soc 2004 May; 63 (2): 275–8.

Wright DC, Hucker KA, Holloszy JO, et al. Ca2+ and AMPK both mediate stimulation of glucose transport by muscle contractions. Diabetes 2004 Feb; 53 (2): 330–5.

Van der Vijver LP, van der Waal MA, Weterings KG, et al. Calcium intake and 28-year cardiovascular and coronary heart disease mortality in Dutch civil servants. Int J Epidemiol 1992 Feb; 21 (1): 36–9.

Abbott RD, Curb JD, Rodriguez BL, et al. Effect of dietary calcium and milk consumption on risk of thromboembolic stroke in older middle-aged men. The Honolulu Heart Program. Stroke 1996 May; 27 (5): 813–8.

Ascherio A, Rimm EB, Hernan MA, et al. Intake of potassium, magnesium, calcium, and fiber and risk of stroke among US men. Circulation 1998 Sep 22; 98 (12): 1198–204.

Bostick RM, Kushi LH, Wu Y, et al. Relation of calcium, vitamin D, and dairy food intake to ischemic heart disease mortality among postmenopausal women. Am J Epidemiol 1999 Jan 15; 149 (2): 151–61.

Iso H, Stampfer MJ, Manson JE, et al. Prospective study of calcium, potassium, and magnesium intake and risk of stroke in women. Stroke 1999 Sep; 30 (9): 1772–9.

Al-Delaimy WK, Rimm E, Willett WC, et al. A prospective study of calcium intake from diet and supplements and risk of ischemic heart disease among men. Am J Clin Nutr 2003 Apr; 77 (4): 814–8.

Marniemi J, Alanen E, Impivaara O, et al. Dietary and serum vitamins and minerals as predictors of myocardial infarction and stroke in elderly subjects. Nutr Metab Cardiovasc Dis 2005 Jun; 15 (3): 188–97.

Umesawa M, Iso H, Date C, et al. Dietary intake of calcium in relation to mortality from cardiovascular disease: the JACC Study. Stroke 2006 Jan; 37 (1): 20–6.

Larsson SC, Virtanen MJ, Mars M, et al. Magnesium, calcium, potassium, and sodium intakes and risk of stroke in male smokers. Arch Intern Med 2008 Mar 10; 168 (5): 459–65.

Umesawa M, Iso H, Ishihara J, et al. Dietary calcium intake and risks of stroke, its subtypes, and coronary heart disease in Japanese: the JPHC Study Cohort I. Stroke 2008 Sep; 39 (9): 2449–56.

Kaluza J, Orsini N, Levitan EB, et al. Dietary calcium and magnesium intake and mortality: a prospective study of men. Am J Epidemiol 2010 Apr 1; 171 (7): 801–7.

Pentti K, Tuppurainen MT, Honkanen R, et al. Use of calcium supplements and the risk of coronary heart disease in 52–62-year-old women: The Kuopio Osteoporosis Risk Factor and Prevention Study. Maturitas 2009 May 20; 63 (1): 73–8.

Lind L, Skarfors E, Berglund L, et al. Serum calcium: a new, independent, prospective risk factor for myocardial infarction in middle-aged men followed for 18 years. J Clin Epidemiol 1997 Aug; 50 (8): 967–73.

Foley RN, Collins AJ, Ishani A, et al. Calcium-phosphate levels and cardiovascular disease in community-dwelling adults: the Atherosclerosis Risk in Communities (ARIC) Study. Am Heart J 2008 Sep; 156 (3): 556–63.

Baron JA, Beach M, Mandel JS, et al. Calcium supplements for the prevention of colorectal adenomas. Calcium Polyp Prevention Study Group. N Engl J Med 1999 Jan 14; 340 (2): 101–7.

Prince RL, Devine A, Dhaliwal SS, et al. Effects of calcium supplementation on clinical fracture and bone structure: results of a 5-year, double-blind, placebo-controlled trial in elderly women. Arch Intern Med 2006 Apr 24; 166 (8): 869–75.

Bolland MJ, Barber PA, Doughty RN, et al. Vascular events in healthy older women receiving calcium supplementation: randomised controlled trial. BMJ 2008 Feb 2; 336 (7638): 262–6.

Reid IR, Ames R, Mason B, et al. Randomized controlled trial of calcium supplementation in healthy, nonosteoporotic, older men. Arch Intern Med 2008 Nov 10; 168 (20): 2276–82.

Brazier M, Grados F, Kamel S, et al. Clinical and laboratory safety of one year's use of a combination calcium+vitamin D tablet in ambulatory elderly women with vitamin D insufficiency: results of a multicenter, randomized, double-blind, placebo-controlled study. Clin Ther 2005 Dec; 27 (12): 1885–93.

Hsia J, Heiss G, Ren H, et al. Calcium/vitamin D supplementation and cardiovascular events. Circulation 2007 Feb 20; 115 (7): 846–54.

Lappe JM, Heaney RP. Calcium supplementation: results may not be generalisable [letter]. BMJ 2008 Feb 23; 336 (7641): 403; author reply 4.

Lewis JR, Calver J, Zhu K, et al. Calcium supplementation and the risks of atherosclerotic vascular disease in older women: results of a 5-year RCT and a 4.5-year follow-up. J Bone Miner Res 2011; 26 (1): 35–41.

McCarron DA, Reusser ME. Finding consensus in the dietary calcium-blood pressure debate. J Am Coll Nutr 1999 Oct; 18 (5 Suppl.): 398S–405S.

Reid IR, Bolland MJ. Calcium supplementation and vascular disease. Climacteric 2008 Aug; 11 (4): 280–6.

Reid IR, Schooler BA, Hannan SF, et al. The acute biochemical effects of four proprietary calcium preparations. Aust N Z J Med 1986 Apr; 16 (2): 193–7.

Green JH, Booth C, Bunning R. Postprandial metabolic responses to milk enriched with milk calcium are different from responses to milk enriched with calcium carbonate. Asia Pac J Clin Nutr 2003; 12 (1): 109–19.

Bolland MJ, Avenell A, Baron JA, et al. Effect of calcium supplements on risk of myocardial infarction and cardiovascular events: meta-analysis. BMJ 2010; 341: c3691. doi:10.1136/bmj.c3691.
Acknowledgments
The authors are grateful for the technical assistance from Dr Yiqing Song in his scientific input into the meta-analysis. Dr Wang was supported by a career development grant HL095649 from the National Institutes of Health, Bethesda, MD, USA. The authors have no conflicts of interest that are directly relevant to the content of this review.
About this article
Cite this article
Wang, L., Manson, J.E. & Sesso, H.D. Calcium Intake and Risk of Cardiovascular Disease. Am J Cardiovasc Drugs 12, 105–116 (2012). https://doi.org/10.2165/11595400-000000000-00000
Published:

Issue Date:

DOI: https://doi.org/10.2165/11595400-000000000-00000
Keywords
Calcium Intake

Calcium Supplement

Dietary Calcium

Dietary Calcium Intake

Pool Relative Risk