Abstract
Ipilimumab (Yervoy®) is an anti-cytotoxic T-lymphocyte antigen (CTLA)-4 monoclonal antibody that has been approved in the US for the first- or second-line treatment of patients with malignant melanoma. In the EU, it is awaiting approval as second-line therapy for melanoma. Ipilimumab blocks the effects of the negative T-cell regulator CTLA-4, which may in turn augment T-cell responses to tumour cells. Preclinical studies have indicated that antibody blocking of CTLA-4 can lead to potent immune responses. Ipilimumab is also in development as first- and second-line therapy for prostate cancer where it has progressed to phase III clinical trials worldwide, and it is in phase II development for non-small cell lung cancer. Ipilimumab was originated by the University of California, Berkeley, in the US and subsequently licensed to Medarex, which was later acquired by Bristol-Myers Squibb. This article summarizes the milestones in the development of intravenous ipilimumab leading to this first approval.
This is a preview of subscription content, log in to check access.
Access options
Buy single article
Instant access to the full article PDF.
US$ 49.95
Price includes VAT for USA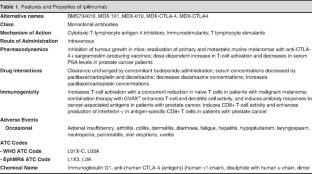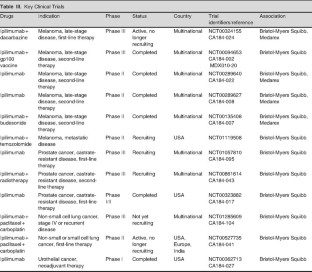 References
1.

Hoos A, Chasalow SD, Parker SM, Siegel J, et al. Ipilimumab 10 mg/kg induction dosing promotes T-cell activation in patients with advanced melanoma. 33rd Congress of the European Society for Medical Oncology: abstr. 785P, 12 Sep 2008. Available from URL: http://annonc.oxfordjournals.org. Bristol-Myers Squibb, Wallingford, USA

2.

FDA. FDA Approves New Treatment for a Type of Late-Stage Skin Cancer. Media Release: 25 Mar 2011. Available from URL: http://www.fda.gov

3.

Bristol-Myers Squibb Company. FDA Approves YERVOY(Tm) (ipilimumab) for the Treatment of Patients with Newly Diagnosed or Previously-Treated Unresectable or Metastatic Melanoma, the Deadliest Form of Skin Cancer. Media Release: 26 Mar 2011. Available from URL: http://www.bms.com

4.

Bristol-Myers Squibb Company. Bristol-Myers Squibb Second Quarter Featured Robust Clinical Data and Double-Digit EPS Growth. Media Release: 22 Jul 2010. Available from URL: http://www.bms.com

5.

Bristol-Myers Squibb Company. Controlled Phase 2 Study of Ipilimumab Shows Clinical Activity in Advanced Non-Small Cell Lung Cancer. Media Release: 22 May 2010. Available from URL: http://www.bms.com

6.

Medarex Inc. Ipilimumab (MDX-010) Shows Encouraging Data in Phase I and Phase II Clinical Trials for Hormone Refractory Prostate Cancer Patients. Media Release: 5 Jun 2006. Available from URL: http://www.medarex.com

7.

Cell Genesys Inc. Cell Genesys Reports Data on an Association Between Immune Response and Anti-Tumor Activity in Patients Receiving GVAX Immunotherapy for Prostate Cancer and Ipilimumab (MDX-010). Media Release: 16 Apr 2008. Available from URL: http://www.cellgenesys.com

8.

Cell Genesys Inc, Medarex Inc. Cell Genesys and Medarex Report Follow-Up Data From a Phase 1 Combination Therapy Trial With GVAX Immunotherapy for Prostate Cancer and Ipilimumab (MDX-010) Antibody. Media Release: 4 Jun 2007. Available from URL: http://www.cellgenesys.com

9.

Kavanagh B, Rini B, Weinberg V, et al. CTLA-4 blockade-based immunotherapy for hormone-refractory prostate cancer. 2006 Prostate Cancer Symposium: abstr. 255, 24 Feb 2006

10.

Dai D, Wu C, Parker SM, et al. Model-based evaluation of ipilimumab dosage regimen in patients with advanced melanoma. 44th Annual Meeting of the American Society of Clinical Oncology: abstr. 9073, 30 May 2008. Available from URL: http://www.asco.org

11.

Wolchok JD, Neyns B, Linette G, et al. Ipilimumab monotherapy in patients with pretreated advanced melanoma: a randomised, double-blind, multicentre, phase 2, dose-ranging study. Lancet Oncology 2010; 11: 155–64. Memorial Sloan-Kettering Cancer Center, New York, New York, USA

12.

Small EJ, Tchekmedyian NS, Rini BI, et al. A pilot trial of CTLA-4 blockade with human anti-CTLA-4 in patients with hormone-refractory prostate cancer. Clinical cancer research: an official journal of the American Association for Cancer Research 13: 1810–1815, No. 6, 15 Mar 2007. University of California-San Francisco, San Francisco, California, USA

13.

Weber JS, Hamid O, Wolchok J, et al. Assessment of Pharmacokinetic Interaction Between Ipilimumab and Chemotherapy in a Randomized Study. 35th Congress of the European Society for Medical Oncology: abstr. 1329P, 8 Oct 2010. Available from URL: http://www.esmo.org. H. Lee Moffitt Cancer Center and Research Institute, Tampa, Florida, USA

14.

The Angeles Clinic and Research Institute. The Angeles Clinic and Research Institute Announces Investigational Compound Ipilimumab Demonstrates Improved Overall Survival in Phase 3 Trial of Previously-Treated Patients with Metastatic Melanoma. Media Release: 6 Jun 2010. Available from URL: http://www.theangelesclinic.org

15.

Bristol-Myers Squibb Company. Investigational Compound Ipilimumab Demonstrates Improved Overall Survival in Phase 3 Trial of Previously-Treated Patients with Metastatic Melanoma. Media Release: 6 Jun 2010. Available from URL: http://www.bms.com

16.

Hodi FS, O'Day SJ, McDermott DF, et al. Improved survival with ipilimumab in patients with metastatic melanoma. N Engl J Med 2010; 363: 711–23

17.

Bristol-Myers Squibb Company, Medarex Inc. Results from Three Phase 2 Studies Reported a Two-Year Survival Rate Ranging from 30 to 42 Percent in Metastatic Melanoma Patients Treated with Ipilimumab (10 mg/kg). Media Release: 1 Jun 2009. Available from URL: http://www.bms.com

18.

Bristol-Myers Squibb Company, Medarex Inc. Updated Survival Data from Three Phase 2 Ipilimumab Studies Showed Almost Half of Previously Treated Metastatic Melanoma Patients Alive Beyond One Year. Media Release: 16 Sep 2008. Available from URL: http://www.bms.com

19.

Bristol-Myers Squibb Company, Medarex Inc. New Ipilimumab Survival Data in Patients with Metastatic Melanoma Presented at American Society of Clinical Oncology Annual Meeting. Media Release: 2 Jun 2008. Available from URL: http://www.medarex.com

20.

Medarex Inc, Bristol-Myers Squibb. Top-Line Data Available from Three Ipilimumab Pivotal Trials in Patients with Advanced Metastatic Melanoma. Media Release: 10 Dec 2007. Available from URL: http://www.medarex.com

21.

O'Day SJ, Maio M, Chiarion-Sileni V, et al. Efficacy and safety of ipilimumab monotherapy in patients with pretreated advanced melanoma: a multicenter single-arm phase II study. Annals of Oncology: 10 Feb 2010. Available from URL: http://dx.doi.org/10.1093/annonc/mdq013. Angeles Clinic and Research Institute, Santa Monica, California, USA

22.

Weber J, Thompson JA, Hamid O, et al. A randomized, double-blind, placebo-controlled, phase II study comparing the tolerability and efficacy of ipilimumab adminstered with or without prophylactic budesonide in patients with unresectable stage III or IV melanoma. Clinical Cancer Research 2009; 15: 5591–98

23.

Thompson JA, The Global Ipilimumab Melanoma Study Group. Effect of prior treatment status on the efficacy and safety of ipilimumab monotherapy in treatment-naive and previously treated patients with advanced melanoma. 44th Annual Meeting of the American Society of Clinical Oncology: abstr. 9055, 30 May 2008. Available from URL: http://www.asco.org. Bristol-Myers-Squibb Pharmaceutical Research Institute, Princeton, New Jersey, USA

24.

Weber JS, The Global Ipilimumab Melanoma Study Group. Safety and efficacy of ipilimumab with or without prophylactic budesonide in treatment-naive and previously treated patients with advanced melanoma. 44th Annual Meeting of the American Society of Clinical Oncology: (plus oral presentation) abstr. 9010, 30 May 2008. Available from URL: http://www.asco.org

25.

Medarex Inc. Ipilimumab Plus Chemotherapy is Associated with Prolonged Survival and Increased Disease Control Rates in Patients with Advanced Melanoma. Media Release: 1 Jun 2008. Available from URL: http://www.medarex.com

26.

Medarex Inc. Data Demonstrated Metastatic Melanoma Response to Investigational Immunotherapy Ipilimumab. Media Release: 5 Jun 2007. Available from URL: http://www.bms.com

27.

Weber JS, O'Day S, Urba W, et al. Phase I/II study of ipilimumab for patients with metastatic melanoma. Journal of Clinical Oncology 2008; 26(36): 5950–56

28.

Medarex Inc. Anti-Cancer Responses in Metastatic Melanoma Patients Linked to Immune Activation by MDX-010 Published in the 'Proceedings of the National Academy of Sciences' (PNAS). Media Release: 25 Jun 2003. Available from URL: http://www.medarex.com

29.

Medarex Inc, Bristol-Myers Squibb Company. Phase II Clinical Study of MDX-010/MDX-1379 Combination Shows Durable Responses in Patients with Metastatic Melanoma. Media Release: 20 Apr 2005. Available from URL: http://www.medarex.com. Bristol-Myers Squibb Company, New York, New York, USA

30.

Medarex Inc. Interim Ipilimumab (MDX-010) Phase II Trial Results Indicate Well-Tolerated, Extended Dosing with Preliminary Evidence that Immune Activation May Reduce Relapse in the Adjuvant Setting in Melanoma. Media Release: 5 Jun 2006. Available from URL: http://www.medarex.com

31.

Medarex Inc, Bristol-Myers Squibb. Medarex and Bristol-Myers Squibb Announce Complete and Partial Responses Observed in Phase I/II Clinical Study of MDX-010 in Combination with Il-2. Media Release: 7 Mar 2005. Available from URL: http://www.medarex.com. Medarex Inc, Princeton, New Jersey, USA

32.

Urba WJ, Weber JS, O'Day SJ, et al. Long-term survival of patients with advanced melanoma who received ipilimumab administered at 10 mg/kg every 3 weeks for 4 doses (induction dosing). 44th Annual Meeting of the American Society of Clinical Oncology: abstr. 3018, 30 May 2008. Available from URL: http://www.asco.org. Medarex, Inc., Princeton, New Jersey, USA

33.

Medarex Inc. Medarex Reports Interim Data from Ongoing Ipilimumab Combination Phase 1 Studies in Prostate Cancer at American Association for Cancer Research Meeting. Media Release: 15 Apr 2008. Available from URL: http://www.medarex.com

34.

Fong L, Kwek S, Kavanagh B, et al. CTLA-4 blockade for hormone refractory prostate cancer: dose-dependent induction of CD8+ T cell activation and clinical responses. 99th Annual Meeting of the American Association for Cancer Research: 601–602, 12 Apr 2008. University of California, San Francisco, San Francisco, California, USA

35.

Beer TM, Slovin SF, Higano CS, et al. Prostate Cancer Clinical Trials Consortium. Phase I trial of ipilimumab alone and in combination with radiotherapy in patients with metastatic castration resistant prostate cancer. 44th Annual Meeting of the American Society of Clinical Oncology: abstr. 5004, 30 May 2008. Available from URL: http://www.asco.org. Medarex, Princeton, New Jersey, USA

36.

Ansell SM, Hurvitz SA, Koenig PA, et al. Phase I study of ipilimumab, an anti-CTLA-4 monoclonal antibody, in patients with relapsed and refractory B-cell Non-Hodgkin lymphoma. Clinical cancer research: an official journal of the American Association for Cancer Research 15: 6446–6453, No. 20, 15 Oct 2009. Mayo Clinic, Rochester, Minnesota, USA

37.

Medarex Inc. Ipilimumab (MDX-010) Safety and Clinical Response Data in Lymphomas and Leukemia Presented at the 48th American Society of Hematology Annual Meeting. Media Release: 11 Dec 2006. Available from URL: http://www.medarex.com

38.

Yang JC, Beck KE, Blansfield JA, et al.. Tumor regression in patients with metastatic renal cancer treated with a monoclonal antibody to CTLA4 (MDX-010). Journal of Clinical Oncology 23 (Suppl.): 166 (plus oral presentation) abstr. 2501, No. 16, Part I, 1 Jun 2005. Medarex Inc, Bloomsbury, New Jersey, USA

39.

Hodi FS, Seiden M, Butler M, et al. Cytotoxic T lymphocyte-associated antigen-4 (CTLA-4) antibody blockade in patients previously vaccinated with irradiated, autologous tumor cells engineered to secrete granulocyte-macrophage colony stimulating factor (GM-CSF). 40th Annual Meeting of the American Society of Clinical Oncology: 172, Jun 2004. Medarex, Bloomsbury, NJ, USA

40.

Weber JS, Berman D, Siegel J, et al. Clinical activity of ipilimumab in patients with advanced melanoma and brain metastases. 33rd Congress of the European Society for Medical Oncology: abstr. 786P, 12 Sep 2008. Available from URL: http://annonc.oxfordjournals.org. Bristol-Myers-Squibb, Wallingford, Connecticut, USA

41.

Lebbe C, Hoos A, Chin K, et al. Effect of dose on efficacy and safety in ipilimumab-treated patients with advanced melanoma — results from a phase II, randomized, dose-ranging study. 33rd Congress of the European Society for Medical Oncology: abstr. 769O, 12 Sep 2008. Available from URL: http://annonc.oxfordjournals.org. Saint-Louis Hospital, Paris, France

42.

Cell Genesys Inc, Medarex Inc. Cell Genesys and Medarex Announce Encouraging Interim Results from a Phase 1 Combination Therapy Trial With GVAX(R) Immuno-therapy for Prostate Cancer and Ipilimumab (MDX-010) Antibody. Media Release: 3 Jun 2006. Available from URL: http://www.cellgenesys.com

43.

Bristol-Myers Squibb Company. Phase III Study of Investigational Compound Ipilimumab Achieves Primary Endpoint of Improvement in Overall Survival in Previously-Untreated Patients with Metastatic Melanoma. Media Release: 22 Mar 2011. Available from URL: http://www.bms.com

44.

Medarex Inc. Medarex Highlights Oncology Pipeline at Needham Cancer Therapeutics Conference in New York City. Media Release: 26 Mar 2009. Available from URL: http://www.medarex.com

45.

Medarex Inc. Medarex Announces Ipilimumab Program Continues to Move Forward. Media Release: 3 Apr 2008. Available from URL: http://www.medarex.com

46.

Medarex Inc. Medarex Announces Special Protocol Assessment Agreement With the FDA to Initiate Registrational Trial for Ipilimumab (MDX-010) Combination With Chemotherapy in First-Line Metastatic Melanoma Patients. Media Release: 19 Jun 2006. Available from URL: http://www.medarex.com

47.

Medarex Inc. Medarex Announces FDA Fast Track Designations for Ipilimumab for the Treatment of Metastatic Melanoma; Fast Track Designations for First-Line Use in Combination With Chemotherapy and Second-Line Use as Monotherapy. Media Release: 7 Dec 2006. Available from URL: http://www.medarex.com
About this article
Cite this article
Cameron, F., Whiteside, G. & Perry, C. Ipilimumab. Drugs 71, 1093–1104 (2011). https://doi.org/10.2165/11594010-000000000-00000
Keywords
Melanoma

Budesonide

Metastatic Melanoma

Ipilimumab

Dacarbazine