Abstract
Photo-induced drug eruptions are cutaneous adverse events due to exposure to a drug and either ultraviolet or visible radiation. Based on their pathogenesis, they can be classified as phototoxic or photoallergic drug eruptions, although in many cases it is not possible to determine whether a particular eruption is due to a phototoxic or photoallergic mechanism.
In this review, the diagnosis, prevention and management of drug-induced photosensitivity are discussed. Diagnosis is based primarily on the history of drug intake and the clinical appearance of the eruption, primarily affecting sun-exposed areas of the skin. Phototesting and photopatch testing can be useful adjuncts in making a diagnosis. The mainstay of management is prevention, including informing patients of the possibility of increased sun sensitivity and the use of sun protective measures. However, once the eruption has occurred, it may be necessary to discontinue the culprit medication and treat the eruption with a potent topical corticosteroid. Drugs that have been implicated in causing photosensitive eruptions are reviewed. Tetracycline, doxycycline, nalidixic acid, voriconazole, amiodarone, hydrochlorothiazide, naproxen, piroxicam, chlorpromazine and thioridazine are among the most commonly implicated medications. We review the medical literature regarding evidence for the culpability of each drug, including the results of phototesting, photopatch testing and rechallenge testing.
Access options
Buy single article
Instant access to the full article PDF.
US$ 49.95
Tax calculation will be finalised during checkout.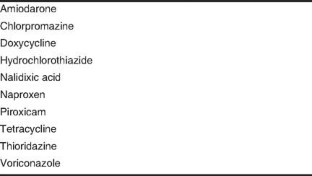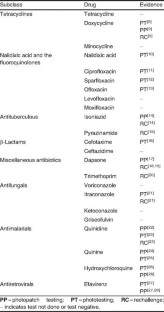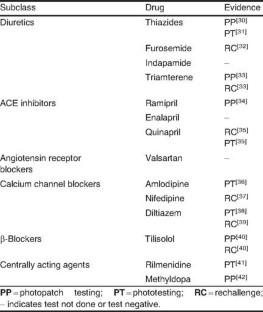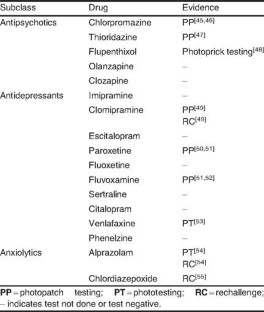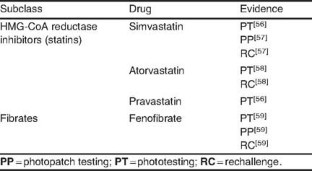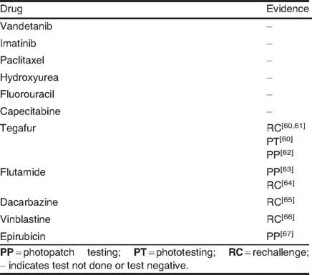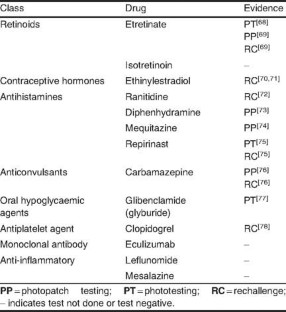 References
1.

Selvaag E. Clinical drug photosensitivity: a retrospective analysis of reports to the Norwegian Adverse Drug Reactions Committee from the years 1970–1994. Photodermatol Photoimmunol Photomed 1997 Feb–Apr; 13(1–2): 21–3

2.

Willis I, Kligman AM. The mechanism of photoallergic contact dermatitis. J Invest Dermatol 1968 Nov; 51(5): 378–84

3.

Bolognia J, Jorizzo JL, Rapini RP. Dermatology. 2nd ed. St Louis (MO), London: Mosby Elsevier, 2008

4.

Spielmann H, Balls M, Brand M, et al. EEC/COLIPA project on in vitro phototoxicity testing: first results obtained with a Balb/c 3T3 cell phototoxicity assay. Toxicol In Vitro 1994 Aug; 8(4): 793–6

5.

Traynor NJ, Barratt MD, Lovell WW, et al. Comparison of an in vitro cellular phototoxicity model against controlled clinical trials of fluoroquinolone skin phototoxicity. Toxicol In Vitro 2000 Jun; 14(3): 275–83

6.

DeLeo VA, Suarez SM, Maso MJ. Photoallergic contact dermatitis: results of photopatch testing in New York, 1985 to 1990. Arch Dermatol 1992 Nov; 128(11): 1513–8

7.

Kerr A, Shareef M, Dawe R, et al. Photopatch testing negative in systemic quinine phototoxicity. Photodermatol Photoimmunol Photomed 2010 Jun; 26(3): 151–2

8.

Moore DE. Drug-induced cutaneous photosensitivity: incidence, mechanism, prevention and management. Drug Saf 2002;25(5):345–72

9.

Tanaka N, Kawada A, Ohnishi Y, et al. Photosensitivity due to doxycycline hydrochloride with an unusual flare. Contact Dermatitis 1997 Aug; 37(2): 93–4

10.

Ramsay CA, Obreshkova E. Photosensitivity from nalidixic acid. Br J Dermatol 1974 Nov; 91(5): 523–8

11.

Ferguson J, Johnson BE. Ciprofloxacin-induced photosensitivity: in vitro and in vivo studies. Br J Dermatol 1990 Jul; 123(1): 9–20

12.

Tokura Y, Iwamoto Y, Mizutani K, et al. Sparfloxacin phototoxicity: potential photoaugmentation by ultraviolet A and B sources. Arch Dermatol Res 1996; 288(1): 45–50

13.

Scheife RT, Cramer WR, Decker EL. Photosensitizing potential of ofloxacin. Int J Dermatol 1993 Jun; 32(6): 413–6

14.

Lee AY, Jung SY. Two patients with isoniazid-induced photosensitive lichenoid eruptions confirmed by photopatch test. Photodermatol Photoimmunol Photomed 1998 Apr; 14(2): 77–8

15.

Katiyar SK, Bihari S, Prakash S. Pyrazinamide-induced phototoxicity: a case report and review of literature. Indian J Dermatol 2010; 55(1): 113–5

16.

Borgia F, Vaccaro M, Guarneri F, et al. Photodistributed telangiectasia following use of cefotaxime. Br J Dermatol 2000 Sep; 143(3): 674–5

17.

Stockel S, Meurer M, Wozel G. Dapsone-induced photodermatitis in a patient with linear IgA dermatosis. Eur J Dermatol 2001 Jan–Feb; 11(1): 50–3

18.

De D, Dogra S, Kaur I. Dapsone induced acute photosensitivity dermatitis; a case report and review of literature. Lepr Rev 2007 Dec; 78(4): 401–4

19.

Kar BR. Dapsone-induced photosensitivity: a rare clinical presentation. Photodermatol Photoimmunol Photomed 2008 Oct; 24(5): 270–1

20.

Chandler MJ. Recurrence of phototoxic skin eruption due to trimethoprim [letter]. J Infect Dis 1986 May; 153(5): 1001

21.

Alvarez-Fernandez JG, Castano-Suarez E, Cornejo-Navarro P, et al. Photosensitivity induced by oral itraconazole. J Eur Acad Dermatol Venereol 2000 Nov; 14(6): 501–3

22.

Lang Jr PG. Quinidine-induced photodermatitis confirmed by photopatch testing. J Am Acad Dermatol 1983 Jul; 9(1): 124–8

23.

Armstrong RB, Leach EE, Whitman G, et al. Quinidine photosensitivity. Arch Dermatol 1985 Apr; 121(4): 525–8

24.

Ljunggren B, Hindsen M, Isaksson M. Systemic quinine photosensitivity with photoepicutaneous cross-reactivity to quinidine. Contact Dermatitis 1992 Jan; 26(1): 1–4

25.

Ferguson J, Addo HA, Johnson BE, et al. Quinine-induced photosensitivity: clinical and experimental studies. Br J Dermatol 1987 Nov; 117(5): 631–40

26.

Lisi P, Assalve D, Hansel K. Phototoxic and photoallergic dermatitis caused by hydroxychloroquine. Contact Dermatitis 2004 Apr; 50(4): 255–6

27.

Treudler R, Husak R, Raisova M, et al. Efavirenz-induced photoallergic dermatitis in HIV. AIDS 2001 May 25; 15(8): 1085–6

28.

Yoshimoto E, Konishi M, Takahashi K, et al. The first case of efavirenz-induced photosensitivity in a Japanese patient with HIV infection. Intern Med 2004 Jul; 43(7): 630–1

29.

Bergner T, Przybilla B. Photosensitization caused by ibuprofen. J Am Acad Dermatol 1992 Jan; 26(1): 114–6

30.

White IR. Photopatch test in a hydrochlorothiazide drug eruption [letter]. Contact Dermatitis 1983 May; 9(3): 237

31.

Addo HA, Ferguson J, Frain-Bell W. Thiazide-induced photosensitivity: a study of 33 subjects. Br J Dermatol 1987 Jun; 116(6): 749–60

32.

Heydenreich G, Pindborg T, Schmidt H. Bullous dermatosis among patients with chronic renal failure of high dose frusemide. Acta Med Scand 1977; 202(1–2): 61–4

33.

Fernandez de Corres L, Bernaola G, Fernandez E, et al. Photodermatitis from triamterene. Contact Dermatitis 1987 Aug; 17(2): 114–5

34.

Wagner SN, Welke F, Goos M. Occupational UVA-induced allergic photodermatitis in a welder due to hydrochlorothiazide and ramipril. Contact Dermatitis 2000 Oct; 43(4): 245–6

35.

Rodriguez Granados MT, Abalde T, Garcia Doval I, et al. Systemic photosensitivity to quinapril. J Eur Acad Dermatol Venereol 2004 May; 18(3): 389–90

36.

Collins P, Ferguson J. Photodistributed nifedipine-induced facial telangiectasia. Br J Dermatol 1993 Nov; 129(5): 630–3

37.

Zenarola P, Gatti S, Lomuto M. Photodermatitis due to nifedipine: report of 2cases. Dermatologica 1991; 182(3): 196–8

38.

Scherschun L, Lee MW, Lim HW. Diltiazem-associated photodistributed hyperpigmentation: a review of 4 cases. Arch Dermatol 2001 Feb; 137(2): 179–82

39.

Seggev JS, Lagstein Z. Photosensitivity skin reactions to calcium channel blockers. J Allergy Clin Immunol 1996 Mar; 97(3): 852–5

40.

Miyauchi H, Horiki S, Horio T. Clinical and experimental photosensitivity reaction to tilisolol hydrochloride. Photodermatol Photoimmunol Photomed 1994 Dec; 10(6): 255–8

41.

Mota AV, Vasconcelos C, Correia TM, et al. Rilmenidineinduced photosensitivity reaction. Photodermatol Photoimmunol Photomed 1998 Jun–Aug; 14(3-4): 132–3

42.

Vaillant L, Le Marchand D, Grognard C, et al. Photosensitivity to methyldopa. Arch Dermatol 1988 Mar; 124(3): 326–7

43.

Zachary CB, Slater DN, Holt DW, et al. The pathogenesis of amiodarone-induced pigmentation and photosensitivity. Br J Dermatol 1984 Apr; 110(4): 451–6

44.

Ferguson J, Addo HA, Jones S, et al. A study of cutaneous photosensitivity induced by amiodarone. Br J Dermatol 1985 Nov; 113(5): 537–49

45.

Matsuo I, Ozawa A, Niizuma K, et al. Lichenoid dermatitis due to chlorpromazine phototoxicity. Dermatologica 1979; 159(1): 46–9

46.

Raffle EJ, MacLeod TM, Hutchinson F, et al. Chlorpromazine photosensitivity [letter]. Arch Dermatol 1975 Oct; 111(10): 1364–5

47.

Rohrborn W, Brauninger W. Thioridazine photoallergy [letter]. Contact Dermatitis 1987 Oct; 17(4): 241

48.

Bourrain JL, Paillet C, Woodward C, et al. Diagnosis of photosensitivity to flupenthixol by photoprick testing. Photodermatol Photoimmunol Photomed 1997 Aug; 13(4): 159–61

49.

Ljunggren B, Bojs G. A case of photosensitivity and contact allergy to systemic tricyclic drugs, with unusual features. Contact Dermatitis 1991 Apr; 24(4): 259–65

50.

Vilaplana J, Botey E, Lecha M, et al. Photosensitivity induced by paroxetine. Contact Dermatitis 2002 Aug; 47(2): 118–9

51.

Doffoel-Hantz V, Boulitrop-Morvan C, Sparsa A, et al. Photosensitivity associated with selective serotonin reuptake inhibitors. Clin Exp Dermatol 2009 Dec; 34(8): e763–5

52.

Gillet-Terver MN, Modiano P, Trechot P, et al. Fluvoxamine photosensitivity [letter]. Australas J Dermatol 1996 Feb; 37(1): 62

53.

Vaccaro M, Borgia F, Barbuzza O, et al. Photodistributed eruptive telangiectasia: an uncommon adverse drug reaction to venlafaxine. Br J Dermatol 2007 Oct; 157(4): 822–4

54.

Watanabe Y, Kawada A, Ohnishi Y, et al. Photosensitivity due to alprazolam with positive oral photochallenge test after 17 days administration. J Am Acad Dermatol 1999 May; 40 (5 Pt 2): 832–3

55.

Luton EF, Finchum RN. Photosensitivity reaction to chlordiazepoxide. Arch Dermatol 1965 Apr; 91(4): 362–3

56.

Rodriguez-Pazos L, Sanchez-Aguilar D, Rodriguez-Granados MT, et al. Erythema multiforme photoinduced by statins. Photodermatol Photoimmunol Photomed 2010 Aug; 26(4): 216–8

57.

Granados MT, de la Torre C, Cruces MJ, et al. Chronic actinic dermatitis due to simvastatin. Contact Dermatitis 1998 May; 38(5): 294–5

58.

Marguery MC, Chouini-Lalanne N, Drugeon C, et al. UVB phototoxic effects induced by atorvastatin. Arch Dermatol 2006 Aug; 142(8): 1082–4

59.

Machet L, Vaillant L, Jan V, et al. Fenofibrate-induced photosensitivity: value of photopatch testing. J Am Acad Dermatol 1997 Nov; 37 (5 Pt 1): 808–9

60.

Horio T, Murai T, Ikai K. Photosensitivity due to a fluorouracil derivative. Arch Dermatol 1978 Oct; 114(10): 1498–500

61.

Usuki A, Funasaka Y, Oka M, et al. Tegafur-induced photosensitivity: evaluation of provocation by UVB irradiation. Int J Dermatol 1997 Aug; 36(8): 604–6

62.

Horio T, Yokoyama M. Tegaful photosensitivity: lichenoid and eczematous types. Photodermatol 1986 Jun; 3(3): 192–3

63.

Martin-Lazaro J, Bujan JG, Arrondo AP, et al. Is photopatch testing useful in the investigation of photosensitivity due to flutamide? Contact Dermatitis 2004 May; 50(5): 325–6

64.

Yokote R, Tokura Y, Igarashi N, et al. Photosensitive drug eruption induced by flutamide. Eur J Dermatol 1998 Sep; 8(6): 427–9

65.

Yung CW, Winston EM, Lorincz AL. Dacarbazineinduced photosensitivity reaction. J Am Acad Dermatol 1981 May; 4(5): 541–3

66.

Breza TS, Halprin KM, Taylor JR. Photosensitivity reaction to vinblastine. Arch Dermatol 1975 Sep; 111(9): 1168–70

67.

Balabanova MB. Photoprovoked erythematobullous eruption from farmorubicin. Contact Dermatitis 1994 May; 30(5): 303–4

68.

Ferguson J, Johnson BE. Retinoid associated phototoxicity and photosensitivity. Pharmacol Ther 1989; 40(1): 123–35

69.

Seishima M, Shibuya Y, Kato G, et al. Photoleukomelanoderma possibly caused by etretinate in a patient with psoriasis. Acta Derm Venereol 2010; 90(1): 85–6

70.

Gomez-Bernal S, Loureiro M, Rodriguez-Granados MT, et al. Systemic photosensitivity due to a contraceptive patch. Photodermatol Photoimmunol Photomed 2010 Aug; 26(4): 213–5

71.

Cooper SM, George S. Photosensitivity reaction associated with use of the combined oral contraceptive. Br J Dermatol 2001 Mar; 144(3): 641–2

72.

Kondo S, Kagaya M, Yamada Y, et al. UVB photosensitivity due to ranitidine. Dermatology 2000; 201(1): 71–3

73.

Horio T. Allergic and photoallergic dermatitis from diphenhydramine. Arch Dermatol 1976 Aug; 112(8): 1124–6

74.

Kim TH, Kang JS, Lee HS, et al. Two cases of mequitazineinduced photosensitivity reactions. Photodermatol Photoimmunol Photomed 1995 Aug; 11(4): 170–3

75.

Kurumaji Y, Shono M. Drug-induced solar urticaria due to repirinast. Dermatology 1994; 188(2): 117–21

76.

Yasuda S, Mizuno N, Kawabe Y, et al. Photosensitive lichenoid reaction accompanied by nonphotosensitive subacute prurigo caused by carbamazepine. Photodermatol 1988 Oct; 5(5): 206–10

77.

Sun CC. Photosensitivity due to glyburide. Photodermatol 1988 Feb; 5(1): 42–5

78.

Dogra S, Kanwar AJ. Clopidogrel bisulphate-induced photosensitive lichenoid eruption: first report. Br J Dermatol 2003 Mar; 148(3): 609–10

79.

Kestel Jr JL. Photo-onycholysis from minocycline: side effects of minocycline therapy. Cutis 1981 Jul; 28(1): 53–4

80.

Ibsen HH, Lasthein Andersen B. Photo-onycholysis due to tetracycline-hydrochloride. Acta Derm Venereol 1983; 63(6): 555–7

81.

Epstein JH, Seibert JS. Porphyria-like cutaneous changes induced by tetracycline hydrochloride photosensitization. Arch Dermatol 1976 May; 112(5): 661–6

82.

Yap LM, Foley PA, Crouch RB, et al. Drug-induced solar urticaria due to tetracycline. Australas J Dermatol 2000 Aug; 41(3): 181–4

83.

Henderson CA, Cunliffe WJ. Unusual side-effects in patients receiving doxycycline. J Dermatolog Treat 1989 Jan 1989; 1(2): 95–6

84.

Layton AM, Cunliffe WJ. Phototoxic eruptions due to doxycycline: a dose-related phenomenon. Clin Exp Dermatol 1993 Sep; 18(5): 425–7

85.

Yong CK, Prendiville J, Peacock DL, et al. An unusual presentation of doxycycline-induced photosensitivity. Pediatrics 2000 Jul; 106(1): E13

86.

Burry JN. Persistent phototoxicity due to nalidixic acid [letter]. Arch Dermatol 1974 Feb; 109(2): 263

87.

Birkett DA, Garretts M, Stevenson CJ. Phototoxic bullous eruptions due to nalidixic acid. Br J Dermatol 1969 May; 81(5): 342–4

88.

Mehlhorn AJ, Brown DA. Safety concerns with fluoroquinolones. Ann Pharmacother 2007 Nov; 41(11): 1859–66

89.

Urbina F, Barrios M, Sudy E. Photolocalized purpura during ciprofloxacin therapy. Photodermatol Photoimmunol Photomed 2006 Apr; 22(2): 111–2

90.

Burdge DR, Nakielna EM, Rabin HR. Photosensitivity associated with ciprofloxacin use in adult patients with cystic fibrosis [letter]. Antimicrob Agents Chemother 1995 Mar; 39(3): 793

91.

Jensen T, Pedersen SS, Nielsen CH, et al. The efficacy and safety of ciprofloxacin and ofloxacin in chronic Pseudomonas aeruginosa infection in cystic fibrosis. J Antimicrob Chemother 1987 Oct; 20(4): 585–94

92.

Hamanaka H, Mizutani H, Shimizu M. Sparfloxacininduced photosensitivity and the occurrence of a lichenoid tissue reaction after prolonged exposure. J Am Acad Dermatol 1998 Jun; 38 (6Pt 1): 945–9

93.

Mahajan VK, Sharma NL. Photo-onycholysis due to sparfloxacin. Australas J Dermatol 2005 May; 46(2): 104–5

94.

Dawe RS, Ibbotson SH, Sanderson JB, et al. A randomized controlled trial (volunteer study) of sitafloxacin, enoxacin, levofloxacin and sparfloxacin phototoxicity. Br J Dermatol 2003 Dec; 149(6): 1232–41

95.

Liu HH. Safety profile of the fluoroquinolones: focus on levofloxacin. Drug Saf 2010 May 1; 33(5): 353–69

96.

Man I, Murphy J, Ferguson J. Fluoroquinolone phototoxicity: a comparison of moxifloxacin and lomefloxacin in normal volunteers. J Antimicrob Chemother 1999 May; 43 Suppl. B: 77–82

97.

Van Bambeke F, Tulkens PM. Safety profile of the respiratory fluoroquinolone moxifloxacin: comparison with other fluoroquinolones and other antibacterial classes. Drug Saf 2009; 32(5): 359–78

98.

Baran R, Brun P. Photoonycholysis induced by the fluoroquinolones pefloxacine and ofloxacine: report on 2 cases. Dermatologica 1986; 173(4): 185–8

99.

Vinks SA, Heijerman HG, de Jonge P, et al. Photosensitivity due to ambulatory intravenous ceftazidime in cystic fibrosis patient. Lancet 1993 May 8; 341(8854): 1221–2

100.

Dhanapaul S. DDS-induced photosensitivity with reference to six case reports. Lepr Rev 1989 Jun; 60(2): 147–50

101.

Fumey SM. Dapsone-induced photodermatitis in a patient with leprosy. Z Hautkr 1988 Jan 18; 63(1): 53–4

102.

Joseph MS. Photodermatitis provoked by dapsone: a case report. Lepr Rev 1987 Dec; 58(4): 425–8

103.

Tolland JP, McKeown PP, Corbett JR. Voriconazoleinduced pseudoporphyria. Photodermatol Photoimmunol Photomed 2007 Feb; 23(1): 29–31

104.

Rubenstein M, Levy ML, Metry D. Voriconazole-induced retinoid-like photosensitivity in children. Pediatr Dermatol 2004 Nov–Dec; 21(6): 675–8

105.

Racette AJ, Roenigk Jr HH, Hansen R, et al. Photoaging and phototoxicity from long-term voriconazole treatment in a 15-year-old girl. J Am Acad Dermatol 2005 May; 52 (5 Suppl. 1): S81–5

106.

Kwong WT, Hsu S. Pseudoporphyria associated with voriconazole. J Drugs Dermatol 2007 Oct; 6(10): 1042–4

107.

Frisch S, Askari SK, Beaty SR, et al. X-linked chronic granulomatous disease with voriconazole-induced photosensitivity/ photoaging reaction. J Drugs Dermatol 2010 May; 9(5): 562–4

108.

Frick MA, Soler-Palacin P, Nalda AM, et al. Photosensitivity in immunocompromised patients receiving long-term therapy with oral voriconazole. Pediatr Infect Dis J 2010 May; 29(5): 480–1

109.

Patel AR, Turner ML, Baird K, et al. Voriconazoleinduced phototoxicity masquerading as chronic graftversus-host disease of the skin in allogeneic hematopoietic cell transplant recipients. Biol Blood Marrow Transplant 2009 Mar; 15(3): 370–6

110.

Miller DD, Cowen EW, Nguyen JC, et al. Melanoma associated with long-term voriconazole therapy: a new manifestation of chronic photosensitivity. Arch Dermatol 2010 Mar; 146(3): 300–4

111.

McCarthy KL, Playford EG, Looke DF, et al. Severe photosensitivity causing multifocal squamous cell carcinomas secondary to prolonged voriconazole therapy. Clin Infect Dis 2007 Mar 1; 44(5): e55–6

112.

Cowen EW, Nguyen JC, Miller DD, et al. Chronic phototoxicity and aggressive squamous cell carcinoma of the skin in children and adults during treatment with voriconazole. J Am Acad Dermatol 2010 Jan; 62(1): 31–7

113.

Stern RS, Nichols KT, Vakeva LH. Malignant melanoma in patients treated for psoriasis with methoxsalen (psoralen) and ultraviolet A radiation (PUVA). The PUVA Follow-Up Study. N Engl J Med 1997 Apr 10; 336(15): 1041–5

114.

Stern RS, Lunder EJ. Risk of squamous cell carcinoma and methoxsalen (psoralen) and UV-A radiation (PUVA): a meta-analysis. Arch Dermatol 1998 Dec; 134(12): 1582–5

115.

Mohamed KN. Severe photodermatitis during ketoconazole therapy [letter]. Clin Exp Dermatol 1988 Jan; 13(1): 54

116.

Vassileva SG, Mateev G, Parish LC. Antimicrobial photosensitive reactions. Arch Intern Med 1998 Oct; 158(18): 1993–2000

117.

Dawson TA. Quinine lichenoid photosensitivity. Clin Exp Dermatol 1986 Nov; 11(6): 670–1

118.

Guzzo C, Kaidbey K. Persistent light reactivity from systemic quinine. Photodermatol Photoimmunol Photomed 1990 Aug; 7(4): 166–8

119.

Ljunggren B, Sjovall P. Systemic quinine photosensitivity. Arch Dermatol 1986 Aug; 122(8): 909–11

120.

Meyrick Thomas RH, Munro DD. Lichen planus in a photosensitive distribution due to quinine. Clin Exp Dermatol 1986 Jan; 11(1): 97–101

121.

Tan SV, Berth-Jones J, Burns DA. Lichen planus and photo-onycholysis induced by quinine [letter]. Clin Exp Dermatol 1989 Jul; 14(4): 335

122.

Singh G, Fries JF, Williams CA, et al. Toxicity profiles of disease modifying antirheumatic drugs in rheumatoid arthritis. J Rheumatol 1991 Feb; 18(2): 188–94

123.

Newell A, Avila C, Rodgers ME. Photosensitivity reaction of efavirenz [letter]. Sex Transm Infect 2000 Jun; 76(3): 221

124.

Pappert A, Grossman M, DeLeo V. Photosensitivity as the presenting illness in four patients with human immunodeficiency viral infection. Arch Dermatol 1994 May; 130(5): 618–23

125.

Stern RS, Bigby M. An expanded profile of cutaneous reactions to nonsteroidal anti-inflammatory drugs: reports to a specialty-based system for spontaneous reporting of adverse reactions to drugs. JAMA 1984 Sep 21; 252(11): 1433–7

126.

Levy ML, Barron KS, Eichenfield A, et al. Naproxeninduced pseudoporphyria: a distinctive photodermatitis. J Pediatr 1990 Oct; 117(4): 660–4

127.

Chishiki M, Kawada A, Fujioka A, et al. Photosensitivity due to ampiroxicam. Dermatology 1997; 195(4): 409–10

128.

Ingrish G, Rietschel RL. Oxaprozin-induced pseudoporphyria. Arch Dermatol 1996 Dec; 132(12): 1519–20

129.

Cron RQ, Finkel TH. Nabumetone induced pseudoporphyria in childhood. J Rheumatol 2000 Jul; 27(7): 1817–8

130.

Krischer J, Scolari F, Kondo-Oestreicher M, et al. Pseudoporphyria induced by nabumetone. J Am Acad Dermatol 1999 Mar; 40(3): 492–3

131.

Cummins R, Wagner-Weiner L, Paller A. Pseudoporphyria induced by celecoxib in a patient with juvenile rheumatoid arthritis. J Rheumatol 2000 Dec; 27(12): 2938–40

132.

Yazici AC, Baz K, Ikizoglu G, et al. Celecoxib-induced photoallergic drug eruption. Int J Dermatol 2004 Jun; 43(6): 459–61

133.

Al-Khenaizan S, Schechter JF, Sasseville D. Pseudoporphyria induced by propionic acid derivatives. J Cutan Med Surg 1999 Jan; 3(3): 162–6

134.

Johnston GA. Thiazide-induced lichenoid photosensitivity. Clin Exp Dermatol 2002 Nov; 27(8): 670–2

135.

Robinson HN, Morison WL, Hood AF. Thiazide diuretic therapy and chronic photosensitivity. Arch Dermatol 1985 Apr; 121(4): 522–4

136.

Burry JN, Lawrence JR. Phototoxic blisters from high frusemide dosage. Br J Dermatol 1976 May; 94(5): 495–9

137.

Rutherford T, Sinclair R. Photo-onycholysis due to indapamide. Australas J Dermatol 2007 Feb; 48(1): 35–6

138.

Kanwar AJ, Dhar S, Ghosh S. Photosensitive lichenoid eruption due to enalapril [letter]. Dermatology 1993; 187(1): 80

139.

Frye CB, Pettigrew TJ. Angioedema and photosensitive rash induced by valsartan. Pharmacotherapy 1998 Jul–Aug; 18(4): 866–8

140.

Grabczynska SA, Cowley N. Amlodipine inducedphotosensitivity presenting as telangiectasia. Br J Dermatol 2000 Jun; 142(6): 1255–6

141.

Basarab T, Yu R, Jones RR. Calcium antagonist-induced photo-exposed telangiectasia. Br J Dermatol 1997 Jun; 136(6): 974–5

142.

Boyer M, Katta R, Markus R. Diltiazem-induced photodistributed hyperpigmentation. Dermatol Online J 2003 Dec; 9(5): 10

143.

Harris L, McKenna WJ, Rowland E, et al. Side effects of long-term amiodarone therapy. Circulation 1983 Jan; 67(1): 45–51

144.

Chalmers RJ, Muston HL, Srinivas V, et al. High incidence of amiodarone-induced photosensitivity in North-West England [short report]. Br Med J (Clin Res Ed) 1982 Jul 31; 285(6338): 341

145.

Rappersberger K, Honigsmann H, Ortel B, et al. Photosensitivity and hyperpigmentation in amiodarone-treated patients: incidence, time course, and recovery. J Invest Dermatol 1989 Aug; 93(2): 201–9

146.

Bongard V, Marc D, Philippe V, et al. Incidence rate of adverse drug reactions during long-term follow-up of patients newly treated with amiodarone. Am J Ther 2006 Jul–Aug; 13(4): 315–9

147.

Yones SS, O'Donoghue NB, Palmer RA, et al. Persistent severe amiodarone-induced photosensitivity. Clin Exp Dermatol 2005 Sep; 30(5): 500–2

148.

Trimble JW, Mendelson DS, Fetter BF, et al. Cutaneous pigmentation secondary to amiodarone therapy. Arch Dermatol 1983 Nov; 1149(11): 914–8

149.

Wolf R, Dorfman B, Krakowski A. Quinidine-induced lichenoid and eczematous photodermatitis. Dermatologica 1987; 174(6): 285–9

150.

Bruce S, Wolf Jr JE. Quinidine-induced photosensitive livedo reticularis-like eruption. J Am Acad Dermatol 1985 Feb; 12 (2 Pt 1): 332–6

151.

Satanove A, McIntosh JS. Phototoxic reactions induced by high doses of chlorpromazine and thioridazine. JAMA 1967 Apr 17; 200(3): 209–12

152.

Epstein JH, Brunsting LA, Petersen MC, et al. A study of photosensitivity occurring with chlorpromazine therapy. J Invest Dermatol 1957 May; 28(5): 329–38

153.

Gielen K, Goossens A. Occupational allergic contact dermatitis from drugs in healthcare workers. Contact Dermatitis 2001 Nov; 45(5): 273–9

154.

Lovell CR, Cronin E, Rhodes EL. Photocontact urticaria from chlorpromazine. Contact Dermatitis 1986 May; 14(5): 290–1

155.

Gregoriou S, Karagiorga T, Stratigos A, et al. Photoonycholysis caused by olanzapine and aripiprazole. J Clin Psychopharmacol 2008 Apr; 28(2): 219–20

156.

Howanitz E, Pardo M, Losonczy M. Photosensitivity to clozapine [letter]. J Clin Psychiatry 1995 Dec; 56(12): 589

157.

Sicari MC, Lebwohl M, Baral J, et al. Photoinduced dermal pigmentation in patients taking tricyclic antidepressants: histology, electron microscopy, and energy dispersive spectroscopy. J Am Acad Dermatol 1999 Feb; 40 (2 Pt 2): 290–3

158.

Walter-Ryan WG, Kern III EE, Shirriff JR, et al. Persistent photoaggravated cutaneous eruption induced by imipramine. JAMA 1985 Jul 19; 254(3): 357–8

159.

Ram-Wolf C, Mahe E, Saiag P. Escitalopram photoinduced erythroderma. J Eur Acad Dermatol Venereol 2008 Aug; 22(8): 1015–7

160.

Gaufberg E, Ellison JM. Photosensitivity reaction to fluoxetine [letter]. J Clin Psychiatry 1995 Oct; 56(10): 486

161.

Lin NC, Chou JY, Chen H, et al. Sertraline-induced photoallergic reaction. J Clin Psychopharmacol 2009 Feb; 29(1): 95–6

162.

Inaloz HS, Kirtak N, Herken H, et al. Citalopram-induced photopigmentation. J Dermatol 2001 Dec; 28(12): 742–5

163.

Case JD, Yusk JW, Callen JP. Photosensitive reaction to phenelzine: a case report. Photodermatol 1988 Apr; 5(2): 101–2

164.

Kanwar AJ, Gupta R, Das Mehta S, et al. Photosensitivity due to alprazolam [letter]. Dermatologica 1990; 181(1): 75

165.

Holme SA, Pearse AD, Anstey AV. Chronic actinic dermatitis secondary to simvastatin. Photodermatol Photoimmunol Photomed 2002 Dec; 18(6): 313–4

166.

Gardeazabal J, Gonzalez M, Izu R, et al. Phenofibrateinduced lichenoid photodermatitis. Photodermatol Photoimmunol Photomed 1993 Aug; 9(4): 156–8

167.

Leenutaphong V, Manuskiatti W. Fenofibrate-induced photosensitivity. J Am Acad Dermatol 1996 Nov; 35 (5 Pt 1): 775–7

168.

Chang CH, Chang JW, Hui CY, et al. Severe photosensitivity reaction to vandetanib. J Clin Oncol 2009 Sep 20; 27(27): e114–5

169.

Rousselot P, Larghero J, Raffoux E, et al. Photosensitization in chronic myelogenous leukaemia patients treated with imatinib mesylate. Br J Haematol 2003 Mar; 120(6): 1091–2

170.

Falkson G, Schulz EJ. Skin changes in patients treated with 5-fluorouracil. Br J Dermatol 1962 Jun; 74: 229–36

171.

Hague JS, Ilchyshyn A. Lichenoid photosensitive eruption due to capecitabine chemotherapy for metastatic breast cancer. Clin Exp Dermatol 2007 Jan; 32(1): 102–3

172.

Willey A, Glusac EJ, Bolognia JL. Photoeruption in a patient treated with capecitabine (Xeloda) for metastatic breast cancer [letter]. J Am Acad Dermatol 2002 Sep; 47(3): 453

173.

Tsoussis S, Vourliotaki I, Ekonomidou F, et al. Capecitabine as an alternative in a case of fluorouracil-induced photodermatitis. Clin Oncol (R Coll Radiol) 2006 Mar; 18(2): 158–9

174.

Cohen PR. Photodistributed erythema multiforme: paclitaxel-related, photosensitive conditions in patients with cancer. J Drugs Dermatol 2009 Jan; 8(1): 61–4

175.

Hussain S, Anderson DN, Salvatti ME, et al. Onycholysis as a complication of systemic chemotherapy: report of five cases associated with prolonged weekly paclitaxel therapy and review of the literature. Cancer 2000 May 15; 88(10): 2367–71

176.

Leon-Mateos A, Zulaica A, Caeiro JL, et al. Photo-induced granulomatous eruption by hydroxyurea. J Eur Acad Dermatol Venereol 2007 Nov; 21(10): 1428–9

177.

Buesa JM, Gracia M, Valle M, et al. Phase I trial of intermittent high-dose dacarbazine. Cancer Treat Rep 1984 Mar; 68(3): 499–504

178.

Serrano G, Aliaga A, Febrer I, et al. Dacarbazine-induced photosensitivity. Photodermatol 1989 Jun; 6(3): 140–1

179.

Leroy D, Dompmartin A, Szczurko C. Flutamide photosensitivity. Photodermatol Photoimmunol Photomed 1996 Oct; 12(5): 216–8

180.

Shah N, Zambidis ET. False-photosensitivity and transient hemiparesis following high-dose intravenous and intrathecal methotrexate for treatment of acute lymphoblastic leukemia. Pediatr Blood Cancer 2009 Jul; 53(1): 103–5

181.

Kharfan Dabaja MA, Morgensztern D, Markoe AM, et al. Radiation recall dermatitis induced by methotrexate in a patient with Hodgkin's disease. Am J Clin Oncol 2000 Oct; 23(5): 531–3

182.

Hird AE, Wilson J, Symons S, et al. Radiation recall dermatitis: case report and review of the literature. Curr Oncol 2008 Jan; 15(1): 53–62

183.

Wong RC, Gilbert M, Woo TY, et al. Photosensitivity and isotretinoin therapy. J Am Acad Dermatol 1986 Jun; 14(6): 1095–6

184.

Balagula Y, Newman SB, Lacouture ME. Photodermatosis associated with eculizumab (Soliris): a novel monoclonal antibody directed against the complement protein C 5. Am J Hematol 2010 May; 85(5): 392–3

185.

Rivarola de Gutierrez E, Abaca H. Photodistributed lichenoid drug eruption with rhabdomyolysis occurring during leflunomide therapy. Dermatology 2004; 208(3): 232–3

186.

Horiuchi Y, Shimakura S. Mesalazine and photosensitivity. Am J Gastroenterol 1999 Nov; 94(11): 3386–7

187.

Lowe NJ, Fakouhi TD, Stern RS, et al. Photoreactions with a fluoroquinolone antimicrobial: evening versus morning dosing. Clin Pharmacol Ther 1994 Nov; 56(5): 587–91

188.

Collins P, Ferguson J. Narrow-band UVB (TL-01) phototherapy: an effective preventative treatment for the photodermatoses. Br J Dermatol 1995 Jun; 132(6): 956–63
Acknowledgements
The authors have no relevant conflicts of interest to disclose and this work was conducted without any funding sources.
About this article
Cite this article
Drucker, A.M., Rosen, C.F. Drug-Induced Photosensitivity. Drug-Safety 34, 821–837 (2011). https://doi.org/10.2165/11592780-000000000-00000
Keywords
Voriconazole

Sparfloxacin

Etretinate

Tiaprofenic Acid

Rilmenidine