Abstract
Psychocutaneous disorders (PCDs) are conditions that are characterized by psychiatric and skin manifestations. Classifications of PCDs and their nomenclature are matters of debate. For the purpose of this review, we adopted the classification that distinguishes primary dermatologic disorders with psychiatric comorbidity (PDDPC) from primary psychiatric disorders with dermatologic manifestations (PPDDM). PDDPC includes the psychophysiologic disorders such as atopic eczema, psoriasis, vitiligo, and alopecia areata. PPDDM includes impulse control disorders, obsessive-compulsive disorders, factitious disorder, factitious disorder by proxy, self-mutilation, delusions of parasitosis, psychogenic purpura/Gardner- Diamond syndrome, and cutaneous sensory disorders. Diagnosis and treatment of PCDs are challenging and require that the underlying psychopathology be addressed. A specific PCD may have different underlying psychopathologies and, at times, multiple overlapping psychopathologies may coexist. Most often, both non-pharmacologic management and psychopharmacologic treatment are necessary. The choice of psychopharmacologic agent depends on the nature of the underlying psychopathology (e.g. anxiety, depression, obsessive-compulsive disorder, psychosis). This article reviews the spectrum of PPDDM in children.
Access options
Buy single article
Instant access to the full article PDF.
USD 49.95
Price excludes VAT (USA)
Tax calculation will be finalised during checkout.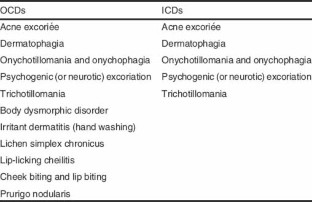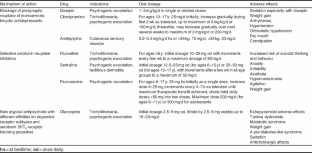 References
Lee CS, Accordino R, Howard J, et al. Psychopharmacology in dermatology. Dermatol Ther 2008; 21 (1): 69–82

Gupta MA, Gupta AK, Ellis CN. Psychiatric evaluation of the dermatology patient. Dermatol Clin 2005; 23: 591–9

Folks DG, Warnock JK. Psychocutaneous disorders. Curr Psychiatry Rep 2001; 3: 219–25

Jafferany M. Psychodermatology: a guide to understanding common psychocutaneous disorders. Prim Care Companion J Clin Psychiatry 2007; 9 (3): 203–13

Pacan P, Grzesiak M, Reich A, et al. Onychophagia as a spectrum of obsessivecompulsive disorder. Acta Derm Venereol 2009; 89 (3): 278–80

Grant JE, Mancebo MC, Eisen JL, et al. Impulse-control disorders in children and adolescentswith obsessive-compulsive disorder. Psychiatry Res 2010; 175: 109–13

American Psychiatric Association. Diagnostic and statistical manual of mental disorders. 4th ed., text revision. Washington, DC: American Psychiatric Association, 2000: 674–7

Tay YK, Levy ML, Metry DW. Trichotillomania in childhood: case series and review. Pediatrics 2004; 113: e494–8

Grant JE, Odlaug BL. Updates on pathological skin picking. Curr Psychiatry Rep 2009; 11 (4): 283–8

Monti M, Sambvani N, Sacrini F. Obsessive-compulsive disorders in dermatology. J Eur Acad Dermatol Venereol 1998; 11: 103–8

Stein DJ, Hollander E. Dermatology and conditions related to obsessivecompulsive disorder. J Am Acad Dermatol 1992; 26: 237–42

Leonard HL, Swedo SE, Lenane MC, et al. A 2- to 7-year follow-up study of 54 obsessive-compulsive children and adolescents. Arch Gen Psychiatry 1993; 50 (6): 429–39

Grados MA. The genetics of obsessive-compulsive disorder and Tourette syndrome: an epidemiological and pathway-based approach for gene discovery. J Am Acad Child Adolesc Psychiatry 2010 Aug; 49 (8): 810–9, 819.e1-2

Philips KA, Taub SL. Skin picking as a symptom of body dysmorphic disorder. Psychopharmacol Bull 1995; 31: 279–88

Phillips KA. Body dysmorphic disorder: the distress of imagined ugliness. Am J Psychiatry 1991; 148: 1138–49

Jafferany M, Feng Y, Hornung RL. Trichodaganomania: the compulsive habit of biting one's own skin. J Am Acad Dermatol 2009; 60 (4): 689–91

King RA, Scahill L, Vitulano LA, et al. Childhood trichotillomania: clinical phenomenology, comorbidity, and family genetics. J Am Acad Child Adolesc Psychiatry 1995; 34: 1451–9

Christenson GA. Trichotillomania: from prevalence to comorbidity. Psychiatr Times 1995; 12 (9): 44–8

Hautmann G, Hercogova J, Lotti T. Tricotillomania. J Am Acad Dermatol 2002; 46 (6): 807–21

Duke DC, Keeley ML, Geffken GR, et al. Trichotillomania: a current review. Clin Psychol Rev 2010; 30 (2): 181–93

Trueb RM, Cavegn B. Trichotillomania in connection with alopecia areata. Cutis 1996; 58 (1): 67–70

van Minnen A, Hoogduin KA, Keijsers GP, et al. Treatment of trichotillomania with behavioral therapy or fluoxetine: a randomized, waiting-list controlled study. Arch Gen Psychiatry 2003; 60: 517–22

Ninan PT, Rothbaum BO, Marsteller FA, et al. A placebo-controlled trial of cognitive-behavioral therapy and clomipramine in trichotillomania. J Clin Psychiatry 2000; 61: 47–50

Ashton AK. Olanzapine augmentation for trichotillomania. Am J Psychiatry 2001; 158: 1929–30

Carrion VG. Naltrexone for the treatment of trichotillomania: a case report. J Clin Psychopharmacol 1995; 15: 444–5

Seedat S, Stein DJ, Harvey BH. Inositol in the treatment of trichotillomania and compulsive skin picking. J Clin Psychiatry 2001; 62: 60–1

Arnold LM, Auchenbach MB, McElroy SL. Psychogenic excoriation: clinical features, proposed diagnostic criteria, epidemiology and approaches to treatment. CNS Drugs 2001; 15 (5): 351–9

Keuthen NJ, Deckersbach T, Wilhelm S, et al. Repetitive skin-picking in a student population and comparison with sample of self-injurious skin pickers. Psychosomatics 2000; 41 (3): 210–5

Sandoz A, Koenig T, Kusnir D, et al. Psychocutaneous disorders. In: Wolff K, Goldsmith LA, Katz SI, et al. Fitzpatrick's dermatology in general medicine. 7th ed. New York: McGraw Hill, 2008: 912–21

Gupta MA, Gupta AK, Haberman HF. Neurotic excoriations: a review and some new perspectives. Compr Psychiatry 1986; 27: 381–6

Mitropoulos P, Norton SA. Dermatophagia or dermatodaxia [letter]. J Am Acad Dermatol 2005; 53 (2): 365

Scott Jr MJ, Scott 3rd MJ. Dermatophagia 'wolf-biter'. Cutis 1997; 59 (1): 19–20

Ressmann AC, Butterworth T. Localized acquired hypertrichosis. AMA Arch Derm Syphilol 1952; 65 (4): 458–63

Tanaka OM, Vitral RW, Tanaka GY, et al. Nailbiting, or onychophagia: a special habit. Am J Orthod Dentofacial Orthop 2008; 134 (2): 305–8

Leung AK, Robson WL. Nailbiting. Clin Pediatr (Phila) 1990; 29: 690–2

Heaton KW, Mountford RA. Nail-biting in the population and its relationship to irritable bowel syndrome. J R Soc Med 1992; 85: 457

Williams TI, Rose R, Chisholm S. What is the function of nail biting: an analog assessment study. Behav Res Ther 2006; 45: 989–95

Penzel F. Skin picking and nail biting: related habits [online]. Available from URL: (http://westsuffolkpsych.homestead.Com/SkinPicking.html) [Accessed 2008 May 11]

Luker J. Diseases of the oral mucosa and tongue. In: Harper J, Oranje A, Prose N. Textbook of pediatric dermatology. 2nd ed. Boston (MA): Blackwell Scientific Publication, 2006: 1725–49

Gattu S, Rashid RM, Khachemoune A. Self-inflicted skin lesions: a review of dermatitis artefacta. Cutis 2009; 84 (5): 247–51

American Psychiatric Association. Diagnostic and statistical manual of mental disorders. 4th ed., text revision. Washington, DC: American Psychiatric Association, 2000: 513–7

Nielsen K, Jeppesen M, Simmelsgaard L, et al. Self-inflicted skin diseases: a retrospective analysis of 57 patients with dermatitis aretefacta seen in dermatology department. Acta Derm Venereol 2005; 85: 512–5

Schulze UM, Pettke-Rank CV, Kreienkamp M, et al. Dermatologic findings in anorexia and bulimia nervosa of childhood and adolescence. Pediatr Dermatol 1999; 16: 90–4

Koblenzer CS. Neurotic excoriations and dermatitis artefacta. Dermatol Clin 1996; 14 (3): 447–55

Sneddon I, Sneddon J. Self-inflicted injury: a follow up study of 43 patients. Br Med J 1975; 3: 527–30

Alcolado JC, Ray K, Baxter M, et al. Malignant change in dermatitis artefacta. Postgrad Med J 1993; 69: 648–50

Koblenzer CS. Dermatitis artefacta: clinical features and approaches to treatment. Am J Clin Dermatol 2000; 1: 47–55

Meadow R. Munchausen syndrome by proxy: the hinterland of child abuse. Lancet 1977; 2: 343–5

American Psychiatric Association. Diagnostic and statistical manual of mental disorders. 4th ed., text revision. Washington, DC: American Psychiatric Association, 2000: 781–3

Hall DE, Eubanks L, Meyyazhagan LS, et al. Evaluation of covert video surveillance in the diagnosis of Munchausen syndrome by proxy: lessons from 41 cases. Pediatrics 2000; 105 (6): 1305–12

Fabisch W. What is dermatitis artefacta? Int J Dermatol 1981; 20: 427–8

Gupta MA, Gupta AK. The use of antidepressant drugs in dermatology. J Eur Acad Dermatol Venereol 2001; 15: 512–8

Rodham K, Hawton K, Evans E. Reasons for deliberate self-harm: comparison of self-poisoners and self-cutters in a community sample of adolescence. J Am Acad Child Adolesc Psychiatry 2004; 43: 80–7

Lesch M, Nyhan WL. A familial disorder of uric acid metabolism and central nervous system function. Am J Med 1964; 36: 561–70

Bilo RA, Oranje AP. Physiological habits, self-mutilation and factitious disorders. In: Harper J, Oranje A, Prose N. Textbook of pediatric dermatology. 2nd ed. Boston (MA): Blackwell Scientific Publication, 2006: 2096–109

Gadoth ME. Oro-dental self-mutilation in familial dysautonomia. J Oral Pathol Med 1994; 23: 273–6

Trabert W. 100 years of delusions of parasitosis: meta-analysis of 1223 case reports. Psychopathology 1995; 28: 238–46

Wilson J, Miller HE. Delusions of parasitosis (acarophobia). Arch Derm Syphilol 1946; 54: 39–56

Edlich RF, Cross CL, Wack CA, et al. Delusions of parasitosis. Am J Emerg Med 2009; 27 (8): 997–9

Gardner FH, Diamond LK. Autoerythrocyte sensitization: a form of purpura producing painful bruising following autosensitization to red cells in certain women. Blood 1955; 10: 675–90

Hansen RC. Pediatric psychocutaneous disorders. Curr Opin Pediatr 1997; 9 (4): 367–71

Croch GS, Finch SC, Rogoway W, et al. Studies in the pathogenesis of autoerythrocyte sensitization syndrome. Blood 1966; 28 (1): 19–33

Elpern DJ. Toward a better understanding of "psychocutaneous disorders". Int J Dermatol 2009; 48 (12): 1395–6

Shenefelt PD. Therapeutic management of psychodermatological disorders. Expert Opin Pharmacother 2008; 9 (6): 973–85
Acknowledgments
No sources of funding were used to prepare this review. The authors have no conflicts of interest that are directly relevant to the content of this review.
About this article
Cite this article
Al Hawsawi, K., Pope, E. Pediatric Psychocutaneous Disorders. Am J Clin Dermatol 12, 247–257 (2011). https://doi.org/10.2165/11589040-000000000-00000
Published:

Issue Date:

DOI: https://doi.org/10.2165/11589040-000000000-00000
Keywords
Anorexia Nervosa

Bulimia Nervosa

Tourette Syndrome

Alopecia Areata

Impulse Control Disorder