Abstract
Drug-induced acne is a specific subset of acne that usually has some specific features, namely a monomorphic pattern, an unusual location of the lesions beyond the seborrheic areas, an unusual age of onset, a resistance to conventional acne therapy and, of course, the notion of a recent drug introduction. Many drugs can be responsible for such a clinical pattern. Corticosteroids, neuropsychotherapeutic drugs, antituberculosis drugs, and immunomodulating molecules are the more classical drugs associated with induced acne. Recently, new drugs, mainly targeted therapy in the field of oncology, such as epidermal growth factor receptor inhibitors, have been associated with an increased frequency of this adverse effect. Disruption of the culprit drug is rarely mandatory in cases of drug-induced acne. Close cooperation between the dermatologist and medical staff in charge of the patient is an important challenge to achieve optimal management of the initial disease.
Access options
Buy single article
Instant access to the full article PDF.
US$ 49.95
Tax calculation will be finalised during checkout.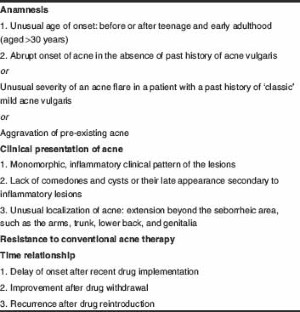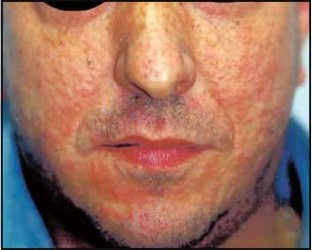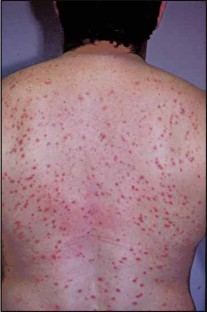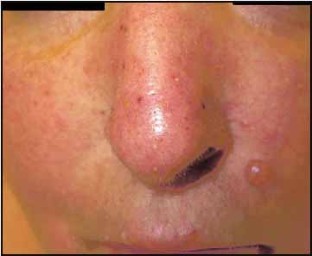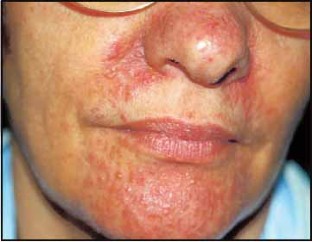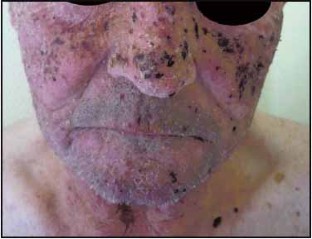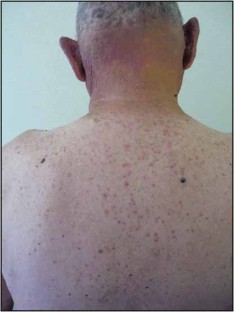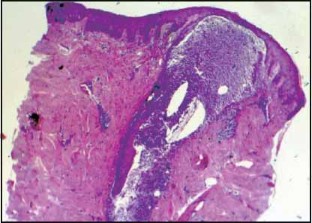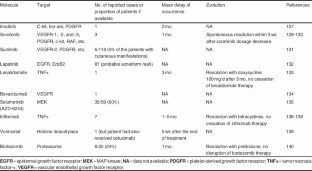 References
1.

Hitch JM. Acneform eruptions induced by drugs and chemicals. JAMA 1967; 200: 879–80

2.

Kligman AM, Plewig G. Classification of acne. Cutis 1976; 17: 520–2

3.

Brunner MS, Riddell Jr JM, Best WR. Cutaneous side effects of ACTH, cortisone, and pregnenolone therapy. J Invest Dermatol 1951; 16: 205–9

4.

Sullivan M, Zeligman I. Acneform eruption due to corticotropin. AMA Arch Dermatol 1956; 73: 133–41

5.

Plewig G, Kligman AM. Induction of acne by topical steroids. Arch Dermatol Forsch 1973; 247: 29–52

6.

Fung MA, Berger TG. A prospective study of acute-onset steroid acne associated with administration of intravenous corticosteroids. Dermatology 2000; 200: 43–4

7.

Monk B, Cunlife WJ, Layton AM, et al. Acne induced by inhaled corticosteroids. Clin Exp Derm 1993; 1: 148–50

8.

Guillot B. Adverse skin reactions to inhaled corticosteroids. Expert Opin Drug Saf 2002; 1: 325–9

9.

Bedane C, Souyri N. Induced acne. Ann Dermatol Venereol 1990; 117: 53–8

10.

Hurwitz RM. Steroid acne. J Am Acad Dermatol 1989; 21: 1179–81

11.

Fyrand O, Fiskaadal HJ, Trygstad O. Acne in pubertal boys undergoing treatment with androgens. Acta Derm Venereol 1992; 72: 148–9

12.

Heydenreich G. Testosterone and anabolic steroids and acne fulminans. Arch Dermatol 1989; 125: 571–2

13.

Melnik B, Jansen T, Grabbe S. Abuse of anabolic-androgenic steroids and bodybuilding acne: an underestimated health problem. J Dtsch Dermatol Ges 2007; 5: 110–7

14.

Gerber PA, Kukova G, Meller S, et al. The dire consequences of doping. Lancet 2008; 372: 1544

15.

Yildizbas B, Sahin HG, Kolusari A, et al. Side effects and acceptability of Implanon: a pilot study conducted in eastern Turkey. Eur J Contracept Reprod Health Care 2007; 12: 248–52

16.

Funk S, Miller MM, Mishell Jr DR, et al. Safety and efficacy of Implanon, a single-rod implantable contraceptive containing etonogestrel. Contraception 2005; 71: 319–26

17.

Gezginc K, Balci O, Karatayli R, et al. Contraceptive efficacy and side effects of Implanon. Eur J Contracept Reprod Health Care 2007; 12: 362–5

18.

Darney P, Patel A, Rosen K, et al. Safety and efficacy of a single-rod etonogestrel implant (Implanon): results from 11 international clinical trials. Fertil Steril 2009; 91: 1646–53

19.

Cohen EB, Rossen NN. Acne vulgaris in connection with the use of progestagens in a hormonal IUD or a subcutaneous implant [in Dutch]. Ned Tijdschr Geneeskd 2003; 147: 2137–9

20.

Ilse JR, Greenberg HL, Bennett DD. Levonorgestrel-releasing intrauterine system and new-onset acne [letter]. Cutis 2008; 82: 158

21.

Greenberg RD. Acne vulgaris associated with antigonadotropic (Danazol) therapy. Cutis 1979; 24: 431–3

22.

Thioly-Bensoussan D, Charpentier A, Triller R, et al. Iatrogenic acne caused by amineptin (Survector): apropos of 8 cases. Ann Dermatol Venereol 1988; 115: 1177–80

23.

Grupper C. New iatrogenic acne: acne caused by amineptin (Survector). Ann Dermatol Venereol 1988; 115: 1174–6

24.

Vexiau P, Gourmel B, Husson C, et al. Severe lesions of acne type induced by chronic amineptin poisoning: apropos of 6 cases. Ann Dermatol Venereol 1988; 115: 1180–2

25.

Teillac D, Weber MJ, Lowenstein W, et al. Acne caused by Survector [in French]. Ann Dermatol Venereol 1988; 115: 1183–4

26.

Lévigne V, Faisant M, Mourier CG, et al. Monstrous acne in the adult: inducer role of Survector? Ann Dermatol Venereol 1988; 115: 1184–5

27.

Vexiau P, Gourmel B, Julien R, et al. Severe acne-like lesions caused by amineptine overdose [letter]. Lancet 1988; 1: 585

28.

Vexiau P, Gourmel B, Castot A, et al. Severe acne due to chronic amineptine overdose. Arch Dermatol Res 1990; 282: 103–7

29.

Huet P, Dandurand M, Joujoux JM, et al. Acne induced by amineptin: adnexal toxiderma. Ann Dermatol Venereol 1996; 123: 817–20

30.

Duriot JF, Dutertre JP, Grenier JM, et al. Amineptin dependence and iatrogenic acne: review of the literature apropos of a case. Ann Med Psychol (Paris) 1991; 149: 795–7

31.

Farella V, Sberna F, Knöpfel B, et al. Acne-like eruption caused by amineptine. Int J Dermatol 1996; 35: 892–3

32.

Bettoli V, Trimurti S, Lombardi AR, et al. Acne due to amineptine abuse. J Eur Acad Dermatol Venereol 1998; 10: 281–3

33.

Grimalt R, Mascaró-Galy JM, Ferrando J, et al. Guess what? Macronodular iatrogenic acne due to amineptine. Eur J Dermatol 1999; 9: 491–2

34.

De Gálvez Aranda MV, Sánchez PS, Alonso Corral MJ, et al. Acneiform eruption caused by amineptine: a case report and review of the literature. J Eur Acad Dermatol Venereol 2001; 15: 337–9

35.

Ponte CD. Maprotiline induced acne. Am J Psychiatry 1982; 139: 141

36.

Ossofsky J. Amenorrhea in endogenous depression. Int Pharmacopsychiatry 1974; 9: 100–8

37.

Kusumi Y. A cutaneous side effect of lithium: report of two cases. Dis Nerv Syst 1971; 32: 853–4

38.

Ruíz-Maldonado R, Pérez de Francisco C, Tamayo L. Lithium dermatitis [letter]. JAMA 1973; 224: 1534

39.

Yoder FW. Acneiform eruption due to lithium carbonate [letter]. Arch Dermatol 1975; 111: 396–7

40.

Sarantidis D, Waters B. A review and controlled study of cutaneous conditions associated with lithium carbonate. Br J Psychiatry 1983; 143: 42–50

41.

Yeung CK, Chan HH. Cutaneous adverse effects of lithium: epidemiology and management. Am J Clin Dermatol 2004; 5: 3–8

42.

Heng MC. Lithium carbonate toxicity: acneiform eruption and other manifestations. Arch Dermatol 1982; 118: 246–8

43.

Jenkins RB, Ratner AC. Diphenyl hydantoin and acne [letter]. N Engl J Med 1972; 287: 148

44.

Frentz G. Acne and phenytoin [in Danish]. Ugeskr Laeger 1977; 139: 338–9

45.

Norris JF, Cunliffe WJ. Phenytoin-induced gum hypertrophy improved by isotretinoin. Int J Dermatol 1987; 26: 602–3

46.

Gunwald MH, Ben-Dor D, Livni E, et al. Acne keloidalis-like lesions on the scalp associated with antiepileptic drugs. Int J Dermatol 1990; 29: 559–61

47.

Nielsen JN, Licht RW, Fogh K. Two cases of acneiform eruption associated with lamotrigine. J Clin Psychiatry 2004; 65: 1720–2

48.

Hesse S, Berbis P, Lafforgue P, et al. Acne and enthesiopathy during antiepileptic treatment. Ann Dermatol Venereol 1992; 119: 655–8

49.

Greenwood R, Fenwick PB, Cunliffe WJ. Acne and anti-convulsants. Br Med J 1983; 287: 1669–70

50.

Mishra B, Praharaj SK, Prakash R, et al. Aripiprazole-induced acneiform eruption. Gen Hosp Psychiatry 2008; 30: 479–81

51.

Warnock JK, Morris DW. Adverse cutaneous reactions to antidepressants. Am J Clin Dermatol 2002; 3: 329–39

52.

Ade G. Poussées d'eczéma séborrhéique ou acné iforme probablement consécutives áun traitement ála vitamine B12 [letter]. Dermatologica 1958; 116: 366

53.

Dugois P, Amblard P, Imbert R, et al. Acne due to vitamin B12 [in French]. Bull Soc Fr Dermatol Syphiligr 1969; 76: 382–3

54.

Puissant A, Vanbremeersch F, Monfort J, et al. A new iatrogenic dermatosis: acne caused by vitamin B12 [in French]. Bull Soc Fr Dermatol Syphiligr 1967; 74: 813–5

55.

Dupré A, Albarel N, Bonafe JL, et al. Vitamin B-12 induced acnes. Cutis 1979; 24: 210–1

56.

Sheretz EF. Acneiform eruption due to 'megadose' vitamins B6 and B12. Cutis 1991; 48: 119–20

57.

Braun-Falco O, Lincke H. The problem of vitamin B6/B12 acne: a contribution on acne medicamentosa. MMW Munch Med Wochen Schr 1976; 118: 155–60

58.

Blatt J, Lee PA. Severe acne and hyperandrogenemia following dactinomycin. Med Pediatr Oncol 1993; 5: 373–4

59.

Schmoeckel C, von Liebe V. Acneiformexanthema caused by azathioprine [in German]. Hautarzt 1983; 34: 413–5

60.

Bencini PL, Montagnino G, Crosti C, et al. Cutaneous lesion in 67 cyclosporin-treated renal transplant recipients. Dermatologica 1986; 172: 24–30

61.

Strahan JE, Burch JM. Cyclosporine-induced infantile nodulocystic acne. Arch Dermatol 2009; 145: 797–9

62.

Richter A, Beideck S, Bender W, et al. Epidermal cysts and folliculitis caused by cyclosporin A [in German]. Hautarzt 1993; 44: 521–3

63.

el-Shahawy MA, Gadallah MF, Massry SG. Acne: a potential side effect of cyclosporine A therapy. Nephron 1996; 72: 679–82

64.

Carnero L, Silvestre JF, Guijarro J, et al. Nuchal acne keloidalis associated with cyclosporin. Br J Dermatol 2001; 144: 429–30

65.

Bunker CB, Rustin MH, Dowd PM. Isotretinoin treatment of severe acne in posttransplant patients taking cyclosporine. J Am Acad Dermatol 1990; 22: 693–4

66.

Abel EA. Isotretinoin treatment of severe cystic acne in a heart transplant patient receiving cyclosporine: consideration of drug interactions [letter]. J Am Acad Dermatol 1991; 24: 511

67.

Hazen PE, Walker AE, Stewart JJ, et al. Successful use of isotretinoin in a patient on cyclosporine: apparent lack of toxicity [letter]. Int J Dermatol 1993; 32: 466

68.

Mahé E, Morelon E, Lechaton S, et al. Acne in recipients of renal transplantation treated with sirolimus: clinical, microbiologic, histologic, therapeutic, and pathogenic aspects. J Am Acad Dermatol 2006; 55: 139–42

69.

Mahé E, Morelon E, Lechaton S, et al. Cutaneous adverse events in renal transplant recipients receiving sirolimus-based therapy. Transplantation 2005; 79: 476–82

70.

Lübbe J, Sorg O, Malé PJ, et al. Sirolimus-induced inflammatory papuleswith acquired reactive perforating collagenosis. Dermatology 2008; 216: 239–42

71.

Bakos L, Bakos RM. Focal acne during topical tacrolimus therapy for vitiligo. Arch Dermatol 2007; 143: 1223–4

72.

Li JC, Xu AE. Facial acne during topical pimecrolimus therapy for vitiligo. Clin Exp Dermatol 2009; 34: e489–90

73.

Bereston ES. Reactions to antituberculous drugs. J Invest Dermatol 1959; 33: 427–39

74.

Cohen LK, George W, Smith R. Isoniazid-induced acne and pellagra: occurrence in slow inactivators of isoniazid. Arch Dermatol 1974; 109: 377–81

75.

Oliwiecki S, Burton JL. Severe acne due to isoniazid. Clin Exp Dermatol 1988; 13: 283–4

76.

Holdiness MR. Adverse cutaneous reactions to antituberculosis drugs. Int J Dermatol 1985; 24: 280–5

77.

Hesse PG. Antitubercular therapy and acneiform exanthema [in German]. Dermatol Wochenschr 1966; 152: 305–12

78.

Nwokolo U. Acneiform lesions in combined rifampicin treatment in Africans [letter]. Br Med J 1974; 3: 473

79.

Levantine A, Almeyda J. Cutaneous reactions to antituberculosis drugs. Br J Dermatol 1972; 86: 651–5

80.

Papa CM. Acne and hidden iodides. Arch Dermatol 1976; 112: 55–6

81.

Rosenberg FR, Einbinder J, Walzer RA, et al. Vegetating iododerma: an immunologic mechanism. Arch Dermatol 1972; 105: 900–5

82.

Inman P. Proceedings: iododerma. Br J Dermatol 1974; 91: 709–11

83.

Kint A, Van Herpe L. Iododerma. Dermatologica 1977; 155: 171–3

84.

Heydenreich G, Larsen PO. Iododerma after high dose urography in an oliguric patient. Br J Dermatol 1977; 97: 567–9

85.

Belaïch S, Crickx B, Schwartz C, et al. Vegetating iododerma following lymphography. Ann Dermatol Venereol 1985; 112: 699–700

86.

Wilkin JK, Strobel D. Iododerma occurring during thyroid protection treatment. Cutis 1985; 36: 335–7

87.

Boudoulas O, Siegle RJ, Grimwood RE. Iododerma occurring after orally administered iopanoic acid. Arch Dermatol 1987; 123: 387–8

88.

Soria C, Allegue F, España A, et al. Vegetating iododerma with underlying systemic diseases: report of three cases. J Am Acad Dermatol 1990; 22: 418–22

89.

Vaillant L, Pengloan J, Blanchier D, et al. Iododerma and acute respiratory distress with leucocytoclastic vasculitis following the intravenous injection of contrast medium. Clin Exp Dermatol 1990; 15: 232–3

90.

Noonan MP, Williams CM, Elgart ML. Fungating pustular plaques in a patient with Graves' disease: iododerma. Arch Dermatol 1994; 130: 786–7, 789-90

91.

Alpay K, Kurkcuoglu N. Iododerma: an unusual side effect of iodide ingestion. Pediatr Dermatol 1996; 13: 51–3

92.

Ricci C, Krasovec M, Frenk E. Amiodarone induced iododerma treated by cyclosporine. Ann Dermatol Venereol 1997; 124: 260–3

93.

Miranda-Romero A, Sánchez-Sambucety P, Esquivias Gómez JI, et al. Vegetating iododerma with fatal outcome. Dermatology 1999; 198: 295–7

94.

Pranteda G, Grimaldi M, Salzetta M, et al. Vegetating iododerma and pulmonary eosinophilic infiltration: a simple co-occurrence? Acta Derm Venereol 2004; 84: 480–1

95.

Paul AK, Al-Nahhas A, Ansari SM, et al. Skin eruptions following treatment with iodine-131 for hyperthyroidism: a rare and un-reported early/ intermediate side effect. Nucl Med Rev Cent East Eur 2005; 8: 125–7

96.

Aydingöz IE, Göktay F, Serdar ZA, et al. Iododerma following sitz bath with povidone-iodine. Australas J Dermatol 2007; 48: 102–4

97.

Massé M, Falanga V, Zhou LH. Use of topical povidone-iodine resulting in an iododerma-like eruption. J Dermatol 2008; 35: 744–7

98.

Arditti J, Follana J, Bonerandi JJ, et al. Bromide vegetating skin diseases after treatment by a bromocalcic specialty. Eur J Toxicol Environ Hyg 1976; 9: 59–63

99.

Smith SZ, Scheen SR. Bromoderma. Arch Dermatol 1978; 114: 458–9

100.

Roman P, Bourgeois-Droin C. Bromide-induced skin diseases. Ann Dermatol Venereol 1999; 126: 831–4

101.

Maffeis L, Musolino MC, Cambiaghi S. Single-plaque vegetating bromoderma. J Am Acad Dermatol 2008; 58: 682–4

102.

Herxheimer K. Uber chlorakne [letter]. Münchener Medicinische Wochenschrift 1899; 46: 278

103.

Tindall JP. Chloracne and chloracnegens. J Am Acad Dermatol 1985; 13: 539–58

104.

McDonagh AJG, Gawkrodger DJ, Walker AE. Chloracne. Clin Exp Dermatol 1993; 18: 523–5

105.

Rodríguez-Pichardo A, Camacho F. Chloracne as a consequence of a family accident with chlorinated dioxins [letter]. J Am Acad Dermatol 1990; 22: 1121

106.

Soper LE, Vitez TS, Weinberg D. Metabolism of halogenated anaesthetic agents as a possible cause of acneiform eruptions. Anaesth Analg 1973; 52: 125–7

107.

Guldager H. Halothane allergy as a cause of acne. Lancet 1987; 1: 1211–2

108.

Alagheband M, Engineer L. Lithium and halogenoderma. Arch Dermatol 2000; 136: 126–7

109.

Joynt RL. Dantrolene sodium: long term effects in patients with muscle spasticity. Arch Phys Med Rehabil 1976; 57: 212–7

110.

Pembrocke AC, Sexena SR, Katiara M, et al. Acne induced by dantrolene. Br J Dermatol 1981; 104: 465–8

111.

Mowbray M, Sinclair SA, Allan SJ. Severe acneiform eruption exacerbated by dantrolene sodium. Clin Exp Dermatol 2009; 34: 248–9

112.

Burkhart CG. Quinidine-induced acne. Arch Dermatol 1981; 117: 603–4

113.

Scott C, Staughton RC, Bunker CJ, et al. Acne vulgaris and acne rosacea as part of immune reconstitution disease in HIV-1 infected patients starting antiretroviral therapy. Int J STD AIDS 2008; 19: 493–5

114.

Perez-Soler R, Saltz L. Cutaneous adverse effects with HER1/EGFR-targeted agents: is there a silver lining? J Clin Oncol 2005; 23: 5235–46

115.

Busam KJ, Capoiece P, Motzer R, et al. Cutaneous side effects in cancer patients treated with the anti-epidermal growth factor receptor antibody C 225. Br J Dermatol 2001; 144: 1169–76

116.

Walon L, Gilbeau C, Lachapelle JM. Acneiform eruptions induced by cetuximab. Ann Dermatol Venereol 2003; 130: 443–6

117.

Jacot W, Bessis D, Jorda E, et al. Acneiform eruption induced by epidermal growth factor receptor inhibitors in patients with solid tumours. Br J Dermatol 2004; 151: 238–41

118.

Harding J, Burtness B. Cetuximab: an epidermal growth factor receptor chemeric human-murine monoclonal antibody. Drugs Today 2005; 41: 107–27

119.

Hannoud S, Rixe O, Bloch J, et al. Skin signs associated with epidermal growth factor inhibitors. Ann Dermatol Venereol 2006; 133: 239–42

120.

Segaert S, Van Custem E. Clinical signs, pathophysiology and management of skin toxicity during therapy with epidermal growth factor receptor inhibitors. Ann Oncol 2005; 16: 1425–33

121.

Osio A, Mateus C, Soria JC, et al. Cutaneous side-effects in patients on longterm treatment with epidermal growth factor receptor inhibitors. Br J Dermatol 2009; 161: 515–21

122.

U.S. Department of Health and Human Services, National Institutes of Health,National Cancer Institute. Common terminology criteria for adverse events (CTCAE), version 4.0 published 28 May 2009; version 4.03 published 14 June 2010 [online]. Available from URL: (http://evs.nci.nih.gov/ftp1/CTCAE/CTCAE_4.03_2010-06-14_QuickReference_5x7.pdf [Accessed 2011 Apr 6]

123.

Scope A, Agero AL, Dusza AL, et al. Randomized double-blind trial of prophylactic oral minocycline and topical tazarotene for cetuximab-associated acne-like eruption. J Clin Oncol 2007; 25: 5390–6

124.

Deplanque G. CYTAR: a randomized clinical trial evaluating the preventive effect of doxycycline on erlotinib-induced folliculitis in non-small cell lung cancer patients [abstract no. 9019]. ASCO Annual Meeting; 2010 Jun 4-8; Chicago (IL)

125.

Pichler WJ. Adverse side-effects to biological agents. Allergy 2006; 61: 912–20

126.

Lacouture ME. Mechanisms of cutaneous toxicities to EGFR inhibitors. Nat Rev Cancer 2006; 6: 803–12

127.

Martín JM, Jordá E, Monteagudo C, et al. Follicular acneiform eruption induced by imatinib. J Eur Acad Dermatol Venereol 2006; 20: 1368–70

128.

Fleta-Asín B, Vañó-Galván S, Ledo-Rodríguez A, et al. Facial acneiform rash associated with sorafenib [letter]. Dermatol Online J 2009; 15: 7

129.

Porta C, Paglino C, Imarisio I, et al. Uncovering Pandora's vase: the growing problem of new toxicities from novel anticancer agents. The case of sorafenib and sunitinib. Clin Exp Med 2007; 7: 127–34

130.

Alexandrescu DT, Vaillant JG, Dasanu CA. Effect of treatment with a colloidal oatmeal lotion on the acneform eruption induced by epidermal growth factor receptor and multiple tyrosine-kinase inhibitors. Clin Exp Dermatol 2007; 32: 71–4

131.

Lee WJ, Lee JL, Chang SE, et al. Cutaneous adverse effects in patients treated with the multitargeted kinase inhibitors sorafenib and sunitinib. Br J Dermatol 2009; 161: 1045–51

132.

Nardone B, Nicholson K, Newman M, et al. Histopathologic and immunohistochemical characterization of rash to human epidermal growth factor receptor 1 (HER1) and HER1/2 inhibitors in cancer patients. Clin Cancer Res 2010; 16: 4452–60

133.

Michot C, Guillot B, Dereure O. Lenalidomide-induced acute acneiform folliculitis of the head and neck: not only the anti-EGF receptor agents. Dermatology 2010; 220: 49–50

134.

Keenan BP, Abuav R. Acneiform eruption in a patient receiving bevacizumab for glioblastoma multiforme [letter]. Arch Dermatol 2010; 146: 577

135.

Banerji U, Camidge DR, Verheul HM, et al. The first-in-human study of the hydrogen sulfate (Hyd-sulfate) capsule of the MEK1/2 inhibitor AZD6244 (ARRY-142886): a phase I open-label multicenter trial in patients with advanced cancer. Clin Cancer Res 2010; 16: 1613–23

136.

Bassi E, Poli F, Charachon A, et al. Infliximab-induced acne: report of two cases. Br J Dermatol 2007; 156: 402–3

137.

Sladden MJ, Clarke PJ, Mitchell B. Infliximab-induced acne: report of a third case [letter]. Br J Dermatol 2008; 158: 172

138.

Sun G, Wasko CA, Hsu S. Acneiform eruption following anti-TNF-alpha treatment: a report of three cases. J Drugs Dermatol 2008; 7: 69–71

139.

Ree AH, Dueland S, Folkvord S, et al. Vorinostat, a histone deacetylase inhibitor, combined with pelvic palliative radiotherapy for gastrointestinal carcinoma: the Pelvic Radiation and Vorinostat (PRAVO) phase 1 study. Lancet Oncol 2010; 11: 459–64

140.

Pour L, Hajek R, Zdenek A, et al. Skin lesions induced by bortezomib. Haematologica 2005; 90 (12 Suppl.): ECR44
Acknowledgments
No funding sources or financial disclosures/conflicts of interest to report. Aurélie Du-Thanh and Nicolas Kluger contributed equally to this work.
About this article
Cite this article
Du-Thanh, A., Kluger, N., Bensalleh, H. et al. Drug-Induced Acneiform Eruption. Am J Clin Dermatol 12, 233–245 (2011). https://doi.org/10.2165/11588900-000000000-00000
Keywords
Acne

Erlotinib

Sirolimus

Aripiprazole

Isotretinoin