Abstract
Background: Older adults have more chronic medical conditions, and the level of polypharmacy increases with advancing age. Malnutrition and drug nutrient interactions are of concern in this population.
Objectives: The aims of this cross-sectional study were to examine nutritional status, the use of medications, and drug-nutrient interactions in older adults.
Methods: Interviewer-administered surveys were conducted in 1100 community-dwelling older (age >65 years) adults. Information regarding demographics, nutritional status, medical history and medication usage was obtained. Self-reported data were verified by third parties when feasible. Informed consent and Human Subjects Committee approval were obtained. A pilot conducted prior to the onset of the study revealed high rates of inter-rater reliability. Data were recorded and entered into Excel spreadsheets for coding and cleaning and transferred to SPSS v. 17.0 for analyses.
Results: The respondents' mean age was 75.5 years. The top six most frequently used classes of medications were gastrointestinal agents, antihypertensives, diuretics, analgesics, β-adrenoceptor antagonists and antihyperlipidaemics. The prevalence of polypharmacy among the participants was 43.4%, with 51.1% of those participants using five or more medications. Most notable was the statistically significant inverse correlation between increasing number of medications and intake of fibre. Intake of cholesterol, glucose and sodium were positively associated with increasing medication use. A trend was also observed for increased phosphorus intake and increased number of medications used. Intake of fat-soluble vitamins, B vitamins, carotenoids and minerals was lower in those with increasing number of medications. Decrements in physical health were associated with decreasing intake of many fat-soluble and water-soluble vitamins, major minerals, trace minerals and electrolytes. Excessive macronutriture, specifically relating to the intake of saturated fats, refined carbohydrates and cholesterol, along with decreased intake of fibre and bioavailable protein sources, was also associated with poor physical health.
Conclusions: The number of medications used by older adults in this convenience sample was associated with poorer nutritional status. Decrements in physical health have a statistically significant effect on nutrient intake. Further research into these issues is required.
Access options
Buy single article
Instant access to the full article PDF.
USD 39.95
Price excludes VAT (USA)
Tax calculation will be finalised during checkout.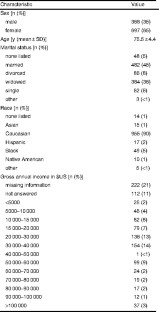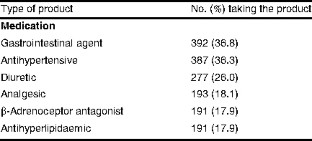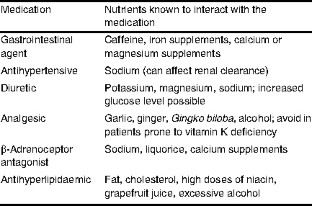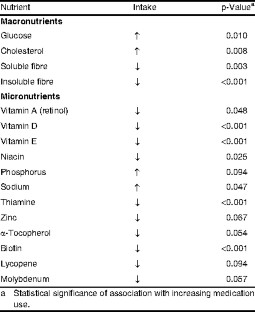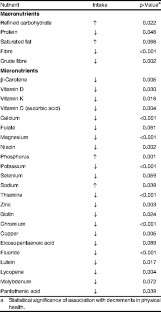 References
Mangino M. The aging employee: impact on occupational health. AAOHN J 2000; 48(7): 349–57

Sherman FT. Baby boomer senators must face their own dismal future! Senate hearing confirms that ageism in healthcare flourishes [letter]. Geriatrics 2003; 58(9): 10, 12

Benko LB. Boomer bust? While hospitals increase capacity to prepare for an onslaught of aging baby boomers, some say medical advances and health awareness mean those extra beds will stay empty. Mod Healthc 2003; 33(30): 24–8

Kutsal YG, Barak A, Atalay A, et al. Polypharmacy in the elderly: a multicenter study. J Am Med Dir Assoc 2009; 10: 486–90

Thomas JA, Burns RA. Important drug-nutrient interactions in the elderly. Drugs Aging 1998; 13(3): 199–209

Kirchheimer B. A baby boomer boom: hospital executives are pinning growth on consumer-oriented age group. Mod Healthc 2001; 31(3): 28, 32

Lingtak-Neander C. Drug nutrient interactions. In: Shils M, Shike M, Ross C, et al., editors. Modern nutrition in health and disease. 10th ed. Baltimore (MD): Lippincott, Williams Wilkins Publishers, 2006: 1539–53

Dictionary.com, LLC. Polypharmacy [online]. Available from URL: http://dictionary.reference.com/browse/polypharmacy [Accessed 2011 Feb 15]

Genser D. Food and drug interaction: consequences for the nutrition/health status. Ann Nutr Metab 2008; 52Suppl. 1: 29–32

Steward RB, Cooper JW. Polypharmacy in the aged: practical solutions. Drugs Aging 1994; 4(5): 449–61

Welling PG. Effects of food on drug absorption. Pharmacol Ther 1989; 43: 425–41

Fujimura A, Shiga T, Kumagai Y, et al. Effect of food intake on pharmacokinetics and effects of a new thromboxane A2receptor antagonist, S-1452. Eur J Clin Pharmacol 1996; 50: 311–4

ElDosoky ES. Pharmacokinetic-pharmacodynamic crisis in the elderly. Am J Ther 2007; 14(5): 488–98

Akamine D, Filho M, Peres C. Drug-nutrient interactions in elderly people. Curr Opin Clin Nutr Metab Care 2007; 10: 304–10

Asante MA. Optimal management of patients with non-ulcer dyspepsia: considerations for the treatment of the elderly. Drugs Aging 2001; 18(11): 819–26

Barnett SR. Polypharmacy and perioperative medications in the elderly. Anesthesiol Clin 2009; 27(3): 377–89

Larsen PD, Martin JL. Polypharmacy and elderly patients. AORN J 1999; 69(3): 619–22, 625, 627–8

Hurwitz A, Ruhl CE, Kimler BF, et al. Gastric function in the elderly: effects on absorption of ketoconazole. J Clin Pharmacol 2003; 43(9): 996–1002

Schmucker DL. Liver function and phase I drug metabolism in the elderly: a paradox. Drugs Aging 2001; 18(11): 837–51

Pautas E, Gouin-Thibault I, Debray M, et al. Haemorrhagic complications of vitamin K antagonists in the elderly: risk factors and management. Drugs Aging 2006; 23(1): 13–25

Morley J. Nutrition in the older person. In: Shils M, Shike M, Ross C, et al., editors. Modern nutrition in health and disease. 10th ed. Baltimore (MD): Lippincott, Williams Wilkins Publishers, 2006: 1531–9

Dahl WJ, Whiting SJ, Healey A, et al. Increased stool frequency occurs when finely processed pea hull fiber is added to usual foods consumed by elderly residents in long-term care. J Am Diet Assoc 2003; 103(9): 1199–202

Mozaffarian D, Kumanyika SK, Lemaitre RN, et al. Cereal, fruit, and vegetable fiber intake and the risk of cardiovascular disease in elderly results. JAMA 2003; 289(13): 1659–66

Cooney D, Pascuzzi K. Polypharmacy in the elderly: focus on drug interactions and adherence in hypertension. Clin Geriatr Med 2009; 25(2): 221–33

Yamreudeewong W, Henann N, Fazio A, et al. Drug-food interactions in clinical practice. J Family Pract 1995; 40(4): 376–84

Pronsky ZM. Food medication interactions. Birchrunville (PA): Food and Medication Interactions, 2006: 14

Kiani J, Sadar ZI. Medicinal importance of grapefruit juice and its interaction with various drugs. Nutr J 2003; 2(6): 33

Sica D. Interaction of grapefruit juice and calcium channel blockers. Am J Hypertens 2006; 19(7): 768–73

Somasundaram S, Edmund NA, Moore DT, et al. Dietary curcumin inhibits chemotherapy-induced apoptosis in models of human breast cancer. Cancer Res 2002; 62(13): 3868–75

Wolfe WS, Olson CM, Kendall A, et al. Hunger and food insecurity in the elderly: its nature and measurement. J Aging Health 1998; 10(3): 327–50

Salehi L, Eftekhar H, Mohammad K, et al. Consumption of fruit and vegetables among elderly people: a cross-sectional study from Iran [letter]. Nutr J 2010; 9: 2

Cho K, Cederholm T, Lokk J. Calcium intake in elderly patients with hip fractures. Food Nutr Res Epub 2008 Apr 2; 52

Beyer I, Compte N, Busuioc A, et al. Anemia and transfusions in geriatric patients: a time for evaluation. Hematology 2010; 15(2): 116–21

Lengyel C, Whiting S, Zello G. Nutrient inadequacies among elderly residents of long term care facilities. Can J Diet Pract Res 2008; 69(2): 82–8

Keller H. Malnutrition in institutionalized elderly. J Am Geriatr Soc 1993; 41(11): 1212–8

Woods JL, Walker KZ, Iuliano Burns S, et al. Malnutrition on the menu: nutritional status of institutionalized elderly Australians in low-level care. J Nutr Health Aging 2009; 13(8): 693–8

Moskovitz D, Saltzman J, Young-In K. The aging gut. In: Chernoff R, editor. Geriatric nutrition: the health professionals handbook. 3rd ed. Sudbury (MA): Jones and Bartlett Publishers, 2006: 233–72

Liedberg B, Stoltze K, Norlen P, et al. 'Inadequate' dietary habits and mastication in elderly men. Gerodontology 2007; 24(1): 41–6

Hung HC, Willett W, Ascherio A, et al. Tooth loss and dietary intake. J Am Dent Assoc 2003; 134(9): 1185–92

Nowjack-Rayner RE, Sheiham A. Association of edentulism and diet and nutrition in US adults. J Dent Res 2003; 82(2): 123–6

Couris R, Gura K, Blumberg J. Pharmacology, nutrition and the elderly: interactions and implications. In: Chernoff R, editor. Geriatric nutrition: the health professionals handbook. 3rd ed. Sudbury (MA): Jones and Bartlett Publishers, 2006: 365–406
Acknowledgements
No sources of funding were used to assist in the conduct of this study or the preparation of the manuscript. The authors have no conflicts of interest that are directly relevant to the content of this study.
About this article
Cite this article
Heuberger, R.A., Caudell, K. Polypharmacy and Nutritional Status in Older Adults. Drugs Aging 28, 315–323 (2011). https://doi.org/10.2165/11587670-000000000-00000
Published:

Issue Date:

DOI: https://doi.org/10.2165/11587670-000000000-00000
Keywords