Abstract
Athletic osteitis pubis is a painful and chronic condition affecting the pubic symphysis and/or parasymphyseal bone that develops after athletic activity. Athletes with osteitis pubis commonly present with anterior and medial groin pain and, in some cases, may have pain centred directly over the pubic symphysis. Pain may also be felt in the adductor region, lower abdominal muscles, perineal region, inguinal region or scrotum. The pain is usually aggravated by running, cutting, hip adduction and flexion against resistance, and loading of the rectus abdominis. The pain can progress such that athletes are unable to sustain athletic activity at high levels. It is postulated that osteitis pubis is an overuse injury caused by biomechanical overloading of the pubic symphysis and adjacent parasymphyseal bone with subsequent bony stress reaction. The differential diagnosis for osteitis pubis is extensive and includes many other syndromes resulting in groin pain. Imaging, particularly in the form of MRI, may be helpful in making the diagnosis. Treatment is variable, but typically begins with conservative measures and may include injections and/or surgical procedures. Prolotherapy injections of dextrose, anti-inflammatory corticosteroids and a variety of surgical procedures have been reported in the literature with varying efficacies. Future studies of athletic osteitis pubis should attempt to define specific and reliable criteria to make the diagnosis of athletic osteitis pubis, empirically define standards of care and reduce the variability of proposed treatment regimens.
Access options
Buy single article
Instant access to the full article PDF.
USD 49.95
Price includes VAT (USA)
Tax calculation will be finalised during checkout.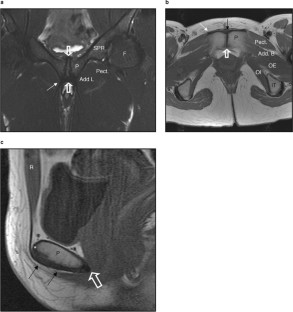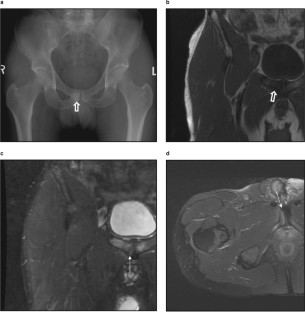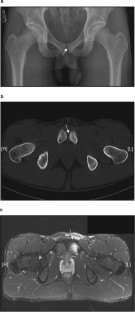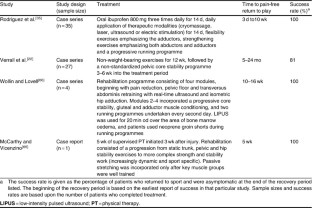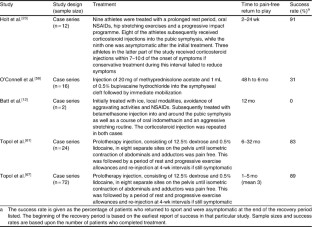 References
1.

Verrall GM, Hamilton IA, Slavotinek JP, et al. Hip joint range of motion reduction in sports-related chronic groininjury diagnosed as pubic bone stress injury. J Sci Med Sport 2005 Mar; 8 (1): 77–84

2.

Macintyre J, Johson C, Schroeder EL. Groin pain in athletes. Curr Sports Med Rep 2006 Dec; 5 (6): 293–9

3.

Karlsson J, Sward L, Kalebo P, et al. Chronic groin injuries in athletes: recommendations for treatment and rehabilitation. Sports Med 1994 Feb; 17 (2): 141–8

4.

Morelli V, Smith V. Groin injuries in athletes. Am Fam Physician 2001 Oct 15; 64 (8): 1405–14

5.

Vitanzo PC, McShane JM. Osteitis pubis: solving a perplexing problem. Phys Sportsmed 2001; 29 (7): 33–8

6.

Johnson R. Osteitis pubis. Curr Sports Med Rep 2003 Apr; 2 (2): 98–102

7.

Spinelli A. Nuova malattia sportive: la pubialgia degli schernitori. Ortopedia E Traumatologia Dell Apparato Motore 1932; 4: 111–27

8.

Beer E. Periostitis of symphysis and descending rami of pubes following suprapubic operations. Int J Med Surg 1928; 37: 224–5

9.

Moore Jr RS, Stover MD, Matta JM. Late posterior instability of the pelvis after resection of the symphysis pubisfor the treatment of osteitis pubis: a report of two cases. J Bone Joint Surg Am 1998 Jul; 80 (7): 1043–8

10.

Mulhall KJ, McKenna J, Walsh A, et al. Osteitis pubis in professional soccer players: a report of outcome withsymphyseal curettage in cases refractory to conservativemanagement. Clin J Sport Med 2002 May; 12 (3): 179–81

11.

Middleton RG, Carlile RG. The spectrum of osteitis pubis. Compr Ther 1993; 19 (3): 99–102

12.

Batt ME, McShane JM, Dillingham MF. Osteitis pubis in collegiate football players. Med Sci Sports Exerc 1995 May; 27 (5): 629–33

13.

Tibor LM, Sekiya JK. Differential diagnosis of pain around the hip joint. Arthroscopy 2008 Dec; 24 (12): 1407–21

14.

Pizzari T, Coburn PT, Crow JF. Prevention and management of osteitis pubis in the Australian Football League:a qualitative analysis. Phys Ther Sport 2008 Aug; 9 (3): 117–25

15.

Verrall GM, Henry L, Fazzalari NL, et al. Bone biopsy of the parasymphyseal pubic bone region in athletes withchronic groin injury demonstrates new woven bone formationconsistent with a diagnosis of pubic bone stressinjury. Am J Sports Med 2008 Dec; 36 (12): 2425–31

16.

Zoga AC, Kavanagh EC, Omar IM, et al. Athletic pubalgia and the "sports hernia": MR imaging findings. Radiology 2008 Jun; 247 (3): 797–807

17.

Fricker PA, Taunton JE, Ammann W. Osteitis pubis in athletes: infection, inflammation or injury? Sports Med 1991 Oct; 12 (4): 266–79

18.

Paajanen H, Heikkinen J, Hermunen H, et al. Successful treatment of osteitis pubis by using totally extraperitoneal endoscopictechnique. Int J Sports Med 2005 May; 26 (4): 303–6

19.

Major NM, Helms CA. Pelvic stress injuries: the relationship between osteitis pubis (symphysis pubis stress injury)and sacroiliac abnormalities in athletes. Skeletal Radiol 1997 Dec; 26 (12): 711–7

20.

Harmon KG. Evaluation of groin pain in athletes. Curr Sports Med Rep 2007 Dec; 6 (6): 354–61

21.

Verrall GM, Slavotinek JP, Fon GT. Incidence of pubic bone marrow oedema in Australian rules football players: relationto groin pain. Br J Sports Med 2001 Feb; 35 (1): 28–33

22.

Verrall GM, Slavotinek JP, Fon GT, et al. Outcome of conservative management of athletic chronic groin injurydiagnosed as pubic bone stress injury. Am J Sports Med 2007 Mar; 35 (3): 467–74

23.

Holt MA, Keene JS, Graf BK, et al. Treatment of osteitis pubis in athletes: results of corticosteroid injections. Am J Sports Med 1995 Sep-Oct; 23 (5): 601–6

24.

Kunduracioglu B, Yilmaz C, Yorubulut M, et al. Magnetic resonance findings of osteitis pubis. JMagn Reson Imaging 2007 Mar; 25 (3): 535–9

25.

Radic R, Annear P. Use of pubic symphysis curettage for treatment-resistant osteitis pubis in athletes. Am J Sports Med 2008 Jan; 36 (1): 122–8

26.

Nelson EN, Kassarjian A, Palmer WE. MR imaging of sports-related groin pain. Magn Reson Imaging Clin N Am 2005 Nov; 13 (4): 727–42

27.

Barry NN, McGuire JL. Acute injuries and specific problems in adult athletes. Rheum Dis Clin North Am 1996 Aug; 22 (3): 531–49

28.

Braun P, Jensen S. Hip pain: a focus on the sporting population. Aust Fam Physician 2007 Jun; 36 (6): 406–8, 410-3

29.

Lynch SA, Renstrom PA. Groin injuries in sport: treatment strategies. Sports Med 1999 Aug; 28 (2): 137–44

30.

Shaker AM, Shaheen MA, O'Neel PJ. Traumatic aseptic osteitis pubis. Ann Saudi Med 1991 Mar; 11 (2): 205–8

31.

O'Kane JW. Anterior hip pain. Am Fam Physician 1999 Oct 15; 60 (6): 1687–96

32.

Choi H, McCartney M, Best TM. Treatment of osteitis pubis and osteomyelitis of the pubic symphysis in athletes:a systematic review. Br J Sports Med 2011; 45 (1): 57–64

33.

Briggs RC, Kolbjornsen PH, Southall RC. Osteitis pubis, Tc-99m MDP, and professional hockey players. Clin Nucl Med 1992 Nov; 17 (11): 861–3

34.

Pauli S, Willemsen P, Declerck K, et al. Osteomyelitis pubis versus osteitis pubis: a case presentation and review of theliterature. Br J Sports Med 2002 Feb; 36 (1): 71–3

35.

Rodriguez C, Miguel A, Lima H, et al. Osteitis pubis syndrome in the professional soccer athlete: a case report. J Athl Train 2001 Dec; 36 (4): 437–40

36.

Gamble JG, Simmons SC, Freedman M. The symphysis pubis: anatomic and pathologic considerations. Clin Orthop Relat Res 1986 Feb; (203): 261–72

37.

MacMahon PJ, Hogan BA, Shelly MJ, et al. Imaging of groin pain. Magn Reson Imaging Clin N Am 2009; 17 (4): 655–66

38.

Li Z, Alonso JE, Kim JE, et al. Three-dimensional finite element models of the human pubic symphysis with viscohyperelasticsoft tissues. Ann Biomed Eng 2006 Sep; 34 (9): 1452–62

39.

Dalstra M, Huiskes R. Load transfer across the pelvic bone. J Biomech 1995 Jun; 28 (6): 715–24

40.

Haider NR, Syed RA, Dermady D. Osteitis pubis: an important pain generator in women with lower pelvic orabdominal pain: a case report and literature review. Pain Physician 2005 Jan; 8 (1): 145–7

41.

Orchard J, Seward H. Epidemiology of injuries in the Australian Football League, seasons 1997-2000. Br J Sports Med 2002 Feb; 36 (1): 39–44

42.

Lovell G. The diagnosis of chronic groin pain in athletes: a review of 189 cases. Aust J Sci Med Sport 1995 Sep; 27 (3): 76–9

43.

Cunningham PM, Brennan D, O'Connell M, et al. Patterns of bone and soft-tissue injury at the symphysis pubis insoccer players: observations at MRI. AJR Am J Roentgenol 2007 Mar; 188 (3): W291–6

44.

Andrews SK, Carek PJ. Osteitis pubis: a diagnosis for the family physician. J Am Board Fam Pract 1998 Jul-Aug; 11 (4): 291–5

45.

Omar IM, Zoga AC, Kavanagh EC, et al. Athletic pubalgia and "sports hernia": optimal MR imaging technique andfindings. Radiographics 2008 Sep-Oct; 28 (5): 1415–38

46.

Williams JG. Limitation of hip joint movement as a factor in traumatic osteitis pubis. Br J Sports Med 1978 Sep; 12 (3): 129–33

47.

Harris NH, Murray RO. Lesions of the symphysis in athletes. Br Med J 1974 Oct 26; 4 (5938): 211–4

48.

Coventry MB, Mitchell WC. Osteitis pubis: observations based on a study of 45 patients. JAMA 1961 Dec 2; 178: 898–905

49.

Lovell G, Galloway H, Hopkins W, et al. Osteitis pubis and assessment of bone marrow edema at the pubic symphysiswith MRI in an elite junior male soccer squad. Clin J Sport Med 2006 Mar; 16 (2): 117–22

50.

Slavotinek JP, Verrall GM, Fon GT, et al. Groin pain in footballers: the association between preseason clinical andpubic bone magnetic resonance imaging findings and athleteoutcome. Am J Sports Med 2005 Jun; 33 (6): 894–9

51.

LeBlanc KE, LeBlanc KA. Groin pain in athletes. Hernia 2003 Jun; 7 (2): 68–71

52.

Jansen JA, Mens JM, Backx FJ, et al. Diagnostics in athletes with long-standing groin pain. Scand J Med Sci Sports 2008 Dec; 18 (6): 679–90

53.

Kneeland JB. MR imaging of sports injuries of the hip. Magn Reson Imaging Clin N Am 1999 Feb; 7 (1): 105–15, viii

54.

Pavlov H. Roentgen examination of groin and hip pain in the athlete. Clin Sports Med 1987 Oct; 6 (4): 829–43

55.

De Paulis F, Cacchio A, Michelini O, et al. Sports injuries in the pelvis and hip: diagnostic imaging. Eur J Radiol 1998 May; 27 Suppl.1: S49–59

56.

Overdeck KH, Palmer WE. Imaging of hip and groin injuries in athletes. Semin Musculoskelet Radiol 2004 Mar; 8 (1): 41–55

57.

Zajick DC, Zoga AC, Omar IM, et al. Spectrum of MRI findings in clinical athletic pubalgia. Semin Musculoskelet Radiol 2008 Mar; 12 (1): 3–12

58.

O'Connell MJ, Powell T, McCaffrey NM, et al. Symphyseal cleft injection in the diagnosis and treatment of osteitis pubisin athletes. AJR Am J Roentgenol 2002 Oct; 179 (4): 955–9

59.

Tuite MJ, DeSmet AA. MRI of selected sports injuries: muscle tears, groin pain, and osteochondritis dissecans. Semin Ultrasound CT MR 1994 Oct; 15 (5): 318–40

60.

Brennan D, O'Connell MJ, Ryan M, et al. Secondary cleft sign as a marker of injury in athletes with groin pain: MR image appearance and interpretation. Radiology 2005 Apr; 235 (1): 162–7

61.

Topol GA, Reeves KD, Hassanein KM. Efficacy of dextrose prolotherapy in elite male kicking-sport athletes withchronic groin pain. Arch Phys Med Rehabil 2005 Apr; 86 (4): 697–702

62.

Ahumada LA, Ashruf S, Espinosa-de-los-Monteros A, et al. Athletic pubalgia: definition and surgical treatment. Ann Plast Surg 2005 Oct; 55 (4): 393–6

63.

Moyen B, Mainetti E, Sansone V, et al. Surgical treatment of pubic pain refractory to conservative treatment. Ital JOrthop Traumatol 1993; 19 (1): 43–9

64.

Williams PR, Thomas DP, Downes EM. Osteitis pubis and instability of the pubic symphysis: when nonoperativemeasures fail. Am J Sports Med 2000 May-Jun; 28 (3): 350–5

65.

McCarthy A, Vicenzino B. Treatment of osteitis pubis via the pelvic muscles. Man Ther 2003 Nov; 8 (4): 257–60

66.

Wollin M, Lovell G. Osteitis pubis in four young football players: a case series demonstrating successful rehabilitation. Phys Ther Sport 2006; 7: 153–60

67.

Topol GA, Reeves KD. Regenerative injection of elite athletes with career-altering chronic groin pain who fail conservativetreatment: a consecutive case series. Am J Phys Med Rehabil 2008 Nov; 87 (11): 890–902

68.

Rabago D, Best TM, Beamsley M, et al. A systematic review of prolotherapy for chronic musculoskeletal pain. Clin JSport Med 2005 Sep; 15 (5): 376–80

69.

Paajanen H, Hermunen H, Karonen J. Pubic magnetic resonance imaging findings in surgically and conservativelytreated athletes with osteitis pubis compared to asymptomatic athletes during heavy training. Am J Sports Med 2008 Jan; 36 (1): 117–21

70.

Meyers WC, Foley DP, Garrett WE, et al. Management of severe lower abdominal or inguinal pain in high-performanceathletes: PAIN (Performing Athletes with Abdominal or Inguinal Neuromuscular Pain Study Group). Am J Sports Med 2000 Jan-Feb; 28 (1): 2–8

71.

Biedert RM, Warnke K, Meyer S. Symphysis syndrome in athletes: surgical treatment for chronic lower abdominal,groin, and adductor pain in athletes. Clin J Sport Med 2003 Sep; 13 (5): 278–84
Acknowledgements
The authors declare no conflicts of interest that are pertinent to the content of this review. No sources of funding were used to prepare this review.
About this article
Cite this article
Hiti, C.J., Stevens, K.J., Jamati, M.K. et al. Athletic Osteitis Pubis. Sports Med 41, 361–376 (2011). https://doi.org/10.2165/11586820-000000000-00000
Keywords
Soccer Player

Bone Marrow Oedema

Pubic Symphysis

Groin Pain

Overuse Injury