Abstract
The term 'presenteeism' is a relatively new concept in workplace health, and has come to signify being at work despite poor health and performing below par. Presenteeism, which is potentially critical to employers, has been associated with a range of psychosocial outcome measures, such as poor mental health and employee well-being. Physical activity is a potential strategy for reducing presenteeism, and for improving the mental health of employees. This article reviews evidence on the relationships between physical activity and employee well-being and presenteeism in the workplace, and identifies directions for research in an emerging field.
Electronic and manual literature searches were used to identify 20 articles that met the inclusion criteria. These included 13 intervention trials (8 randomized controlled trials, 5 comparison trials) and 7 observational studies (3 cohort, 4 cross-sectional). Outcome measures were grouped into workplace well-being, psychosocial well-being and physical well-being. Studies measured a wide variety of outcomes, with absenteeism being the most commonly assessed. Evidence indicated a positive association between physical activity and psychosocial health in employees, particularly for quality of life and emotional well-being. However, findings were inconclusive as to the role of physical activity in promoting workplace well-being. Only one study reported on presenteeism, with mixed evidence for outcomes.
This article indicates that physical activity and employee psychosocial health are positively related, but there is limited evidence of a relationship between physical activity and presenteeism. A standardized definition of presenteeism and an appropriate evaluation tool are key research priorities if the complex relationships between physical activity and workplace well-being are to be better understood.
Access options
Buy single article
Instant access to the full article PDF.
USD 49.95
Price excludes VAT (USA)
Tax calculation will be finalised during checkout.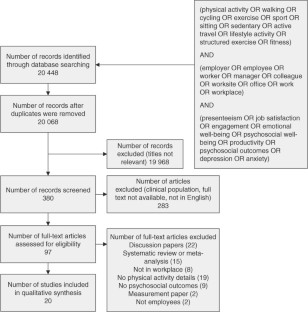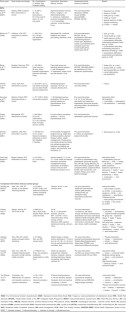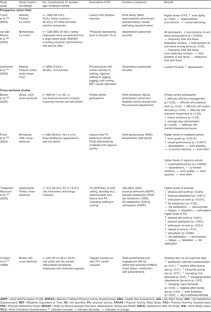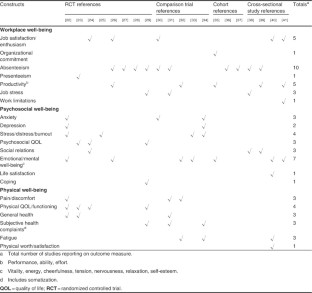 References
Cooper C, Dewe P. Well-being: absenteeism, presenteeism, costs and challenges. Occup Med (Lond) 2008 Dec; 58 (8): 522–4

Chapman LS. Presenteeism and its role in worksite health promotion. Am JHealth Promot 2005 Mar-Apr; 19 (4): 1–8

Hemp P. Presenteeism: at work-but out of it. Harvard Bus Rev 2004 Oct; 82 (10): 49–58

Schultz AB, Edington DW. Employee health and presenteeism: a systematic review. J Occup Rehab 2007 Sep; 17 (3): 547–79

The Sainsbury Centre for Mental Health. Mental health at work: developing the business case [policy paper 8; online]. Available from URL: http://www.centreformentalhealth.org.uk/pdfs/mental_health_at_work.pdf [Accessed 2011Jan 31]

Hilton M. Getting upstream of psycho-social disability in the workforce: who are we not seeing and at what cost? Workshop presentation at MRC conference on employmentand mental health: absence from work due to mildand moderate mental ill health; 2007 Jan 15-16; Manchester. Cited in Sainsbury Centre for Mental Health.Mental health at work: developing the business case [policypaper 8; online]. Available from URL: http://www.centreformentalhealth.org.uk/pdfs/mental_health_at_work.pdf [Accessed 2011 Jan 31]

Goetzel RZ, Long SR, Ozminkowski RJ, et al. Health, absence, disability, and presenteeism cost estimates of certainphysical and mental health conditions affecting US employers. J Occup Environ Med 2004 Apr; 46 (4): 398–412

Wang PS, Simon G, Kessler RC. The economic burden of depression and the cost-effectiveness of treatment. Int JMethods Psychiatr Res 2003; 12 (1): 22–33

HSC National Statistics. Health and safety statistics 2006/7 [online]. Available from URL: http://www.hse.gov.uk/statistics/overall/hssh0607.pdf [Accessed 2011 Jan 31]

Hagberg LA, Lindholm L. Cost-effectiveness of healthcarebased interventions aimed at improving physical activity. Scand J Public Health 2006; 34 (6): 641–53

Roux L, Pratt M, Tengs TO, et al. Cost effectiveness of community-based physical activity interventions. Am JPrev Med 2008 Dec; 35 (6): 578–88

Hagberg LA, Lindholm L. Is promotion of physical activity a wise use of societal resources? Issues of cost-effectivenessand equity in health. Scand J Med Sci Sports 2005 Oct; 15 (5): 304–12

Paluska SA, Schwenk TL. Physical activity andmental health: current concepts. Sports Med 2000 Mar; 29 (3): 167–80

Strohle A. Physical activity, exercise, depression and anxiety disorders. J Neural Transm 2009 Jun; 116 (6): 777–84

Penedo FJ, Dahn JR. Exercise and well-being: a review of mental and physical health benefits associated withphysical activity. Curr Opin Psychiatry 2005 Mar; 18 (2): 189–93

Martinsen EW. Physical activity in the prevention and treatment of anxiety and depression. Nord J Psychiatry 2008; 62 Suppl.47: 25–9

Taylor CB, Sallis JF, Needle R. The relation of physical activity and exercise to mental health. Public Health Rep 1985 Mar-Apr; 100 (2): 195–202

Fox KR. The influence of physical activity on mental wellbeing. Public Health Nutr 1999 Sep; 2 (3A): 411–8

Brown DW, Balluz LS, Heath GW, et al. Associations between recommended levels of physical activity and health related quality of life: findings from the 2001 Behavioral Risk Factor Surveillance System (BRFSS) survey. Prev Med 2003 Nov; 37 (5): 520–8

Flannery RB. Violence in the workplace, 1970-1995: a review of the literature. Aggression Violent Behav 1996 Spring; 1 (1): 57–68

Klemetti M, Santavirta N, Sarvimäki A, et al. Tension neck and evaluation of a physical training course among office workers in a bank Corp.. J Adv Nurs 1997; 26: 962–7

Atlantis E, Chow CM, Kirby A, et al. An effective exercisebased intervention for improving mental health and qualityof life measures: a randomized controlled trial. Prev Med 2004; 39 (2): 424–34

Block G, Sternfeld B, Block CH, et al. Development of alive! (A lifestyle intervention via email), and its effect on healthrelatedquality of life, presenteeism, and other behavioraloutcomes: randomized controlled trial. JMed Internet Res 2008; 10 (4): E43

Brand R, Schlicht W, Grossman K, et al. Effects of a physical exercise intervention on employeesperceptions qualityof life: a randomized controlled trial. Soz Praventivmed 2006; 51 (1): 14–23

Hinman M, Ezzo L, Hunt D, et al. Computerized exercise program does not affect stress levels of asymptomatic VDT users. J Occup Rehab 1997; 7 (1): 45–51

Nurminen E, Malmivaara A, Ilmarinen J, et al. Effectiveness of a worksite exercise program with respect to perceivedwork ability and sick leaves among women with physicalwork. Scand J Work Environ Health 2002; 28 (2): 85–93

Proper KI, de Bruyne MC, Hildebrandt VH, et al. Costs, benefits and effectiveness of worksite physical activitycounseling from the employers perspective. Scand J Work Environ Health 2004; 30 (1): 36–46

Serxner S, Gold D, Anderson D, et al. The impact of a worksite health promotion program on short-termdisability usage. J Occup Environ Med 2001 Jan; 43 (1): 25–9

Tveito TH, Eriksen HR. Integrated health programme: a workplace randomized controlled trial. J Adv Nurs 2009 Jan; 65 (1): 110–9

Altchiler L, Motta R. Effects of aerobic and nonaerobic exercise on anxiety, absenteeism, and job-satisfaction. J Clin Psychol 1994 Nov; 50 (6): 829–40

Eriksen HR, Ihlebaek C, Mikkelsen A, et al. Improving subjective health at the worksite: a randomized controlledtrial of stress management training, physical exercise andan integrated health programme. Occup Med Oxf 2002 Oct; 52 (7): 383–91

Galinsky T, Swanson N, Sauter S, et al. Supplementary breaks and stretching exercises for data entry operators: afollow-up field study. AmJ Indust Med 2007; 50 (7): 519–27

Goetzel RZ, Roemer EC, Short ME, et al. Health improvement from a worksite health promotion private-public partnership. J Occup Environ Med 2009 Mar; 51 (3): 296–304

Van Rhenen W, Blonk RW, van der Klink JJ, et al. The effect of a cognitive and a physical stress-reducingprogramme on psychological complaints. Int Arch Occup Environ Health 2005; 78: 139–48

Tuomi K, Vanhala S, Nykyri E, et al. Organizational practices, work demands and the well-being of employees:a follow-up study in the metal industry and retail trade. Occup Med Oxf 2004 Mar; 54 (2): 115–21

van den Heuvel SG, Boshuizen HC, Hildebrandt VH, et al. Effect of sporting activity on absenteeism in a workingpopulation. Br J Sports Med 2005 Mar; 39 (3): E15

Laaksonen M, Piha K, Martikainen P, et al. Health-related behaviours and sickness absence from work. Occup Environ Med 2009 Dec; 66 (12): 840–7

Burton WN, McCalister KT, Chen CY, et al. The association of health status, worksite fitness center participation,and two measures of productivity. J Occup Environ Med 2005 Apr; 47 (4): 343–51

Pronk NP, Martinson B, Kessler RC, et al. The association between work performance and physical activity, cardiorespiratoryfitness, and obesity. J Occup Environ Med 2004 Jan; 46 (1): 19–25

Thogersen-Ntoumani C, Fox KR, Ntoumanis N. Relationships between exercise and three components of mentalwell-being in corporate employees. Psychol Sport Exerc 2005 Nov; 6 (6): 609–27

Coulson JC, McKenna J, Field M. Exercising at work and self-reported work performance. Int J Workplace Health Manage 2008; 1 (3): 176–97

Lerner D, Amick 3rd BC, Rogers WH, et al. The work limitations questionnaire. Med Care 2001 Jan; 39 (1): 72–85
Acknowledgements
Nicola Burton was supported by a Heart Foundation Research Fellowship (PH08B3905) and an NHRMC Program Grant (Owen, Bauman and Brown 569940). The authors have no conflicts of interest that are directly relevant to the content of this article.
About this article
Cite this article
Brown, H.E., Gilson, N.D., Burton, N.W. et al. Does Physical Activity Impact on Presenteeism and Other Indicators of Workplace Well-Being?. Sports Med 41, 249–262 (2011). https://doi.org/10.2165/11539180-000000000-00000
Published:

Issue Date:

DOI: https://doi.org/10.2165/11539180-000000000-00000
Keywords
Physical Activity

Organizational Commitment

Subjective Health Complaint

Leisure Time Physical Exercise

Work Limitation Questionnaire