Abstract
Obesity in youth has increased during the last 10 years in Western countries. Several studies have investigated physical activity and its effects on obesity and health, showing that regular physical activity combined with improved physical fitness reduces the risk of obesity and several metabolic problems (e.g. diabetes mellitus, metabolic syndrome, heart disease) and also improves overall health. However, there is only limited scientific information available concerning the changes in the physical fitness profiles of youth. It is obvious that only slight changes observed in endurance-type physical activity can also be observed in aerobic capacity. Today and in the future, a major public health concern for teenage and young adults is the combination of increasing body fatness together with decreasing physical fitness. In order to evaluate overall fitness level, it is particularly essential to examine both aerobic and neuromuscular fitness. Therefore, in clinical practice work and health behaviour education, a person's physical fitness should be measured more frequently with variousmeasures. Furthermore, population-based surveys should be combined with regular measurement of physical fitness to study sedentary lifestyles, particularly in young people. This article presents a review of current physical fitness profiles of male children, adolescents and young adults, which hopefully initiates further studies in this relevant scientific field. In addition, the importance of physical fitness level is evaluated in relation to obesity and health. Collectively, studies examining physical fitness profiles of young men suggest a disturbing worldwide trend of decreased aerobic fitness and increased obesity. Continued efforts to foster improved physical fitness and healthy lifestyles should be encouraged to combat these trends. Such efforts should include frequent and objective assessment of physical fitness rather than solely relying on subjective assessment of physical activity.
Access options
Buy single article
Instant access to the full article PDF.
USD 49.95
Price excludes VAT (USA)
Tax calculation will be finalised during checkout.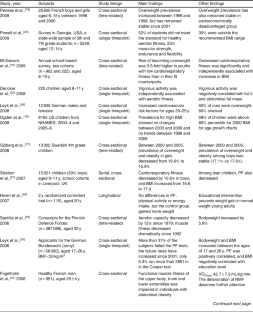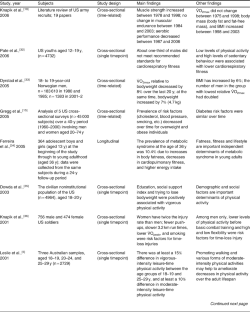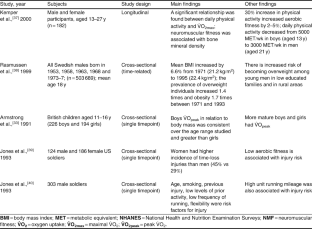 References
McArdle WD, Katch FI, Katch VL. Exercise physiology: energy, nutrition, and human performance. Baltimore(MD): Lippincott Williams & Wilkins, 2001

Wilmore JH, Costill DL. Physiology of sport and exercise. Champaign (IL): Human Kinetics, 1999

Donnely JE, Blair SN, Jakicic JM, et al. American College of Sports Medicine position stand: appropriate physical activityintervention strategies for weight loss and preventionof weight regain for adults. Med Sci Sports Exerc 2009; 41: 459–71

Kesäniemi YA, Danforth Jr E, Jensen MD, et al. Doseresponse issues concerning physical activity and health:an evidence-based symposium. Med Sci Sports Exerc 2001; 33 Suppl.: S351–8

Leslie E, Fotheringham MJ, Owen N, et al. Age-related differences in physical activity levels of young adults. Med Sci Sports Exerc 2001; 33: 255–8

US Department of Health and Human Services. Physical activity and health: a report of the Surgeon General. Atlanta(GA): US Department of Health and Human Services,Centres for Disease Control and Prevention, 1996: 188–95

Sallis JF. Age-related decline in physical activity: a synthesis of human and animal studies. Med Sci Sports Exerc 2000; 32: 1958–600

McKenzie TL, Marshall SJ, Sallis JF, et al. Leisure-time physical activity in school environments: an observationalstudy using SOPLAY. Prev Med 2000; 30: 70–7

Tammelin T, Näyhä S, Rintamäki H, et al. Occupational physical activity is related to physical fitness in youngworkers. Med Sci Sports Exerc 2002; 34: 158–66

World Health Organization. Obesity: preventing and managing the global epidemic. Report of a WHO consultation Vol. I-xii Geneva: WHO, 1–253

Rocchini AP. Childhood obesity and a diabetes epidemic. N Engl J Med 2002; 346: 802–10

Reilly JJ, Jackson DM, Montgomery C, et al. Total energy expenditure and physical activity in young Scottish children:mixed longitudinal study. Lancet 2004; 363: 211–2

Weinstein AR, Sesso HD, Lee IM, et al. Relationship of physical activity vs body mass index with type 2 diabetes inwomen. JAMA 2004; 292: 1188–94

Patrick K, Normal GJ, Calfas KJ, et al. Diet, physical activity, and sedentary behaviors as risk factors for overweightin adolescence. Arch Pediatr Adolesc Med 2004; 158: 385–90

Gregg EW, Cheng YJ, Cadwell BL, et al. Secular trends in cardiovascular disease risk factors according to body massindex in US adults. JAMA 2009; 293: 1868–74

Ogden CL, Carroll MD, Flegal KM. High body mass index for age among US children and adolescents, 2003-2006. JAMA 2008; 299 (20): 2401–5

Sjöberg A, Lissner L, Albertsson-Wikland K, et al. Recent anthropometric trends among Swedish children: evidencefor decreasing prevalence of overweight in girls. Acta Paediatr 2008; 97: 118–23

Peneau S, Salanave B, Maillard-Teyssier L, et al. Prevalence of overweight in 6- to 15-year-old children in central-westernFrance from 1996 to 2006: trends toward stabilization. Int J Obes 2009; 33: 401–7

Knapik JJ, Sharp MA, Darakjy S, et al. Temporal changes in the physical fitness of US Army recruits. Sports Med 2006; 36: 613–34

American College of Sports Medicine. The recommended quantity and quality of exercise for developing and maintaining cardiorespiratory and muscular fitness in healthy adults. American College of Sports Medicine position stand. Med Sci Sports Exerc 1998; 30: 975–91

Santtila M, Häkkinen K, Karavirta L, et al. Changes in cardiovascular performance during an 8-week militarybasic training period combined with added endurance orstrength training. Mil Med 2008; 173: 1173–80

Bouchard C, Lesage R, Lortie G, et al. Aerobic performance in brothers, dizytogic and monozytogic twins. Med Sci Sports Exerc 1986; 18: 639–46

Powell KE, Roberts AM, Ross JG, et al. Low physical fitness among fifth- and seventh-grade students, Georgia,2006. Am J Prev 2009; 36 (4): 304–10

McGavock JM, Torrance BD, McGuire KA, et al. Cardio respiratory fitness and the risk of overweight in youth: the Healthy Hearts Longitudinal Study of Cardiometabolic Health. Obesity (Silver Spring) 2009; 17 (9): 1802–7

Dencker M, Thorsson O, Karlsson MK, et al. Maximal oxygen uptake versus maximal power output in children. J Sports Sci 2008; 26: 1397–402

Leyk D, Ruther T, Wunderlich M, et al. Sporting activity, prevalence of overweight, and risk factors: cross-sectionalstudy of more than 12,500 participants aged 16 to 25 year. Deutsch Arztebl Int 2008; 105: 793–800

Stratton G, Canoy D, Boddy LM, et al. Cardiorespiratory fitness and body mass index of 9-11-year-old English children:a serial cross-sectional study from 1998 to 2004. IntJ Obes 2007; 31: 1172–8

Hivert M-F, Anglois M-F, Bérard P, et al. Prevention of weight gain in young adults through a seminar-based interventionprogram. Int J Obes 2007; 31: 1262–9

Santtila M, Kyröläinen H, Vasankari T, et al. Physical fitness profiles in men entering the Finnish military serviceduring the years of 1975-2004: a population based study. Med Sci Sports and Exerc 2006; 38: 1990–4

Leyk D, Rohde U, Gorges QW, et al. Physical performance, body weight and BMI of young adults in Germany 2000-2004: results of the physical-fitness-test study. Int J Sport Med 2006; 27: 642–7

Fogelholm M, Malmberg J, Suni J, et al. Waist circumference and BMI are independently associated with thevariation of cardio-respiratory and neuromuscular fitnessin young adult men. Int J Obes 2006; 30: 962–9

Pate RR, Wang C-Y, Dowda M, et al. Cardiorespiratory fitness levels among US youth 12 to 19 years of age. Arch Pediatr Adolesc Med 2006; 160: 1005–12

Dyrstad SM, Aandstad A, Hallén J. Aerobic fitness in young Norwegian men: a comparison between 1980 and 2002. Scand J Med Sci Sports 2005; 15: 298–303

Ferreira I, Twisk JW, van Mechelen W, et al. Development of fatness, fitness, and life style from adolescent to the ageof 36 years: determinants of the metabolic syndrome inyoung adults: the Amsterdam growth and health longitudinalstudy. Arch Intern Med 2005; 165: 42–8

Dowda M, Ainsworth BE, Addy CL, et al. Correlates of physical activity among U.S. young adults, 18 to 30 yearsof age, from NHANES III. Ann Behav Med 2003; 26: 15–23

Knapik JJ, Sharp MA, Canham-Chervak M, et al. Risk factors for training-related injuries among men and womenin basic combat training. Med Sci Sports Exerc 2001; 33 (6): 946–54

Kemper HC, Twisk JW, van Mechelen W, et al. A fifteenyear longitudinal study in young adults on the relation ofphysical activity and fitness with the development of bonemass: the Amsterdam growth and health longitudinal study. Bone 2000; 27: 847–53

Rasmussen F, Johansson M, Hansen HO. Trends in overweight and obesity among 18-year-old males in Sweden between1971 and 1995. Acta Paediatr 1999; 88: 365–7

Jones BH, Bovee MW, Harris JM, et al. Intrinsic risk factors for exercise-related injuries among male and female trainees. Am J Sports Med 1993; 21: 706–10

Jones BH, Cowan D, Robinson J, et al. Epidemiology of injuries associated with physical training among youngmen in the army. Med Sci Sports Exer 1993; 25: 197–203

Tomkinson GR, Olds TS. Secular changes in aerobic fitness test performance of Australasian children and adolescents. Med Sport Sci 2007; 50: 168–82

Sidney S, Sternfeld B, Haskell WL, et al. Seven-year change in graded exercise treadmill test performance in youngadults in the CARDIA study. Med Sci Sports Exerc 1998; 30: 427–33

Mattila VM, Niva M, Kiuru M, et al. Risk factors for bone stress injuries: a follow-up study of 102.515 person years. Med Sci Sports Exerc 2007; 39: 1061–6

Fogelholm M, Stigman S, Huisman T, et al. Physical fitness in adolescent with normal weight and overweight. ScandJ Med Sci Sports 2008; 18: 162–70

Armstrong N, Williams J, Balding J, et al. The peak oxygen uptake of British children with reference to age, sex, and sexual maturity. Eur J Appl Physiol Occup Physiol 1991; 62: 369–75

Blair SN, Church TS. The fitness, obesity, and health equation: is physical activity the common denominator? JAMA 2004 8; 292: 1232–4

Kuczmarski RJ, Flegal KM, Campbell SM, et al. Increasing prevalence of overweight among US adults: the National Health and Nutrition Examination Surveys 1960 to 1991. JAMA 1994; 272: 205–11

Ekelund U, Särnblad S, Brage S, et al. Does physical activity equally predict gain in fat mass among obese and nonobeseyoung adults? Int J Obes 2007; 31: 65–71

Nindl BC, Friedl KE, Marcitelli LJ, et al. Regional fat placement in physically fit males and changes with weight loss. Med Sci Sports Exerc 1996; 28: 786–93

Miyatake N, Nishikawa H, Fuhii M. Clinical evaluation of physical fitness in male obese Japanese. Chin Med J 2001; 114: 707–10

Venn AJ, Thomson RJ, Schmidt MD, et al. Overweight and obesity from childhood to adulthood: a follow-up of participantsin the 1985 Australian schools health and fitnesssurvey. Med J Aust 2007; 186: 458–60

King GA, Fitzhugh EC, Bassett Jr DR, et al. Relationship of leisure-time physical activity and occupational activity tothe prevalence of obesity. Int J Obes Relat Metab Disord 2001; 25: 606–12

Ross R, Freeman JA, Janssen I. Exercise alone is an effective strategy for reducing obesity and related comorbidities. Exerc Sport Sci Rev 2004; 28: 165–70

Janssen I, Katzmarzyk P, Ross P. Waist circumference and not body mass index explains obesity-related health risks. Am J Clin Nutr 2004; 79: 379–84

Kemper HCG, Twisk JWR, Koppes LLJ, et al. A 15-year physical activity pattern is positively related to aerobic fitnessin young males and females (13-27 years). Eur J Appl Physiol 2001; 84: 395–402

Trunk TV, Ryman DH, Minagawa RY, et al. Running mileage, movement mileage, and fitness in male U.S. Navy recruits. Med Sci Sports Exerc 2001; 33: 1033–8

Carnethon MR, Gidding SS, Nehgme R, et al. Cardiorespiratory fitness in young adulthood and the developmentof cardiovascular disease risk factors. JAMA 2003; 290: 3092–100

Jurga R, LaMonte MJ, Barlow CE, et al. Association of muscular strength with incidence of metabolic syndrome inmen. Med Sci Sports Exerc 2005; 37: 1849–55

Reims HM, Sevre K, Fossum E, et al. Adrenaline during mental stress in relation to fitness, metabolic risk factorsand cardiovascular responses in young men. Blood Press 2005; 14: 217–26

Reims HM, Sevre K, Fossum E, et al. Relations between insulin sensitivity, fitness and autonomic cardiac regulationin healthy, young men. J Hypertens 2004; 22: 2007–15

Carnethon MR, Jacobs Jr DR, Sidney S, et al. Influence of autonomic nervous system dysfunction on the developmentof type 2 diabetes: the CARDIA study. Diabetes Care 2003; 26: 3035–41

Fossum E, Hoieggen A, Moan A, et al. Insulin sensitivity is related to physical fitness and exercise blood pressure to structural vascular properties in young men. Hypertension 1999; 33: 781–6

Sandvik L, Erikssen J, Thaulow E, et al. Physical fitness as a predictor of mortality among healthy middle-aged Norwegianmen. N Engl J Med 1993; 328: 533–7

Blair SN, Kampert JB, Kohl HW III, et al. Influences of cardiorespiratory fitness and other precursors on cardiovasculardisease and all-cause mortality in men andwomen. JAMA 1996; 276: 205–10

Williams MJ, Milne BJ, Hancox RJ, et al. C-reactive protein and cardiorespiratory fitness in young adults. Eur J Cardiovasc Prev Rehabil 2005; 12: 216–20

Ferreira I, Twisk JWR, Stehouwer CDO, et al. Longitudinal changes in V̇O2max: associations with carotid IMT andarterial stiffness. Med Sci Sports Exerc 2003; 35: 1670–8

Boreham CA, Ferreira I, Twisk JW, et al. Cardiorespiratory fitness, physical activity, and arterial stiffness: the Northern Ireland young hearts study. Hypertension 2004; 44: 721–6

Franzoni F, Galetta F, Morizzo C, et al. Effects of age and physical fitness on microcirculatory function. Clin Sci(Lond) 2004; 106: 329–35

Isasi CR, Deckelbaum RJ, Tracy RP, et al. Physical fitness and C-reactive protein level in children and young adults: the Columbia University Bio Markers Study. Pediatrics 2003; 111: 332–8

Friedman GD, Tekawa I, Grimm RH, et al. The leukocyte count: correlates and relationship to coronary risk factors:the CARDIA study. Int J Epidemiol 1990; 19: 889–93

Ortlepp JR, Metrikat J, Albrecht M, et al. Relationship between physical fitness and lifestyle behaviour in healthy young men. Eur J Cardiovasc Prev Rehabil 2004; 11: 192–200

Sternfeld B, Sidney S, Jacobs Jr DR, et al. Seven-year changes in physical fitness, physical activity, and lipid profilein the CARDIA study. Coronary Artery Risk Developmentin Young Adults. Ann Epidemiol 1999; 9: 25–33

Milligan RA, Burke V, Dunbar DL, et al. Associations between lifestyle and cardiovascular risk factors in 18-yearoldAustralians. J Adolesc Health 1997; 21: 186–95

Kneffel Z, Horvarth P, Petrekanits M, et al. Relationship between relative aerobic power and echocardiographiccharacteristics in male athletes. Echocardiography 2007; 24: 901–10

Novack V, Finestone AS, Constantini N, et al. The prevalence of low hemoglobin values among new infantry recruits andnonlinear relationship between hemoglobin concentrationand physical fitness. Am J Hematol 2007; 82: 128–33

Katzmarzyk PT, Craig CL. Musculoskeletal fitness and risk of mortality. Med Sci Sports Exerc 2002; 34: 740–4

Mattila VM, Tallroth K, Marttinen M, et al. Physical fitness and performance: body composition by DEXA and its association with fitness in 140 conscripts. Med Sci Sports Exerc 2007; 39: 2242–7

Heinonen A, Kannus P, Sievänen H, et al. Randomised controlled trial of effect of high-impact exercise on selectedrisk factors for osteoporotic fractures. Lancet 1996; 348 (9038): 1343–7

Mattila VM, Kuronen P, Pihlajamäki H. Nature and risk factors of injury hospitalization in young adults: a followup of 135.987 military conscripts. Scand J Public Health 2007; 35: 418–23

Rosendal L, Langberg H, Skov-Jensen A, et al. Incidence of injury and physical performance adaptations during militarytraining. Clin J Sport Med 2003; 13: 157–63

Heir T, Eide G. Injury proneness in infantry conscripts undergoing a physical training programme: smokeless tobaccouse, higher age, and low levels of physical fitness arerisk factors. Scand J Med Sci Sports 1997; 7: 304–11

Bauer KW, Nelson MC, Boutelle KN, et al. Parental influences on adolescents' physical activity and sedentary behavior:longitudinal findings from Project EAT-II. Int J Behav Nutr Phys Act 2008; 5: 1–7

van Heuvel SG, Boshuizen HC, Hildebrandt VH, et al. Effect of sporting activity on absenteeism in a working population. Br J Sports Med 2005; 39: 1–5

van Amelsvoort LGPM, Spigt MG, Swaen GMH, et al. Leisure time physical activity and sickness absenteeism; a prospective study. Occup Med 2006; 56: 210–12

Kyröläinen H, Häkkinen K, Kautiainen H, et al. Physical fitness, BMI and sickness absence in male military personnel. Occup Med 2008; 58: 251–6

Jago R, Nicklas T, Yang SJ, et al. Physical activity and health enhancing dietary behaviors in young adults: Bogalusa Heart Study. Prev Med 2005; 41 (1): 194–202

Haskell WL, Lee IM, Pate RR, et al. Physical activity and public health: updated recommendation for adults from the American College of Sports Medicine and the American Heart Association. Med Sci Sports Exerc 2007; 39 (8): 1423–34
Acknowledgements
The opinions or assertions contained in this review are the private views of the authors and are not to be construed as official or reflecting the views of the US Army or the US Department of Defense. No sources or funding were used to assist in the preparation of this review. The authors have no conflicts of interest that are directly relevant to the content of this review.
About this article
Cite this article
Kyröläinen, H., Santtila, M., Nindl, B.C. et al. Physical Fitness Profiles of Young Men. Sports Med 40, 907–920 (2010). https://doi.org/10.2165/11536570-000000000-00000
Published:

Issue Date:

DOI: https://doi.org/10.2165/11536570-000000000-00000
Keywords
Physical Activity

Arterial Stiffness

Physical Fitness

Aerobic Fitness

Lower Limb Injury