Abstract
Although economic theory indicates that it should not be necessary to intervene in the generic drug market through price regulation, most EU countries intervene in this market, both by regulating the maximum sale price of generics (price cap) and by setting the maximum reimbursement rate, especially by means of reference pricing systems.
We analyse current knowledge of the impact of direct price-cap regulation of generic drugs and the implementation of systems regulating the reimbursement rate, particularly through reference pricing and similar tools, on dynamic price competition between generic competitors in Europe.
A literature search was carried out in the EconLit and PubMed databases, and on Google Scholar. The search included papers published in English or Spanish between January 2000 and July 2009. Inclusion criteria included that studies had to present empirical results of a quantitative nature for EU countries of the impact of price capping and/or regulation of the reimbursement rate (reference pricing or similar systems) on price dynamics, corresponding to pharmacy sales, in the generic drug market.
The available evidence indicates that price-cap regulation leads to a levelling off of generic prices at a higher level than would occur in the absence of this regulation. Reference pricing systems cause an obvious and almost compulsory reduction in the consumer price of all pharmaceuticals subject to this system, to a varying degree in different countries and periods, the reduction being greater for originator-branded drugs than for generics. In several countries with a reference pricing system, it was observed that generics with a consumer price lower than the reference price do not undergo price reductions until the reference price is reduced, even when there are other lower-priced generics on the market (absence of price competition below the reference price). Beyond the price reduction forced by the price-cap and/or reference pricing regulation itself, the entry of new generic competitors is useful for lowering the real transaction price of purchases made by pharmacies (dynamic price competition at ex-factory level), although this effect is weaker or non-significant for official ex-factory prices and consumer prices in some countries. When maximum reimbursement systems such as reference pricing or similar types are applied, pharmacies are seen to receive large discounts on the price they pay for the pharmaceuticals, although these discounts are not transferred to the consumer price. The percentage discount offered to pharmacies in a country that uses a price-cap system combined with reference pricing is positively and significantly related to the number of generic competitors in the market for the pharmaceutical (dynamic price competition at ex-factory level).
Access options
Buy single article
Instant access to the full article PDF.
US$ 49.95
Tax calculation will be finalised during checkout.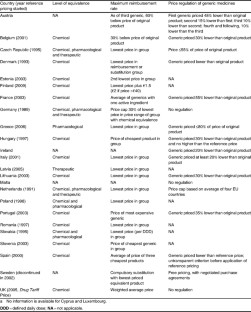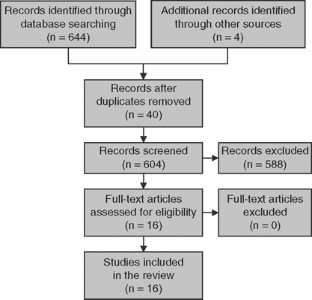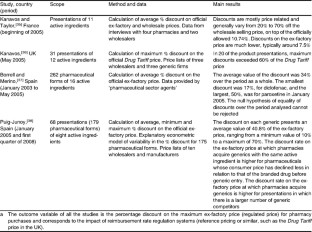 References
1.

Puig-Junoy J. The public financing of pharmaceuticals: an economic approach. Cheltenham: Edward Elgar Publishers, 2005

2.

Perry G. The European generic pharmaceutical market in review: 2006 and beyond. J Generic Med 2006; 4 (1): 4–14

3.

Simoens S. Trends in generic prescribing and dispensing in Europe. Expert Rev Clin Pharmacol 2008; 1 (4): 497–503

4.

European Generic Medicines Association (EGA). How to increase patient access to generic medicines in European healthcare systems. Brussels: EGA, 2009 Jul

5.

Simoens S. Sustaining generic medicines markets in Europe. J Generic Med 2006; 3 (4): 257–68

6.

Simoens S. International comparison of generic medicine prices. Curr Med Res Opin 2007; 23 (11): 2647–54

7.

Godman B, Bucsics A, Burkhardt T, et al. Insight into recent reforms and initiatives in Austria: implications for key stakeholders. Expert Rev Pharmacoecon Outcomes Res 2008; 8 (4): 357–71

8.

Wettermark B, Godman B, Andersson K, et al. Recent national and regional drug reforms in Sweden. Pharmacoeconomics 2008; 26 (7): 537–50

9.

Godman B, Haycox A, Schwabe U, et al. Having your cake and eating it: Office of Fair Trading proposal for funding new drugs to benefit patients and innovative companies. Pharmacoeconomics 2008; 26 (2): 91–8

10.

Walley T, Mrazef M, Mossialos E. Regulating pharmaceutical markets: improving efficiency and controlling costs in the UK. Int J Health Plann Manage 2005; 20: 375–98

11.

Espín J, Rovira J. Analysis of differences and commonalities in pricing and reimbursement systems in Europe. Brussels: European Commission-DG Enterprise and Industry, 2007

12.

Halb C, Anthony K, Arts D, et al. Surveying, assessing and analysing the pharmaceutical sector in the 25 EU member states. Vienna: European Commission-DG Competition, 2006

13.

Kanavos P. Overview of pharmaceutical pricing and reimbursement regulation in Europe. London: LSE Health and Social Care, 2001

14.

Pharma Industry Finland. Reference price system changes the competition environment of patented products: situation report. Pharma Industry Finland Newsletter 2008; 3: 1–2

15.

Vogler S, Halb C, Leopold C, et al. Pharmaceutical Pricing and Reimbursement Information (PPRI) Report. Vienna: European Commission-DG Competition, 2008

16.

European Generic Medicines Association (EGA). The future of pharmaceuticals: generic medicines enhancing pharmaceutical competition and ensuring health care sustainability. Brussels: EGA, 2007 Oct

17.

European Commission-DG Competition. Pharmaceutical sector inquiry: final report. 2009 Jul 9 [online]. Available from URL: http://ec.europa.eu/competition/sectors/pharmaceuticals/inquiry/staff_working_paper_part1.pdfandhttp://ec.europa.eu/competition/sectors/pharmaceuticals/inquiry/staff_working_paper_part2.pdf [Accessed 2010 Mar 23]

18.

Aaserud M, Dahlgren AT, Kösters JP, et al. Pharmaceutical policies: effects of reference pricing, other pricing, and purchasing policies. Cochrane Database Syst Rev 2009 Apr 19; (2): CD005979

19.

Reiffen D, Ward ME. Generic drug industry dynamics. Rev Econ Stat 2005; 87: 37–49

20.

Magazzini L, Pammolli F, Riccaboni M. Dynamic competition in pharmaceuticals: patent expiry, generic penetration and industry structure. Eur J Health Econ 2004; 5: 175–82

21.

Adriaen M, de Witte K, Simoens S. Pricing strategies of originator and generic medicines following patent expiry in Belgium. J Generic Med 2008; 5 (3): 175–87

22.

Danzon MP, Chao L. Does regulation drive out competition in pharmaceutical markets? J Law Econ 2000; 43 (2): 311–57

23.

Wettermark B, Godman B, Jacobsson B, et al. Soft regulations in pharmaceutical policymaking: an overview of current approaches and their consequences. Appl Health Econ Health Policy 2009; 7 (3): 1–11

24.

Pavcnik N. Do pharmaceutical prices respond to potential out-of-pocket expenses? Rand J Econ 2002; 33 (3): 469–87

25.

Boersma C, Klok RM, Bos JM, et al. Drug costs developments after patent expiry of enalapril, fluoxetine, and ranitidine: a study conducted for the Netherlands. Appl Health Econ Health Policy 2005; 4 (3): 191–6

26.

Ghislandi S, Krulichova I, Garattini L. Pharmaceutical policy in Italy: towards a structural change? Health Policy 2005; 72: 53–63

27.

Andersson K, Petzold MG, Sonesson C, et al. Do policy changes in the pharmaceutical reimbursement schedule affect drug expenditures? Interrupted time series analysis of cost, volume and cost per volume trends in Sweden 1986–2002. Health Policy 2006; 79: 231–43

28.

Puig-Junoy J. The impact of generic reference pricing interventions in the statin market. Health Policy 2007; 84: 14–29

29.

Podnar K, Molj B, Golob U. How reference pricing for pharmaceuticals can increase generic share of market: the Slovenian experience. J Pub Pol Marketing 2007; 26 (1): 89–101

30.

Brekke K, Holmas TH, Straume OR. Regulation, generic competition and pharmaceutical prices: theory and evidence from a natural experiment. Núcleo de Investigaçao em Políticas Económicas, Universidade do Minho, working paper 1/2008. Braga: Universidade do Minho, 2008

31.

Kanavos P, Costa-Font J, Seeley E. Competition in offpatent drug markets: issues, regulation and evidence. Contemp Econ Policy 2008 July; 23 (7): 499–544

32.

Augurzki B, Göhlmann S, Gress S, et al. Effects of the German reference drug program on ex-factory prices of prescription drugs: a panel data approach. Health Econ 2009; 18 (4): 421–36

33.

Brekke K, Holmås TH, Straume OR. Are pharmaceuticals still inexpensive in Norway? A price comparison of prescription-only pharmaceuticals in Norway and 9 western European countries [SNF report no. 06/09]. Oslo: Apltekforeningen, 2009

34.

Puig-Junoy J, Moreno I. Análisis del impacto de la competencia sobre el precio de venta al público de los medicamentos genéricos sujetos al sistema de precios de referencia. Informe de la Autoritat Catalana de la Competència [online]. Available from URL: http://acco.gencat.cat/estudis/index.html [Accessed 2009 Nov 30]

35.

Kanavos P, Taylor D. Pharmacy discounts on generic medicines in France: is there room for further efficiency savings? Curr Med Res Opin 2007; 23 (10): 2467–76

36.

Kanavos P. Do generics offer significant savings to the UK National Health Service? Curr Med Res Opin 2007; 23 (1): 105–16

37.

Borrell JR, Merino A. The benefits of an incipient competition: discounts to pharmacies [in Spanish]. Anuario de la Competencia, Fundación ICO. Madrid: Marcial Pons, 2006: 153–72

38.

Puig-Junoy J. Análisis de los descuentos competitivos a las oficinas de farmacia en las compras de medicamentos genéricos. Informe de la Autoritat Catalana de la Competència [online]. Available from URL: http://acco.gencat.cat/estudis/index.html [Accessed 2009 Nov 30]

39.

Puig-Junoy J. What is required to evaluate the impact of pharmaceutical reference pricing? Appl Health Econ Health Policy 2005; 4 (2): 87–98

40.

Anis AH, Guh DP, Wolcott J. Lowering generic drug prices: less regulation equals more competition. Med Care 2003; 41 (1): 135–41
Acknowledgements
The author gratefully acknowledges Iván Moreno's help and support in conducting the systematic literature search and preparing table I.
Financial support is acknowledged from the Catalan Competition Authority (ACCO) and the Spanish Ministry of Education and Science under grant SEJ2007-66133. The author also benefited from support by an unrestricted educational grant from the Merck Company Foundation, the philanthropic arm of Merck & Co. Inc., Whitehouse Station, NJ, USA. The author declares that the funding sources did not play any role in the development of the article.
The author has no financial or other conflicts of interest that are directly relevant to the content of this review.
About this article
Cite this article
Puig-Junoy, J. Impact of European Pharmaceutical Price Regulation on Generic Price Competition. Pharmacoeconomics 28, 649–663 (2010). https://doi.org/10.2165/11535360-000000000-00000
Keywords
Reference Price

Price Competition

Price Regulation

Reimbursement Rate

Reference Price System