Abstract
Childhood-onset psoriasis affects approximately one-third of the psoriatic population. Among many potential treatments of childhood psoriasis, biological agents are emerging as a valuable option in the management of this disease. InEurope, etanercept has recently been approved for children aged 8 years and over. Data froma well-designed clinical trial indicate that in children, etanercept effectively reduces psoriasis symptoms, with beneficial effects evident as early as 4 weeks after the initiation of treatment. Etanercept iswell tolerated; adverse effects are typically mild to moderate in severity. Early data from other biological agents are promising.
This is a preview of subscription content, log in to check access.
Access options
Buy single article
Instant access to the full article PDF.
US$ 49.95
Price includes VAT for USA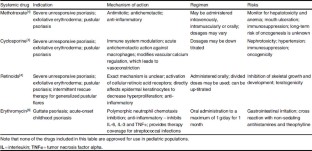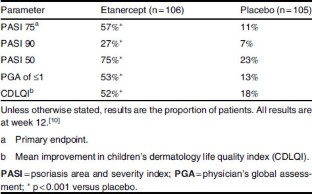 References
1.

Sukhatme SV, Gottlieb AB. Pediatric psoriasis: updates in biologic therapies. Dermatol Ther 2009; 22: 34–9

2.

Marcoux D, Prost Y. Pediatric psoriasis revisited. J Cutan Med Surg 2002; 6 (3 Suppl.): 22–8

3.

Duffin KC, Krueger GG. Genetic variations in cytokines and cytokine receptors associated with psoriasis found by genome-wide association. J Invest Dermatol 2009; 129: 827–33

4.

Cordoro KM. Management of childhood psoriasis. Adv Dermatol 2008; 24: 125–69

5.

EPARs for authorised medicinal products for human use. Enbrel. Available from: http://www.emea.europa.eu/humandocs/Humans/EPAR/enbrel/enbrelM2.htm

6.

Brecher AR, Orlow SJ. Oral retinoid therapy for dermatologic conditions in children and adolescents. J Am Acad Demiatol 2003; 49: 171–82

7.

Pasic A, Ceovic R, Lipozencic J, et al. Phototherapy in pediatric patients. Pediatr Dermatol 2003; 20: 71–7

8.

Herbst RA, Hoch O, Kapp A, et al. Guttate psoriasis triggered by perianal streptococcal dermatitis in a four-year-old boy. J Am Acad Dermatol 2000; 42: 885–7

9.

Hawrot AC, Metry DW, Theos AJ, et al. Etanercept for psoriasis in the pediatric population: experience in nine patients. Pediatr Dermatol 2006; 23: 67–71

10.

Paller AS, Siegfried EC, Langley RG, et al. Etanercept treatment for children and adolescents with plaque psoriasis. N Engl J Med 2008; 358: 241–51

11.

Pereira TM, Vieira AP, Fernandes JC, et al. Anti-TNF-alpha therapy in childhood pustular psoriasis. Dermatology 2006; 213: 350–2

12.

FDA: CancerWarnings Required for TNF Blockers. Available from: http://www.fda.gov/NewsEvents/Newsroom/PressAnnouncements/ucm175803.htm
Acknowledgments
Editorial assistance for the preparation of this manuscript was provided by Stephanie Blick of inScience Communications. This assistance was funded by Pfizer. The authors report no conflicts of interest.
About this article
Cite this article
Bard, S., Torchia, D. & Schachner, L.A. Managing Pediatric Patients with Psoriasis. AM J Clin Dermatol 11, 15–17 (2010). https://doi.org/10.2165/1153415-S0-000000000-00000
Keywords
Psoriasis

Infliximab

Etanercept

Juvenile Rheumatoid Arthritis

Plaque Psoriasis