Abstract
Off-label use is common in dermatology, and is inevitable for rare cutaneous diseases such as perforating dermatosis. Allopurinol is traditionally considered to be a drug for hyperuricemia only, but the recent demonstration of its efficacy in congestive heart failure has spurred renewed interest in its application in other clinical specialties. In dermatology, allopurinol is best known for its severe cutaneous adverse reactions. Recent genomic studies conducted in Taiwan have discovered useful HLA markers for determining the susceptibility of Stevens-Johnson syndrome and toxic epidermal necrolysis associated with allopurinol.
Allopurinol has also been used in a number of dermatologic disorders including acquired reactive perforating collagenosis, sarcoidosis, psoriasis and granulomas caused by methacrylate microspheres, silicon and tattoos. Allopurinol may express its therapeutic effects via its antioxidation or anti-inflammatory properties, or its ability to improve vascular function.
Access options
Buy single article
Instant access to the full article PDF.
USD 39.95
Price excludes VAT (USA)
Tax calculation will be finalised during checkout.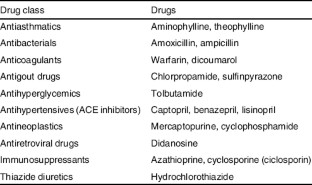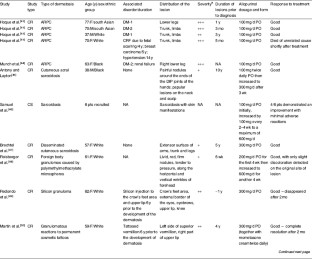 References
Jordan KM, Cameron JS, Snaith M, et al. British Society for Rheumatology and British Health Professionals in Rheumatology guideline for the management of gout: British Society for Rheumatology and British Health Professionals in Rheumatology Standards, Guidelines and Audit Working Group (SGAWG). Oxford: Oxford University Press, 2007

Pacher P, Nivorozhkin A, Szabó C. Therapeutic effects of xanthine oxidase inhibitors: renaissance half a century after the discovery of allopurinol. Pharmacol Rev 2006; 58: 87–114

Rx care Canada. Allopurinol [online]. Available from URL: http://www.rxcarecanada.com/Allopurinol.asp [Accessed 2008 Oct 3]

Gorrie M, Beaman M, Nicholls A, et al. Drug points: allopurinol interactionwith cyclosporine. BMJ 1994; 308: 113

University of Maryland Medical Centre, Complementary Medicine. Allopurinol [online]. Available from URL: http://www.umm.edu/altmed/drugs/allopurinol-002400.html [Accessed 2008 Oct 3]

Butler R, Morris AD, Belch JJ, et al. Allopurinol normalizes endothelial dysfunction in type 2 diabetics with mild hypertension. Hypertension 2000; 35: 746–51

George J, Carr E, Davies J, et al. High-dose allopurinol improves endothelial function by profoundly reducing vascular oxidative stress and not by lowering uric acid. Circulation 2006; 114: 2508–16

Mittal A, Phillips AR, Loveday B, et al. The potential role for xanthine oxidase inhibition in major intra-abdominal surgery. World J Surg 2008; 32: 288–95

Comert B, Isik AT, Aydin S, et al. Combination of allopurinol and hyperbaric oxygen therapy: a new treatment in experimental acute necrotizing pancreatitis? World J Gastroenterol 2007; 13: 6203–7

Tasci I, Deveci S, Isik AT, et al. Allopurinol in rat chronic pancreatitis: effects on pancreatic stellate cell activation. Pancreas 2007; 35: 366–71

Makay O, Yukselen V, Vardar E, et al. Role of allopurinol on oxidative stress in caustic burn: cure for stricture? Pediatr Surg Int 2007; 23: 1105–12

Inkster ME, Cotter MA, Cameron NE. Treatment with the xanthine oxidase inhibitor, allopurinol, improves nerve and vascular function in diabetic rats. Eur J Pharmacol 2007; 561: 63–71

Struthers AD, Donnan PT, Lindsay P, et al. Effect of allopurinol on mortality and hospitalisations in chronic heart failure: a retrospective cohort study. Heart 2002; 87: 229–34

Farquharson CA, Butler R, Hill A, et al. Allopurinol improves endothelial dysfunction in chronic heart failure. Circulation 2002; 106: 221–6

McNaughton CO, Wilt T. Allopurinol for chronic prostatitis. Cochrane Database Syst Rev 2000; (4): CD001041

Lara DR, Cruz MR, Xavier F, et al. Allopurinol for the treatment of aggressive behaviour in patients with dementia. Int Clin Psychopharmacol 2003; 18: 53–5

Rx List: The Internet Drug Index. Zyloprim-drug interaction [online]. Available from URL: http://www.rxlist.com/zyloprim-drug.htm [Accessed 2008 Oct 3]

Drug Information Online. Allopurinol drug interactions [online]. Available from URL: http://www.drugs.com/drug-interactions/allopurinol_d00023.html [Accessed 2008 Oct 3]

MedicineNet.com. Allopurinol-drug interactions [online]. Available from URL: http://www.medicinenet.com/allopurinol-oral/page2.htm [Accessed 2008 Oct 3]

Hamanaka H, Mizutani H, Nouchi N, et al. Allopurinol hypersensitivity syndrome: hypersensitivity to oxypurinol but not allopurinol. Clin Exp Dermatol 1998; 23: 32–4

Markel A. Allopurinol hypersensitivity and DRESS syndrome. Am J Med 2008; 121: 235: e25

Markel A. Allopurinol-induced DRESS syndrome. Isr Med Assoc J 2005; 7: 656–60

Ichiche M, Kiesch N, Bels D. DRESS syndrome associated with HHV-6 reactivation. Eur J Intern Med 2003; 14: 498–500

Shiohara T, Iijima M, Ikezawa Z, et al. The diagnosis of a DRESS syndrome has been sufficiently established on the basis of typical clinical features and viral reactivations. Br J Dermatol 2007; 156: 1083–4

Masaki T, Fukunaga A, Tohyama M, et al. Human herpes virus 6 encephalitisin allopurinol-induced hypersensitivity syndrome. Acta Derm Venereol 2003; 83: 128–31

Descamps V, Valance A, Edlinger C, et al. Association of human herpesvirus 6 infection with drug reaction with eosinophilia and systemic symptoms. Arch Dermatol 2001; 137: 301–4

Ghislain PD, Roujeau JC. Treatment of severe drug reactions: Stevens-Johnson syndrome, toxic epidermal necrolysis and hypersensitivity syndrome. Dermatol Online J 2002; 8: 5

Bastuji-Garin S, Fouchard N, Bertocchi M, et al. SCORTEN: a Severity-of-Illness Score for Toxic Epidermal Necrolysis. J Invest Dermatol 2000; 115: 149–53

Ooi CG, Walker P, Sidhu SK, et al. Allopurinol induced generalized eosinophilic pustular folliculitis. Australas J Dermatol 2006; 47: 270–3

Yu RC, Chu TC. Allopurinol-induced toxic pustuloderma. Br J Dermatol 1993; 128: 95–8

Becker D, Enk A, Bräuninger W, et al. Granuloma annulare disseminatum as a rare side effect of allopurinol [in German]. Hautarzt 1995; 46: 343–5

Bouloc A, Reygagne P, Lecoz P, et al. Perforating foot ulceration with allopurinol therapy. Clin Exp Dermatol 1996; 21: 351–2

Atzori L, Pinna AL, Ferreli C, et al. Pityriasis rosea-like adverse reaction: review of the literature and experience of an Italian drug-surveillance center. Dermatol Online J 2006; 12: 1

Halevy S, Ghislain PD, Mockenhaupt M, et al. Allopurinol is the most common cause of Stevens-Johnson syndrome and toxic epidermal necrolysis in Europe and Israel. J Am Acad Dermatol 2008; 58: 25–32

Roujeau JC, Kelly JP, Naldi L, et al. Medication use and the risk of Stevens-Johnson syndrome or toxic epidermal necrolysis. N Engl J Med 1995; 333: 1600–7

Hung SI, Chung WH, Liou LB, et al. HLA-B*5801 allele as a genetic marker for severe cutaneous adverse reactions caused by allopurinol. Proc Natl Acad Sci U S A 2005; 102: 4134–9

Lin MS, Dai YS, Pwu RF, et al. Risk estimates for drugs suspected of being associated with Stevens-Johnson syndrome and toxic epidermal necrolysis: a case-control study. Intern Med J 2005; 35: 188–90

Hung SI, Chung WH, Chen YT. Genetics of severe drug hypersensitivity reactions in Han Chinese. In: Pichler WJ, editor. Drug hypersensitivity. 1st ed. Basel: Karger, 2007: 55–64

Dainichi T, Uchi H, Moroi Y, et al. Stevens-Johnson syndrome, drug-induced hypersensitivity syndrome and toxic epidermal necrolysis caused by allopurinol in patients with a common HLA allele: what causes the diversity? Dermatology 2007; 215: 86–8

Lonjou C, Borot N, Sekula P, et al. A European study of HLA-B in Stevens-Johnson syndrome and toxic epidermal necrolysis related to five high-risk drugs. Pharmacogenet Genomics 2008; 18: 99–107

Hoque SR, Ameen M, Holden CA. Acquired reactive perforating collagenosis: four patients with a giant variant treated with allopurinol. Br J Dermatol 2006; 154: 759–62

Querings K, Balda BR, Bachter D. Treatment of acquired reactive perforating collagenosis with allopurinol. Br J Dermatol 2001; 145: 174–6

Faver IR, Daoud MS, Su WPD. Acquired reactive perforating collagenosis: report of six cases and review of the literature. J Am Acad Dermatol 1994; 30: 575–80

Munch M, Balslev E, Jemec GB. Treatment of perforating collagenosis of diabetes and renal failure with allopurinol. Clin Exp Dermatol 2000; 25: 615–6

Antony F, Layton AM. A case of cutaneous acral sarcoidosis with response to allopurinol. Br J Dermatol 2000; 142: 1052–3

Samuel M, Allen GE, McMillan SC, et al. Sarcoidosis: initial results on six patients treated with allopurinol [conference abstract]. Br J Dermatol 1984; 111 Suppl. 26: 20

Brechtel B, Haas N, Henz BM, et al. Allopurinol: a therapeutic alternative for disseminated cutaneous sarcoidosis. Br J Dermatol 1996; 135: 307–9

Reisberger EM, Landthaler M, Wiest L, et al. Foreign body granulomas caused by polymethylmethacrylate microspheres successful treatment with allopurinol. Arch Dermatol 2003; 139: 17–20

Redondo P, Del Olmo J, Alberola I. In situ and distant foreign body granulomas caused by silicone: treatmentwith allopurinol. Br J Dermatol 2005; 152: 1062–94

Martin JM, Revert A, Monteagudo C, et al. Granulomatous reactions to permanent cosmetic tattoos successfully treated with topical steroids and allopurinol. J Cosmet Dermatol 2007; 6: 229–31

Fischer J, Metzler G, Schaller M. Cosmetic permanent fillers for soft tissue augmentation: a new contraindication for interferon therapies. Arch Dermatol 2007; 143: 505–10

Esfandiarpour I, Alavi A. Evaluating the efficacy of allopurinol and meglumine antimoniate (Glucantime) in the treatment of cutaneous leishmaniasis. Int J Dermatol 2002; 41: 521–4

Rakhmatov AB. Allopurinol in the treatment of psoriasis patients. Vestn Dermatol Venerol 1986; 1: 58–9

Feuerman EJ, Nir MA. Allopurinol in psoriasis: a double-blind study. Br J Dermatol 1973; 89: 83–6

Yokomizo H, Yoshimatsu K, Hashimoto M, et al. Prophylactic efficacy of allopurinol ice ball for leucovorin/5-FU therapy-induced stomatitis. Anticancer Res 2004; 24: 1131–4

El-Farrash MA, Youssef JM, El-Mongy SE. Allopurinol as a potential therapeutic agent for recurrent herpes labialis. J Med Dent Sci 2003; 50: 147–54

Mazzatenta C, Ghilardi A, Grazzini M. Treatment of disseminated granuloma annulare with allopurinol: case report. Dermatol Ther 2010; 23 Suppl. 1: S24–7

Shih CJ, Tsai TF, Chen YF, et al. Kyrle's disease successfully treated with allopurinol. Int J Dermatol. In press

Rodemer Y. Use of allopurinol for the treatment of palmo-plantar erythrodysesthesia. Poster no. 128 presented at the 10th World Congress on Gastrointestinal Cancer; 2008 Jun 25-28; Barcelona

Lonn E, Factor SM, van Hoeven KH, et al. Effects of oxygen free radicals and scavengers on the extracellular collagen matrix during ischaemia-reperfusion. Can J Cardiol 1994; 10: 203–13

Kim C, Long WT. Sarcoidosis. Dermatol Online J 2004; 10: 24

De Boulle K. Management of complications after implantation of fillers. J Cosmet Dermatol 2004; 3: 2–15

Namazi MR. Cannabinoids, loratadine and allopurinol as novel additions to the antipsoriatic ammunition. JEADV 2005; 19: 319–22

Mizuno K, Okamoto H, Horio T. Cutaneous biology inhibitory influences of xanthine oxidase inhibitor and angiotensin I-converting enzyme inhibitor on multinucleated giant cell formation from monocytes by downregulation of adhesionmolecules and purinergic receptors. Br J Dermatol 2004; 150: 205–10

Williams JD, Griffiths CE. Cytokine blocking agents in dermatology. Clin Exp Dermatol 2002; 27: 585–90

Viglioglia PA, Plante GE, Viglioglia J, et al. Allopurinol in psoriasis. Dermatologica 1970; 141: 203–7

Wachowicz B, Olas B, Zbikowska HM, et al. Generation of reactive oxygen species in blood platelets. Platelets 2002; 13: 175–82

Chocair P, Duley J, Simmonds HA, et al. Low-dose allopurinol plus azathioprine/cyclosporin/prednisolone, a novel immunosuppressive regimen. Lancet 1993; 342: 83–4

Namazi MR. Cetirizine and allopurinol as novel weapons against cellular autoimmune disorders. Int Immunopharmacol 2004; 4: 349–53
Acknowledgments
No sources of funding were used to assist in the preparation of this review. The authors have no conflicts of interest that are directly relevant to the content of this review.
About this article
Cite this article
Tsai, TF., Yeh, TY. Allopurinol in Dermatology. Am J Clin Dermatol 11, 225–232 (2010). https://doi.org/10.2165/11533190-000000000-00000
Published:

Issue Date:

DOI: https://doi.org/10.2165/11533190-000000000-00000
Keywords