Access options
Buy single article
Instant access to the full article PDF.
US$ 49.95
Tax calculation will be finalised during checkout.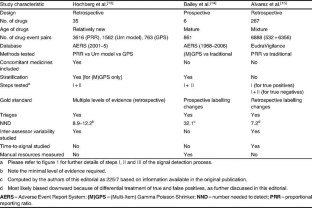 References
1.

Bate A, Lindquist M, Edwards IR, et al. A Bayesian neural network method for adverse drug reaction signal generation. Eur J Clin Pharmacol 1998; 54(4): 315–21

2.

Almenoff J, Tonning JM, Gould AL, et al. Perspectives on the use of data mining in pharmacovigilance. Drug Saf 2005; 28(11): 981–1007

3.

European Medicines Agency, EudraVigilance Expert Working Group. Guideline on the use of statistical signal detection methods in the EudraVigilance data analysis system [online]. Available from URL: http://www.emea.europa.eu/pdfs/human/phvwp/10646406en.pdf [Accessed 2010 May 5]

4.

CIOMS Working Group VIII. Report on practical aspects of signal detection in pharmacovigilance. Geneva: CIOMS. In press

5.

Norén GN, Orre R, Bate A, et al. Duplicate detection in adverse drug reaction surveillance. Data Min Knowl Discov 2007; 14: 305–28

6.

Hauben M, Reich L, DeMicco J, et al. Extreme duplication in the US FDA Adverse Events Reporting System database. Drug Saf 2007; 30(6): 551–4

7.

Henegar C, Bousquet C, Lillo-Le Louët A, et al. Building an ontology of adverse drug reactions for automated signal generation in pharmacovigilance. Comput Biol Med 2006; 36(7–8): 748–67

8.

Brown EG. Effects of coding dictionary on signal generation: a consideration of use of MedDRA compared with WHO-ART. Drug Saf 2002; 25(6): 445–52

9.

Hauben M, Aronson JK. Defining 'signal' and its subtypes in pharmacovigilance based on a systematic review of previous definitions. Drug Saf 2009; 32(2): 99–110

10.

Meyboom RH, Lindquist M, Egberts AC, et al. Signal selection and follow-up in pharmacovigilance. Drug Saf 2002; 25(6): 459–65

11.

Erratum. Br J Clin Pharmacol 2007; 64 (1): 118

12.

Lindquist M, Ståhl M, Bate A, et al. A retrospective evaluation of a data mining approach to aid finding new adverse drug reaction signals in the WHO international database. Drug Saf 2000; 23(6): 533–42

13.

Hochberg AM, Hauben M, Pearson RK, et al. An evaluation of three signal-detection algorithms using a highly inclusive reference event database. Drug Saf 2009; 32(6): 509–25

14.

Bailey S, Singh A, Azadian R, et al. Prospective data mining of six products in the US FDA Adverse Event Reporting System: disposition of events identified and impact on product safety profiles. Drug Saf 2010; 33(2): 139–46

15.

Alvarez Y, Hidalgo A, Maignen F, et al. Validation of statistical signal detection procedures in EudraVigilance post-authorisation data: a retrospective evaluation of the potential for earlier signalling. Drug Saf 2010; 33(6): 475–87

16.

Ståhl M, Lindquist M, Edwards IR, et al. Introducing triage logic as a new strategy for the detection of signals in the WHO Drug Monitoring Database. Pharmacoepidemiol Drug Saf 2004; 13(6): 355–63

17.

Levitan B, Yee CL, Russo L, et al. A model for decision support in signal triage. Drug Saf 2008; 31(9): 727–35

18.

Walker AM. Orthogonal predictions: follow-up questions for suggestive data. Pharmacoepidemiol Drug Saf 2010; 19(5): 529–32

19.

Hauben M, Reich L, Gerrits CM, et al. Illusions of objectivity and a recommendation for reporting data mining results. Eur J Clin Pharmacol 2007; 63(5): 517–21

20.

Hauben M, Bate A. Data mining in drug safety: side effects of drugs essay. In: Aronson JK, editor. Side effects of drugs annual. Vol. 29. Amsterdam: Elsevier, 2007: xxxiii–xlvi

21.

Taubes G. Epidemiology faces its limits. Science 1995; 269(5221): 164–9

22.

Meyboom RH, Hekster YA, Egberts AC, et al. Causal or casual? The role of causality assessment in pharmacovigilance. Drug Saf 1997; 17(6): 374–89

23.

Aronson JK, Hauben M. Anecdotes that provide definitive evidence. BMJ 2006; 333(7581): 1267–9

24.

Hauben M, Reich L. Response to letter by Levine et al. Br J Clin Pharmacol 2006; 61(1): 115–7

25.

Almenoff JS, LaCroix KK, Yuen NA, et al. Comparative performance of two quantitative safety signalling methods: implications for use in a pharmacovigilance department. Drug Saf 2006; 29(10): 875–87

26.

Hochberg AM, Hauben M. Time-to-signal comparison for drug safety data-mining algorithms vs. traditional signaling criteria. Clin Pharmacol Ther 2009; 85(6): 600–6

27.

Bate A, Edwards IR. Data mining in spontaneous reports. Basic Clin Pharmacol Toxicol 2006; 98(3): 324–30
Acknowledgements
No sources of funding were used in the preparation of this editorial. Manfred Hauben is a full-time employee of Pfizer Inc., and owns stock/stock options in Pfizer Inc. and other pharmaceutical companies. Niklas Norén has no conflicts of interest to declare.
About this article
Cite this article
Haubenand, M., Norén, G.N. A Decade of Data Mining and Still Counting. Drug-Safety 33, 527–534 (2010). https://doi.org/10.2165/11532430-000000000-00000