Abstract
Inverse psoriasis is a rare form of psoriasis that affects between 3% and 7% of psoriasis patients. Its appearance and distribution in the flexural skin folds makes it a difficult disease to diagnose, and because it is thought of as a variant of psoriasis, there are very few studies that deal with it exclusively. We present a short case report of inverse psoriasis and a review of the literature on various facets of this disease: epidemiology, histology, clinical presentation, differential diagnosis, and treatment.
Access options
Buy single article
Instant access to the full article PDF.
US$ 49.95
Tax calculation will be finalised during checkout.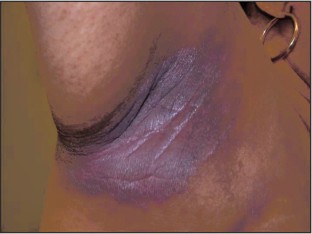 References
1.

Wang G, Li C, Gao T, et al. Clinical analysis of 48 cases of inverse psoriasis: a hospital-based study. Eur J Dermatol 2005; 15 (3): 176–8

2.

Kundacki N, Tursen U, Babikar MOA, et al. The evaluation of the sociodemographic and clinical features of Turkish psoriasis patients. Int J Dermatol 2002; 41: 220–4

3.

van de Kerkhof PCM, Murphy GM, Austad J, et al. Psoriasis of the face and flexures. J Dermatolog Treat 2007; 18: 351–60

4.

Gelfand JM, Stern RS, Nijsten T, et al. The prevalence of psoriasis in African Americans: results from a population-based study. J Am Acad Dermatol 2005; 52 (1): 23–6

5.

Gudjonsson JE, Elder JT. Psoriasis: epidemiology. Clin Dermatol 2007; 25 (6): 535–46

6.

Fransson J, Storgards K, Hammar H. Palmoplantar lesions in psoriasis patients and their relation to inverse psoriasis, tinea infections and contact allergy. Acta Derm Venereol 1985; 65 (3): 218–23

7.

Habif TP. Psoriasis and other papulosquamous diseases. In: Habif TP. Clinical dermatology. 4th ed. Edinburgh: Mosby, Inc., 2004: 209–66

8.

De Rosa G, Mignogna C. The histopathology of psoriasis. Reumatismo 2007; 59 Suppl. 1: 46–8

9.

Ghoreschi K, Weigert C, Rocken M. Immunopathogenesis and role of T cells in psoriasis. Clin Dermatol 2007; 25 (6): 574–80

10.

Vissers WH, Roelofzen J, De Jong EM, et al. Flexural versus plaque lesions in psoriasis: an immunohistochemical differention. Eur J Dermatol 2005; 15 (1): 13–7

11.

Peramiquel L, Puig L, Dalmau J, et al. Onset of flexural psoriasis during infliximab treatment for Crohn's disease. ClinExp Dermatol 2005 Nov; 30: 707–26

12.

Pauluzzi P, Boccucci N. Inverse psoriasis induced by terbinafine [letter]. Acta Derm Venereol 1999 Sep; 79 (5): 389

13.

Shelley ED, Shelley WB. Inframammary, intertriginous, and decubital erosions due to etretinate. Cutis 1990 Feb; 45 (2): 111–3

14.

Hassan AS, Simon D, Simon H, et al. Efalizumab-associated papular psoriasis. Arch Dermatol 2007 Jul; 143 (7): 900–6

15.

Rallis E, Koumantak-Mathioudaki E. Pimecrolimus induced tinea incognito masquerading as intertriginous psoriasis. Mycoses 2008 Jan; 51 (1): 71–3

16.

Janniger CK, Schwartz RA, Szepietowski JC, et al. Intertrigo and common secondary skin infections. Am Fam Physician 2005 Sep; 72 (5): 833–8

17.

Flystrom I, Bergbrant I, Brared J, et al. Microorganisms in intertriginous psoriasis: no evidence of Candida. Acta Derm Venereol 2003; 83 (2): 121–3

18.

Leibovici V, Alkalay R, Hershko K, et al. Prevalence of Candida on the tongue and intertriginous areas of psoriatic and atopic dermatitis patients. Mycoses 2008 Jan; 51 (1): 63–6

19.

Lisi P. Differential diagnosis of psoriasis. Reumatismo 2007; 59 Suppl. 1: 56–60

20.

Cheng S, Edmonds E, Ben-Gashir M, et al. Subcorneal pustular dermatosis: 50 years on. Clin Exp Dermatol 2008 May; 33 (3): 229–33

21.

Breier-Maly J, Ortel B, Breier F, et al. Generalized pustular psoriasis of pregnancy (impetigo herpetiformis). Dermatology 1999; 198 (1): 61–4

22.

Lebwohl MG, Tan M, Meador SL, et al. Limited application of fluticasone propionate ointment, 0.0005% in patients with psoriasis of the face and intertriginous areas. J Am Acad Dermatol 2001 Jan; 44 (1): 77–82

23.

Gribetz C, Ling M, Lebwohl M, et al. Pimecrolimus cream 1% in the treatment of intertriginous psoriasis: a double-blind randomized study. J Am Acad Dermatol 2004 Nov; 51 (5): 731–8

24.

Steele JA, Choi C, Kwong PC. Topical tacrolimus in the treatment of inverse psoriasis in children. J Am Acad Dermatol 2005 Oct; 53 (4): 713–6

25.

Brune A, Miller DW, Lin P, et al. Tacrolimus ointment is effective for psoriasis on the face and intertriginous areas in pediatric patients. Pediatr Dermatol 2007; 24 (1): 76–80

26.

Ortonne JP, Humbert P, Nicolas JF, et al. Intra-individual comparison of the cutaneous safety and efficacy of calcitriol 3 mg/g ointment and calcipotriol 50 mg/g ointment on chronic plaque psoriasis localized in facial, hairline, retroauricular or flexural areas. Br J Dermatol 2003; 148: 326–33

27.

Lebwohl M, Ali S. Treatment of psoriasis: part 2. Systemic therapies. J Am Acad Dermatol 2001; 45 (5): 649–61

28.

Khachemoune A, Guillen S. Psoriasis: disease management with a brief review of new biologics. Dermatol Nurs 2006; 18 (1): 40–9

29.

George D, Rosen T. Treatment of inverse psoriasis with efalizumab. J Drugs Dermatol 2009; 8 (1): 74–6

30.

Kuehn B. Efalizumab withdrawn. JAMA 2009; 301 (20): 2085

31.

Lebwohl M, Ali S. Treatment of psoriasis: part 1. Topical therapy and phototherapy. J Am Acad Dermatol 2001; 45 (1): 487–98

32.

Mafong E, Friedman PM, Kauvar ANB, et al. Treatment of inverse psoriasis with the 308nm excimer laser. Dermatol Surg 2002; 28 (6): 530–2

33.

Carrascosa JM, Soria X, Domingo H, et al. Treatment of inverse psoriasis with excimer therapy and tacrolimus ointment. Dermatol Surg 2007; 33: 361–3

34.

Zanchi M, Favot F, Bizzarini M, et al. Botulinum toxin type-A for the treatment of inverse psoriasis. J Eur Acad Dermatol Venereol 2008; 22: 431–6

35.

Kalb RE, Bagel J, Korman NJ, et al. Treatment of intertriginous psoriasis: from the medical board of the National Psoriasis Foundation. J Am Acad Dermatol 2009 Jan; 60 (1): 120–4
Acknowledgments
Zain U. Syed, MD, is currently a clinical research fellow at the Department of Dermatology, Henry Ford Medical Center in Detroit, MI, USA. Dr Khachemoune is a Mohs micrographic surgeon and a dermatopathologist at the Veterans Affairs Medical Center and the Department of Dermatology at the State University of New York in Brooklyn, NY, USA. Neither author has any conflicts of interest, sources of financial support, patent filings, or corporate involvement with respect to this case report.
About this article
Cite this article
Syed, Z.U., Khachemoune, A. Inverse Psoriasis. Am J Clin Dermatol 12, 143–146 (2011). https://doi.org/10.2165/11532060-000000000-00000
Keywords
Psoriasis

Tacrolimus

Psoriasis Patient

Pimecrolimus

Calcipotriol