Abstract
Cold therapy is commonly used as a procedure to relieve pain symptoms, particularly in inflammatory diseases, injuries and overuse symptoms. A peculiar form of cold therapy (or stimulation) was proposed 30 years ago for the treatment of rheumatic diseases. The therapy, called whole-body cryotherapy (WBC), consists of exposure to very cold air that is maintained at −110°C to −140°C in special temperature-controlled cryochambers, generally for 2 minutes. WBC is used to relieve pain and inflammatory symptoms caused by numerous disorders, particularly those associated with rheumatic conditions, and is recommended for the treatment of arthritis, fibromyalgia and ankylosing spondylitis. In sports medicine, WBC has gained wider acceptance as a method to improve recovery from muscle injury. Unfortunately, there are few papers concerning the application of the treatment on athletes. The study of possible enhancement of recovery from injuries and possible modification of physiological parameters, taking into consideration the limits imposed by antidoping rules, is crucial for athletes and sports physicians for judging the real benefits and/or limits of WBC.
According to the available literature, WBC is not harmful or detrimental in healthy subjects. The treatment does not enhance bone marrow production and could reduce the sport-induced haemolysis. WBC induces oxidative stress, but at a low level. Repeated treatments are apparently not able to induce cumulative effects; on the contrary, adaptive changes on antioxidant status are elicited — the adaptation is evident where WBC precedes or accompanies intense training. WBC is not characterized by modifications of immunological markers and leukocytes, and it seems to not be harmful to the immunological system. The WBC effect is probably linked to the modifications of immunological molecules having paracrine effects, and not to systemic immunological functions. In fact, there is an increase in antiinflammatory cytokine interleukin (IL)-10, and a decrease in proinflammatory cytokine IL-2 and chemokine IL-8. Moreover, the decrease in intercellular adhesion molecule-1 supported the anti-inflammatory response. Lysosomal membranes are stabilized by WBC, reducing potential negative effects on proteins of lysosomal enzymes. The cold stimulation shows positive effects on the muscular enzymes creatine kinase and lactate dehydrogenase, and it should be considered a procedure that facilitates athletes' recovery. Cardiac markers troponin I and high-sensitivity C-reactive protein, parameters linked to damage and necrosis of cardiac muscular tissue, but also to tissue repair, were unchanged, demonstrating that there was no damage, even minimal, in the heart during the treatment. N-Terminal pro B-type natriuretic peptide (NT-proBNP), a parameter linked to heart failure and ventricular power decrease, showed an increase, due to cold stress. However, the NT-proBNP concentrations observed after WBC were lower than those measured after a heavy training session, suggesting that the treatment limits the increase of the parameter that is typical of physical exercise. WBC did not stimulate the pituitary-adrenal cortex axis: the hormonal modifications are linked mainly to the body's adaptation to the stress, shown by an increase of noradrenaline (norepinephrine).
We conclude that WBC is not harmful and does not induce general or specific negative effects in athletes. The treatment does not induce modifications of biochemical and haematological parameters, which could be suspected in athletes who may be cheating. The published data are generally not controversial, but further studies are necessary to confirm the present observations.
This is a preview of subscription content, log in to check access.
Access options
Buy single article
Instant access to the full article PDF.
US$ 49.95
Tax calculation will be finalised during checkout.
Subscribe to journal
Immediate online access to all issues from 2019. Subscription will auto renew annually.
US$ 259
Tax calculation will be finalised during checkout.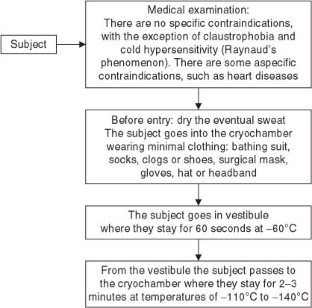 References
1.

Fricke R. Ganzokorpekaltetherapie in einer Kaltekammer mit Temperaturen um -110°C. Z Phys Med Baln Med Klim 1989; 18: 1–10

2.

Smolander J, Westerlund T, Uusitalo A, et al. Lung function after acute and repeated exposures to extremely cold air(-110 degrees C) during whole-body cryotherapy. Clin Physiol Funct Imaging 2006; 26: 232–4

3.

Banfi G, Krajewska M, Melegati G, et al. Effects of the whole body cryotherapy on haematological values in athletes[letter]. Br J Sports Med 2008; 42: 558

4.

Straburzynska-Lupa A, Konarska A, Nowak A, et al. Effect of whole-body cryotherapy on selected blood chemistryparameters in professional field hockey players [in Polish]. Fizjoterapia Polska 2007; 7: 15–201

5.

Banfi G, Melegati G. Effect on sport hemolysis of cold water leg immersion in athletes after training sessions. Lab Hematol 2008; 14: 15–8

6.

Banfi G, Melegati G, Barassi A, et al. Beneficial effects of whole-body cryotherapy on sport hemolysis. J Hum Sport Exerc 2009; 4: 189–93

7.

Wozniak A, Wozniak B, Wozniak B, et al. The effect of wholebody cryostimulation on the prooxidant-antioxidant balancein blood of elite kayakers during training. Eur J Appl Physiol 2007; 101: 533–7

8.

Wozniak A, Wozniak B, Drewa G, et al. Lipid peroxidation in blood of kayakers after whole-body cryostimulation andtraining [in Polish]. Medycyna Sport 2007; 1: 15–221

9.

Wozniak A, Wozniak B, Drewa G, et al. The influence of whole-body cryostimulation on blood enzymatic antioxidantbarrier of kayakers during training [in Polish]. Medycyna Sport 2007; 4: 207–14

10.

Lubkowska A, Chudecka M, Klimek A, et al. Acute effect of a single whole-body cryostimulation on prooxidantantioxidantbalance in blood of healthy, young men. J Thermal Biol 2008; 33: 464–7

11.

Siems W, Brenke R. Uric acid and glutathione levels during short-term whole body cold exposure. Free Radical Biol Med 1994; 16: 299–305

12.

Dugué B, Smolander J, Westerlund T, et al. Acute and longterm effects of winter swimming and whole-body cryotherapyon plasma antioxidative capacity in healthywomen. Scand J Clin Lab Invest 2005; 65: 395–402

13.

Lubkowska A, Dolegowska B, Szygula Z, et al. Activity of selected enzymes in erythrocytes and level of plasma antioxidantsin response to single whole-body cryostimulationin humans. Scand J Clin Lab Invest 2009; 69: 387–94

14.

Dugué B, Leppänen E. Adaptation related to cytokines in man: effects of regular swimming in ice-cold water. Clin Physiol 2000; 20: 114–21

15.

Banfi G, Melegati G, Barassi A, et al. Effects of whole-body cryotherapy on serum mediators of inflammation and serummuscle enzymes in athletes. J Thermal Biol 2009; 34: 55–9

16.

Jansky L, Pospisilová D, Honzová H, et al. Immune system of cold-exposed and cold-adapted humans. Eur J Appl Physiol 1996; 72: 445–50

17.

Walsh NP, Whitham M. Exercising in environmental extremes: a greater threat to immune function? Sports Med 2006; 36: 941–76

18.

Wozniak A, Wozniak B, Drewa G, et al. The effect of wholebody cryostimulation on lysosomal enzyme activity in kayakersduring training. Eur J Appl Physiol 2007; 100: 137–42

19.

Leppäluoto J, Westerlund T, Huttunen P, et al. Effects of long-term whole-body cold exposures on plasma concentrationsof ACTH, beta-endorphin, cortisol, catecholaminesand cytokines in healthy females. Scand J Clin Lab Invest 2008; 68: 145–53

20.

Banfi G, Melegati G, Valentini P. Effects of cold-water immersion of legs after training session on serum creatinekinase concentration in rugby players [letter]. Br J Sports Med 2007; 41: 339

21.

Gill ND, Beaven CM, Cook C. Effectiveness of post-match recovery strategies in rugby players. Br J Sports Med 2006; 40: 260–3

22.

Westerlund T, Uusitalo A, Smolander J, et al. Heart rate variability in women exposed to very cold air (-110°C)during whole-body cryotherapy. J Thermal Biol 2006; 31: 342–6

23.

Banfi G, Melegati G, Barassi A, et al. Effects of the wholebody cryotherapy on NTproBNP, hsCRP and troponin Iin athletes. J Sci Med Sport 2009; 12 (6): 609–10

24.

Banfi G, Melzi d'Eril G, Barassi A, et al. NT-proBNP concentrations in elite rugby players at rest and after active andpassive recovery following strenuous training sessions. Clin Chem Lab Med 2008; 46: 247–9

25.

Korzonek-Szlacheta I, Wielkoszynski T, Stanek A, et al. Influence of whole body cryotherapy on the levels of somehormones in professional footballers [in Polish]. Pol J Endocrinol 2007; 1: 27–32

26.

Smolander J, Leppäluoto J, Westerlund T, et al. Effects of repeated whole-body exposures on serum concentrationsof growth hormone, thyrotropin, prolactin and thyroidhormones in healthy women. Cryobiology 2009; 58: 275–8
Acknowledgements
We are indebted to Mrs Valentina Diani, who reviewed the language. We are also indebted to Dr Johanna Nowakowska, born in Poland and now working in IRCCS Galeazzi, who assisted us in translating Polish papers.
No funding was used in the preparation of this review. The authors have no conflicts of interest directly relevant to the content of this review.
About this article
Cite this article
Banfi, G., Lombardi, G., Colombini, A. et al. Whole-Body Cryotherapy in Athletes. Sports Med 40, 509–517 (2010). https://doi.org/10.2165/11531940-000000000-00000
Keywords
Creatine Kinase

Cold Stress

Cold Exposure

Total Antioxidant Status

Cold Water Immersion