Abstract
Co-morbid insomnia is a much more frequent problem than primary insomnia. In co-morbid insomnia, management of the underlying disease can improve sleep difficulty. Conversely, treating the sleep disorder may also improve the co-morbid condition. For example, patients with painful chronic illnesses are more likely to experience sleep disturbance than patients with non-painful illnesses. Moreover, there is evidence that insomnia further exacerbates pain in these illnesses. This suggests that a reciprocal relationship exists between pain and sleep, and that intervention targeted primarily at insomnia may improve pain. Treatment options for sleep disorders in the context of pain that have been assessed include cognitive behavioural therapy for insomnia and various pharmacological therapies. In randomized clinical trials, cognitive behavioural therapy significantly improved insomnia secondary to chronic pain compared with control therapy, but pain was only improved in patients in whom it was associated with pain disorders other than fibromyalgia. Of the pharmacological agents studied (zopiclone, zolpidem and triazolam), only triazolam improved both sleep and pain to a greater extent than placebo. Overall, clinical data supporting a cause-effect relationship between insomnia and pain are preliminary and are limited to several small trials. Further investigation is required to clarify the extent of the link between insomnia and pain and whether successfully managing insomnia secondary to pain improves pain symptoms. Areas of particular interest include investigation of the effect of sleep agents on analgesia and the effect of analgesics on sleep.
Access options
Buy single article
Instant access to the full article PDF.
US$ 49.95
Tax calculation will be finalised during checkout.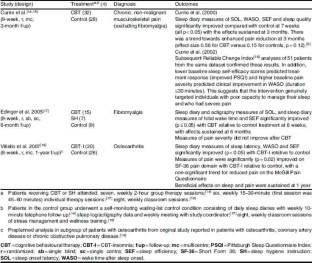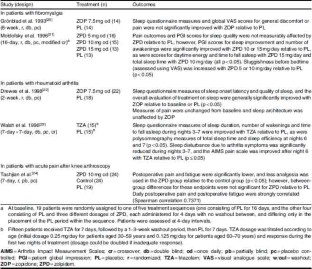 References
1.

Benca RM, Ancoli-Israel S, Moldofsky H. Special considerations in insomnia diagnosis and management: depressed, elderly, and chronic pain populations. J Clin Psychiatry 2004; 65 (Suppl. 8): 26–35

2.

Roth T. Challenges in the comorbid condition. Sleep Med 2007; 8 (Suppl. 4): S1–2

3.

Drewes AM, Arendt-Nielsen L. Pain and sleep in medical diseases: interactions and treatment possibilities. Sleep Res Online 2001; 4: 67–76

4.

Roehrs T, Roth T. Sleep and pain: Interaction of two vital functions. Semin Neurol 2005; 25: 106–16

5.

Moldofsky H. Sleep and pain. Sleep Med Rev 2001; 5: 385–96

6.

Smith MT, Haythornthwaite JA. How do sleep disturbance and chronic pain inter-relate? Insights from the longitudinal and cognitive-behavioral clinical trials literature. Sleep Med Rev 2004; 8: 119–32

7.

Lautenbacher S, Kundermann B, Krieg J-C. Sleep deprivation and pain perception. Sleep Med Rev 2005; 10: 357–69

8.

Bigatti SM, Hernandez AM, Cronan TA, et al. Sleep disturbances in fibromyalgia syndrome: relationship to pain and depression. Arthritis Rheum 2008; 59: 961–7

9.

Ohayon MM. Relationship between chronic painful physical condition and insomnia. J Psychiatr Res 2005; 39: 151–9

10.

French AP, Tupin JP. Therapeutic application of a simple relaxation method. Am J Psychother 1974; 28: 282–7

11.

Hyman RB, Feldman HR, Harris RB, et al. The effects of relaxation training on clinical symptoms: a meta-analysis. Nurs Res 1989; 38: 216–20

12.

NIH Technology Assessment Panel on Integration of Behavioral and Relaxation Approaches into the Treatment of Chronic Pain and Insomnia. Integration of behavioral and relaxation approaches into the treatment of chronic pain and insomnia. JAMA 1996; 276: 313–8

13.

Culpepper L. Secondary insomnia in the primary care setting: review of diagnosis, treatment, and management. Curr Med Res Opin 2006; 22: 1257–68

14.

Currie SR, Wilson KG, Pontefract AJ, et al. Cognitive-behavioral treatment of insomnia secondary to chronic pain. J Consult Clin Psychol 2000; 68: 407–16

15.

Currie SR, Wilson KG, Curran D. Clinical significance and predictors of treatment response to cognitive-behavior therapy for insomnia secondary to chronic pain. J Behav Med 2002; 25: 135–53

16.

Jacobson NS, Truax P. Clinical significance: a statistical approach to defining meaningful change in psychotherapy research. J Consult Clin Psychol 1991; 59: 12–9

17.

Edinger JD, Wohlgemuth WK, Krystal AD, et al. Behavioral insomnia therapy for fibromyalgia patients: a randomized clinical trial. Arch Intern Med 2005; 165: 2527–35

18.

Vitiello M, Rybarczyk B, Stephanski E. Sleep as analgesic: improving sleep and pain in older adults [abstract no. 0302]. Sleep 2007; 30 (Suppl. A): 103–4

19.

Rybarczyk B, Stepanski E, Fogg L, et al. A placebo-controlled test of cognitive-behavioral therapy for comorbid insomnia in older adults. J Consult Clin Psychol 2005; 73: 1164–74

20.

Grönblad M, Nykänen J, Konttinen Y, et al. Effect of zopiclone on sleep quality, morning stiffness, widespread tenderness and pain and general discomfort in primary fibromyalgia patients. A double-blind randomized trial. Clin Rheumatol 1993; 12: 186–91

21.

Moldofsky H, Lue FA, Mously C, et al. The effect of zolpidem in patients with fibromyalgia: a dose ranging, double blind, placebo controlled, modified crossover study. J Rheumatol 1996; 23: 529–33

22.

Drewes AM, Bjerregard K, Taagholt SJ, et al. Zopiclone as night medication in rheumatoid arthritis. Scand J Rheumatol 1998; 27: 180–7

23.

Walsh JK, Muehlbach MJ, Lauter SA, et al. Effects of triazolam on sleep, daytime sleepiness, and morning stiffness in patients with rheumatoid arthritis. J Rheumatol 1996; 23: 245–52

24.

Tashjian RZ, Banerjee R, Bradley MP, et al. Zolpidem reduces postoperative pain, fatigue, and narcotic consumption following knee arthroscopy: a prospective randomized placebo-controlled double-blinded study. J Knee Surg 2006; 19: 105–11

25.

Fernando A, Chew G. Chronic insomnia secondary to chronic pain responding to quetiapine. Australas Psychiatry 2005; 13: 86

26.

Üçeyler N, Häuser W, Sommer C. A systematic review on the effectiveness of treatment with antidepressants in fibromyalgia syndrome. Arthritis Rheum 2008; 59: 1279–98
Acknowledgements
The discussions that took place during a workshop at the 6th annual meeting of The International Sleep Disorders Forum: The Art of Good Sleep, held in 2008, contributed to the preparation of this article. The author would like to thank the following individuals who attended the workshop and contributed to the discussions that have informed the content of this article: Alison Bentley (South Africa), Michael Bonnet (USA), Jeffery Fahs (USA), Do-Un Jeong (Korea), Alan Lankford (USA), Holger Link (USA), Charles Morin (Canada), Michael Sateia (USA) and Michael Vitiello (USA). The author would like to thank Susan Keam and Matt Weitz from Wolters Kluwer Pharma Solutions for providing medical writing support in the preparation of this article. This assistance was supported by sanofi-aventis. The International Sleep Disorders Forum: The Art of Good Sleep 2008 was funded by sanofi-aventis.
Declaration of conflicts of interest: Timothy Roehrs is a consultant to sanofi-aventis and has received honoraria. No authorship assistance was received besides the names disclosed above.
About this article
Cite this article
Roehrs, T.A. Does Effective Management of Sleep Disorders Improve Pain Symptoms?. Drugs 69, 5–11 (2009). https://doi.org/10.2165/11531260-000000000-00000
Keywords
Cognitive Behavioural Therapy

Fibromyalgia

Sleep Disorder

Pregabalin

Zolpidem