Abstract
Minocycline is a semi-synthetic, second-generation tetracycline. It was introduced in 1972 and has both antibacterial and anti-inflammatory properties. Minocycline is used for a variety of infectious diseases and in acne. Even today, new indications beyond the antibacterial indications are being investigated such as its use in neurologic diseases. Formerly, minocycline was thought to have a superior efficacy in the treatment of inflammatory acne, especially with respect to antibacterial-resistant Propionibacterium acnes. A thorough review of the literature, however, shows that minocycline is not more effective in acne than other tetracyclines. Compared with first-generation tetracyclines, minocycline has a better pharmacokinetic profile, and compared with doxycycline it is not phototoxic. However, minocycline has an increased risk of severe adverse effects compared with other tetracyclines. It may induce hypersensitivity reactions affecting the liver, lung, kidneys, or multiple organs (Drug Reaction with Eosinophilia and Systemic Symptoms [DRESS] syndrome) in the first weeks of treatment and, with long-term treatment, may cause autoimmune reactions (systemic lupus erythematosus, autoimmune hepatitis). In addition, CNS symptoms, such as dizziness, are more frequent compared with other tetracyclines. Long-term treatment may induce hyperpigmentation of the skin or other organs. Resistance of P. acnes to minocycline also occurs, dependent on the prescribing behavior.
Considering the aspects of efficacy, its adverse effect profile, resistance, price, and alternatives, minocycline is no longer considered the first-line antibacterial in the treatment of acne.
This is a preview of subscription content, log in to check access.
Access options
Buy single article
Instant access to the full article PDF.
US$ 49.95
Price includes VAT for USA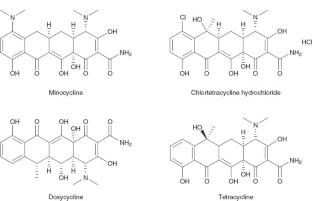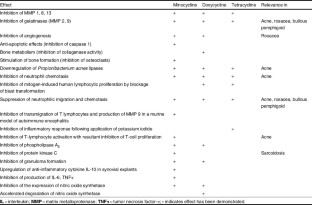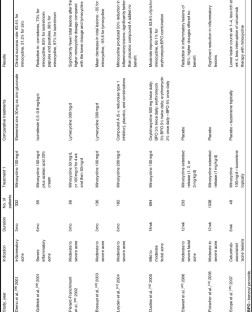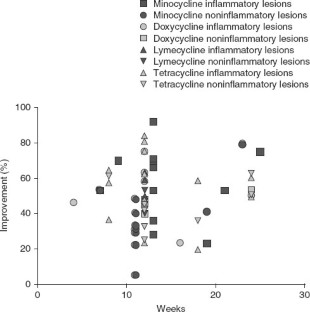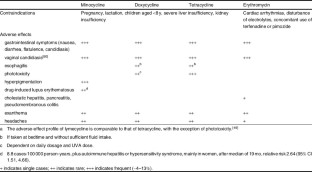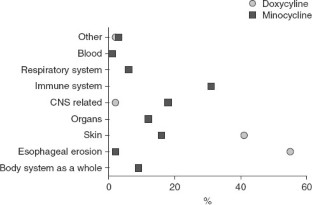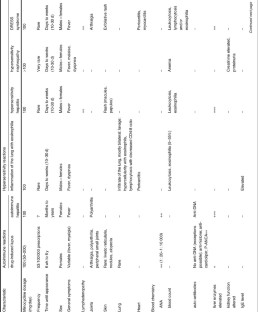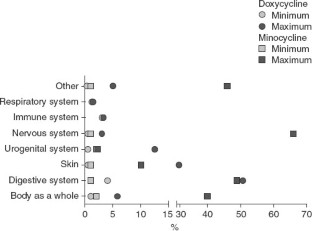 References
1.

Laugier P, Daguet J. Acne conglobata successfully treated with aureomycin. Bull Soc Fr Dermatol Syphiligr 1951 Jan-Feb; 58 (1): 74–5

2.

ChemBlink. Database of chemicals from around the world [online]. Available from URL: (http://www.chemblink.com/name/m57.htm) [Accessed 2010 May 26]

3.

Zhanel GG, Homenuik K, Nichol K, et al. The glycylcyclines: a comparative review with the tetracyclines. Drugs 2004; 64 (1): 63–88

4.

Sapadin AN, Fleischmajer R. Tetracyclines: nonantibiotic properties and their clinical implications. J Am Acad Dermatol 2006 Feb; 54 (2): 258–65

5.

Eady EA, Cove JH. Is acne an infection of blocked pilosebaceous follicles? Implications for antimicrobial treatment. Am J Clin Dermatol 2000; 1: 201–9

6.

Eady EA, Cove JH, Holland KT, et al. Superior antibacterial action and reduced incidence of bacterial resistance in minocycline compared to tetracycline-treated acne patients. Br J Dermatol 1990; 122: 233–44

7.

Eady EA, Jones CE, Gardner KJ, et al. Tetracycline-resistant propionibacteria from acne patients are cross-resistant to doxycycline, but sensitive to minocycline. Br J Dermatol 1993; 128: 556–60

8.

Hubbell CG, Hobbs ER, Rist T, et al. Efficacy of minocycline compared with tetracycline in treatment of acne vulgaris. Arch Dermatol 1982; 118 (12): 989–92

9.

Leyden JJ, McGinley KJ, Cavalieri S, et al. Propionibacterium acnes resistance to antibiotics in acne patients. J Am Acad Dermatol 1983 Jan; 8 (1): 41–5

10.

Brown SK, Shalita AR. Acne vulgaris. Lancet 1998; 351 (9119): 1871–6

11.

McManus P, Iheanacho I. Don't useminocycline as first line oral antibiotic in acne. Br Med J 2007 Jan 20; 334 (7585): 154

12.

Agwuh KN, MacGowan A. Pharmacokinetics and pharmacodynamics of the tetracyclines including glycylcyclines. J Antimicrob Chemother 2006 Aug; 58 (2): 256–65

13.

Dreno B, Bettoli V, Ochsendorf F, et al. European recommendations on the use of oral antibiotics for acne. Eur J Dermatol 2004 Nov-Dec; 14 (6): 391–9

14.

Bernier C, Dreno B. Minocycline. AnnDermatol Venereol 2001 May; 128 (5): 627–37

15.

Chopra I, Roberts M. Tetracycline antibiotics: mode of action, applications, molecular biology, and epidemiology of bacterial resistance. Microbiol Mol Biol Rev 2001; 65: 232–60

16.

Celerier P, Litoux P, Dreno B. In vitro modulation of epidermal inflammatory cytokines (IL-1 alpha, IL-6,TNF alpha) by minocycline. Arch Dermatol Res 1996 Jun; 288 (7): 411–4

17.

Golub LM, Lee HM, Ryan ME, et al. Tetracyclines inhibit connective tissue breakdown by multiple non-antimicrobial mechanisms. Adv Dental Res 1998 Nov; 12 (2): 12–26

18.

Jain A, Sangal L, Basal E, et al. Anti-inflammatory effects of erythromycin and tetracycline on Propionibacterium acnes induced production of chemotactic factors and reactive oxygen species by human neutrophils. Dermatol Online J 2002; 8: 2

19.

Alarcon GS. Tetracyclines for the treatment of rheumatoid arthritis. Expert Opin Investig Drugs 2000 Jul; 9 (7): 1491–8

20.

Miyazaki E, Ando M, Fukami T, et al. Minocycline for the treatment of sarcoidosis: is themechanism of action immunomodulating or antimicrobial effect? Clin Rheumatol 2008 Sep; 27 (9): 1195–7

21.

Rempe S, Hayden JM, Robbins RA, et al. Tetracyclines and pulmonary inflammation. Endocr Metab Immune Disord Drug Targets 2007 Dec; 7 (4): 232–6

22.

Kim HS, Suh YH. Minocycline and neurodegenerative diseases. Behav Brain Res 2009 Jan 23; 196 (2): 168–79

23.

Padi SS, Kulkarni SK. Minocycline prevents the development of neuropathic pain, but not acute pain: possible anti-inflammatory and antioxidant mechanisms. Eur J Pharmacol 2008 Dec 28; 601 (1-3): 79–87

24.

Buller KM, Carty ML, Reinebrant HE, et al. Minocycline: a neuroprotective agent for hypoxic-ischemic brain injury in the neonate? J Neurosci Res 2009 Feb 15; 87 (3): 599–608

25.

Miyaoka T, Yasukawa R, Yasuda H, et al. Minocycline as adjunctive therapy for schizophrenia: an open-label study. Clin Neuropharmacol 2008 Sep-Oct; 31 (5): 287–92

26.

Romero-Perez D, Fricovsky E, Yamasaki KG, et al. Cardiac uptake of minocycline and mechanisms for in vivo cardioprotection. JAmColl Cardiol 2008 Sep 23; 52 (13): 1086–94

27.

Lehmann HP, Andrews JS, Robinson KA, et al. Management of acne (evidence report/technology assessment no. 17 (prepared by Johns Hopkins Evidence-based Practice Center under contract no. 290-97-006): HRQ Publication No. 01-E019. Rockville (MD): Agency for Healthcare Research and Quality, 2001

28.

Ochsendorf F. Systemic antibiotic therapy of acne vulgaris. JDtsch Dermatol Ges 2006 Oct; 4 (10): 828–41

29.

Pierard-Franchimont C, Goffin V, Arrese JE, et al. Lymecycline and minocycline in inflammatory acne: a randomized, double-blind intent-to-treat study on clinical and in vivo antibacterial efficacy. Skin Pharmacol Appl Skin Physiol 2002; 15 (2): 112–9

30.

Layton AM, Hughes BR, Hull SM, et al. Seborrhoea: an indicator for poor clinical response in acne patients treated with antibiotics. Clin ExpDermatol 1992; 17: 173–5

31.

Eady AE, Cove JH, Layton AM. Is antibiotic resistance in cutaneous propionibacteria clinically relevant? Implications of resistance for acne patients and prescribers. Am J Clin Dermatol 2003; 4 (12): 813–31

32.

[No authors listed]. Ad hoc committee report: systemic antibiotics for treatment of acne vulgaris: efficacy and safety. Arch Dermatol 1975 Dec; 111 (12): 1630–6

33.

Lehmann HP, Robinson KA, Andrews JS, et al. Acne therapy: a methodologic review. J Am Acad Dermatol 2002; 47: 231–40

34.

Garner SE, Eady EA, Popescu C, et al. Minocycline for acne vulgaris: efficacy and safety. Cochrane Database Syst Rev 2003; (1): CD002086

35.

Garner SE, Eady EA, Popescu C, et al. Minocycline for acne vulgaris: efficacy and safety. Cochrane Database Syst Rev 2000; (2): CD002086

36.

National Library of Medicine. Management of acne. Vol 1. Evidence report and appendixes [online]. Available from URL: (http://www.ncbi.nlm.nih.gov/books/bv.fcgi?rid=hstat1.chapter.24841) [Accessed 2010 May 26]

37.

National Library of Medicine. Management of acne. Vol 2. Evidence tables and bibliography [online]. Available from URL: (http://www.ncbi.nlm.nih.gov/books/bv.fcgi?rid=hstat1.chapter.26118) [Accessed 2010 May 26]

38.

Dreno B, Moyse D, Alirezai M, et al. Multicenter randomized comparative double-blind controlled clinical trial of the safety and efficacy of zinc gluconate versus minocycline hydrochloride in the treatment of inflammatory acne vulgaris. Dermatology 2001; 203 (2): 135–40

39.

Gollnick HP, Graupe K, Zaumseil RP. Comparison of combined azelaic acid cream plus oral minocycline with oral isotretinoin in severe acne. Eur J Dermatol 2001; 11 (6): 538–44

40.

Bossuyt L, Bosschaert J, Richert B, et al. Lymecycline in the treatment of acne: an efficacious, safe and cost-effective alternative to minocycline. Eur J Dermatol 2003; 13 (2): 130–5

41.

Leyden J, Bergfeld W, Drake L, et al. A systemic type I 5-alpha-reductase inhibitor is ineffective in the treatment of acne vulgaris. JAmAcad Dermatol 2004; 50 (3): 443–7

42.

Ozolins M, Eady EA, Avery A, et al. Randomised controlled multiple treatment comparison to provide a cost-effectiveness rationale for the selection of antimicrobial therapy in acne. Health Technol Assess 2005 Jan; 9 (1): iii–212

43.

Stewart DM, Torok HM, Weiss JS, et al. Dose-ranging efficacy of new oncedaily extended-release minocycline for acne vulgaris. Cutis 2006 Oct; 78 (4 Suppl.): 11–20

44.

Fleischer Jr AB, Dinehart S, Stough D, et al. Safety and efficacy of a new extended-release formulation of minocycline. Cutis 2006 Oct; 78 (4 Suppl.): 21–31

45.

Scope A, Agero AL, Dusza SW, et al. Randomized double-blind trial of prophylactic oral minocycline and topical tazarotene for cetuximabassociated acne-like eruption. J Clin Oncol 2007 Dec 1; 25 (34): 5390–6

46.

Samuelson JS. An accurate photographic method for grading acne: initial use in a double-blind clinical comparison of minocycline and tetracycline. J Am Acad Dermatol 1985; 12 (3): 461–7

47.

Ross JI, Snelling AM, Eady EA, et al. Phenotypic and genotypic characterization of antibiotic-resistant Propionibacterium acnes isolated from acne patients attending dermatology clinics in Europe, the U.S.A., Japan and Australia. Br J Dermatol 2001 Feb; 144 (2): 339–46

48.

Simonart T, Dramaix M, De Maertelaer V. Efficacy of tetracyclines in the treatment of acne vulgaris: a review. Br J Dermatol 2008 Feb; 158 (2): 208–16

49.

Bjellerup M, Ljunggren B. Differences in phototoxic potency should be considered when tetracyclines are prescribed during summer-time: a study on doxycycline and lymecycline in human volunteers, using an objective method for recording erythema. Br J Dermatol 1994; 130: 356–60

50.

Oriel JD, Waterworth PM. Effects of minocycline and tetracycline on the vaginal yeast flora. J Clin Pathol 1975; 28: 403–6

51.

Smith K, Leyden JJ. Safety of doxycycline and minocycline: a systematic review. Clin Ther 2005 Sep; 27 (9): 1329–42

52.

Sturkenboom MC, Meier CR, Jick H, et al. Minocycline and lupus-like syndrome in acne patients. Arch Intern Med 1999; 159: 493–7

53.

Piette AM, Ramanoelina J, Gepner P, et al. Systemic reaction induced my minocycline treatment: a report of four patients and a review of the literature. Rev Med Interne 1999 Oct; 20 (10): 869–74

54.

Schlienger RG, Bircher AJ, Meier CR. Minocycine-induced lupus: a systematic review. Dermatology 2000; 200: 223–31

55.

Barbagelata Lopez C, Otero Palleiro MM, Seoane Gonzalez B, et al. Minocycline-induced hypersensitivity pneumonitis [letter]. Med Clin (Barc) 2007 Jan 20; 128 (2): 79

56.

Ahmed F, Kelsey PR, Shariff N. Lupus syndrome with neutropenia following minocycline therapy: a case report. Int J Lab Hematol 2008 Dec; 30 (6): 543–5

57.

El-Hallak M, Giani T, Yeniay BS, et al. Chronic minocycline-induced autoimmunity in children. J Pediatr 2008 Sep; 153 (3): 314–9

58.

Fanning WL, Dieter WG, Sofferman RA. Side effects of minocycline: a double blind study. Antimicrob Agents Chemother 1977; 11: 712–7

59.

Goulden V, Glass D, Cunliffe WJ. Safety of long-term high-dose minocycline in the treatment of acne. Br J Dermatol 1996; 134: 693–5

60.

[No authors listed]. Fewer adverse effects with doxycycline than with minocycline. Prescrire Int 2009 Oct; 18 (103): 213

61.

Layton AM, Cunfliffe W. Phototoxic eruptions due to doxycycline: a doserelated phenomenon. Clin Exp Dermatol 1993; 18: 425–7

62.

Lim DS, Murphy GM. High-level ultraviolet A photoprotection is needed to prevent doxycycline phototoxicity: lessons learned in East Timor. Br J Dermatol 2003; 149: 213–4

63.

Frost P, Weinstein GD, Gomez EC. Phototoxic potential of minocycline and doxycycline. Arch Dermatol 1972; 105: 681–3

64.

Eisen D, Hakim MD. Minocycline-induced pigmentation: incidence, prevention and management. Drug Saf 1998 Jun; 18 (6): 431–40

65.

Gordon G, Sparano BM, Iatropoulos MJ. Hyperpigmentation of the skin associated with minocycline therapy. Arch Dermatol 1985 May; 121 (5): 618–23

66.

Basler RS. Minocycline-related hyperpigmentation. Arch Dermatol 1985 May; 121 (5): 606–8

67.

Mouton RW, Jordaan HF, Schneider JW. Anew type ofminocycline-induced cutaneous hyperpigmentation. Clin Exp Dermatol 2004; 29 (1): 8–14

68.

Tanzi EL, Hecker MS. Special selection: minocycline-induced hyperpigmentation of the tongue. Arch Fam Med 2000 Aug; 9 (8): 687–8

69.

Ayangco L, Sheridan PJ.Minocycline-induced staining of torus palatinus and alveolar bone. J Periodontol 2003; 74 (5): 669–71

70.

Swanson JK. Acne treatment may cause appearance of discolored gums [letter]. Dent Today 2003; 22 (9): 36

71.

Pandit S, Hadden W. Black pigmentation of bone due to long-term minocycline use. Surgeon 2004 Aug; 2 (4): 236–7

72.

Treister NS, Magalnick D, Woo SB. Oral mucosal pigmentation secondary to minocycline therapy: report of two cases and a review of the literature. Oral Surg Oral Med Oral Pathol Oral Radiol Endod 2004 Jun; 97 (6): 718–25

73.

Rahman Z, Lazova R, Antaya RJ. Minocycline hyperpigmentation isolated to the subcutaneous fat. J Cutan Pathol 2005 Aug; 32 (7): 516–9

74.

Sanchez AR, Rogers 3rd RS, Sheridan PJ. Tetracycline and other tetracyclinederivative staining of the teeth and oral cavity. Int J Dermatol 2004 Oct; 43 (10): 709–15

75.

Greve B, Schönermark MP, Raulin C. Minocycline-induced hyperpigmentation: treatment with the Q-switched Nd:YAG laser. Lasers Surg Med 1998; 22 (4): 223–7

76.

Knoell KA, Milgraum SS, Kutenplon M. Q-switched ruby laser treatment of minocycline-induced cutaneous hyperpigmentation. Arch Dermatol 1996 Oct; 132 (10): 1251–3

77.

Tsao H, Busam K, Barnhill RL, et al. Treatment of minocycline-induced hyperpigmentationwith theQ-switched ruby laser. Arch Dermatol 1996 Oct; 132 (10): 1250–1

78.

Friedman IS, Shelton RM, Phelps RG. Minocycline-induced hyperpigmentation of the tongue: successful treatment with the Q-switched ruby laser. Dermatol Surg 2002 Mar; 28 (3): 205–9

79.

Alster TS, Gupta SN. Minocycline-induced hyperpigmentation treated with a 755-nm Q-switched alexandrite laser. Dermatol Surg 2004 Sep; 30 (9): 1201–4

80.

Green D, Friedman KJ. Treatment of minocycline-induced cutaneous pigmentation with the Q-switched Alexandrite laser and a review of the literature. J Am Acad Dermatol 2001 Feb; 44 (2 Suppl.): 342–7

81.

Izikson L, Anderson RR. Resolution of blue minocycline pigmentation of the face after fractional photothermolysis. Lasers Surg Med 2008 Aug; 40 (6): 399–401

82.

Soung J, Cohen J, Phelps R, et al. Case reports: minocycline-induced hyperpigmentation resolves during oral isotretinoin therapy. J Drugs Dermatol 2007 Dec; 6 (12): 1232–6

83.

Heaton PC, Fenwick SR, Brewer DE. Association between tetracycline or doxycycline and hepatotoxicity: a population based case-control study. J Clin Pharm Ther 2007 Oct; 32 (5): 483–7

84.

Boudreaux JP, Hayes DH, Mizrahi S, et al. Fulminant hepatic failure, hepatorenal syndrome, and necrotizing pancreatitis after minocycline hepatotoxicity [letter]. Transplant Proc 1993 Apr; 25 (2): 1873

85.

Ford TJ, Dillon JF.Minocycline hepatitis. Eur J Gastroenterol Hepatol 2008 Aug; 20 (8): 796–9

86.

Lawrenson RA, Seaman HE, Sundstrom A, et al. Liver damage associated with minocycline use in acne: a systematic review of the published literature and pharmacovigilance data. Drug Saf 2000; 23: 333–49

87.

Elkayam O, Yaron M, Caspi D. Minocycline-induced autoimmune syndromes: an overview. Semin Arthritis Rheum 1999 Jun; 28 (6): 392–7

88.

Brown RJ, Rother KI, Artman H, et al. Minocycline-induced drug hypersensitivity syndrome followed by multiple autoimmune sequelae. Arch Dermatol 2009 Jan; 145 (1): 63–6

89.

Eshki M, Allanore L, Musette P, et al. Twelve-year analysis of severe cases of drug reaction with eosinophilia and systemic symptoms: a cause of unpredictable multiorgan failure. Arch Dermatol 2009 Jan; 145 (1): 67–72

90.

Shapiro LE, Knowles SR, Shear NH. Comparative safety of tetracycine, minocycline and doxycycine. Arch Dermatol 1997; 133: 1224–30

91.

Guillon JM, Joly P, Autran B, et al. Minocycline-induced cell-mediated hypersensitivity pneumonitis. Ann Intern Med 1992 Sep 15; 117 (6): 476–81

92.

Maubec E, Wolkenstein P, Loriot MA, et al. Minocycline-induced DRESS: evidence for accumulation of the culprit drug. Dermatology 2008; 216 (3): 200–4

93.

MacNeil M, Haase DA, Tremaine R, et al. Fever, lymphadenopathy, eosinophilia, lymphocytosis, hepatitis, and dermatitis: a severe adverse reaction to minocycline. J Am Acad Dermatol 1997 Feb; 36 (2 Pt 2): 347–50

94.

Culver B, Itkin A, Pischel K. Case report and review of minocyclineinduced cutaneous polyarteritis nodosa. Arthritis Rheum 2005 Jun 15; 53 (3): 468–70

95.

Khan Durani B, Jappe U. Drug-induced Sweet's syndrome in acne caused by different tetracyclines: case report and review of the literature. Br JDermatol 2002; 147 (3): 558–62

96.

Schrodt BJ, Kulp-Shorten CL, Callen JP. Necrotizing vasculitis of the skin and uterine cervix associated with minocycline therapy for acne vulgaris. South Med J 1999 May; 92 (5): 502–4

97.

Dukic R, Derragui A, Geiss S, et al. Minocycline-induced lymphomatoid papulosis [in French]. Rev Med Interne 2004 May; 25 (5): 401–4

98.

Chapman-Davies A, Lazarevic A. Benign intracranial hypertension with minocycline therapy. Clin Exp Optom 2000 Sep; 83 (5): 271–3

99.

Ang ER, Zimmerman JC, Malkin E. Pseudotumor cerebri secondary to minocycline intake. J Am Board Fam Pract 2002 May-Jun; 15 (3): 229–33

100.

Winn BJ, Liao YJ, Horton JC. Intracranial pressure returns to normal about a month after stopping tetracycline antibiotics. Arch Ophthalmol 2007 Aug; 125 (8): 1137–8

101.

Oprica C, Lofmark S, Lund B, et al. Genetic basis of resistance in Propionibacterium acnes strains isolated from diverse types of infection in different European countries. Anaerobe 2005 Jun; 11 (3): 137–43

102.

Ross JI, Snelling AM, Carnegie E, et al. Antibiotic-resistant acne: lessons from Europe. Br J Dermatol 2003; 148 (3): 467–78

103.

Coates P, Vyakrnam S, Eady EA, et al. Prevalence of antibiotic-resistant propionibacteria on the skin of acne patients: 10-year surveillance data and snapshot distribution study. Br J Dermatol 2002 May; 146 (5): 840–8

104.

Ochsendorf FR. Clinical relevance of antibiotic resistance in acne. G Ital Dermatol Venereol 2006; 141: 183–6

105.

Oprica C, Emtestam L, Hagstromer L, et al. Clinical and microbiological comparisons of isotretinoin vs. tetracycline in acne vulgaris. Acta Derm Venereol 2007; 87 (3): 246–54

106.

[No authors listed]. Minocycline for acne: an update. Drug Ther Bull 2009; 47 (1): 7–8

107.

Thiboutot D, Gollnick H, Bettoli V, et al. New insights into the management of acne: an update from the Global Alliance to Improve Outcomes in Acne group. J Am Acad Dermatol 2009; 60 (5 Suppl.): S1–50

108.

Skidmore R, Kovach R, Walker C, et al. Effects of subantimicrobial-dose doxycycline in the treatment of moderate acne. Arch Dermatol 2003; 139 (4): 459–64

109.

Toossi P, Farshchian M, Malekzad F, et al. Subantimicrobial-dose doxycycline in the treatment of moderate facial acne. J Drugs Dermatol 2008 Dec; 7 (12): 1149–52

110.

Dreno B, Bettoli V, Ochsendorf F, et al. An expert view on the treatment of acne with systemic antibiotics and/or oral isotretinoin in the light of the new European recommendations. Eur J Dermatol 2006 Sep-Oct; 16 (5): 565–71

111.

[No authors listed[. Is minocycline overused in acne? Drug Ther Bull 2006 Aug; 44 (8): 60–2
Acknowledgments
No sources of funding were used to assist in the preparation of this review. The author has received lecture fees from companies that produce acne drugs, including Galderma, Hermal, and Stiefel.
About this article
Cite this article
Ochsendorf, F. Minocycline in Acne Vulgaris. Am J Clin Dermatol 11, 327–341 (2010). https://doi.org/10.2165/11319280-000000000-00000
Keywords
Tetracycline

Acne

Doxycycline

Minocycline

Isotretinoin