Abstract
Childhood obesity has become the most common paediatric disorder in the developed world. Treatment of obesity in children may include lifestyle interventions, pharmacotherapy and weight-loss supplements. The outcome of lifestyle interventions, which classically include dietary modifications, increased activity and behavioural modifications, remains insufficient and the adjuvant role of pharmacological agents has been proposed. Among the group of weight-loss medications, orlistat is the only pharmaceutical approved by the US FDA for the treatment of overweight and obese dolescents. The role of metformin needs to be established in larger studies and sibutramine remains an experimental product because of its potential adverse events. Weight-loss supplements lack sufficient data supporting their efficacy and safety, even in adults, and cannot be recommended at this time for adolescents. Preliminary data suggest that the use of fibre supplements, such as glucomannan, provides additional weight loss in individuals receiving a lifestyle intervention. No single approach will successfully treat obesity, and lifestyle modification presently remains the main pillar of any intervention aiming at decreasing bodyweight.
This is a preview of subscription content,
to check access.
Access this article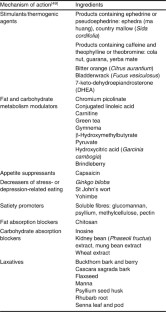 Similar content being viewed by others
References
Flegal KM, Tabak CJ, Ogden CL. Overweight in children: definitions and interpretation. Health Educ Res 2006; 21(6): 755–60

Wang Y, Monteiro C, Popkin BM. Trends of obesity and underweight in older children and adolescents in the United States, Brazil, China, and Russia. Am J Clin Nutr 2002; 75: 971–7

Reilly JJ. Descriptive epidemiology and health consequences of childhood obesity. Best Pract Res Clin Endocrinol Metab 2005 Sep; 19(3): 327–41

National Institutes of Health. Clinical guidelines on the identification, evaluation, and treatment of overweight and obesity in adults: the evidence report. Obes Res 1998; 6: 51S-209S

Lau DC, Douketis JD, Morrison KM, et al., Obesity Canada Clinical Practice Guidelines Expert Panel. 2006 Canadian clinical practice guidelines on the management and prevention of obesity in adults and children [summary]. CMAJ 2007; 176(8): S1–13

Kuczmarski RJ, Ogden CL, Guo SS, et al. 2000 CDC Growth Charts for the United States: methods and development. Vital Health Stat 2002; 11(246): 1–190

Centers for Disease Control and Prevention. Defining childhood overweight and obesity [online]. Available from URL: http://www.cdc.gov/nccdphp/dnpa/obesity/childhood/defining.htm [Accessed 2009 Apr 20]

Cole TJ, Bellizzi MC, Flegal KM, et al. Establishing a standard definition for child overweight and obesity worldwide: international survey. BMJ 2000; 320: 1240–3

Barlow SE, Expert Committee. Expert committee recommendations regarding the prevention, assessment, and treatment of child and adolescent overweight and obesity: summary report. Pediatrics 2007; 120 Suppl. 4: S164–92

Ogden CL, Carroll MD, Curtin LR, et al. Prevalence of overweight and obesity in the United States, 1999–2004. JAMA 2006; 295(13): 1549–55

Shields M. Measured obesity: overweight Canadian children and adolescents. In: Nutrition: findings from the Canadian Community Health Survey; issue 1; 2005 [online]. Available from URL: http://www.statcan.ca/english/research/82-620-MIE/2005001/pdf/cobesity.pdf [Accessed 2009 Apr 20]

Mark AL. Dietary therapy for obesity is a failure and pharmacotherapy is the future: a point of view. Clin Exp Pharmacol Physiol 2006; 33(9): 857–62

Weiss R, Dziura J, Burgert TS, et al. Obesity and the metabolic syndrome in children and adolescents. N Engl J Med 2004; 350(23): 2362–74

US Preventive Services Task Force. Screening and interventions for overweight in children and adolescents: recommendation statement. Pediatrics 2005; 116(1): 205–9

American Dietetic Association (ADA). Position of the American Dietetic Association: individual-, family-, school-, and community-based interventions for pediatric overweight. J Am Diet Assoc 2006; 106(6): 925–45

Jeffery RW, Drewnowski A, Epstein LH, et al. Long-term maintenance of weight loss: current status. Health Psychol 2000; 19: 5–16

Epstein LH, Valoski AM, Kalarchian MA, et al. Do children lose and maintain weight easier than adults: a comparison of child and parent weight changes from six months to ten years. Obes Res 1995; 3: 411–7

McDuffie JR, Calis KA, Uwaifo GI, et al. Efficacy of orlistat as an adjunct to behavioral treatment in overweight African American and Caucasian adolescents with obesity-related co-morbid conditions. J Pediatr Endocrinol Metab 2004; 17: 307–19

Norgren S, Danielsson P, Jurold R, et al. Orlistat treatment in obese prepubertal children: pilot study. Acta Paediatr 2003; 92: 666–70

Ozkan B, Bereket A, Turan S, et al. Addition of orlistat to conventional treatment in adolescents with severe obesity. Eur J Pediatr 2004 Dec; 163(12): 738–41

Chanoine JP, Hampl S, Jensen C, et al. Effect of orlistat on weight and body composition in obese adolescents: a randomized controlled trial. JAMA 2005; 293(23): 2873–83

Maahs D, de Serna DG, Kolotkin RL, et al. Randomized, double-blind, placebo-controlled trial of orlistat for weight loss in adolescents. Endocr Pract 2006; 12(1): 18–28

Kay JP, Alemzadeh R, Langley G, et al. Beneficial effects of metformin in normoglycemic morbidly obese adolescents. Metabolism 2001; 50: 1457–61

Srinivasan S, Ambler GR, Baur LA, et al. Randomized, controlled trial of metformin for obesity and insulin resistance in children and adolescents: improvement in body composition and fasting insulin. J Clin Endocrinol Metab 2006; 91: 2074–80

Fu JF, Liang L, Zou CC, et al. Prevalence of the metabolic syndrome in Zhejiang Chinese obese children and adolescents and the effect of metformin combined with lifestyle intervention. Int J Obes 2007; 31: 15–22

Klein DJ, Cottingham EM, Sorter M, et al. A randomized, double-blind, placebo-controlled trial of metformin treatment of weight gain associated with initiation of atypical antipsychotic therapy in children and adolescents. Am J Psychiatry 2006; 163(12): 2072–9

Atabek ME, Pirgon O. Use of metformin in obese adolescents with hyperinsulinemia: a 6-month, randomized, double-blind, placebo-controlled clinical trial. J Pediatr Endocrinol Metab 2008; 21(4): 339–48

Love-Osborne K, Sheeder J, Zeitler P. Addition of metformin to a lifestyle modification program in adolescents with insulin resistance. J Pediatr 2008; 152(6): 817–22

Berkowitz RI, Wadden TA, Tershakovec AM, et al. Behavior therapy and sibutramine for the treatment of adolescent obesity: a randomized controlled trial. JAMA 2003; 289(14): 1805–12

Berkowitz RI, Fujioka K, Daniels SR, et al., Sibutramine Adolescent Study Group. Effects of sibutramine treatment in obese adolescents: a randomized trial. Ann Intern Med 2006; 145(2): 81–90

Godoy-Matos A, Carraro L, Vieira A, et al. Treatment of adolescents with sibutramine: a randomised, double-blind, controlled study. J Clin Endocrinol Metab 2005; 90: 1460–5

Violante-Ortiz R, Del-Rio-Navarro BE, Lara-Esqueda A, et al. Use of sibutramine in obese Hispanic adolescents. Adv Ther 2005; 22(6): 642–9

Garcia-Morales LM, Berber A, Macias-Lara CC, et al. Use of sibutramine in obese mexican adolescents: a 6-month, randomized, double-blind, placebo-controlled, parallel-group trial. Clin Ther 2006; 28(5): 770–82

Reisler G, Tauber T, Afriat R, et al. Sibutramine as an adjuvant therapy in adolescents suffering from morbid obesity. Isr Med Assoc J 2006; 8(1): 30–2

Bogarin R, Chanoine JP. Efficacy, safety and tolerability of orlistat, a lipase inhibitor, in the treatment of adolescent weight excess. Therapy 2009; 6(1): 23–30

McDuffie JR, Calis KA, Uwaifo GI, et al. Three-month tolerability of orlistat in adolescents with obesity-related comorbid conditions. Obes Res 2002; 10: 642–50

Chanoine J, Hauptman J, Boldrin M. Weight reduction in obese adolescents achieving early response to orlistat [abstract]. Obes Rev 2006; 7 Suppl. 2: 318

Zhi J, Moore R, Kanitra L. The effect of short-term (21-day) orlistat treatment on the physiologic balance of six selected macrominerals and microminerals in obese adolescents. J Am Coll Nutr 2003; 22(5): 357–62

Cavaliere H, Floriano I, Medeiros-Neto G. Gastrointestinal side effects of orlistat may be prevented by concomitant prescription of natural fibers (psyllium mucilloid). Int J Obes Relat Metab Disord 2001; 25(7): 1095–9

McDuffie JR, Calis KA, Booth SL, et al. Effects of orlistat on fat-soluble vitamins in obese adolescents. Pharmacotherapy 2002; 22(7): 814–22

FDA CDER Division of Metabolic and Endocrine Drug Products (HFD-510). Clinical review for NDA 20-766/S018 [online]. Available from URL: http://www.fda.gov/cder/foi/esum/2003/20766se5-018_Orlistat_BPCA_CLINICAL_ltr.pdf [Accessed 2009 Apr 20]

Zhou G, Myers R, Li Y, et al. Role of AMP-activated protein kinase in mechanism of metformin action. J Clin Invest 2001; 108: 1167–74

Hansen DL, Toubro S, Stock MJ, et al. The effect of sibutramine on energy expenditure and appetite during chronic treatment without dietary restriction. Int J Obes Relat Metab Disord 1999; 23(10): 1016–24

Gursoy A, Erdogan MF, Cin MO, et al. Comparison of orlistat and sibutramine in an obesity management program: efficacy, compliance, and weight regain after non-compliance. Eat Weight Disord 2006; 11(4): e127–32

Scheen AJ, Finer N, Hollander P, et al., RIO-Diabetes Study Group. Efficacy and tolerability of rimonabant in overweight or obese patients with type 2 diabetes: a randomised controlled study. Lancet 2006 11; 368(9548): 1660–72

Curioni C, André C. Rimonabant for overweight or obesity. Cochrane Database Syst Rev 2006; (4): CD006162

Blanck HM, Serdula MK, Gillespie C, et al. Use of nonprescription dietary supplements for weight loss is common among Americans. J Am Diet Assoc 2007; 107(3): 441–7

Wilson KM, Klein JD, Sesselberg TS, et al. Use of complementary medicine and dietary supplements among U.S. adolescents. J Adolesc Health 2006; 38(4): 385–94

Bartels CL, Miller SJ. Dietary supplements marketed for weight loss. Nutr Clin Pract 2003; 18(2): 156–69

Dwyer JT, Allison DB, Coates PM. Dietary supplements in weight reduction. J Am Diet Assoc 2005; 105 (5 Suppl. 1): S80–6

Pittler MH, Schmidt K, Ernst E. Adverse events of herbal food supplements for body weight reduction: systematic review. Obes Rev 2005; 6(2): 93–111

Favreau JT, Ryu ML, Braunstein G, et al. Severe hepato-toxicity associated with the dietary supplement LipoKinetix. Ann Intern Med 2002; 136(8): 590–5

Bryant SM, Lozada C, Wahl M. A Chinese herbal weight loss product adulterated with fenfluramine [letter]. Ann Emerg Med 2005; 46(2): 208

Hsiao AL, Santucci KA, Seo-Mayer P, et al. Pediatric fatality following ingestion of dinitrophenol: postmortem identification of a "dietary supplement". Clin Toxicol (Phila) 2005; 43(4): 281–5

Slavin JL. Dietary fiber and body weight. Nutrition 2005; 21(3): 411–8

Ludwig DS, Pereira MA, Kroenke CH, et al. Dietary fiber, weight gain, and cardiovascular disease risk factors in young adults. JAMA 1999; 282(16): 1539–46

Keithley J, Swanson B. Glucomannan and obesity: a critical review. Altern Ther Health Med 2005; 11(6): 30–4

Livieri C, Novazi F, Lorini R. The use of highly purified glucomannan-based fibers in childhood obesity. Pediatr Med Chir 1992; 14(2): 195–8

Vido L, Facchin P, Antonello I, et al. Childhood obesity treatment: double blinded trial on dietary fibres (glucomannan) versus placebo. Padiatr Padol 1993; 28(5): 133–6

Moreno LA, Tresaco B, Bueno G, et al. Psyllium fibre and the metabolic control of obese children and adolescents. J Physiol Biochem 2003; 59(3): 235–42

Veereman G. Pediatric applications of inulin and oligofructose. J Nutr 2007; 137 (11 Suppl.): 2585S–9S

Shekelle PG, Hardy ML, Morton SC, et al. Efficacy and safety of ephedra and ephedrine for weight loss and athletic performance: a meta-analysis. JAMA 2003; 289: 1537–45

Bent S, Padula A, Neuhaus J. Safety and efficacy of citrus aurantium for weight loss. Am J Cardiol 2004; 94(10): 1359–61

Pittler MH, Stevinson C, Ernst E. Chromium picolinate for reducing body weight: meta-analysis of randomized trials. Int J Obes Relat Metab Disord 2003; 27(4): 522–9

Ni Mhurchu C, Dunshea-Mooij CA, Bennett D, et al. Chitosan for overweight or obesity. Cochrane Database Syst Rev 2005; (3): CD003892

Larsen TM, Toubro S, Astrup A. Efficacy and safety of dietary supplements containing CLA for the treatment of obesity: evidence from animal and human studies. J Lipid Res 2003; 44(12): 2234–41

Heymsfield SB, Aronne LJ, Blackburn GL. HCA efficiency. Diabetes Obes Metab 2004; 6(6): 458–9

Pittler MH, Ernst E. Dietary supplements for body-weight reduction: a systematic review. Am J Clin Nutr 2004; 79(4): 529–36
Acknowledgements
The preparation of this review was not supported by any external funding. Dr Chanoine has received honoraria from Roche. The other authors have no conflicts of interest that are directly relevant to the content of this review.
About this article
Cite this article
Rogovik, A.L., Chanoine, JP. & Goldman, R.D. Pharmacotherapy and Weight-Loss Supplements for Treatment of Paediatric Obesity. Drugs 70, 335–346 (2010). https://doi.org/10.2165/11319210-000000000-00000
Published:

Issue Date:

DOI: https://doi.org/10.2165/11319210-000000000-00000
Keywords