Abstract
Background: The Netherlands Pharmacovigilance Centre Lareb received four cases of severe symptomatic hyponatraemia or syndrome of inappropriate antidiuretic hormone secretion (SIADH) in association with valproic acid use, in which a causal relationship was suspected. This study describes these cases and gives support for this association from Vigibase, the adverse drug reaction (ADR) database of the WHO Collaborating Centre for International Drug Monitoring, the Uppsala Monitoring Centre.
Methods: Cases of hyponatraemia in valproic acid users are described. In a case/non-case analysis, the strength of the association between reported cases of hyponatraemia and the use of valproic acid in Vigibase was established by calculating a reporting odds ratio, adjusted for possible confounding by concomitant medication.
Results: Four females aged 57, 67, 71 and 88 years developed symptomatic hyponatraemia or SIADH after starting valproic acid. Despite concomitant medication or co-morbidity, a causal relationship was plausible. In Vigibase, valproic acid is disproportionally associated with hyponatraemia and SIADH (corrected reporting odds ratio 1.83 [95% CI 1.61, 2.08]).
Discussion: Based on the described cases and the reports from Vigibase, a causal relationship between valproic acid use and hyponatraemia or SIADH can be suspected. The mechanism by which valproic acid could cause hyponatraemia or SIADH has not been fully elucidated. Valproic acid use could lead to reduced sensitivity of hypothalamic osmoreceptors. It also might directly affect tubular cell function, thereby leading to SIADH. It might be expected that a combination of effects on the osmoreceptors and a lack of compensation of the salt-water unbalance by the nephrons causes SIADH in some patients using valproic acid. It could be a dose-or concentration-related adverse effect.
Conclusion: In this report, severe symptomatic hyponatraemia and SIADH have been associated with the use of valproic acid. With this study, not only is the number of published cases doubled, but also the data from Vigibase strongly support the association. Since hyponatraemia and SIADH have a high morbidity, health professionals should be aware of this potential ADR.
This is a preview of subscription content, log in to check access.
Access options
Buy single article
Instant access to the full article PDF.
US$ 49.95
Price includes VAT for USA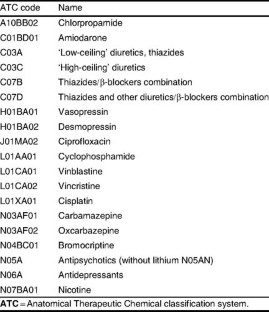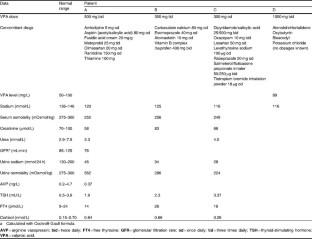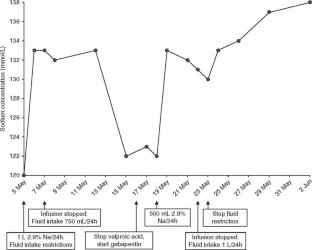 References
1.

Palmer BF, Gates JR, Lader M. Causes and management of hyponatremia. Ann Pharmacother 2003 Nov; 37: 1694–702

2.

Ellison DH, Berl T. Clinical practice: the syndrome of inappropriate antidiuresis. N Engl J Med 2007 May; 356: 2064–72

3.

Clayton JA, le Jeune I, Hall IP. Severe hyponatraemia in medical in-patients: aetiology, assessment and outcome. Q J Med 2006 Aug; 99: 505–11

4.

Milionis HJ, Liamis GL, Elisaf MS. The hyponatremic patient: a systematic approach to laboratory diagnosis. CMAJ 2002 Apr; 166: 1056–62

5.

Kumar S, Berl T. Sodium. Lancet 1998 Jul; 352: 220–8

6.

Movig KL, Leufkens HG, Lenderink AW, et al. Association between antidepressant drug use and hyponatraemia: a case-control study. Br J Clin Pharmacol 2002 Apr; 53: 363–9

7.

Amelsvoort Tv, Bakshi R, Devaux CB, et al. Hyponatremia associated with carbamazepine and oxcarbazepine therapy: a review. Epilepsia 1994 Jan–Feb; 35: 181–8

8.

Kloster R, Borresen HC, Hoff-Olsen P. Sudden death in two patients with epilepsy and the syndrome of inappropriate antidiuretic hormone secretion (SIADH). Seizure 1998 Oct; 7: 419–20

9.

Cilli AS, Algun E. Oxcarbazepine-induced syndrome of inappropriate secretion of antidiuretic hormone [letter]. J Clin Psychiatry 2002 Aug; 63: 742

10.

Nasrallah K, Silver B. Hyponatremia associated with repeated use of levetiracetam. Epilepsia 2005 Jun; 46: 972–3

11.

Miller M. Hyponatremia and arginine vasopressin dysregulation: mechanisms, clinical consequences, and management. J Am Geriatr Soc 2006 Feb; 54: 345–53

12.

Ma RC, Kong AP, Chan N, et al. Drug-induced endocrine and metabolic disorders. Drug Saf 2007; 30: 215–45

13.

Ikeda K, Moriyasu H, Yasaka M, et al. Valproate related syndrome of inappropriate secretion of antidiuretic hormone (SIADH): a case report. Rinsho Shinkeigaku 1994 Sep; 34: 911–3

14.

Branten AJ, Wetzels JF, Weber AM, et al. Hyponatremia due to sodium valproate. Ann Neurol 1998 Feb; 43: 265–7

15.

Miyaoka T, Seno H, Itoga M, et al. Contribution of sodium valproate to the syndrome of inappropriate secretion of antidiuretic hormone. Int Clin Psychopharmacol 2001 Jan; 16: 59–61

16.

Herment N, Herlem E, Germain ML, et al. Hyponatrémie sous valproate de sodium: À propos d'un cas. Thérapie 2006 Nov–Dec;61: 544–7

17.

van Puijenbroek E, Diemont W, van Grootheest K. Application of quantitative signal detection in the Dutch spontaneous reporting system for adverse drug reactions. Drug Saf 2003; 26: 293–301

18.

van Puijenbroek EP, Bate A, Leufkens HG, et al. A comparison of measures of disproportionality for signal detection in spontaneous reporting systems for adverse drug reactions. Pharmacoepidemiol Drug Saf 2002 Jan–Feb; 11: 3–10

19.

Blum M, Aviram A. Ibuprofen induced hyponatraemia. Rheumatol Rehabil 1980 Nov; 19: 258–9

20.

Rault RM. Case report: hyponatremia associated with nonsteroidal antiinflammatory drugs. Am J Med Sci 1993 May; 305: 318–20

21.

SPC Cozaar® [online]. Available from URL: http://www.fda.gov/cder/foi/label/2006/020386s045lbl.pdf [Accessed 2009 Apr 20]

22.

Sonnenblick M, Friedlander Y, Rosin AJ. Diuretic-induced severe hyponatremia: review and analysis of 129 reported patients. Chest 1993 Feb; 103: 601–6

23.

Sakai N, Miyajima H, Shimizu T, et al. Syndrome of inappropriate secretion of antidiuretic hormone associated with multiple sclerosis. Intern Med 1992 Apr; 31: 463–6

24.

Liamis G, Elisaf M. Syndrome of inappropriate antidiuresis associated with multiple sclerosis. J Neurol Sci 2000 Jan; 172: 38–40

25.

Nakasaka Y, Atsumi M, Saigoh K, et al. Syndrome of inappropriate secretion of antidiuretic hormone (SIADH) associated with relapsing multiple sclerosis. No To Shinkei 2005 Jan; 57: 51–5

26.

van der Heijden PG, van Puijenbroek EP, van Buuren S, et al. On the assessment of adverse drug reactions from spontaneous reporting systems: the influence of underreporting on odds ratios. Stat Med 2002 Jul; 21: 2027–44

27.

Robertson GL. Regulation of arginine vasopressin in the syndrome of inappropriate antidiuresis. Am J Med 2006 Jul; 119: S36–42

28.

Gold PW, Robertson GL, Ballenger JC, et al. Carbamazepine diminishes the sensitivity of the plasma arginine vasopressin response to osmotic stimulation. J Clin Endocrinol Metab 1983 Nov; 57: 952–7

29.

Knorr M, Schaper J, Harjes M, et al. Fanconi syndrome caused by antiepileptic therapy with valproic acid. Epilepsia 2004 Jul; 45: 868–71

30.

Watanabe T, Yoshikawa H, Yamazaki S, et al. Secondary renal Fanconi syndrome caused by valproate therapy. Pediatr Nephrol 2005 Jun; 20: 814–7
Acknowledgements
The cases described in this study have been reported to the Netherlands Pharmacovigilance Centre Lareb (Patient A: NL-LRB-57958; Patient B: NL-LRB-58600; Patient C: NL-LRB-56279; Patient D: NL-LRB-29998). The authors are indebted to the national pharmacovigilance centres that contributed data for this study and to the WHO Collaborating Centre for International Drug Monitoring, the Uppsala Monitoring Centre (WHO-UMC). The opinions and conclusions, however, are not necessarily those of the various centres, nor of the WHO-UMC. No sources of funding were used to assist in the preparation of this study. The authors have no conflicts of interest that are directly relevant to the content of this study.
About this article
Cite this article
Beers, E., van Puijenbroek, E.P., Bartelink, I.H. et al. Syndrome of Inappropriate Antidiuretic Hormone Secretion (SIADH) or Hyponatraemia Associated with Valproic Acid. Drug-Safety 33, 47–55 (2010). https://doi.org/10.2165/11318950-000000000-00000
Keywords
Adverse Drug Reaction

Valproic Acid

Sodium Level

Adverse Drug Reaction Report

Reporting Odds Ratio