Abstract
Background
Financial protection from the risks of ill health has globally recognized importance as a principal performance goal of any health system. This type of financial protection involves minimizing catastrophic payments for healthcare and their associated impoverishing effects. Realization of this performance goal is heavily influenced by factors related to the overall policy environment and sociopolitical context in each country.
Objectives
To examine the incidence and intensity of catastrophic and impoverishing healthcare payments borne by Palestinian households between 1998 and 2007. The incidence and intensity of these effects are examined within the historically unique policy and socioeconomic context of the occupied Palestinian territory.
Methods
A healthcare payment was considered catastrophic if it exceeded 10% of household resources, or 40% of resources net of food expenditures. The impoverishing effect of healthcare was examined by comparing poverty incidence and intensity before and after healthcare payments. The data source was a series of annual expenditure and consumption surveys covering 1998 and 2004–7, and including representative samples of Palestinian households (n = 1231–3098, per year). Total household expenditure was used as a proxy for household level of resources; and the sum of household expenses on a comprehensive list of medical goods and services was used to estimate healthcare payments.
Results
While only around 1% of the surveyed households spent ≥40% of their total household expenditures (net of food expenses) on healthcare in 1998, the percentage was almost doubled in 2007. In terms of impoverishing effect, while 11.8% of surveyed households fell into deep poverty in 1998 due to healthcare payments, 12.5% of households entered deep poverty for the same reason in 2006. Over the same period, the monthly amount by which poor households failed to reach the deep poverty line due to healthcare payments increased from $US9.4 to $US12.9.
Conclusions
The inability of the Palestinian healthcare system to protect against the financial risks of ill health could be attributed to the prevailing sociopolitical conditions of the occupied Palestinian territory, and to some intrinsic system characteristics. It is recommended that pro-poor financing schemes be pursued to mitigate the negative impact of the recurrent health shocks affecting Palestinian households.
This is a preview of subscription content, log in to check access.
Access options
Buy single article
Instant access to the full article PDF.
US$ 49.95
Price includes VAT for USA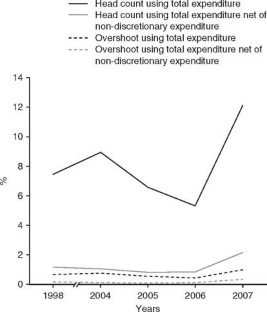 References
1

Commission on Social Determinants of Health [WHO/WIP/EQH/OI/2006]. Geneva: WHO, 2006 [online]. Available from URL: http://www.who.int/social_determinants/resources/csdh_brochure.pdf [Accessed 2009 Apr 18]

2

Gilson L, Doherty J, Loewenson R, et al. Challenging inequity through health systems: final report. Knowledge Network on Health Systems. WHO Commission on the Social Determinants of Health. Geneva: WHO, 2007 Jun

3

McKee M. Measuring the efficiency of health systems: the world health report sets the agenda, but there's still a long way to go. BMJ 2001; 323(7308): 295–6

4

WHO. World health report 2000. Health systems: improving performance. Geneva: WHO, 2000

5

O'Donnell O, van Doorslaer E, Wagstaff A, et al. Analyzing health equity using household survey data: a guide to techniques and their implementation. Washington, DC: The World Bank, 2008 [online]. Available from URL: http://siteresources.worldbank.org/INTPAH/Resources/Publications/459843-1195594469249/HealthEquityFINAL.pdf [Accessed 2010 Sep 26]

6

Commission on Social Determinants of Health. Closing the gap in a generation: health equity through action on the social determinants of health. Geneva: WHO, 2008 [online]. Available from URL: http://whqlibdoc.who.int/publications/2008/9789241563703_eng.pdf [Accessed 2010 Sep 26]

7

Wagstaff A, van Doorslaer E. Catastrophe and impoverishment in paying for health care: with applications to Vietnam 1993–1998. Health Econ 2003; 12(11): 921–34

8

Kakwani N. Measurement of tax progressivity: an international comparison. Econ J 1977; 87(345): 71–80

9

Reynolds M, Smolensky E. Public expenditures, taxes, and the distribution of income: the United States, 1950–1970. New York: Academic Press, 1977

10

O'Donnell O, van Doorslaer E, Rannan-Eliya RP, et al. Who pays for health care in Asia? J Health Econ 2008; 27(2): 460–75

11

Xu K, Evans DB, Kawabata K, et al. Household catastrophic health expenditure: a multicountry analysis. Lancet 2003; 362(9378): 111–7

12

van Doorslaer E, O'Donnell O, Rannan-Eliya RP, et al. Effect of payments for health care on poverty estimates in 11 countries in Asia: an analysis of household survey data. Lancet 2006; 368(9544): 1357–64

13

Limwattananon S, Tangcharoensathien V, Prakongsai P. Catastrophic and poverty impacts of health payments: results from national household surveys in Thailand. Bull World Health Organ 2007; 85(8): 600–6

14

Russell S. The economic burden of illness for households in developing countries: a review of studies focusing on malaria, tuberculosis, and human immunodeficiency virus/acquired immunodeficiency syndrome. Am J Trop Med Hyg 2004; 71(2 Suppl.): 147–55

15

Mataria A, Khatib R, Donaldson C, et al. The health-care system: an assessment and reform agenda. Lancet 2009; 373(9670): 1207–17

16

Rahim HF, Wick L, Halileh S, et al. Maternal and child health in the occupied Palestinian territory. Lancet 2009; 373(9667): 967–77

17

Giacaman R, Khatib R, Shabaneh L, et al. Health status and health services in the occupied Palestinian territory. Lancet 2009; 373(9666): 837–49

18

Husseini A, Abu-Rmeileh NM, Mikki N, et al. Cardiovascular diseases, diabetes mellitus, and cancer in the occupied Palestinian territory. Lancet 2009; 373(9668): 1041–9

19

Palestinian Central Bureau of Statistics. Palestine households consumption and expenditure survey 1998. Ramallah: PCBS, 1998

20

Palestinian Central Bureau of Statistics. Palestine households consumption and expenditure survey 2004. Ramallah: PCBS, 2004

21

Palestinian Central Bureau of Statistics. Palestine households consumption and expenditure survey 2005. Ramallah: PCBS, 2005

22

Palestinian Central Bureau of Statistics. Palestine households consumption and expenditure survey 2006. Ramallah: PCBS, 2006

23

Palestinian Central Bureau of Statistics. Palestine households consumption and expenditure survey 2007. Ramallah: PCBS, 2008. (Data on file)

24

Batniji R, Rabaia Y, Nguyen-Gillham V, et al. Health as human security in the occupied Palestinian territory. Lancet 2009; 373(9669): 1133–43

25

NSHP. National strategic health plan: medium term development plan (2008–2010). Palestine: Palestinian National Authority, Ministry of Health, 2008

26

Palestinian Central Bureau of Statistics. Health care providers and beneficiaries survey: 2005. Main findings. Ramallah: PCBS, 2006

27

World Bank. West Bank and Gaza: medium-term development strategy for the health sector. Washington, DC: World Bank, 1998

28

Department for International Development. West Bank and Gaza Health sector expenditure review, 2006. London: Department for International Development, 2006

29

Palestinian Central Bureau of Statistics. Households health expenditure survey 2004. Ramallah: PCBS, 2004

30

Abu-Zaineh M, Mataria A, Luchini S, et al. Equity in health care financing in the Palestinian context: the value-added of the disaggregate approach. Soc Sci Med 2008; 66(11): 2308–20

31

Giacaman R, Abdul-Rahim HF, Wick L. Health sector reform in the Occupied Palestinian Territories (OPT): targeting the forest or the trees? Health Policy Plan 2003; 18(1): 59–67

32

Hamdan M, Defever M, Abdeen Z. Organizing health care within political turmoil: the Palestinian case. Int J Health Plann Manage 2003; 18(1): 63–87

33

Mataria A, Khoury P. Public policies to enhance private sector competitiveness in providing tertiary health care in Palestine: assessment and recommendations. Ramallah: Palestine Economic Policy Research Institute (MAS), 2008

34

Palestinian Central Bureau of Statistics. Palestine in figures 2007. Ramallah: PCBS, 2008

35

Palestinian Central Bureau of Statistics. Poverty and living conditions in the Palestinian territory, 2007. Ramallah: PCBS, 2008

36

Pradhan M, Prescott N. Social risk management options for medical care in Indonesia. Health Econ 2002; 11(5): 431–46

37

Ranson MK. Reduction of catastrophic health care expenditures by a community-based health insurance scheme in Gujarat, India: current experiences and challenges. Bull World Health Organ 2002; 80(8): 613–21

38

United Nations Statistics Division. Classifications of individual consumption according to purpose (COICOP), 2002 [online]. Available from URL: http://unstats.un.org/unsd/cr/registry/regcst.asp?Cl=5&Lg=1 [Accessed 2010 Sep 26]

39

Deaton A, Grosh M. Consumption, in designing household survey questionnaires for developing countries: lessons from 15 years of living standards measurement study. In: Grosh M, Glewwe P, editors. Washington, DC: The World Bank, 2000

40

Yazbeck A. Attacking inequality in the health sector: a synthesis of evidence and tools. Washington, DC: The World Bank, 2009

41

Palestinian Central Bureau of Statistics. Poverty in the Palestinian territory, 2005: main findings report. Ramallah: PCBS, 2006

42

Palestinian Central Bureau of Statistics. Poverty survey in the Palestinian territory, December 2003: main findings report. Ramallah: PCBS, 2004

43

WHO. Monitoring the health sector in the occupied Palestinian territory, series reports [online]. Available from URL: http://www.emro.who.int/palestine/index.asp?page=library&option=monitoring.WHO_monthly_monitoring [Accessed 2008 Jan 7]

44

WHO. Access to health services for Palestinian people: case studies of five patients in critical conditions who died while waiting to exit the Gaza Strip. Geneva: WHO, 2008

45

Palestinian Central Bureau of Statistics. Poverty in the Palestinian territory, 2006: main findings report. Ramallah: PCBS, 2007

46

Abu-Zaineh M, Mataria A, Luchini S, et al. Equity in health care finance in Palestine: the triple effects revealed. J Health Econ 2009 Dec; 28(6): 1071–80

47

Commission on Macroeconomics and Health. Macroeconomics and health: investing in health for economic development. Geneva: WHO, 2001

48

Gertler P, Gruber J. Insuring consumption against illness. Am Econ Rev 2002; 92(1): 51–71

49

Mataria A, Raad F. Analyzing health equity in the West Bank and Gaza. Washington, DC: The World Bank, 2009
Acknowledgements
World Bank grant financing was provided to the West Bank and Gaza World Bank team working on the health sector to explore health equity issues. This article is based on the findings[49]
Electronic supplementary material
About this article
Cite this article
Mataria, A., Raad, F., Abu-Zaineh, M. et al. Catastrophic healthcare payments and impoverishment in the occupied Palestinian territory. Appl Health Econ Health Policy 8, 393–405 (2010). https://doi.org/10.2165/11318200-000000000-00000
Keywords
Poverty Line

Gaza Strip

Healthcare Payment

Health Shock

Supplemental Digital Content