Abstract
Background
The management of the large patient population in Italy receiving long-term oral anticoagulation therapy (OAT) poses organizational challenges that are traditionally approached with a centralized procedure, relying on hospital-based clinics and/or GPs. However, the availability of near-patient testing devices for the monitoring of OAT effectiveness (international normalized ratio measurement) allows for alternative or complementary management models, in which adequately trained patients perform the test themselves and possibly make decisions about dosing adjustments (patient self-monitoring). Patient self-monitoring has been proven to be effective and safe, and is economically attractive. However, in order to assess its potential economic impact in Italy, there is a need for data on current treatment patterns and relative costs, which are currently not available.
Objective
To establish prevalent management patterns and costs incurred by Italian OAT patients.
Methods
An ad hoc questionnaire was developed and administered to OAT patients with the support of the main Italian OAT patients association. Returned questionnaires were checked for consistency and valid data were summarized. Resources used were costed according to published prices.
Results
A total of 4722 valid questionnaires were returned from all over Italy. The prevalent OAT management model in this sample relied on hospital-based anticoagulation clinics. Significant earning losses, transportation costs and other out-of-pocket expenses were incurred by patients, with an estimated mean overall monthly cost of approximately €30 (year 2008 value). There was a wide distribution of costs in this population, depending mainly on monitoring frequency, home-to-clinic distance and employment status.
Conclusion
This study contributes to clarifying the organizational models of the Italian OAT population and delivers data on treatment patterns and costs that may be used when planning and evaluating alternative management options.
Access options
Buy single article
Instant access to the full article PDF.
USD 49.95
Price includes VAT (USA)
Tax calculation will be finalised during checkout.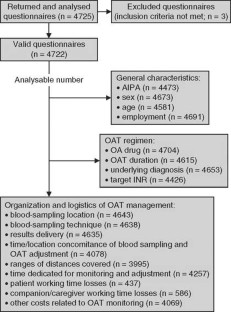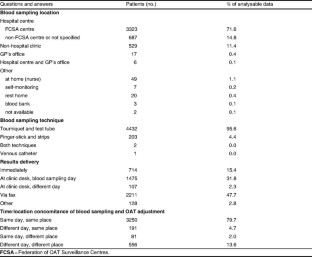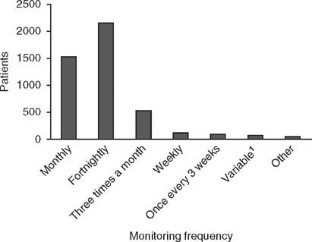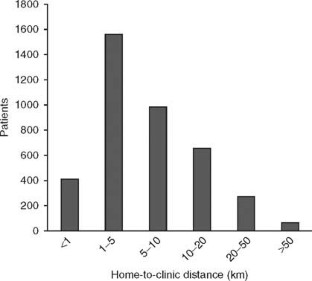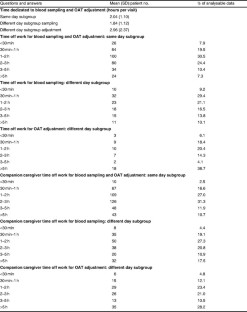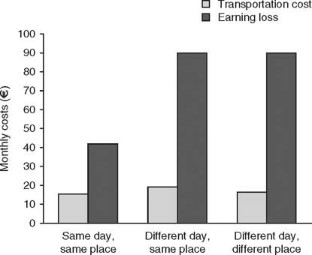 References
1

Filippi A, Sessa E, Trifirò G, et al. Oral anticoagulant therapy in Italy: prescribing prevalence and clinical reasons. Pharmacol Res 2004 Dec; 50(6): 601–3

2

Istituto Superiore di Sanità. Osservatorio Nazionale sull'impiego dei Medicinali. L'uso dei farmaci in Italia — Rapporto Nazionale 2007. Rome: 2008 Jun [online]. Available from URL: http://www.agenziafarmaco.it/allegati/rapporto_osmed_2007.pdf [Accessed 2009 Feb 5]

3

Heneghan C, Alonso-Coello P, Garcia-Alamino JM, et al. Self-monitoring of oral anticoagulation: a systematic review and meta-analysis. Lancet 2006; 367: 404–11

4

Lafata JE, Martin SA, Kaatz S, et al. The cost-effectiveness of different management strategies for patients on chronic warfarin therapy. J Gen Intern Med 2000; 15: 31–7

5

Taborski U, Wittstamm FJ, Bernardo A. Cost-effectiveness of self-managed anticoagulant therapy in Germany. Semin Thromb Hemost 1999; 25: 103–7

6

Samsa GP, Matchar DB, Phillips DL, et al. Which approach to anticoagulation management is best? Illustration of an interactive mathematical model to support informed decision making. J Thromb Thrombolysis 2002; 14: 103–11

7

Regier DA, Sunderji R, Lynd LD, et al. Cost-effectiveness of self-managed versus physician-managed oral anticoagulation therapy. CMAJ 2006; 174: 1847–52

8

Jowett S, Bryan S, Murray E, et al. Patient self-management of anticoagulation therapy: a trial-based cost/effectiveness analysis. Br J Haematol 2006; 134: 632–9

9

Ansell J, Jacobson A, Levy J, et al. Guidelines for implementation of patient self-testing and patient self-management of oral anticoagulation. International consensus guidelines prepared by International Self-Monitoring Association for Oral Anticoagulation. Int J Cardiol 2005; 99: 37–45

10

ACI Automobile Club d'Italia. Software area statistica [online]. Available from URL: http://servizi.aci.it/ServizioCK/SelezioneModello [Accessed 2008 Dec 12]

11

ISTAT National Institute of Statistics: reddito e condizioni di vita 2005–2006. Table 3.9 [online]. Available from URL: http://www.istat.it/dati/dataset/20081120_00/ [Accessed 2008 Dec 12]

12

Jowett S, Bryan S, Mahé I, et al. A multinational investigation of time and traveling costs in attending anticoagulation clinics. Value Health 2008 Mar-Apr; 11(2): 207–12
Acknowledgements
This contribution represents an original work that has not been previously published nor simultaneously submitted for publication elsewhere. The manuscript has been approved by all authors and conforms to the Uniform Requirements for Manuscripts Submitted to Biomedical Journals prepared by the International Committee of Medical Journal Editors.
All of the data, models and methodology used in this research come from published and publicly available sources and are not proprietary.
This study was funded by an unrestricted research grant from Roche Diagnostics, Monza (MI), Italy.
Paola Botrugno is an employee of Roche Diagnostics SPA. All other authors have worked as external consultants for Roche Diagnostics and are employees of AdRes Health Economics & Outcomes Research, which receives grants and payments from pharmaceutical companies including Roche. The publication of study results was not contingent on the sponsor's approval. The sponsor had no role in the design and conduct of the study, collection, management, analysis and interpretation of the data, or preparation, review and approval of the manuscript. Viola Sacchi and Paolo De Luca contributed to data entry.
About this article
Cite this article
Pradelli, L., Iannazzo, S., Zaniolo, O. et al. Organization and estimated patient-borne costs of oral anticoagulation therapy in Italy. Appl Health Econ Health Policy 8, 119–128 (2010). https://doi.org/10.2165/11313890-000000000-00000
Keywords
International Normalize Ratio

Monitoring Frequency

Monthly Cost

Anticoagulation Clinic

Target International Normalize Ratio